Bye Weeks: Atlanta, Denver, New Orleans, Washington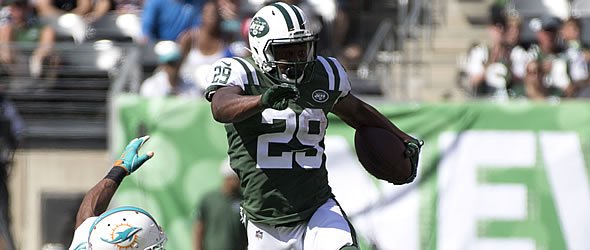 With Matt Forte out, Bilal Powell (25 touches) saw a 2-1 ratio in touches over Elijah McGuire.
Grab a Helmet

Bilal Powell @ CLE: There have been some surprising developments through the first quarter of the season?New England is struggling, the Rams arenít?but the most shocking from where I sit is that there are four winless teams left and the Jets arenít one of them. They arenít even close, actually, after a five-quarter W over Jacksonville evened them up at 2-2, the same record the Pats sport. Powell, taking over lead back duties for the injured Matt Forte, was a huge part of that effort. Even if you discount his fluky 75-yard TD scamper (Google it if you didnít catch it), he had a very productive day against the Jagsí up-and-coming defense (88 yards on his other 20 carries and 27 more receiving). Forte is struggling with turf toe, an injury that tends to linger, so itís likely the Louisville product gets another shot to carry the load in Cleveland.

Duke Johnson v. NY Jets: The Browns have been toxic for fantasy GMs this season and Iíve officially added Hue Jackson to my (ever growing) list of coaches we canít trust. Clevelandís head man promised more work for Isaiah Crowell back this year, but his supposed lead back has only garnered 46 carries through four games, two fewer than the aforementioned Powell and the same as Samaje Perrine, whoís played one less game. Maybe Jackson was trying to shine the spotlight away from his true No.1 back? The Duke doesnít do much ball-carrying these days (just 10 carries), but heís been targeted in the passing game a bunch of times and has turned those targets into 207 receiving yards, third most at the position and most for his team. Receiver-like totals at the RB position arenít always desirable, but they can come in handy in full PPR leagues. Start Johnson.

Eddie Lacy @ LAR: This oneís gonna require a leap of faith, but not so large a leap as it would take to roll with Thomas Rawls, whoís accumulated exactly four yards on five total carries this year. Somebody has to lead the muddled Seattle backfield against the Rams now that Chris Carsonís on IR and Lacy or Rawls (or both) are the most likely candidates. The former actually looked pretty solid last Sunday night (52 yards on 11 carries), briefly flashing his old Green Bay form and showing fans what the Hawks might have seen in him this past off-season. Itís not difficult to envision him duplicating that performance and maybe adding a score against Los Angelesí shaky run-stopping unit. The Rams are allowing a league worst 28.9 points to opposing RBs, so even a timeshare might be opportunity enough for Lacy to make some serious hay. Start him.
Grab a Gatorade

LeGarrette Blount v. ARZ: Doug Pedersonís puzzling usage of free agent acquisition Blount has frustrated fantasy owners this year, but it was nice to see the big guy rumbling through the (other) Los Angeles secondary last Sunday. Had he finished his Beast Mode-esque 68-yard run in the end zone, or followed up with the easy punch-in on one of FOUR successive carries, his output would have gone from merely very good to great. Blountís owners are probably eager to plug him back in their lineups after such an outing but this owner will be pretty hesitant. The Cardinals, unlike the Chargers, are built to take away bruisers like him (stout up the middle) and Pederson has already proven to us heíll zag when defenses zig. The former Duck (GO DUCKS!!!) gets more than one touch, for sure, but a slow start could lead to a quick hook. Be very leery.

Derrick Henry @ MIA: If youíre inclined to use Henry, you have to be fairly confident Tennessee is going to emerge victorious. In 18 career games, the former Heisman winner has averaged 9.2 points/game in Titan wins and a paltry 2.4 in Titan losses. Such is the life of a backup running back who adds little to no value as a third down pass-catching option. The matchup with Miami looks good on the surface but there are some serious warning signs. First, Marcus Mariota is no sure thing to suit up on Sunday and that could make life difficult for both Henry and his running mate, DeMarco Murray. Second, if the Fish are doing one thing well through the first several weeks of the season, itís defending the run (77.7 yards/game and 3.1/rush). Henryís an iffy start most weeks but especially against a stingy front seven minus his franchise QB.

Jordan Howard v. MIN (Mon): The Bears turn to Mitch Trubisky in hopes of diversifying a stagnant offense that was quickly becoming way too easy to defend. There's only so much you can do with Mike Glennon under center and precious few weapons on the perimeter, after all. Unfortunately, there's been no such infusion of youth/talent at the receiver position, meaning the Bears, until Trubisky gains his sea legs, is probably still too one-dimensional. Don't' think for a second the Vikes won't sell out to take away that dimension, Jordan Howard, on Monday night. Minnesota's yielding barely 70 rushing yards per contest and only 11 fantasy points per to opposing backs. That doesn't bode well for Howard or his dynamic running mate, Tarik Cohen. We can probably still justify starting Cohen, a dangerous pass-catching weapon, but Howard seems to be a riskier proposition. Be careful with both Chicago backs Monday.


Quarterbacks | Running Backs | Wide Receivers