Bye Weeks: N/A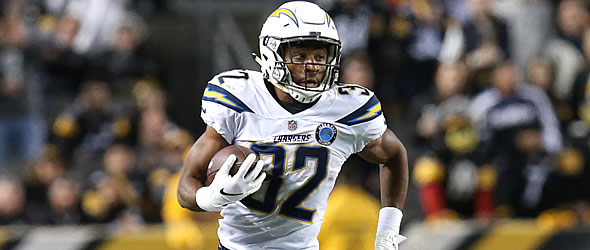 Justin Jackson: The Chargers other running back may end up being the best fantasy RB in Week 14.
Grab a Helmet

Jeff Wilson v. DEN: It seems like every year about this time, a guy emerges from oblivion to become instantly, shockingly relevant in some NFL backfield. I should say guys. Three weeks ago, it was Gus Edwards for the Ravens, who has reeled off three solid outings to rank just outside the Top 10 (RB11) since Week 11. Two weeks ago and continuing into last week, it was Wilson, the undrafted FA who scorched the Seahawks for 134 total yards and 13.4 fantasy points (21.4 PPR) in a blowout loss last Sunday. We should maintain perspective when evaluating stats accumulated in blowout losses (empty calories) but I actually watched this game and Wilson passed the eyeball test. Heís got above-average vision and is a plus receiver. Couple that basic skill set with the opportunity created by Matt Breidaís Week 14 absence andÖvoila! Youíve got yourself a solid RB2/flex play this Sunday.

Justin Jackson v. CIN: Unlike Wilson, I actually watched Jackson play some in college. Thatís to be expected since we get more Big 10 games than C-USA games out west and Jackson played in a LOT of Big 10 games. In fact, thatís one of the reasons NFL scouts were lukewarm about his prospects (lots of NCAA miles). That workload may put a natural cap on his professional production, but it doesnít take away his natural-born talent, which was on full display against the Steelers last Sunday night. Coach Anthony Lynn was coy about Melvin Gordonís availability this week, but the Boltsí primary ball-carrier didnít practice Wednesday. Moreover, Lynn seemed to indicate Austin Ekeler, Gordonís presumptive replacement and a special teams ace, is ďwearing down.Ē Could a healthy dose of the dynamic Jackson be on tap Sunday? I think he touches it no fewer than 15 times and scores again.

Mark Ingram @ TB: I was recently asked if I think itís a good idea to ďstackĒ guys like Alvin Kamara and Ingram, dynamic players who play the same position for the same great teams. If one is good, two is better, right? NO, IT ISNíT (!!!) and the egg New Orleans laid in Week 13 should be all the proof you need. That doesnít mean Ingram canít be a highly useful option, even if he tends to play second fiddle to his more explosive teammate. When the Saints are playing from out front against a below-average stopper unit, heís no worse than a flex option or, in deeper leagues, a solid RB2. Theyíll be playing from out front this weekend and Tampa fields one of the worst stopper units (5.0 YPC and 29.6 Pts/G). Donít worry about Ingramís recent swoon and get him back in your lineups Sunday.
Grab a Gatorade

Chase Edmonds v. DET: Itís easy to get swept off your feet by the running back du jour (see above), but not all out-of-nowhere performers deserve start consideration. Take the curious case of Chase Edmonds, who hadnít scored more than 5 fantasy points in a game prior to last Sundayís 18.6-point explosion against the fading Pack. Naturally, heís become a suddenly integral part of the Arizona offense, right? Before you go adding him to your lineup, Iíd urge you to consider a couple things. First, heís never garnered more than eight touches in a game. Second, heís never played more than 22 offensive snaps in a game. Edmonds looked explosive in Week 13, sure, but consider the opponent (a disinterested Green Bay team intent on getting its coach fired) and the fact he scored two TDs, his first two ever, on five total carries. Does that sound repeatable to you?

Spencer Ware v. BAL: I pegged Kareem Hunt as a likely Top 10 RB dropout way back in August and Iíll end up being right about that for all the wrong reasons. I suspected back then Huntís production would tail off in a loaded KC offense with too many mouths to feed, but he was instead done in by a startling lack of respect for other human beings. Some people just donít get it and now Spencer Ware stands to inherit the lionís share of RB carries/glory for this juggernaut Chiefs offense. Iím pretty fired up about how productive Ware can be heading into the fantasy playoffs, but also pretty leery of a brutal Week 14 matchup against the Ravens. Baltimore is yielding only 12.6 FPts/G to opposing RBs and have only allowed one of them to post triple-digit yardage. The volume may be there, but the production may not.

Adrian Peterson v. NYG: The only thing more inexplicable than AD's 33-year old legs running 90 yards for a score on MNF was the fact he did it precisely a week after Lamar Miller tallied a 97-yard house call of his own against the Titans. 90+-yard runs are exceedingly rare in the NFL and clearly alter fantasy fortunes, dramatically so when they occur on Monday nights. The part nobody remembers about Peterson's age-defying performance? He gained exactly EIGHT yards on eight other carries. Oh, and Washington lost another QB in the process. The Giants are a relatively decent matchup in Week 14, but have looked pretty good of late (three wins in their last four) and now won't have to game plan for competent quarterback play. The Butt Fumbler is back under center and working with arguably the most motley of wide receiver crews. Downgrade the ageless one on Sunday.


Quarterbacks | Running Backs | Wide Receivers