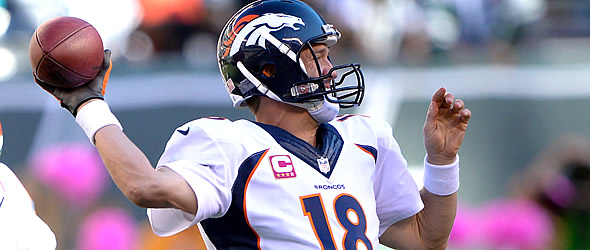 Peyton Manning will carry more risk in redraft leagues after stumbling down the stretch in 2014.


The position projects to be deep in 2015 just like it was last season when 14 quarterbacks averaged 20-plus fantasy points (standard scoring leagues, at least eight games played). Andrew Luck has vaulted into the elite category while Peyton Manning's status in that group remains a question mark. He will be grossly overvalued in re-draft leagues if his second-half downward trend continues into next season. These rankings will change as we push forward through free agency and the NFL Draft, but here are my top 12 quarterbacks for 2015 re-draft leagues as we get ready for Super Bowl Sunday:

1. Andrew Luck – Luck was the most consistent fantasy quarterback last season. The Colts led the league in pass attempts and their pass-first philosophy isn't changing anytime soon. Luck's 40 passing TDs were best in the league, and he's scored 12 rushing TDs over the last three seasons.

2. Aaron Rodgers – You can make a case for Rodgers being first on the list. However, all things being equal, I'll defer to the younger and therefore expected healthier option in Luck. Even with Eddie Lacy giving the Packers a legitimate rushing threat, this offense runs through the quarterback in between the 20s and in the redzone. His ridiculous TD-INT ratio over the last four years (139-25) should be noted for those of you who get dinged for interceptions.

3. Drew Brees – Brees remains a highly consistent fantasy quarterback, and even though his TD totals have dropped in each of the last three seasons, he's still a good bet to hit 30-plus touchdowns and 5,000 passing yards in the Saints offense.

4. Peyton Manning – Manning's late-season decline, either from injury or an eroding skill set, is cause for concern. The coaching upheaval also makes me wary, but head coach Gary Kubiak is giving every indication that he's willing to let Manning run the offensive show. I'm assuming Demaryius Thomas will be back, but Denver's decision to keep TD-machine Julius Thomas is a key factor to watch in the upcoming months.

5. Matt Ryan – We know OC Kyle Shanahan is headed to Atlanta, and I'm assuming current Seattle DC Dan Quinn will be the new head coach of the Falcons. With three straight seasons over 4,500 yards passing, Ryan needs to add just 4-5 more touchdowns (28 last year) to live up to this ranking.

6. Russell Wilson – Wilson was extremely undervalued during the 2014 preseason and the key to my playoff run in multiple leagues. His 849 yards rushing and 6 touchdowns on the ground this season guarantee he won't have a 9th-round ADP again.

7. Cam Newton – I don't like Newton's body language on the field. He appears disinterested at times and doesn't possess the best decision-making skills. Still, you can't argue with his production, especially when he's at full health.

8. Tom Brady – Brady has started every game since 2009 and just finished off his fifth-straight 4,000-yard passing season. His consistency numbers the last two seasons aren't as good as you might think due to a sub-30 touchdown season (25) in 2013. Brandon LaFell is OK, but an upgrade on the outside would do wonders for Brady's fantasy value.

9. Ben Roethlisberger – Big Ben is likely due for a regression coming of his best fantasy season as a pro, but the weapons and offensive philosophy are still in place for a top-10 finish.

10. Tony Romo – With DeMarco Murray likely on his way out of Dallas, I expect we'll see a little more throwing out of Tony Romo and the Cowboys offense in 2015. That could all change if Jerry Jones somehow lands Adrian Peterson this offseason, but minus that monumental move, Romo is a good bet to push past the 4,000-yard mark and 30 TDs.

11. Ryan Tannehill – Tannehill's value is boosted by his running ability, but the lack of downfield plays limits his upside. The Miami QB ranked 28th in yards per attempt this season behind the likes of Alex Smith and Geno Smith.

12. Nick Foles? – This is more a vote for the position than the player. Chip Kelly is fantasy friendly to the quarterback, but someone needs to grab hold of the job and keep it for 16 games. Foles is the current in-house candidate, but his TD-INT ratio last season (13-10) may force Kelly to ponder his quarterback options in the upcoming draft or in free agency.

Just Missing the Cut: Eli Manning, Teddy Bridgewater, Philip Rivers

Up Next: Tight Ends...