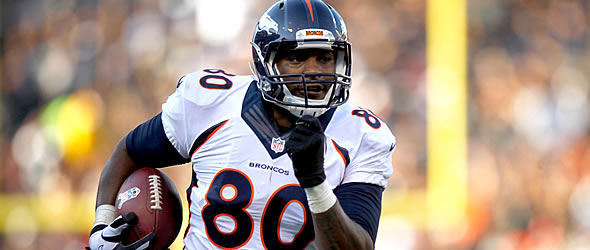 The value of Julius Thomas could swing dramatically if the Broncos let him move on in free agency.


The only stable stars at the tight end position are Rob Gronkowski and Jimmy Graham. While I like the top six listed below, the next nine tight ends could be slotted in any order without much complaint. As we wait for free agency to make its impact on the likes of Julius Thomas, Jordan Cameron, Owen Daniels and Charles Clay, here are my top 12 tight ends for 2015:

1. Rob Gronkowski – Gronk will be the first tight end taken in 95 percent of fantasy leagues this summer. He's scored double-digit touchdowns in four of his five seasons in the league and finished 10th in fantasy scoring last season among wide receivers. His third-round ADP discount will be a thing of the past. Expect him to be late first-round pick in 2015.

2. Jimmy Graham – Graham posted a goose egg in Week 7 and wasn't even targeted in Week 13 against Pittsburgh and still finished third in total fantasy points among tight ends, playing with a shoulder injury for much of the season. Fantasy's preseason No. 1 tight end in 2014 will take a back seat to Gronk in 2015 but still remains one of the best at the position.

3. Greg Olsen – Olsen doesn't light up the TD column (6, 6, 5 last three seasons) but he's been a consistent fantasy producer since becoming a main component in the Carolina passing game in 2012. He's coming off his first 1,000-yard- plus receiving season and should come close to that mark again as long as he remains the No. 2 option for Cam Newton.

4. Julius Thomas – Unlike Olsen, Thomas has been a TD machine, scoring 12 times in each of the last two seasons. Remarkable considering he only played in 12 games last year and was largely ineffective after Week 10, thanks to a nagging ankle injury. Thomas is an unrestricted free agent, and his value could shift dramatically if he doesn't return to the Broncos offense.

5. Travis Kelce – Despite all the whining and complaining from Kelce owners about usage rates, Kelce checked in as the No. 8 fantasy TE in 2014 with a 67-862-5 stat line having played in all 16 games. The Chiefs offense isn't going to produce elite fantasy numbers for any particular receiver, but I'm expecting Andy Reid to increase Kelce's 87 targets into low 100s in 2015.

6. Martellus Bennett – Speaking of targets, Bennett's 128 were second behind Gronkowski's 131 as injuries to both Brandon Marshall and Alshon Jeffery during the course of the season benefited Bennett's stat line. A slight regression should be expected, but he shouldn't have any trouble producing low-end TE1 numbers in 2015.

7. Delanie Walker – Walker was one of six tight ends to post 100-plus targets last season. His size-speed combo is above average for the position, but he sorely needs stability in the offense, specifically at the quarterback position, to achieve his maximum fantasy potential. Until then, his upside is capped as a mid-range TE1.

8. Jordan Cameron – Like Thomas, Cameron will test the free- agent waters this offseason and reportedly doesn't want to return to Cleveland. I can't blame him for that, but Cameron's bigger concern is his head. Concussions have plagued the career of the athletic tight end and make him a serious risk for fantasy owners wherever he ends up.

9. Coby Fleener – The bad news for fantasy owners is the pass-happy Colts employ a two-TE system, making both Fleener and Dwayne Allen fantasy relevant but wildly inconsistent and difficult to project when both are healthy. Fleener is typically more involved between the 20s, while Allen is a heavy redzone target. Fleener gets the nod in the health department as Allen has yet to play a full season in his three years in the league.

10. Antonio Gates – I give up. I predicted the passing of the torch to Ladarius Green last season, but the 34- year-old Gates promptly played all 16 games and scored 12 touchdowns in his 12th year in the league. It's highly unlikely he'll finish as the No. 2 tight end again, and I won't be targeting him in re-draft leagues for risk of the wheels falling off, but the consistent TE1 production is hard to ignore.

11. Zach Ertz – Ertz is going to tease fantasy owners again in 2015 but unless Chip Kelly's changes his offensive philosophy, Ertz will remain a high-end TE2 while flirting with low-end TE1 upside. Ertz made a significant leap from year one to year two in terms of receptions (36 to 58) and yardage (469 to 702), but Brent Celek's usage is just high enough that it's difficult to see Ertz gaining a bigger part of the offensive pie without injury to others in the receiving corps.

12. Mychal Rivera – It might surprise you that one of the six tight ends that surpassed 100 targets last season played for the Raiders. Granted, his conversion rate was abysmal (58 catches), but Rivera's place in the offense is secured and there's room for optimism at the quarterback position for the first time in a long time in Oakland. A modest increase in efficiency and landing WR Amari Cooper in the upcoming draft could vault Rivera into low-end TE1 status in 2015.


Just Missing the Cut: Kyle Rudolph, Jason Witten, Jordan Reed

Up Next: Wide Receivers...