High Risk, High Reward
8/10/09

You don't win fantasy championships without taking chances.
Look, I'm the first one to be ultra-conservative early in drafts. I'll go RB-RB-WR or RB-WR-RB in the first three rounds - picking the safest options, etc. Nothing buries a fantasy team faster than seeing its 1st round pick get injured or simply not produce. Hence, in the past, I have stayed away from risk, particularly with important picks.
However, I noticed a very scary trend at the end of last year. My teams consistently made the playoffs; out of nine teams I had eight playoff contenders but how many championships? Just one.
ONE!?
My risk-averse teams were solid, but decidedly unspectacular – its spectacular that takes home the big trophy.
So with that in mind, here are several guys you should consider targeting in drafts that come with a lot of risk, but could payoff big time and make your team spectacular.
Donovan McNabb, QB, Eagles
Current ADP: 5.12
It seems like every year McNabb is one of the first 6 or 7 quarterbacks off the board. It makes sense - the talent is there, he has arguably the best pass-catching back in football to throw to, and he plays in a west coast system that passes on almost 60% of downs.
But somehow Donovan always underwhelms during the season. Whether it's his injury problems that keep him off the field or his lack of any talent at WR limiting his production, McNabb can be unbelievably frustrating to own.
This year, however, I am singing Donovan's praises. The Eagles could be scary good this season (and that comes from a diehard Giants fan, mind you). Last year, they put up the 7th most points in all of football. In the offseason, all they did was improve, adding pro-bowl left tackle Jason Peters, talented wideout Jeremy Maclin, and LeSean McCoy – prime Westbrook insurance. To top it off, for the first time in several years, McNabb is (dare I say it) 100% healthy. He played 16 games last season. If he can stay healthy again, you could be looking at a line like 4100-28-10 (Yds-TD-INT) that's available in round 5 or 6 of a 12-team draft.
Bottom Line: Huge reward, moderate risk
Matt Schaub, QB, Texans
Current ADP: 7.02
Three years ago, could you have imagined Schaub would be drafted higher than the likes of Carson Palmer, Ben Roethlisberger, and Matt Hasselbeck? Generally going in the 7th round of drafts, Schaub is a fairly attractive option at QB this year. He leads the high-octane Texans offense and is surrounded by boatloads of talent, including wideouts Andre Johnson and Kevin Walter, a solid pass catching tight end in Owen Daniels, and Steve Slaton catching passes out of the backfield.
On the other hand, there certainly is a lot of risk here for a guy being drafted ahead of more proven options. Schaub has never started more than eleven games in a season, never thrown for more than 15 TDs, fumbled 10 times in 11 games last season, and has never had a TD-INT differential greater than five. He also plays behind an offensive line that, while much improved, still leaves a lot to be desired.
Bottom Line: Large reward, moderate risk
LaDainian Tomlinson, RB, Chargers
Current ADP: 1.07
Tomlinson had a down year last year. Everyone knows it. What people sometimes forget is that he played in all 16 games, finished with over 1500 yards from scrimmage and 12 touchdowns – good for 7th overall among running backs. Sure, he wasn't the LT2 we all have come to know and love, but he was still mighty good. Certainly worthy of a first round pick.
There are some reasons for concern. Tomlinson was hobbled last year with turf toe, which limited his production. He then ended his season with a torn groin, missing the playoffs. We also saw the explosion of Darren Sproles, which highlighted just how slow LaDainian's cuts were – he has clearly lost a step.
LT2 is now 30 – the age where many backs start their rapid decline into fantasy insignificance. Plus, he was almost cut coming into this season before owner Dean Spanos prevented it. Now, Norv Turner says he will get his 320 carries this season. I think there's still at least one more productive year left in the tank – if you don't expect 2000 yards from scrimmage and 20 TDs, you shouldn't be disappointed.
Bottom Line: Huge Reward, Moderate Risk
Pierre Thomas, RB, Saints
Current ADP: 3.06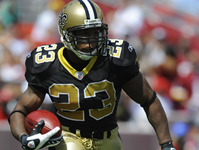 Fantasy owners are looking for a big payoff from Thomas in '09.
I just flat out love this kid. He burst onto the fantasy scene last season and showed flashes of being the "between the tackles" back that the Saints have been looking for to complement Reggie Bush. Bush simply hasn't proven he can run up the middle and Thomas can. In the last 6 games of 2008, Thomas had 4 starts, scored 9 TDs, and gained over 600 yards from scrimmage. He was beastly.
This offseason, Thomas continued to impress. Drew Brees has called him "the total package". He knew he was a bit small for a featured back and needed to hit the weight room so he bulked up 10 pounds… all in his legs as evidence by his jump in squat poundage from 495 lbs in 2008 to 675 lbs in 2009. Take a moment to reflect on that number… 675 lbs of squat!
Since Thomas is on this list, there is some risk involved. There are definitely durability concerns with Pierre, as there are with any young back taking over a featured role for the first time. There is also the question of how many touches Thomas is going to get. The Saints' offense is focused on the pass, and the backfield is quite crowded, with Thomas and Bush splitting carries and Mike Bell occasionally spelling both of them. If Bush stays healthy, Thomas' upside and production are both limited, as he is unlikely to garner more than 250 touches. If fragile Reggie goes down and Thomas gets 20+ touches a game, look out.
Bottom Line: Huge Reward, Moderate Risk
DeAngelo Williams/Jonathan Stewart, RBs, Panthers
Current ADP - Williams: 1.12
Current ADP - Stewart: 5.12
Both of these gentlemen make the list and for obvious reasons – there are only so many carries to go around in Carolina. At this point in the season, it is unclear what the distribution of carries is going to look like, though a similar 3 to 2 ratio in favor of Williams is likely to occur in 2009. At that rate, both should be productive, but neither will be outstanding. It's almost unreasonable to expect Williams to duplicate his numbers from a year ago (1600+ yards, 20 TDs, 5.5 ypc) only getting 67 percent of the touches out of the backfield. The major risk here is that neither takes over the featured back role (or one does, but you own the other – drafting both would be very expensive).
That being said, if one of these guys can emerge and become the featured back, we could very well see another season like Williams' produced in 2008. Both are injury prone, so one of these backs taking over the role isn't an unlikely scenario. If one does, the sky is the limit running behind the fantastic Carolina O-line.
I have a sneaking suspicion that Stewart is going to find a home on many of my fantasy teams this season. I think Williams and Stewart have the same upside (1st round value), but Williams is going in the first round, while Stewart is generally available into the 5th or even 6th round. To me, that's a no brainer.
Bottom Line (Williams): Huge reward, Huge risk (expense of pick)
Bottom Line (Stewart): Huge reward, Moderate risk

Terrell Owens, WR, Bills
Current ADP: 3.07
Anyone else surprised when they heard that T.O. was heading to Buffalo? I must say the Bills would have been at the bottom of my "most likely to be T.O.'s new home" list. When you think about it, there are reasons to be optimistic about Owens' production this year. It's a contract year for T.O., and if anything can motivate him to play well, its money and fame. He has arguably the most talented wideout opposite him (Lee Evans) that he's had his entire career. Both should be able to stretch the field nicely, assuming that developing QB Trent Edwards can improve his down-field passing and the Bills running game remains a credible threat.
Frankly, I am skeptical. Edwards is no McNabb or Romo, the Bills offensive line is in shambles, and T.O.'s skills are rapidly declining. The man is going to be 36 this season, and even last year he showed signs of regression. In 2008, he posted his lowest numbers in the last decade rec/game (4.3), yds/game (65.7), and TD/game (.63) while dropping a lot of passes in the process. This year his targets could be down and if all goes wrong, Owens could be looking at the end of his career.
Bottom Line: Large reward, Large risk
Chad Ochocinco, WR, Bengals
Current ADP: 4.05
I must say, it irritates the heck out of me to have to write "Ochocinco" every time I want to discuss Mr. Chad. His 2008 season was an absolute train wreck, between injury problems, a terrible offense, and an even worse attitude. He didn't seem to care, though admittedly it's not easy to when you play for a team that didn't win a game until the second half of the season.
Obviously there is big risk with number 85, between his off-field "tweeting" distractions, questionable motivation, and age (31). However, there is no denying his talent. Before last year's debacle, Chad averaged over 90 catches, 1350 yards, and 8 TDs for five straight seasons. With Palmer's return to the field, if Chad can 1) stay focused, and 2) stay motivated, we could see a return to greatness. On the other hand, that Palmer has already publicly criticized 85's worth ethic and commitment to the team certainly raises some red flags.
For my money, Chad's potential for top 5-10 WR numbers might be too alluring to pass up in the 4th or 5th round. He is being drafted around the likes of Vincent Jackson, DeSean Jackson, and Roy Williams and he could easily end up with production that tops all three of those fine receivers.
Bottom Line: Huge reward, Large risk