1/19/08



One of the best tools that FF Today provides is the fantasy football points vs. feature and, more specifically, the remaining Strength of Schedule. Using this feature, it is my hope to augment these features and refine them even further. Over time, it should be proven in this column that different styles of players score differently against different opponents. For example, perhaps a possession receiver makes for a better play against a certain defense as opposed to a burner despite the fact that the defensive back guarding him is considered slow. Given the high number of committee running backs and teams without a clear-cut #1 receiver in the NFL, I feel this analysis will help owners with roster decisions throughout this season.

QBs: (1 pt per 25 yds passing; 6 pts for all TDs, -2 pts/INT or fumble)
RBs/WRs/TEs: (1 point per 10 yards rushing/receiving, 6 points per TD)

Note: Teams that have a fantasy relevant TE will be included.

SD @ NE | NYG @ GB

Chargers @ Patriots
Philip Rivers/Vincent Jackson/Chris Chambers/Antonio Gates
LaDainian Tomlinson (vs. NE)
Similar passing attacks that have faced the Patriots this season: Chargers
Similar rushing attacks that have faced the Patriots this season: Chargers
FF Points Allowed vs. similar QBs: 17.6
FF Points Allowed vs. similar WRs: 7.2
FF Points Allowed vs. similar TEs: 13.7
FF Points Allowed vs. similar RBs: 13.6
FF Points Allowed vs. QBs/WRs/TEs during playoffs: 23.3/25.6/7.9
FF Points Allowed vs. RBs during playoffs: 12.7

Passing Game Thoughts: In my honest opinion, the Chargers are one of the toughest teams for the Patriots to match up against…when they are healthy. And there within lies the problem, as only the WRs in this group above are "sure things" for Sunday. Granted, Billy Volek and Michael Turner are no slouches, but they are not the players a team like San Diego wants/needs to rely on to pull off the biggest playoff upset in recent memory. And while Chambers and Jackson have come up very big in the postseasaon thus far, this is the type of game that a fully-functioning Gates would be invaluable in. A healthy Volek – as much as HC Norv Turner doesn't want to admit it – is a better QB than a gimpy Rivers and San Diego has really done itself a disservice if it has put much faith in Rivers playing a complete game on Sunday. To many people's surprise, the Patriots' defense isn't exactly a dominant unit, just one that knows how to play with a lead, which invariably has happened in each game so far because of the proficiency of their offense. They will move the ball, but one turnover could very well be their undoing – the margin of error that an opponent has against New England is very slim. However, the worst thing a team can do against the Pats is go conservative on either side of the ball. That said, I expect the Chargers to do everything to get LT going early with a steady diet of deep shots a regular part of the arsenal throughout the game. If I'm a fantasy owner playing for one week only, I don't mind running with this San Diego duo.
Running Game Thoughts: Tomlinson looks good to go, meaning he should see a regular diet of rushes and short throws to move the chains. However, New England knows as well as anyone that it cannot let LT dictate things on offense. This should mean that Turner and, more likely, Darren Sproles will be introduced on a regular basis to the Pats' defense. One of the reasons that Norv Turner was brought on to guide this team was to diversify the attack and it will take ALL of the weapons San Diego has to win it, just like it did vs. Indy. Going back to LT, take his Week 2 performance against the Pats with a grain of salt. Confidence was low all throughout the first month of the season for the Chargers, who certainly endured and battled through a stretch of putting the Marty Schottenheimer regime in the past and taking to the Norv Turner way of things. New England finished in the top 10 of fewest points allowed to RBs this season, but that run defense hasn't been all that spectacular lately, at least until last week vs. the Jags. That said, if the Chargers can win – as stated above – it won't be directly because of LT's stat line but rather due to his supporting cast. He's always a threat for a TD and 100 total yards, but San Diego will need the passing game to carry the day.
Projections:
Philip Rivers: 75 pass/1 TD/1 INT
Billy Volek: 200 pass/1 TD/1 INT
Vincent Jackson: 70 rec/1 TD
Chris Chambers: 80 rec/1 TD
Antonio Gates: 45 rec
LaDainian Tomlinson: 80 rush/1 TD/40 rec
Tom Brady/Randy Moss/Wes Welker/Donte Stallworth/Jabar Gaffney/Ben Watson
Laurence Maroney (vs. SD)
Similar passing attacks that have faced the Chargers this season: Patriots
Similar rushing attacks that have faced the Chargers this season: Patriots
FF Points Allowed vs. similar QBs: 26.2
FF Points Allowed vs. similar WRs: 34.1
FF Points Allowed vs. similar TEs: 10.9
FF Points Allowed vs. similar RBs: 20.7
FF Points Allowed vs. QBs/WRs/TEs during playoffs: 19.8/19/11.9
FF Points Allowed vs. RBs during playoffs: 10.9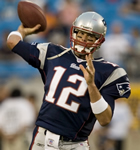 Passing Game Thoughts: Look throughout New England's schedule this season and show me more than a couple games where they faced a decent opponent that didn't come into the game fairly banged-up at a key spot or have a key player injured at some point during their meeting with the Patriots. (Really, I'm not trying to diminish their perfect record, and yes, I realize New England played their first few games without DE Richard Seymour and S Rodney Harrison. I'm just not really sold that the 2007 Patriots are the greatest team ever.) Granted, one of the things that makes this New England team so good is that it rarely ever makes a mistake, turns the ball over or even commits a penalty. For those things alone, they should be commended. However, if there is one team left in the field that will make the Patriots work for their offense, it is probably the Chargers. While they are not the league's best run-stopping unit, I don't expect New England to be able to make its living in the running game this week. And in the passing game, if there is a CB that has the athletic ability to deal with Moss, it may be Antonio Cromartie (with safety help, of course). Quentin Jammer should fare well with Stallworth or Gaffney, while I expect to see a lot of CB-S Eric Weddle (among others, such as Drayton Florence) on Welker. As such, San Diego is one of the few teams that can essentially match talent for talent in the secondary with the Pats WRs. Combine that with the Chargers' pass rush and there should more than one or two times Brady will get flushed out of the pocket. This leads me to believe that early on, it should be a lot of Kevin Faulk, Maroney, Welker and Watson. I don't expect a huge fantasy game from Brady (like he had during the middle of the season), if for no other reason because Maroney is healthy. But this offense will still likely score at least four TDs, so 2-3 scores from Brady & Co. is likely. And just like making a mistake against the New England defense can result in a loss, leaving Moss single-covered just one time will likely result in a TD for Moss. For fantasy purposes, I like Welker and Watson the best (assuming Moss is constantly double-covered). And for what it is worth, this game could get very interesting (no matter the injury situation) if the Chargers get up early by a couple scores. Having already knocked off one of the three teams that I felt could beat the Pats without most of their studs in the second half has to give San Diego a ton of confidence.

Running Game Thoughts: After being faced with the possibility of going scoreless halfway through the season on the highest-scoring team in NFL history, Maroney has done more than find his stride – he is one a four-game TD streak, rushing for over 100 yards in three of those contests. I'm not entirely thrilled about his chances of doing both in this contest, but the fact is that New England will get in the red zone a few times on Sunday and – with no league records left to chase – won't mind giving Maroney multiple cracks at scoring. That said, San Diego has a pretty solid run defense and will make life a bit tougher than previous opponents have on Maroney. In short, Maroney isn't going to for 160 total yards and a score like last week. I do like him to produce similar numbers to LT, however.
Projections:
Tom Brady: 300 pass/3 TD/0 INT
Randy Moss: 70 rec/1 TD
Wes Welker: 80 rec/1 TD
Jabar Gaffney: 40 rec
Donte Stallworth: 25 rec
Ben Watson: 25 rec/1 TD
Laurence Maroney: 75 rush/1 TD/10 rec

Giants @ Packers
Eli Manning/Plaxico Burress/Amani Toomer/Steve Smith/Kevin Boss
Brandon Jacobs/Ahmad Bradshaw (vs. GB)
Similar passing attacks that have faced the Packers this season: Giants
Similar rushing attacks that have faced the Packers this season: Giants
FF Points Allowed vs. similar QBs: 16.3
FF Points Allowed vs. similar WRs: 18.9
FF Points Allowed vs. similar TEs: 6.5
FF Points Allowed vs. similar RBs: 14
FF Points Allowed vs. QBs/WRs/TEs during playoffs: 13.6/23.8/0.3
FF Points Allowed vs. RBs during playoffs: 10.2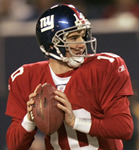 Passing Game Thoughts: Pure and simple, Manning & Co. will need to be at their best once again. Green Bay should feast off all the injuries in New York's secondary, meaning that the running game may have to take a back seat in this contest. That doesn't necessarily mean this game will be a shootout – especially if Sunday is as cold as is being forecasted right now – but the Packers will score points, tallying at least 20 in all but one week since Week 8. CB Charles Woodson and Burress will both be slowed by injury, so I wouldn't exactly expect much out of either player in that matchup. On the other side, CB Al Harris figures to give Toomer all he can handle physically, so a repeat of last week's two-TD is highly unlikely. This takes us to the #3 WR, Steve Smith, who I would look for to produce fairly significant numbers in this contest. The same thing goes Boss against a defense that has shown vulnerability against the opponent's TE (8.1 ppg was fifth-worst in the league during the regular season; eight TDs allowed was tied for third-most).
Running Game Thoughts: With the forecast predicted for Sunday, the importance of Jacobs and Bradshaw controlling the game becomes all the more important. Green Bay finished in the bottom half of the league in points allowed to opposing RBs, but has beaten by good power rushing attacks more than once this season. This, along with a defensive or special teams score, will be the reason the Giants win – if they do. The challenge for most of the Packers' opponents this season has been staying in the game long enough for the power running to take effect. Given the current state of the New York secondary, that may be a tall order in this contest as well. Once again, however, the great equalizer may be the conditions. This game features two of the three most productive running games and I don't think anyone would argue the Packers feature the healthier and more potent passing attack in this game, so it would be to the Giants' benefit to stick with the run as long as they can. In Green Bay's three losses this season, its opponent rushed the ball at least 26 times.
Projections:
Eli Manning: 215 pass/2 TD/2 INT
Plaxico Burress: 50 rec
Amani Toomer: 40 rec
Steve Smith: 40 rec/1 TD
Kevin Boss: 25 rec/1 TD
Brandon Jacobs: 60 rush/1 TD/15 rec
Ahmad Bradshaw: 50 rush/30 rec
Brett Favre/Donald Driver/Greg Jennings/James Jones/Donald Lee
Ryan Grant (vs. GB)
Similar passing attacks that have faced the Giants this season: Packers
Similar rushing attacks that have faced the Giants this season: Packers
FF Points Allowed vs. similar QBs: 26.1
FF Points Allowed vs. similar WRs: 20.8
FF Points Allowed vs. similar TEs: 17.5
FF Points Allowed vs. similar RBs: 26.8
FF Points Allowed vs. QBs/WRs/TEs during playoffs: 15.2/12.1/8.9
FF Points Allowed vs. RBs during playoffs: 21.9

Passing Game Thoughts: I guess this will be just another chance for me to be proven wrong, but I really don't see how the battered Giants' secondary (CB Kevin Dockery is out; Sam Madison and Aaron Ross far from 100%) will be able to keep up with the sheer number of quality receivers Green Bay has. If I know how HC Mike McCarthy thinks at all, he will spread the field with at least four WRs on a regular basis, just to see if a CB like Geoffrey Pope can stick with Jones, Koren Robinson or Ruvell Martin. Any play-caller worth their salt will take advantage of this battered backfield, no matter how cold or snowy it is Sunday. Driver should draw Webster, which heading into this season would have been a mismatch, but now looks more even due to Webster's work in the playoffs, holding Joey Galloway and Terrell Owens somewhat in check over the last two weeks. That would mean RW McQuarters would guard Jennings, a matchup that I expect the Packers and fantasy owners alike to exploit regularly. Jennings has quickly gained the trust of Favre and has certainly defeated more accomplished CBs than McQuarters. Perhaps behind Randy Moss, I look for Jennings to be the best WR play of the week. And for those owners that hope the vaunted New York pass rush can get to Favre – good luck – Mr. Durable was sacked just once in the Week 2 meeting and Green Bay QBs were sacked just 19 times all season. That undoubtedly will have to change if the Giants are to pull the upset. Two things will keep this game close: 1) near blizzard-like conditions at Lambeau Field or 2) if the Giants' offense scores right along with the Packers. Interestingly enough, Favre was held to just one TD combined in the three losses.
Running Game Thoughts: If it sounds like I'm condemning New York to a loss before the game even starts, I'm really not trying to. If Manning continues being efficient (particularly against the blitz) and the Giants' thin secondary can hold up, this will be a fun game to watch – I'm just not confident about the latter happening. Let me also take this opportunity to sound the horn for Grant, who really is the story in my mind – not Favre – about going from fifth-string RB on the Giants' roster in the preseason to the best postseason back in the NFL this season. Since taking the starting job for good in Week 9, Grant has scored no less than nine points. However, since Week 12, he has scored at least once in every game and averaged less than 5.4 ypc just once! The Giants showed last week (Marion Barber in particular) that a powerful running back can have his way against this defense. Yes, they made some corrections last week in the second half, but they will also not have the option of bringing safeties into the box in this contest or else they will get beat deep repeatedly.
Projections:
Brett Favre: 260 pass/3 TD/1 INT
Donald Driver: 50 rec
Greg Jennings: 80 rec/1 TD
James Jones: 50 rec/1 TD
Koren Robinson: 20 rec
Donald Lee: 35 rec/1 TD
Ryan Grant: 110 rush/2 TD/20 rec