2/1/08



One of the best tools that FF Today provides is the fantasy football points vs. feature and, more specifically, the remaining Strength of Schedule. Using this feature, it is my hope to augment these features and refine them even further. Over time, it should be proven in this column that different styles of players score differently against different opponents. For example, perhaps a possession receiver makes for a better play against a certain defense as opposed to a burner despite the fact that the defensive back guarding him is considered slow. Given the high number of committee running backs and teams without a clear-cut #1 receiver in the NFL, I feel this analysis will help owners with roster decisions throughout this season.

QBs: (1 pt per 25 yds passing; 6 pts for all TDs, -2 pts/INT or fumble)
RBs/WRs/TEs: (1 point per 10 yards rushing/receiving, 6 points per TD)

Note: Teams that have a fantasy relevant TE will be included.


Giants vs. Patriots
Eli Manning/Plaxico Burress/Amani Toomer/Steve Smith/Kevin Boss
Brandon Jacobs/Ahmad Bradshaw (vs. NE)
Similar passing attacks that have faced the Patriots this season: Giants
Similar rushing attacks that have faced the Patriots this season: Giants
FF Points Allowed vs. similar QBs: 29.9
FF Points Allowed vs. similar WRs: 27.7
FF Points Allowed vs. similar TEs: 11.0
FF Points Allowed vs. similar RBs: 17.0
FF Points Allowed vs. QBs/WRs/TEs during playoffs: 12.1/21.1/7.7
FF Points Allowed vs. RBs during playoffs: 10.5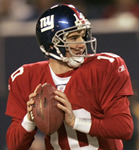 Passing Game Thoughts: In its purest form, football is generally won by the team that makes fewer mental and physical mistakes. And quite honestly, no team has done that better than the Giants this postseason. Whether they can take the same caretaker approach against the last team that defeated them is another story. What has clearly been shown so far is that the Giants defense has improved to the point that if the offense can score 20 or more points, the defense will take care of the rest. Now, what remains to be seen is whether New York took a large step up as a team in Week 17 or if the Patriots played about as poorly on defense as they could in that game. Much like their first two playoff opponents, the Patriots will see if the Giants can beat them through the air, which leads us to the combination of Manning to Burress. Manning, who has been ripped by the media for his inconsistency throughout his career, has been nearly dead-on in the playoffs. His completion percentage has improved from 56.3% to 62.3% and he has yet to throw an INT after throwing 20 in the regular season. Now the former stat may not sound like much, but that figures into roughly 2-3 more catches per game, plays that give New York important first downs to keep drives alive or that can lead to broken tackles in the open field for big plays.
Burress has already been quoted saying a few things this week, including his ankle being at "97 percent". If that is the case, he is a mismatch for any CB in the New England secondary. CB Asante Samuel, who will not follow Burress all over the field (but will likely cover him the majority of the time), is not likely to have as much impact in this game against Burress as he has in past playoff games (against the Colts, for example) because so much of what Burress catches is high and deep, not quick-breaking routes like Samuel has made a living on in the past. And judging by Burress' two-TD performance in their last meeting, Samuel may need some safety help. CB Ellis Hobbs should do a fair job against Toomer, although Manning has shown no reluctance to go his way when the situation warrants. However, it would not be a shock to see Toomer be the beneficiary of single coverage on a few deep outs as New England concentrates its resources on slowing Burress. Stopping the TE has been a sore spot in two postseason games for the Pats, therefore, Boss may be a sneaky play. With all that said, the Giants need two of three key areas to be in their favor to pull the upset (and probably in this order). (1) The ground game will need to be ultra-productive; (2); Burress to be as healthy as he says he is and unstoppable as he can be; (3) Manning must continue to be efficient and be his "playoff self" and not the QB so many New York fans grew to dislike. I'm not sure if I trust what I see yet from Manning, but this incredible run of his started against the Patriots and as much as the detractors will say New England did not bring their "A-game", any fan knows that the Pats wanted that game to complete their perfect season. So while I would still prefer Tom Brady be my QB in this game, I tend to believe we are starting to see the evolution of Eli Manning.
Running Game Thoughts: As stated above, the ground game will play a vital role in determining whether the Giants win, stay close or get blown out. While Manning deserves a lot of the credit for evolving during the playoffs, it has been made easier by the big-play ability and spark Bradshaw has brought to the offense. It's unthinkable watching him now that he wasn't allowed to make an impact on this offense until Week 16! It is safe to say that he is as trusted with the ball at this point as Jacobs is, so it is hard to decipher which RB will see the most work. However, Jacobs remains the best fantasy play by a slim margin because of his nose for the end zone (four TDs during the playoffs to Bradshaw's zero). I do like New England's chances to limit the Giants on the ground in this game, seeing as how they have kept the Jags and Chargers in check in the last two contests. But much like teams have done with the Colts in years past and the Buffalo Bills in the early 90s, it is important to run effectively, chew up the clock as much they can and leave the Patriots' offense in the worst field position possible. Granted, New England has driven the length of the field to score better than any team this season, but if New York is continually forcing the Pats to go the distance (much as they have done to their opponents in the first three playoff games), the Giants can win this game. Obviously, it will help if the combination of Jacobs and Bradshaw can combine for 150 total yards, but turnovers and field position will likely have a better say in what team prevails.
Projections:
Eli Manning: 230 pass/3 TD/2 INT
Plaxico Burress: 75 rec/1 TD
Amani Toomer: 80 rec/1 TD
Steve Smith: 30 rec
Kevin Boss: 20 rec/1 TD
Brandon Jacobs: 50 rush/1 TD/15 rec
Ahmad Bradshaw: 60 rush/10 rec
Tom Brady/Randy Moss/Wes Welker/Donte Stallworth/Jabar Gaffney/Ben Watson
Laurence Maroney/Kevin Faulk (vs. NYG)
Similar passing attacks that have faced the Giants this season: Patriots
Similar rushing attacks that have faced the Giants this season: Patriots
FF Points Allowed vs. similar QBs: 25.4
FF Points Allowed vs. similar WRs: 37.4
FF Points Allowed vs. similar TEs: 3.8
FF Points Allowed vs. similar RBs: 23.2
FF Points Allowed vs. QBs/WRs/TEs during playoffs: 19.8/20.4/11.5
FF Points Allowed vs. RBs during playoffs: 8.5
Passing Game Thoughts: I don't think there is any doubt that the Giants have to play a "more perfect" game than the Patriots do this weekend. However, I will say that if New York can continue generating the pressure it has put on opposing QBs during the postseason, this contest can be every bit as interesting as the first meeting was between these teams. One nugget I have learned about football over the years is the power of deception – in this case, the power a defense can gain by feigning an all-out blitz but then sending only 4-5 rushers. In essence, the more often a defense can make an offensive line block air, the better. In the playoffs, the Giants have done a fantastic job of bringing no more than five rushers to generate pressure while getting better-than-expected play from their back seven in coverage. They will need to incorporate all the principles of zone and overload blitzes that DC Steve Spanuolo has used over the course of the season. But the biggest thing they need is for their safeties to think pass first and work from the back to the front. In other words, stop Moss at all costs and take good angles on the ball carrier. The safety play (bad angles, etc) on Donald Driver's long TD catch in the NFC Championship was abysmal and that cannot happen if New York wants to turn this game into a slugfest.
The Pats are going to score and, unfortunately for the Giants, they will likely score at least 24-28 points. Brady will have good protection 85-90% of the time (if not more), so his numbers will undoubtedly be good once again. The question then becomes which Patriot will benefit the most. Well, Moss is going to draw the most attention once again, but you know he'll be chomping at the bit after seeing very little action in the first two playoff games. I would not be the least bit surprised to see the first New England offensive play be a play-action deep ball into double coverage where Moss is asked to go and get it. I think regardless of the attention paid to Moss, he can have an MVP-type performance. As he has in the previous two postseason contests, Welker figures to have another standout game. In terms of short-area explosion, Welker may have the most of any WR I can remember lately. While he isn't overly fast, he is nearly uncoverable in third-and-short situations. Now, how much Gaffney and Stallworth will contribute will be up to just how effective the Giants' front four is. Since I do expect the G-Men to apply a bit of pressure on Brady, I would opt for Gaffney as he is more likely to break open quickly and excel in the intermediate passing game. And I tend to believe that Watson is a slightly better play than his Giant counterpart (Boss), although both are good options and both defenses have struggled a bit guarding the TE. I would be remiss if I didn't mention Faulk, who could very well have a Dominic Rhodes-like impact (as in last year's Super Bowl) on this contest in the passing game if the Giants' pass rush is getting to Brady more than expected.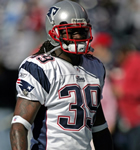 Running Game Thoughts: It's become apparent that while the Patriots were certainly out to "kill" opponents earlier in the season, the reason Maroney wasn't more of a factor was because: 1) he didn't need to be and 2) he was more injured than anyone let on (big surprise). What we do know is that Maroney – when healthy – can and will be productive. And after getting Moss established early, the Pats should place a heavy emphasis on making sure Maroney gets a full load. Because New England knows that it should be able to pass and score whenever it wants to, it should not be afraid to keep the ball away from the Giants' offense either. The best way to keep New York from being able to play keep-away with the Pats' offense is to make sure that New York has limited opportunities to handle the ball and to win the field position battle. Of course, I'm not suggesting that the Pats take the ball out of Brady's hands any more than they have to. But New England must understand that the Giants are one of the few teams stout enough up front on defense to get to the QB with just four rushers and that one of the few ways it can lose is if it allows New York the opportunity to get Jacobs and Bradshaw in rhythm. Thus, I would not be surprised to see Maroney to match (or surpass) his season high of 26 carries set in Week 15. He has scored in five straight weeks and has carried 22 or more times three times in the last five games after not doing so once in the first 14 weeks of the regular season. I don't expect huge yardage totals from him, but he should continue to find the end zone.
Projections:
Tom Brady: 315 pass/3 TD/0 INT
Randy Moss: 75 rec/1 TD
Wes Welker: 95 rec/1 TD
Jabar Gaffney: 45 rec
Donte Stallworth: 25 rec
Ben Watson: 25 rec/1 TD
Laurence Maroney: 70 rush/1 TD/10 rec
Kevin Faulk: 15 rush/40 rec