9/8/07



One of the best tools that FF Today provides is the fantasy football points vs. feature and, more specifically, the remaining Strength of Schedule (available Week 2). Using this feature, it is my hope to augment these features and refine them even further. Over time, it should be proven in this column that different styles of players score differently against different opponents. For example, perhaps a possession receiver makes for a better play against a certain defense as opposed to a burner despite the fact that the defensive back guarding him is considered slow. Given the high number of committee running backs and teams without a clear-cut #1 receiver in the NFL, I feel this analysis will help owners with roster decisions throughout this season.

QBs: (1 pt per 25 yds passing; 6 pts for all TDs, -2 pts/INT or fumble)
RBs/WRs/TEs: (1 point per 10 yards rushing/receiving, 6 points per TD)

Note: Teams that have a fantasy relevant TE will be included. Also, for the first weeks, projected fantasy points allowed will be used as teams have yet to establish any trends. After the first month of the season, this column will take on the look it had last season as there will be enough information to start analyzing trends.

ATL @ MIN | CAR @ STL | DEN @ BUF | KC @ HOU | MIA @ WAS | NE @ NYJ | PHI @ GB | PIT @ CLE
TEN @ JAX | CHI @ SD | DET @ OAK | TB @ SEA | NYG @ DAL | BAL @ CIN | ARI @ SF

Falcons @ Vikings
Joey Harrington/Joe Horn/Michael Jenkins/Alge Crumpler
Warrick Dunn/Jerious Norwood (vs. MIN)

Passing Game Thoughts: While Vick's departure isn't going to do wonders for the team's success in general, Joey Harrington figures to improve the overall efficiency of the passing game by several percentage points, even with Petrino's emphasis on throwing the ball down the field. The biggest beneficiaries would figure to be Joe Horn, Roddy White and Alge Crumpler. However, White has yet to flash any degree of consistency with his hands, therefore, expect Horn to be the top dog in the receiving game with Crumpler not falling too far behind him. Of course, Horn's age and recent injury history suggest that, once again, Crumpler is best fantasy property to own in the Atlanta passing game.

So good was the Vikings run defense last year, that in some games, opponents made themselves one-dimensional. However, for the teams that could afford to do so, this proved to be a worthwhile strategy. Former Bengal defensive coordinator Leslie Frazier will be asked to take the place of Mike Tomlin, who became the Steelers head coach in the offseason, and do something Tomlin couldn't do – pressure the passer. He will attempt to bring more blitzes to counter the lack of pressure this unit was able to apply on the quarterback as a whole last season. It stands to reason that this would open up more big plays for the offense, but will also create more opportunities for the Vikings to create big plays on their own end of the things. While as a rule, it's not a great idea to take much for the preseason, the Vikings have shown themselves to be more of a big play defense already. This not only bodes well for the offense - which will struggle - but for fantasy owners that are looking for a cheaper option than the Bears and the Ravens in their drafts.

Running Game Thoughts: Most of the same cast of characters that ended the 2006 season return again this season. However, it would be foolhardy to expect this unit to lead the league in rushing as it has in each of the past three seasons, due to the absence of one Michael Vick. Petrino has installed a belief of beating defenses up physically as opposed to the cut-blocking scheme the previous regime used to gain such gaudy numbers on the ground. Needless to say, this is a running game in transition, as it moves away from the athletic lineman required to make the zone-blocking scheme work to more imposing behemoths. With Dunn coming off recent back surgery, the time may be right for Norwood to step up and assert himself as the big-play back on a more consistent basis than he was able to last season. Although, don't expect that to happen against the Vikings, who allowed just one running back to top 15 fantasy points last season, with the effort coming in week 17 against the Rams' Steven Jackson.

There may not be a more imposing set of run-stoppers in the league than the Vikings pair of Williams: Pat and Kevin. Both require a double team on a consistent basis, which makes this unit struggles against the pass – and in particular the pass rush – even more confounding. With the two Williams as anchors, expect another solid year for the Vikings run defense. The beneficiaries of those two mammoths will be LBs Ben Leber, EJ Henderson and Chad Greenway. Another player that contributes to the run defense is cornerback Antoine Winfield. This unit allowed an amazing 2.8 yards per carry a season, and while it would be impossible to ask for a repeat, don't expect that number to go up significantly.

Projections:
Joey Harrington: 195 yds passing/1 TD/2 INT
Joe Horn: 55 yds receiving
Michael Jenkins: 50 yds receiving
Alge Crumpler: 55 yds receiving/1 TD
Warrick Dunn: 40 yds rushing/25 yds receiving
Jerious Norwood: 45 yds rushing/20 yds receiving

Tavaris Jackson/Troy Williamson/Bobby Wade/Jim Kleinsasser
Chester Taylor/Adrian Peterson (vs. ATL)

Passing Game Thoughts: Much like the Falcons running game will be in transition, the Vikings passing game has a similar outlook. When the season starts on Sunday, quarterback Tavaris Jackson will be making just the third start of his career. While he'll have an upgraded collection of talent surrounding him in this campaign, the talent he possesses at receiver and tight end does not figure to be relevant in fantasy circles for at least another year. As such, expect high rushing totals from the second-year veteran from Alabama State and a fairly high number of catches from Chester Taylor once again this season.

With the Falcons' pass defense figures to get a boost from former cowboy defensive coordinator Mike Zimmer, who returns to the 4-3 scheme that he spent most of his career teaching as opposed to the 3-4 scheme that Dallas coach Bill Parcells asked him to run. Unlike previous DC Ed Donatell, Zimmer's primary focus is maximizing his player strengths, as opposed to strictly forcing turnovers. This bodes well for Anderson, Abraham and Rod Coleman, assuming the last of those three can return quickly from his ruptured right quadriceps injury that he suffered in the spring. This may also bode well for DeAngelo Hall, who still has room for improvement despite having a reputation as a shutdown CB despite making the Pro Bowl for the second time last season. What does not bode well is that Abraham and Coleman are either injury risks or are coming off serious injuries.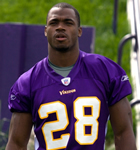 Running Game Thoughts: Little changes in the run game for the Vikings. The line returns intact, however, the backfield gets a big play boost from rookie Adrian Peterson. While the smart money would be to say that Peterson will quickly take the job starter Chester Taylor, it stands to reason that this may play out like the Dominic Rhodes/Joseph Addai situation from last season. Until HC Brad Childress gives us more of an indication of where he is going with this duo, the safe play is to consider both #3 RB options. Play your roster just like Childress has done with his, meaning Taylor should be viewed as a low #2 RB until he actually loses the job, while Peterson should only see your starting lineup as a flex or when the Vikings face some of the weaker defense on their schedule.
As hard as it may be to believe, the success of this run defense could hinge on the health of defensive tackle Grady Jackson. He's one of a handful or couple helpful players in the league that has enough size on the defensive line to tie up multiple blockers. His presence in the middle of that defense is vital considering the lack of size that exists behind him, particularly in OLBs DeMarrio Williams and Michael Boley. While rookie defensive end Jamaal Anderson may end up one day being a stellar run defender, it's likely too much ask of him to become one in his first season. Combine that with fellow end John Abraham, who tends to get a bit overaggressive in his pass rush, and it opens up running lanes for opposing backs. This unit finished in the top 12 in fantasy points allowed to running backs even with Donatell calling the shots last season, so the potential for this team to stop the run on a consistent basis is possible, so long as it remains healthy.
Projections:
Tavaris Jackson: 165 yds passing/40 yards rushing/1 TD/1 INT
Troy Williamson: 70 yds/1 TD
Bobby Wade: 40 yds
Jim Kleinsasser: 15 yds
Chester Taylor: 65 yds rushing/25 yds receiving
Adrian Peterson: 55 yds rushing/10 yds receiving/1 TD

Panthers @ Rams
Jake Delhomme/Steve Smith/Keary Colbert
DeShaun Foster/DeAngelo Williams (vs. STL)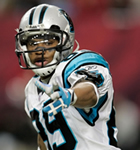 Passing Game Thoughts: This offense is about one thing: Steve Smith staying healthy. When he is going strong, Delhomme is an above-average fantasy QB and no CB or double team in the league can stop Smith – it really is that simple. Colbert has seemingly emerged from the depths to impress in camp this preseason and will do his best to exploit the single coverage he will see all season long. Look for a good game by all players involved in the Panthers' passing game in Week 1.
The pass rush should be improved from last season, but it won't completely make up for a lack of experience at the CB position. The Rams, who couldn't exactly afford to be set back on defense, will be without starting CB Fahkir Brown for the first four games of the season due to suspension. Not that Brown had much of a chance against Smith on turf, but figure second-year CB Tye Hill will have even more issues despite his incredible speed. Smith gets to a defense with his compact size, speed, quickness and incredible jumping ability and fearlessness.
Running Game Thoughts: Foster has been named the starter for Week 1, which may be all you need to know about whom to start this week. Usually, it's not that cut-and-dried, but the Rams will struggle against the run again this season. I do like Williams for the season as he is the more-gifted runner, however, this same "we'll wait-and-see" approach to the running game by two different coordinators has to make one wonder if Williams is not meeting the "need" in practice.
Selecting DE Adam Carriker and moving him to DT will likely pay off big for the Rams defense…down the road. It was the second-worst run defense in the league last season (145.1 yd/game) and permitted 10 individual rushers to eclipse the century mark. That kind of "leakage" does not get fixed overnight. The run defense should be marginally better, but the Rams will need their offense to overcome their defense once again this season. As such, Foster and Williams should have nice days on the ground.
Projections:
Jake Delhomme: 255 yds passing/3 TD/1 INT
Steve Smith: 110 yds receiving/2 TD
Keary Colbert: 50 yds
DeShaun Foster: 85 yds rushing/1 TD/20 yds receiving
DeAngelo Williams: 55 yds rushing/35 yds receiving/1 TD
Marc Bulger/Torry Holt/Isaac Bruce/Drew Bennett/Randy McMichael
Steven Jackson (vs. CAR)
Passing Game Thoughts: Torry Holt's recovery from knee surgery has to be a concern. Six months after having a procedure to remove "loose cartilage", the receiver estimated he is somewhere in the neighborhood of 70-80%. If that is truly the case, Holt becomes a mid-#1 fantasy WR as opposed to an elite one. The good thing for the Rams though is they have three receivers on their roster who have served as a #1 WR at some point in their careers (Bennett, Bruce), so there isn't a great need to write off the passing game just yet, even if neither WR is quite the caliber of Holt. The Rams have such a plethora of receiving options available to them to start the season, it would take a catastrophic series of events for this offense not to finish in the top 10 in most every important offensive category.
If there was one opponent the Rams would not have liked to face in Week 1, it would have likely been the Panthers. In Chris Gamble, Ken Lucas and Richard Marshall, Carolina has three cornerbacks that can potentially take advantage of the weakened Holt. Combined with an incredible pass rush, the Rams do not match up all that well the front four of the Panthers and the Panthers have a set of cornerbacks that can run the field with their receivers. The one big advantage the Rams do have in this contest, however, is that they will get to play on the Edward Jones Dome turf, as opposed to the natural grass Bank of America Stadium. Given the situation, expect this to be one game where the Rams find Jackson and rookie Brian Leonard out of the backfield a number of times to offset the pass rush.
Running Game Thoughts: It is slightly ironic that following the breakout season of Jackson, the Rams would face the team that brought their him and his offense to a screeching halt in Week 11 last season. Jackson rushed only seven times and caught seven more passes in a 15-0 loss in which the Rams running back posted 57 total yards, by far, his worst total of the season. Don't expect a repeat of that performance. Following the Panther debacle, Jackson touched the ball at least 27 times in each of the final six games. As far as the season goes, people should not expect a repeat of his 90 receptions from last season. However, he will still be the meal ticket for this high-powered offense.
At 100%, Carolina could be a top 10 defensive unit. Speaking of which, Dan Morgan's presence almost single-handedly transforms this unit from a good defense to a great defense. In seasons in which he plays the majority of the games, the Panthers defense can sometimes be borderline dominant. Depth behind him is important, though, as he has yet to make it through a full season. Drafting Jon Beason is/was supposed to help that, however, the rookie is starting out his career behind WLB Na'il Diggs on the depth chart. The Carolina defensive unit allowed their fair share of 100-yard rushers last season, but surrendered just eight rushing scores. With Morgan in the lineup and the defensive line seemingly healthy, expect the rushing yards allowed to go down and the scoring to stay about the same.
Projections:
Marc Bulger: 255 pass/3 TD/1 INT
Torry Holt: 65 rec/1 TD
Isaac Bruce: 55 rec
Drew Bennett: 45 rec/1 TD
Randy McMichael: 40 rec/1 TD
Steven Jackson: 85 rush/1TD/35 rec

Broncos @ Bills
Jay Cutler/Javon Walker/Rod Smith/Daniel Graham & Tony Scheffler
Travis Henry (vs. BUF)
Passing Game Thoughts: As long as Cutler is not surprised by the speed of the Bills defense, he should have little trouble picking it apart. However, as stated earlier, expect a heavy dose of Henry in this contest against his former team. Expect a modest effort from passing game, as Denver concentrates on exposing the undersized front of the Bills.
Much like Spikes and Fletcher's departure in the front seven, losing cornerback Nate Clements from the back four also does little to inspire confidence in the Bills defense. While Terrence McGee is a capable cornerback, the jury remains out on whether second-year cornerback Ashton Youboty or eight-year veteran Kiwaukee Thomas will be able to hold up under on a regular basis against some of the better passing games in the league. As a result, safeties Donte Wittner and Ko Simpson will need to spend the majority of their time playing back as opposed to moving into the box to defend the run – something the Bills need to have, extra defenders in the box. Therefore, it's hard to imagine the Bills having much success stopping the Broncos with just seven undersized players playing the run. Do expect Walker to beat this pass defense deep at least once in this game.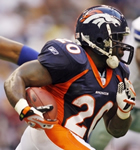 Running Game Thoughts: On the surface, it would appear the Broncos are a good matchup for the Bills defense. Much of his success of the Broncos running game is based on athletic lineman who are able to go to the perimeter before their defensive counterparts are able to seal them off, allowing the running back to make his one cut and go. However, expect the Broncos to be able to show both sides of their running game -- power and speed -- in this contest. One of the advantages to acquiring Travis Henry is his power and the uncanny ability to not go down on first contact. This will endear him greatly to coach Mike Shanahan.
The 2007 edition of the Buffalo Bills defense is interesting from the standpoint that this will not be a unit that teams want to face when they are trailing. This is a very quick defense that will give offenses fits in the passing game. However, this unit lacks any kind of significant bulk up front, therefore, they figure to get bullied by power running teams. And while size alone does not determine the ability to stop the run, it does not figure to be a good sign the Bills have only one 300-pound-plus lineman on the roster, tackle Tim Anderson. In the offseason, Buffalo watched linebackers London Fletcher and Takeo Spikes leave and were held hostage by defensive tackle Darwin Walker, who eventually worked his way into a trade to the Bears. Even with a combo of Spikes and Fletcher, the Bills allowed 4.6 yards per carry, among the worst such averages in the league. So while the addition of Penn State linebacker Paul Posluszny was a positive move, it does not figure to fill a void left by two former Pro Bowl linebackers.
Projections:
Jay Cutler: 250 pass/1 TD/1 INT
Javon Walker: 90 rec/1 TD
Brandon Marshall: 55 rec
Daniel Graham & Tony Scheffler: 30 rec/35 rec
Travis Henry: 125 rush/2 TD/10 rec
JP Losman/Lee Evans/Peerless Price
Marshawn Lynch (vs. DEN)
Passing Game Thoughts: Unfortunately for the Bills, their pass offense begins and ends with JP Losman to Lee Evans. Considering that All-Pro cornerback Champ Bailey will be tracking him all day, it figures to be a long day for Evans and the Bills passing offense. Roscoe Parrish could be a wild card in this equation, but cornerback Dre' Bly should be able to limit him as well.
While covering Evans is never an easy day at the office, Bailey and Bly will be helped by a Jim Bates-coached defense that will make sure to force Losman to throw the ball quickly, largely negating the deep ball Losman and Evans are so proficient at.
Running Game Thoughts: While, in theory, the Bills offseason acquisitions of guard Derrick Dockery and tackle Langston Walker were much-needed, the offensive line is in need for further repair. And while the Broncos preseason performance was hardly inspiring on the defensive side, they should have enough ammunition to shut down the run in this contest as rookie Marshawn Lynch struggles to find his way through the first half of the Buffalo schedule.
LB DJ Williams has not quite picked up the MLB position as quickly as the Broncos would have preferred after letting Al Wilson go in the offseason. That said, given the overall improvement of the Broncos defense, safety John Lynch should be able to move into the box to be the eighth man and cover up for any shortcomings against the run, at least in this game.
Projections:
JP Losman: 200 pass/1 TD/2 INT
Lee Evans: 50 rec
Peerless Price: 40 rec
Marshawn Lynch: 55 rush/1 TD/20 rec

Chiefs @ Texans
Damon Huard/Eddie Kennison/Dwayne Bowe/ Tony Gonzalez
Larry Johnson (vs. HOU)
Passing Game Thoughts: It'll be interesting to see after an offseason – in which his starting job was threatened –whether Huard will be in sync with the rest of his offense. It is almost a given that he will look for Gonzalez on a regular basis. Rookie Bowe also figures to give this passing game a boost. However, for those people counting on a Chiefs passing game for fantasy points this season, they may be in for a long year. This game may be a one-game reprieve, for while Houston will have an improved defensive unit, they are still a bit weak in the back four.
The Texans have made substantial improvements to their defense over the last couple years. With what should be an improved pass rush, Houston should be able to cover up their secondary weaknesses on a more regular basis. Cornerback Dunta Robinson is a solid piece who has suffered from multiple seasons of an anemic pass rush. That said, expect a return to his rookie season in which he was able to pick off six passes. The recent trade acquisition for safety Michael Boulware was a solid move as well to shore up what has been long been a weakness.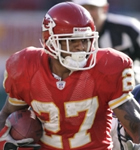 Running Game Thoughts: Perhaps one of the more interesting things to look for in week one will be the availability and usage of running back Larry Johnson, who has had less than two weeks of camp to prepare for the season. He reported in remarkable shape but the jury is out on whether his personal training regimen can hold a candle to the rigors of a regular season schedule. Assuming he will be somewhat limited in this contest because of the holdout, it likely begins a stretch of five games to start the season in which Johnson will likely struggle putting up #1 RB-type running back fantasy numbers. Consecutive years of losing Hall of Fame linemen also figure to drag down LJ's per carry average numbers to around 4.0 yards per carry market, down from the 5.2 he averaged in 2005 and 4.3 average in 2006.
One nugget that has not received as much pressed as it probably should have because of the Texans woes over the years has been the improved play of former first-round defense of tackle Travis Johnson, who apparently had a fire lit under him in the offseason. A properly motivated Johnson - who could be a force against the run to go along with second-year defenseman Mario Williams and rookie defensive tackle Amobi Okoye - could mark the beginning of a stellar young defensive line in Houston, something the team has probably been expecting for some time considering that each of those players are first-round picks. Having Johnson fulfill his potential against the run would do wonders for the defense as Okoye and Williams are more pass-rushing threats - at this point – than run stoppers. Of course, behind them as rookie of the year to DeMeco Ryans, who is nothing short of a tackling machine.
Projections:
Damon Huard: 190 pass/2 TD/1 INT
Eddie Kennison: 40 rec
Dwayne Bowe: 50 rec
Tony Gonzalez: 55 rec/1 TD
Larry Johnson: 100 rush/1 TD/30 rec/1 TD
Matt Schaub/Andre Johnson/Jacoby Jones/Owen Daniels
Ahman Green (vs. KC)
Passing Game Thoughts: Matt Schaub figures to lead to improved passing offense, keyed by the continued development of receiver Andre Johnson and the hands of Ahman Green out of the backfield. There is, of course, rookie sensation and preseason hero Jacoby Jones, who put on a show in the return game and also a little bit in the field during a four-game exhibition slate. The offensive line, while not significantly improved, is better than last season. This should allow Schaub to have that extra split-second more than his predecessor, David Carr, was able to get in the backfield. Schaub, however, is a good decision-maker and should not need the extra time that Carr seemingly needed -- the very thing that eventually forced the former #1 overall pick to be cut from the team.
With what figures to be a limited offense, Kansas City may be able to make up for it with their defense. Pass rush remains an issue but the back seven looks to be in as good of shape as it has been in some time. LB Donnie Edwards returns for his second tour of duty with the team and has always been a solid tackler and stellar performer in coverage. LB Napoleon Harris joined the team as a free agent from Minnesota and LB Derrick Johnson figures to improve and what will be his third year. At cornerback, Ty Law and Patrick Surtain are not what they once were but they are also no slouches either. What this matchup will boil down to is Kansas City's ability to rush the passer versus Schaub's ability to get rid of the ball quickly.
Running Game Thoughts: Ahman Green is the most noteworthy acquisition for the run offense this season in Houston and symbolic of the upgrade of personnel the Texans are trying to make to their team. The offensive line that Green joins in Texas does not figure to be much of an upgrade or downgrade from the unit that he leaves behind in Green Bay. The scheme remains the same and the surrounding talent is comparable, thus, don't expect much of a drop-off for Green this season. In this contest, Green should touch the ball at least 25 times, making things very easy in the passing game and in play action for Schaub.
It's a shame that at the same time the defense is getting fixed in Kansas City, the office is falling apart. As a result, expect teams to continue pounding the ball against the Chiefs defense as they will have little reason to pass given that the Kansas City offense will struggle to score points. At least in this game, that will play right into the hands of the Texans, who would like nothing more than to make Schaub's debut a 20-to-25 past attempt affair. HC Gary Kubiak and OC Mike Sherman would be plenty happy running the ball all day with Green and Ron Dayne.
Projections:
Matt Schaub: 220 pass/2 TD/0 INT
Andre Johnson: 90 rec/1 TD
Jacoby Jones: 50 rec/1 TD
Owen Daniels: 40 rec
Ahman Green: 85 rush/1 TD/20 rec

Dolphins @ Redskins
Trent Green/Chris Chambers/Marty Booker/David Martin
Ronnie Brown (vs. WAS)
Passing Game Thoughts: Because of what figures to be an average line at best, opponents will likely show no mercy in blitzing Trent Green. This will make Ronnie Brown and/or Jesse Chatman vital in the passing game as they will need to make a decent living getting first downs when the line is an able to protect Green long enough so that he can find Chambers downfield. Also look for tight end David Martin to be a valuable outlet receiver in this contest.
On the other side expect the Redskins to blitz mercilessly as that is defensive coordinator Gregg Williams' calling card. This should translate into a fairly productive day for the Redskins defense from a fantasy perspective and a rather tough day for the passing offense for the Dolphins.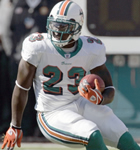 Running Game Thoughts: Right away, we will likely get to see just how much of the offensive wizard new HC Cam Cameron is. The offensive line figures to be an improvement over last year, but they still figure to be a below average unit as a whole. Rookie C Sampson Satele has been a pleasant surprise in training camp, but perhaps he is the only member of the line that registers as a noteworthy blocker upfront in what is a totally revamped line for running back Ronnie Brown and potential handcuff Jesse Chatman, who Cameron appears to be very impressed with. Tackle Vernon Carey was establishing himself as he force on the right side, however, Cameron saw the need for his talents on the left side, which is always a risky proposition. In time, this could turn into a good unit. For now, it could be the one thing that hinders its potential to become a high-scoring unit this season.
The additions of London Fletcher and LaRon Landry, plus the return of the entire defensive line from injury last season figures to make Williams' unit much more like the 2005 edition as opposed to the 2006 unit that had trouble stopping run or pass or forcing turnovers. So long as the defensive line stays healthy this season, which it was not able to last season, this unit should a fair amount of success, keeping the Dolphins in check. Fletcher is the linebacker that is a consistent tackler and make all the calls for the defense the team has missed since Antonio Pierce departed for the Giants two seasons ago. That by itself should enable the Redskins defense help recapture some of its 2005 magic.
Projections:
Trent Green: 235 pass/1 TD/1 INT
Chris Chambers: 80 rec
Marty Booker: 40 rec
David Martin: 50 rec/1 TD
Ronnie Brown: 80 rush/1 TD/35 rec
Jason Campbell/Santana Moss/Antwan Randle El /Chris Cooley
Clinton Portis/Ladell Betts (vs. MIA)
Passing Game Thoughts: With offensive coordinator Al Saunders returning for his second year, expect this offense to be much more fluid than it was a year ago. It also helps that quarterback Jason Campbell was able to take all the preseason snaps and also get a few starts toward the end of last season. There's reason to believe that at least two members of this passing offense can be fantasy relevant, and possibly even worth #1 consideration at their position -- not overall -- but certainly as top 10 fantasy options. Getting Campbell experience will be very important to this offense as he possesses the tools, including the arm strength that Mark Brunell has lacked for some time, to get receiver Santana Moss and tight end Chris Cooley involved in just about every game.
If there is a weak link to the Dolphins defense, look to the back four. CBs Will Allen and Travis Daniels have yet to strike fear into the hearts of any opposing offensive coordinator and the same goes for safeties Yeremiah Bell and Renaldo Hill. What would really help this unit is if second-year cornerback Jason Allen to take the next step and relegate either Daniels or Will Allen to nickel back duty. All told, however, this unit is directed by defensive coordinator Dom Capers, who generally gets the most out of his defenses every year. But this unit, when it fails to pressure the passer, will get beat.
Running Game Thoughts: I, for one, particularly like the addition of guard Pete Kendall to the offensive line. The addition of a 12-year veteran more than makes up for the loss of fellow guard Derrick Dockery to the Bills in the offseason. When healthy, this can be and should be one of the finer run blocking units in the league. What that should mean is either Portis or Betts is in for a fine year, and possibly both. They will have their hands full against a particular the good run-stopping unit in Miami but as we have seen from Joe Gibbs since he returned to the NFL, he will continue running the ball religiously.
While a defense as a whole is getting to be older unit, it is still a very effective unit, holding opponents to 3.5 yards per carry last season, one of the top marks in the NFL. This unit cannot take much in the way of injuries as has little depth beyond the starters. However, so long as linebacker Zach Thomas is patrolling the middle of the field, it can be hard for many offenses to eclipse the four-yard per carry mark.
Projections:
Jason Campbell: 220 pass/1 TD/1 INT/20 rush
Santana Moss: 65 rec/1 TD
Antwan Randle El: 40 rec
Chris Cooley: 60 rec
Clinton Portis: 60 rush/1 TD/10 rec
Ladell Betts: 50 rush/35 rec

Patriots @ Jets
Tom Brady/Randy Moss/Donte Stallworth/Wes Welker/Ben Watson
Laurence Maroney (vs. NYJ)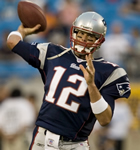 Passing Game Thoughts: Without a doubt, New England upgraded what was - by far - their weakest unit last season. It's generally a good sign of growth at a position whenever a team can just release their leading receiver from a season ago. Even though he missed the entire preseason, one has to expect that Moss will suit up and contribute heavily in Week 1 as will Dante Stallworth. However, as any experienced fantasy player can tell you, trying to get into the mind of HC Bill Belichick when it comes to setting a starting lineup can be nearly impossible. All in all, the off season acquisitions could contribute more to tight end Ben Watson's bottom line as he will roam single-covered in just about every game with the defenses preoccupied with the deep threats of Moss and Stallworth.
Getting first-round pick cornerback Darrelle Revis into camp on time was necessary for this passing defense to improve. That did not happen, and as a result, so it's hard to expect much improvement from this unit until later in the year. Improvement is inevitable for this defense, but it will take time and is still very much a work in progress, meaning that the Patriots were not the first team the Jets would have liked to see on Opening Week.
Running Game Thoughts: If their third preseason game against the Panthers was an indication -- which it probably wasn't -- Lawrence Maroney could be in for a large number of carries this season. However, that game was needed more for knocking the rust off the Patriots' power running game as much as anything, as Maroney had yet to see any action in the preseason. More than likely, backup Sammy Morris will take his fair share of the workload from Maroney to keep them fresh, much like Corey Dillon did for him last year before Maroney got hurt, but just not to the same degree.
The Jets are doing what they can to emulate New England but until they can find themselves a massive nose tackle, it's going to be a hard sell to get this Jets defense into the top 10 where it wants to be. Second round LB David Harris should be able to force his way into the starting lineup at some point this season, which would boost what is only a slightly above-average linebacking corps. How quickly he is able to make that jump may determine whether the Jets once again allow 4.6 yards per carry or if they can take the next step up and became an average run-stopping defense.
Projections:
Tom Brady: 275 pass/2 TD/0 INT
Randy Moss: 65 rec/1 TD
Donte Stallworth: 80 rec/1 TD
Wes Welker: 40 rec
Ben Watson: 40 rec
Laurence Maroney: 90 rush/1 TD/20 rec
Chad Pennington/Laveranues Coles/Jerricho Cotchery
Thomas Jones (vs. NE)
Passing Game Thoughts: Here we go again, Pennington has a solid year and stays healthy and he's already fielding questions about when he'll lose his job to Kellen Clemens. (Must be a thing w/ New York QBs…) Either way, Pennington is a caretaker QB at his best who will minimize risk for his offense. With the acquisition of Jones, it makes even more sense to just "take what you can get" as Jones should be able to carry the load in the running game if he needs to. Cotchery really burst onto the scene last season, making Coles and Cotchery one of the better tandems in the league.
Ponying up the big bucks for LB Adalius Thomas was a good move and what a transition for him…going from Rex Ryan's pressure defenses to Bill Belichick's multiple defense. Most defensive players don't get the pleasure of working with either in their career; he gets both. His versatility should continue to make this defense one of the best in the league. Getting CB Asante Samuel back just before the end of the preseason was also a much-needed get, especially in light of S Rodney Harrison's four-game suspension to open the season.
Running Game Thoughts: I feel Leon Washington is going to get used a bit more than some people believe, relegating Jones from the feature-back status some think he will have to more of a 75-25 workload split. That aside, having a proven RB they can go to will be important as the Jets face a more difficult schedule and much higher expectations. Also, losing G Pete Kendall will reduce the effectiveness of the running game. Jones was, of course, sidelined with a calf injury in the preseason but should be good to go for the opener. That said, it doesn't mean he will light it up. I believe the Jets – as a whole – will struggle much more than many expect this season.
Losing DE Richard Seymour will hurt this unit, but backup Jarvis Green is one of the better reserves in the league, so a dramatic falloff should not be expected. Belichick's units are almost always very good against the run and well-disciplined and there is little reason to expect that to change anytime soon.
Projections:
Chad Pennington: 275 pass/1 TD/1 INT
Laveranues Coles: 90 rec
Jerricho Cotchery: 75 rec/1 TD
Thomas Jones: 60 rush/1 TD/20 rec

Eagles @ Packers
Donovan McNabb/Kevin Curtis/Reggie Brown/LJ Smith
Brian Westbrook (vs. GB)
Passing Game Thoughts: If in fact HC Andy Reid can turn the full-time play-calling duties over to OC Marty Morningweg, gone will be the days of McNabb lighting up the skies with deep balls. But fear not, McNabb – in his current state – should be at least as effective as Jeff Garcia was for the Eagles down the stretch, meaning Westbrook will be involved - but more than that - McNabb doesn't have to be Superman anymore. While his fantasy point totals may not rival last year's, owners may rejoice if they can get a full 16 games from him. That alone will likely solidify another top 8-10 finish in the fantasy QB standings.
This will be a much different unit from the defense McNabb & Co. faced on Monday Night Football last season. The Packers were one of the best defensive teams in the league down the stretch in 2006 and there is little reason for that to change this time around. If the Packers do have a weakness against the pass, it would be that the safeties are average at best, so they could get beat deep.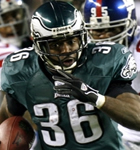 Running Game Thoughts: The Eagles sport one of the better offensive lines in the business and for the first time in the Andy Reid era, they will get to show their wares more often in the ground game. While this is a pleasant development for Westbrook, it is hard to imagine Correll Buckhalter and Tony Hunt not stealing a few of the all-important goal-line chances from him. Either way, if you are a fan of the numbers Westbrook posted down the stretch last season and don't mind putting up with the injury headache that Westbrook can provide from time-to-time, then by all means, enjoy the ride.
The Packers counter with a unit that finished right around the league average of 4.1 yards/carry. With the addition of rookie DT Justin Harrell, who should work himself into the regular DT rotation in short order, and aggressive nature of LBs AJ Hawk and Nick Barnett, this unit may knock a tenth of yard or more off last season's average. In regards to this game, Green Bay will likely struggle with Westbrook in the open field, as will most teams.
Projections:
Donovan McNabb: 245 pass/2 TD/1 INT
Kevin Curtis: 60 rec
Reggie Brown: 80 rec/1 TD
LJ Smith: 25 rec
Brian Westbrook: 65 rush/55 rec/1 TD
Brett Favre/Donald Driver/Greg Jennings
Brandon Jackson (vs. PHI)
Passing Game Thoughts: The success of this offense depends on the right arm of Favre – as it has for so many years – and the health of Driver, who is nursing shoulder and foot injuries. Greg Jennings is not quite ready to be a #1 WR yet and rookie James Jones will be a work in progress, despite a stellar preseason. The offensive line remains intact, although the depth is questionable, so an injury up front could make Favre regret returning for another season.
DC Jim Johnson hasn't met a blitz he doesn't like, but he's had to dial his aggressive schemes back in recent years as his secondary has aged and lost some key components. Lately, the play of the safeties has declined as S Brian Dawkins winds down his spectacular playing career and Sean Considine has struggles to establish the all–around consistency that Johnson needs to ratchet up the pressure. As a result, this team can get beat deep.
Running Game Thoughts: While the Packers essentially sent away one former Nebraska Cornhusker (Ahman Green) for another (Jackson), it's hard to say Jackson is going to just step right in and not miss a beat. Green was – and still is – one of the faster backs in the league who is also a fine receiver. Jackson should fare just fine in the latter, but he will never be the big-play back Green was. As a result, the ground game will initially be asked to maintain just enough of a threat to make Favre's play-action fakes worth carrying out. And even though the defense figures to be the best unit on the team, they will need Jackson to keep them rested.
Even with some upgrades up front, Philadelphia will struggle to dramatically improve their 4.5 yards/carry average from a season ago. What will help is a rebuilt LB corps that will be more effective blitzers as well as better tacklers. Assuming they can get first-round effort from their pair of high-pick DTs – Mike Patterson and Broderick Bunkley, this unit can reclaim its rightful place among the top 10 overall defenses.
Projections:
Brett Favre: 230 pass/2 TD/2 INT
Donald Driver: 75 rec/1 TD
Greg Jennings: 80 rec/1 TD
Brandon Jackson: 65 rush/1 TD/20 rec

Steelers @ Browns
Ben Roethlisberger/Hines Ward/Santonio Holmes/Heath Miller
Willie Parker (vs. CLE)
Passing Game Thoughts: As I have stated in some of the preseason articles, this offense will be as much about Big Ben's arm and accuracy as it has been since the days of the Tommy Gun. We will also likely see the all-around game of Parker in action as he could push 40-50 receptions if this offense does what I think it will. Either way, expect the spread 'em out philosophy of OC Bruce Arians to make everybody listed above fantasy-relevant.
Cleveland may once again have issues on defense this season, but they figure to be against the run and not against the pass unless they suffer a rash of injuries once again in the back four. The CBs go four-deep and I like the ability of S's Sean Jones and Brodney Pool to take another step up this season. Kamerion Wimbley remains the only major threat that teams must prepare for when pass blocking and, as a whole, the rest of the front seven is uninspiring. Expect quality TEs and pass-catching RBs to have field days against the Browns.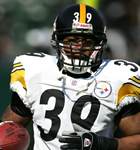 Running Game Thoughts: It's hard for me to see Fast Willie gut a defense for 200-plus rushing yards (like he did last season twice, including the Browns once) again this season given the change in offensive philosophy, but the former Tar Heel may do it in all-purpose yards. That said, issues and inexperience on the offensive line likely drops the running game's effectiveness down a notch from last season. And since the commitment to run will not be there as it has been in past seasons, Parker could disappoint in more than just a couple of games against the Ravens.
That said, don't expect this game to be one of those games. The Browns still need another strong year of drafting and free agent pickups on the defense to fix the mess former HC Butch Davis left behind for HC Romeo Crennel. Outside of Wimbley, the other members of the front seven are upgradeable. The defensive line is old which, in turn, makes the job of the four LBs that much harder.
Projections:
Ben Roethlisberger: 235 rush/2 TD/1 INT
Hines Ward: 90 rec/1 TD
Santonio Holmes: 65 rec
Heath Miller: 25 rec/1 TD
Willie Parker: 100 rush/1 TD/25 rec
Charlie Frye/Braylon Edwards/Joe Jurevicius/Kellen Winslow
Jamal Lewis (vs. PIT)
Passing Game Thoughts: The fun is just about to begin for Frye…how long can he keep his job? The Browns have done a fine job of assembling quality receiving options over the past few years, but how much does it mean if Frye can't avoid throwing it to the other team (17 INTs). If he can maintain his 64% completion and throw it to the guys in orange helmets, he may hold the job until midseason. Seriously, through the first month of last season, Frye was a startable fantasy option (2 TDs or more in three of his first four games) before the running game became less than average and the offensive line fell on their face. Both should be much-improved. Even though the likely game of musical chairs will likely hurt his fantasy bottom line, I do like Edwards to beat defenses on a somewhat regular basis, starting with this game.
With CB Ike Taylor hopefully returning to form and S Troy Polamalu healthy – which he wasn't last season – this unit may be able to return to its normal perch inside the top 5-10 defenses. It will be interesting to see the affect that new HC Mike Tomlin will have on this Dick-LeBeau-coordinated defense and whether the zone blitz starts mixing in with the Cover 2. Either way, expect better play from the secondary as a whole but a small falloff in the pass rush, meaning the Steelers could be beaten by some of the better passing games in the league this season.

Running Game Thoughts: What a terrible way for Lewis to kick off his career. Times and coaches change, but as long as Pittsburgh has a solid force in the middle (before Casey Hampton, it was Joel Steed), it will likely hold rushing games to under 4.0 yards/carry. Still, with an improved offensive line, Lewis still has a decent shot of compiling a few yards, but hardly a fantasy-worthy line for his owners.
As stated in the preceding paragraph, a strong noseguard – and in Pittsburgh's case, a strong front three – gives the LB corps all the help it needs into making plays. Throw in Polamalu and the Steelers run defense will be good for several more years. All in all, it figures to be a long day for Lewis & Co.
Projections:
Charlie Frye: 180 pass/1 TD/2 INT/25 rush
Braylon Edwards: 75 rec/1 TD
Joe Jurevicius: 40 rec
Kellen Winslow: 40 rec
Jamal Lewis: 40 rush/15 rec

Titans @ Jaguars
Vince Young/Brandon Jones/Eric Moulds/Bo Scaife
Chris Brown/LenDale White (vs. JAX)
Passing Game Thoughts: What a tough opening week test! Young faces the same team he had two of his worst games against as a rookie, going a combined 23-for-51 for 248 yards in two games against the Jags, accounting for just one TD in those games. And since the personnel around Young has fallen off somewhat, don't expect a big game this time around either. Scaife has a fair history against the Jags, but playing a road game in Jacksonville early in the season when their defense is healthy is not a recipe for fantasy success for any Titan.
If you don't know it already, let me remind you: The Jags are world-beaters at home and get beat up on the road. I'm ready to revise that statement at any time, but it's become quite a pattern. In regards to the personnel, it's hard to see this group of receivers doing much damage against CBs Rashean Mathis and Brian Williams. S Gerald Sensabaugh is good to go and as long as Sammy Knight is in the league, he will likely improve his team's pass defense. Rookie S Reggie Nelson should be able to contribute at a moment's notice as well, making the Jags heavy favorites to shut down any Titans attempt to mount a worthy passing attack.
Running Game Thoughts: Young had a combined 18 yards rushing in his two games against the Jags, so for one week, discount the possibility he will contribute in that area either. Assuming the Titans are able to move the ball against Jacksonville, it will likely because Chris Brown is flashing some ability and not LenDale White. As for the season, expect White to stay healthy longer and be the better performer of the two. Even with the above average offensive line the Titans have, it's just hard to imagine they will be able to do much against the healthy front seven of the Jaguars, especially on the road.
It bears repeating: The Jags are world-beaters at home and get beat up on the road. I'm ready to revise that statement at any time, but it's become quite a pattern. Marcus Stroud and John Henderson are nearly impossible to account for, making MLB Mike Peterson's job pretty easy. The defense seems to fall apart each year when Peterson goes down, but until that happens, figure that moving the ball on the ground against this team will be a tough chore.
Projections:
Vince Young: 150 pass/1 TD/2 INT/15 rush
Brandon Jones: 40 rec
Eric Moulds: 25 rec
Bo Scaife: 60 rec/1 TD
Chris Brown: 30 rush/15 rec
LenDale White: 45 rush
David Garrard/Dennis Northcutt/Ernest Wilford
Fred Taylor/Maurice Jones-Drew/Greg Jones (vs. TEN)

Passing Game Thoughts: I have a high degree of respect for OC Dirk Koetter, much as I do for the ability of Garrard. As such, there will be a fantasy-worthy receiver coming out of this offense and I believe that WR will be Northcutt. He possesses the route-running ability the rest of his Jags teammates do not. Expect that to start right away in Week 1 against the Pacman Jones-less Titans, who while they addressed the secondary in the offseason, were not going to find a player of Jones' caliber on the open market.
The Titans actually did just about as well as they could have covering up for the Jones debacle, but I don't see a CB on the roster at the present time that can be considered a #1 CB option. The Titans will need to play more zone and hope their pass rush can make up for that deficiency, something it may be able to do against an average pass-blocking offensive line like the Jaguars. The Titans really like what S Chris Hope has been able to do from a talent and leadership standpoint, so blown assignments should not be something Tennessee allows a whole lot this season.
Running Game Thoughts: The Jags could find the ground game stumbling a bit early on. I believe the short-term loss of C Brad Meester to injury will stunt the growth of the running game for at least a bit. And this is where, even if it was handled poorly, the promotion of Garrard was a smart move. His mobility will keep this offense moving. Also, with the return of fullback Greg Jones, does the work at the goalline become a three-way split between Jones' one-yard plunges, Jones-Drew from the five and Garrard on a rollout? This should be interesting.
As much as I sung the praises of the Jags' defensive line, the Titans may be slowly building their way toward the Jags. Mind you, they won't match them in effectiveness this season, but I really like the addition of DT Corey Simon, assuming he is all the way back – or can get there. It was the third-worst unit in stopping the run last season, something that should not happen again in 2007.
Projections:
David Garrard: 240 pass/2 TD/1 INT/30 rush
Dennis Northcutt: 50 rec/1 TD
Ernest Wilford: 55 rec
Fred Taylor: 80 rush/20 rec
Maurice Jones-Drew: 50 rush/1 TD/30 rush
Greg Jones: 20 rush/1 TD

Bears @ Chargers
Rex Grossman/Bernard Berrian/Muhsin Muhammad/Desmond Clark/Greg Olsen
Cedric Benson (vs. SD)
Passing Game Thoughts: This area of the offense begins and ends with you guessed it: Grossman. I suppose since he is in America's "Second City" it is appropriate that he is ridiculed as much, if not more, than Eli Manning. It's hard to believe that for a player who just played his first full season as a pro that he faces the scrutiny he does. He had a grand total of seven career starts before last season, meaning he is just a pup regardless of whether or not he's 27 years old. Don't allow the fact that he took chances (admittedly, some not so great ones) down the field distract you from what he actually did, lead a team to a Super Bowl. That said, any QB worth his weight will learn from his mistakes in his second full year, something the Bears should expect to happen. He will also benefit greatly from the addition of Olsen and continued maturation of Berrian.
It finally clicked for CB Quentin Jammer and his fellow secondary mates last season, as the area of the defense that had been the weak link for so long finally was on par with the run defense. Being that new DC Ted Cottrell is from the same school of pressure defense as Wade Phillips is, don't expect much of a drop-off. Losing LB Donnie Edwards to Kansas City won't help them in mid-range coverage, but the Chargers already allowed the most fantasy points to TEs last season anyway, so it probably seemed as if it were a fair tradeoff to let go of a old reliable piece of the defense so they could develop younger options, like ILBs Stephen Cooper and Matt Wilhelm. As 60 sacks a season ago will attest, the pass rush is one of the league's best.
Running Game Thoughts: I'm not getting the sense this is the Cedric Benson show quite yet. Sure, he will be the bellcow, but I get the sense he will come out on 3rd-and-5 or longer more often than not in favor of Adrian Peterson and Garrett Wolfe. However, for the first two downs – if he can stay healthy – he should be a fine option in what should be a pretty balanced offense. I would expect a down game against the Chargers though, as they will likely make sure the Bears RBs can pick up the blitz as they try to rush Grossman into some poor throws.
I'll keep harping on this until America knows: does anyone notice that when a defense has a solid All-Pro presence at DT/NT, how often that defense is solid against the run? In Jamal Williams, San Diego has one of the best. Much like the Steelers, Igor Olshansky and Luis Castillo do a fine job of flanking him, freeing Shawn Merriman and Shaun Phillips to wreck havoc in the backfield.
Projections:
Rex Grossman: 220 pass/1 TD/2 INT
Bernard Berrian: 75 rec
Muhsin Muhammad: 45 rec
Desmond Clark: 25 rec
Greg Olsen: 25 rec/1 TD
Cedric Benson: 75 rush/10 rec
Philip Rivers/Vincent Jackson/Malcolm Floyd/Antonio Gates
LaDainian Tomlinson (vs. CHI)
Passing Game Thoughts: This team would look good on a basketball court and not only because Gates was a former college basketball standout at Kent St. Rivers - all 6-5 of him - throwing to a trio of 6-5 WRs, each of which can jump and all of which have good hands. And point guard LT, the runt of the litter at 5-10, is so elusive and multi-faceted that a defense can only do so much to stop him. Enough of the basketball analogy…this offense can be freakishly good. Rivers is a great decision-maker that could very well end up pushing the fantasy elite at QB this season with Norv Turner calling the shots. Chicago may be able to limit the point total somewhat in this contest, but this offense could have a season for the ages in 2007.
I love the fact that the schedule makers gave us this game right away in Week 1 to get us salivating, but it may not be the only time we see it this season. Adding DT Darwin Walker and S Adam Archuleta – a great fit in HC Lovie Smith's Cover 2 – makes this defense even better and deeper than last season's edition. Teams may struggle to keep this unit under four sacks a game and with the athletes in the back seven, turnovers will be aplenty. If there is one defense that can keep San Diego under control this season, this defense may be the one.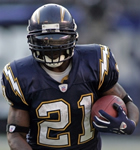 Running Game Thoughts: I'm not going to tell you anything you don't already know here. Tomlinson, one of the best running backs to ever play the game, runs behind one of the best offensive lines in football and now has the benefit of having one of the best play callers in the game directing the offense. This should be fun for all LT owners and torture for those that play against him.
Losing a stout run stopper like DT Tank Johnson will hurt, but Dusty Dvoracek and Anthony Adams are more than capable. The addition of Archuleta figures to improve the run defense as well and keeping FS Mike Brown back in center field can only help this defense, which is even better when he is healthy. All in all, don't expect a huge performance from LT in Week 1; his fun will come later in the season.
Projections:
Philip Rivers: 180 pass/1 TD/1 INT
Vincent Jackson: 55 rec/1 TD
Malcolm Floyd: 35 rec
Antonio Gates: 50 rec
LaDainian Tomlinson: 85 rush/1 TD/30 rec

Lions @ Raiders
Jon Kitna/Roy Williams/Calvin Johnson/Mike Furrey
Tatum Bell/Doug Duckett (vs. OAK)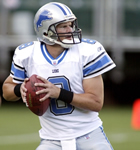 Passing Game Thoughts: The Mad Genius is back once again. Much like the Rams when they selected Torry Holt (when they already had Isaac Bruce in his prime and Az Hakim in his second year), the Lions selected Johnson when they already stud WR Roy Williams and 2006 NFC reception leader Mike Furrey. Will this be a re-birth of "The Greatest Show on Turf"? Not quite yet, as Mike Martz would tell you, he's missing that piece in the backfield, Marshall Faulk. So let's push that discussion aside for now. In terms of the season, Johnson will have a better year than Furrey while Williams manages roughly the same numbers as last season. However, for the purposes of this one game, I look for Furrey to outperform his teammates, so long as they put him in the slot and let Johnson and Williams absorb the coverage of Raiders CBs Fabian Washington and Nnamdi Asomugha.
The Raiders feature the #1-ranked pass defense from last season and for good reason. They have three players in the secondary that can cover just about any receiver and S Stuart Schweigert – at his best – is an above-average centerfielder. Add in two players in the front four who have the ability to hit double-digits in sacks and Oakland should have little trouble registering another fine finish against the pass. All in all, in a week that features polar opposites facing each other, this one figures to be every bit as intriguing. Martz has no problem calling more passes than runs no matter what defense he is calling plays against, so we get to see right away just where this defense stands.
Running Game Thoughts: This may be one game the Lions want to consider finding out just how improved the Raiders run defense is going to be this season. The latest word seems to be that Bell and Duckett will split the work, which means owners can go crazy over the 10 carries a piece that each RB will see. My opinion is the Lions are hoping and praying Kevin Jones returns around Week 6 because they would just as soon not make this a committee and they would just as soon not count on Bell or Duckett as a primary ball carrier all season long.
As good as the pass defense was in 2006, the run defense did not hold up their end. Of course, they were not helped by an offense that could not move the ball to save their life. Just a slightly improved offense will help things immensely. As such, expect a better showing than the 25th-best run defense (134 yds/game). With the Lions' line still a work in progress and the commitment to the run very low, expect the Raiders to make Detroit's offense look average, if only for a week.
Projections:
Jon Kitna: 260 pass/1 TD/3 INT
Roy Williams: 60 rec
Calvin Johnson: 50 rec/1 TD
Mike Furrey: 80 rec
Tatum Bell: 60 rush/30 rec
Doug Duckett: 25 rush/1 TD
Daunte Culpepper or Josh McCown/Jerry Porter/Ronald Curry/Zach Miller
LaMont Jordan (vs. DET)
Passing Game Thoughts: One can only assume the QB slot will be filled by Culpepper this week or soon thereafter. Either way, this offense will be better if only because they subtracted two of the worst play-callers in our generation. It's really hard to go much further with the weekly or seasonal aspirations until we know who will be directing the offense, although it wouldn't be all that surprising if Porter, Curry and Miller were not all worth starting in three-WR leagues before the end of the year.
The fact that the Lions play Cover 2 helps them, but it cannot make up for the lack of a quality cover CB. To be successful this season, they will need a standout season from their front four – something they probably won't get in more than half the games they play in. Whoever ends up starting for the Raiders at QB, figure that he will have a fair amount of success in Week 1.
Running Game Thoughts: Once again, bringing in a couple of fresh faces (OC Greg Knapp, HC Lane Kiffin) to run the offense should help the running game as well. And they didn't waste time in plugging offensive linemen where they thought they belonged, including former LT Robert Gallery at guard. All in all, it all bodes well for Jordan, who actually ran pretty well in limited preseason action. Don't expect him to be 2005-good, but he'll certainly be a fair #3 RB option, good enough for use in weeks against weaker defenses – like this week.
Like Oakland, Detroit also finished in the lower half against the run last season and haven't done a great deal to improve it on the surface. What this unit will give is effort and that will keep them in a lot of games. One thing that will be important to the success of this defense is the consistency of DT Cory Redding. Did he have a "contract year breakout" or did the light come on after he was moved inside? His play may determine whether teams have to fear facing Detroit's defense or whether they will look forward to it.
Projections:
Daunte Culpepper or Josh McCown: 215 pass/1 TD/1 INT/20 rush
Jerry Porter: 60 rec
Ronald Curry: 60 rec
Zach Miller: 50 rec/1 TD
LaMont Jordan: 80 rush/1 TD/20 rec
Buccaneers @ Seahawks
Jeff Garcia/Joey Galloway/Maurice Stovall
Cadillac Williams (vs. SEA)
Passing Game Thoughts: Bringing in Garcia in the offseason should bring this offense something it hasn't seen lately: consistency. And if he can be the caretaker he has been this decade (13 INT in 2003 is his high), there figures to be a couple of winners in this offense. Expect Galloway, who seems to be productive more often than not no matter who the QB is, to benefit the most. Also expect him to draw CB Marcus Trufant, who has been receiving glowing reports after his move to LCB. HC Jon Gruden is a master at using formation to free up a player he wants to get involved, so don't be surprised to see Garcia and Galloway put up some decent numbers. I also like Stovall to emerge past the logjam at WR opposite Galloway, maybe even finding his way into three-WR leagues this season. An improved OL will also allow this to happen.
The Seahawks figure to be improved in this area in 2007. The deep ball really seemed to hurt this team throughout the season, but a few things should rectify that this time around: Trufant's move would appear to give Seattle a Pro Bowl performer at CB again, the drafting of rookie CB Josh Wilson and getting Deon Grant to pair up with Brian Russell at safety should eliminate the marginal play of the safeties from a season ago. The Seahawks are also have more depth and are more talent at DE, meaning they could get a fair amount of pressure on the QB this season. Having a healthy Patrick Kerney and Julian Peterson in the same front seven figures to give Seattle a leg up on most of the offensive lines it will face.
Running Game Thoughts: Raise your hand if you were burned by the Cadillac last season. Well, I would have been too, but I was fortunate enough not to have a late first-round pick last season. That said, I expect some 2005-type production out of him this season, because not only is he healthy again, he has a healthy, has what should be an above-average offensive line and an accommodating schedule. Add in the fact that he should see more work in the passing game as well and I like him – at the very least – as a low-end #2 fantasy RB.
This unit has potential to be one of the top overall defenses in the league if DT Marcus Tubbs could stay healthy, which, once again, will not happen as he will miss the season. His girth does a great job of clogging up the middle and would make MLB Lofa Tatupu more effective than he already is. As is, teams should have a fair amount of success running against Seattle, as I like Cadillac's chances to have a good day if he sees 20 carries or more.
Projections:
Jeff Garcia: 195 pass/1 TD/1 INT/20 rush
Joey Galloway: 65 rec
Maurice Stovall: 60 rec
Cadillac Williams: 75 rush/20 rec
Matt Hasselbeck/Deion Branch/DJ Hackett/Marcus Pollard
Shaun Alexander (vs. TAM)
Passing Game Thoughts: Do I expect the Seahawks passing game to proceed without a hitch with out Darrell Jackson? Yes and no. Branch has been asked to step right in and take over Jackson's old spot, which may lead to a slight drop-off at first because Jackson and Hasselbeck had built quite a chemistry over the years. But Branch is an underrated WR and Hasselbeck is an accurate and pretty good signal-caller, so expect that duo to improve throughout the season. Hackett really emerged in 2006 as he filled in for Jackson several times down the stretch. Adding Pollard was a significant move as well as it will keep defenses honest as Pollard has very good hands and will be – at the very least – a chain mover.
Up until last season, DC Monte Kiffin was able to overcome the lack of talent being introduced into the defense as the Bucs' front office focused on getting Gruden some pieces to help the offense. The dam finally broke last year as the defense just got too old. Enter LB Cato June, who may be the heir apparent to Derrick Brooks, and DE Gaines Adams. I also like the selections of Sabby Piscaitelli and Tanard Jackson in the secondary, although neither is expected to start right away. Playing the Tampa 2 will keep the passing numbers respectable, but I'm not all that inspired by the run-stopping capability on the defensive line. Tampa will be better at stopping the run than they were last season, but I still fear they could get exposed and will be ultimately what keeps the defense from making a dramatic improvement.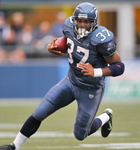 Running Game Thoughts: Much as I was leading up to above, Seattle will give Alexander every opportunity to see how much the Bucs' middle-of-the-pack run defense has improved. HC Mike Holmgren has evolved over the years into a play caller who doesn't mind sticking with the ground game, something he wasn't always willing to do. Expect that to be on display in Week 1 as both teams feel the other one out in the running game.
The Bucs finished right in the middle in rushing yards allowed per game (120.1) and I don't see much reason to adjust that number all that much for this season. In fact, it's probably a pretty fair estimate on what they will surrender in Week 1.
Projections:
Matt Hasselbeck: 195 pass/1 TD/1 INT
Deion Branch: 70 rec
DJ Hackett: 55 rec
Marcus Pollard: 35 rec
Shaun Alexander: 85 rush/2 TD/10 rec

Giants @ Cowboys
Eli Manning/Plaxico Burress/Amani Toomer/Jeremy Shockey
Brandon Jacobs (vs. DAL)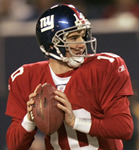 Passing Game Thoughts: It is my sincere hope that the boost in WR depth and personnel helps Eli Manning have a standout season – if for no other reason – than to get all the unreasonable talking heads in the media (and you know who you are) to stop bashing him. Understand he will never be the most accurate QB around, but he actually improved his completion percentage by 5% last season. And the guy has had consecutive 24 TD pass seasons, something only the quartet of big bro Peyton, Carson Palmer, Tom Brady and Drew Brees have managed to accomplish. He's done this with a cast of WRs who give less than 100% (Burress), a WR who tries but blew out his knee (Toomer) and a TE who isn't always as consistent as his final numbers suggest he is (Shockey). Getting WR Sinorice Moss back healthy and drafting WR Steve Smith should vault Manning into the next tier of quarterbacks, so long as his line gives him the necessary time this season.
However, Manning may not get off to a good start in new HC Wade Phillips is able to get his defense revved up right away. Assuming they can stay healthy for the most part, this is a stout group that has a lot of pieces in place. Turning DEs Chris Canty and Marcus Spears loose up front figures to be just what the doctor order and look for DeMarcus Ware and rookie Anthony Spencer to meet at the QB a time or two. Combine that with CB Terence Newman's coverage and S Ken Hamlin's ability to play center field and Dallas has the makings of a top 5 defensive unit.
Running Game Thoughts: I admit it…I'm intrigued. Does this offense become a power-running one or does it only shift just a bit as they feature Jacobs in both the running and passing game? Jacobs has good enough hands, but it will be interesting to see how low he can run halfway through the season and if the tens of tacklers that go for his legs on a tackle will eventually slow him down. Both are fair questions and fair concerns. For the purposes of this game, expect a fair number of negative plays as the Cowboys will get into the backfield a handful of times. But I do like Jacobs' ability to be mildly productive in this game. The Giants will pound Jacobs up the middle early and often to make Dallas think twice about bringing the heat.
Conversely, expect Dallas to bring the heat until New York makes them respect the run. With S Roy Williams working his way inside the box, the front seven of the Cowboys is good enough to stop the run without getting too cute with pressure tactics. It will make for yet another intriguing matchup.
Projections:
Eli Manning: 210 pass/1 TD/2 INT
Plaxico Burress: 60 rec
Amani Toomer: 35 rec
Jeremy Shockey: 40 rec/1 TD
Brandon Jacobs: 55 rush/20 rec
Tony Romo/Terrell Owens/Terry Glenn/Jason Witten
Julius Jones/Marion Barber (vs. NYG)
Passing Game Thoughts: For the first time since he became a menace to offensive and defensive coordinators alike, I rolled the dice on Owens in a fantasy draft. Why? OC Jason Garrett has not only said he needs to make sure Owens gets the ball, he actually then gets him involved in the first play or two of the game. And though preseason doesn't mean a lot to a large number of people, placating the prima donna WR early in the game goes a long way in making sure you get a full day's work out of him. And when that happens, Romo will be much more at ease to throw to his other options knowing he won't be the next victim of a tirade. If Glenn shows any hint of slowing down (knee surgery), expect Patrick Crayton to fill in without missing much of a beat and also expect Witten to turn in another fine season.
This is not a good matchup for the Giants, as the front seven will need to cover up for the back four most of the season. New York will blitz a lot more this season than last and while that is good against most teams, there may be no better receiver at taking a short five-yard pass all the way for the score like Owens. I actually think new SLB Mathias Kiwanuka will adapt very quickly to playing LB (from DE) and do a fair job of limiting the TE in the passing game. Once again, though, how well CBs Corey Webster and RW McQuarters hold up in one-on-one situations will determine the success of this unit.
Running Game Thoughts: For fantasy owners, I think this has the potential to be a mess. The production will be there, but I have a bad feeling this situation isn't going to play out exactly as it did last season. Don't get me wrong, Barber inside the 20 and every few series while Jones gets the start and most of the other carries. I just feel before the end of the season, there will be a blowup coming from the Cowboys offense – and it won't be Owens. For the purposes of Week 1, Jones enjoyed little success against the Giants and Barber had one good game. Expect that to be the case here again.
The Giants have enough in their front seven to do a serviceable job stopping the run. Getting DE Michael Strahan back and fresh will help improve that aspect of the defense as he plays the run better at this point than he rushes the passer. MLB Antonio Pierce is a key cog in maintaining order and is a fine tackler. Lastly, having converted LB Kiwanuka at LB places the bulk of a DE five yards from the line of scrimmage. They should hold up well against the run.
Projections:
Tony Romo; 265 pass/2 TD/0 INT/20 rush
Terrell Owens: 90 rec/1 TD
Patrick Crayton: 40 rec
Jason Witten: 60 rec/1 TD
Julius Jones: 65 rush/20 rec
Marion Barber: 35 rush/1 TD/20 rec

Ravens @ Bengals
Steve McNair/Mark Clayton/Derrick Mason/Todd Heap
Willis McGahee (vs. CIN)

Passing Game Thoughts: Much like the running game, expect the passing game to be efficient. Also, much like the running game, expect consistent numbers but few big plays. There seems to be a lot of buzz thrown in the way of Clayton as far as a solid #2 fantasy WR, but I'm still under the belief that Heap is McNair's #1 option, particularly in the red zone. That said, don't be surprised if Clayton (and Heap) both look good in Week 1 as the Bengals will need to prove their CBs can play more like its 2005 instead of 2006.
Coattailing off the last point of the Ravens, the Bengals need to adopt the ballhawking ways of two seasons ago as opposed to the passive approach of 2006. It starts with the pass rush, which should be slightly improved, and filters down to the health and approach of the cornerbacks and safeties. Having S's Madieu Williams and Dexter Jackson healthy all season would be a boon for this defense. I expect the Bengals will have a decent amount of success frustrating McNair, although a big play made against this defense would hardly be a surprise.
Running Game Thoughts: Waving good-bye to Jamal Lewis could not have been easy, but it was necessary move. The Ravens will never be the most exciting or the best big-play offense, but the team simply needed more than Lewis was giving it. And given the defense's ability to stifle opponent's ability to move the ball and score, McGahee's workload and consistency should be just about as good as any RB in the league. While I do expect the Bengals to defend the run better than they have in recent seasons, McGahee should not have a problem putting up numbers befitting of a #2 fantasy RB this week at the very least.
At the heart of the Bengals inability to stop the run over the Marvin Lewis regime is the lack of depth at DT and the carousel of MLBs the team has experienced. They believe both problems have been addressed and they have actually improved against the run, finishing in the top half of the league in 2006. Expect them to finish just outside the top 10 in stopping the run if they can stay healthy, another thing that Cincinnati has struggled with over the years. It will start in this game as McGahee has a good, but not great performance against the Bengals.
Projections:
Steve McNair: 230 pass/1 TD/1 INT/20 rush
Mark Clayton: 80 rec
Derrick Mason: 45 rec
Todd Heap: 65 rec/1 TD
Willis McGahee: 85 rush/20 rec
Carson Palmer/Chad Johnson/Doug Houshmandzadeh
Rudi Johnson (vs. BAL)
Passing Game Thoughts: Palmer has a career QB rating of 91.5 against Baltimore against Baltimore – an incredible number for the talent this defense possesses – so understand Palmer will not exactly break down just because he is facing the Ravens. Getting WR Tab Perry back healthy will increase Cincy's ability to convert third downs – something it struggled with in 2006 – and make Chris Henry's absence easier to swallow until he returns in the second half of the season. All in all, the Bengals will still put up some nice numbers in this game yardage-wise, but expect the Ravens to be able to keep this game in the teens.
Even though they face some of the high-powered offenses in the NFC West this season, perhaps no other team the Ravens meet this season will give the Ravens defense a tougher test than the Bengals. They could draw a break though if RT Willie Anderson is not 100% and LT Levi Jones is not reinstalled in the lineup. Those two are two big reasons why the Bengals have surrendered just nine sacks to the Ravens in the teams' last five games. However, the Bengals have quality replacements for both, although neither are quite on that level.
Running Game Thoughts: When the Ravens defense has been right – 2005 excluded – Rudi Johnson hasn't had any more success against Baltimore than any other runner. However, he probably doesn't get the ball enough against teams just like the Ravens. (Then, you look at the totals at the end of the year and see he had another 350-carry season.) Rudi's forte is wearing out a defense and that is something he can do against Baltimore if given the chance, of course, that does necessitate Cincinnati being able to convert third downs and jumping out to a two-score lead so they can kill the clock. It wouldn't be too surprising to see Rudi score in this game, but he will be kept in check yardage-wise.
Losing LB Adalius Thomas will hurt against the run and the pass, but not so much that this unit will not be very effective stopping the run. DT Kelly Gregg and Haloti Ngata anchor a stellar front four and, as always, MLB Ray Lewis will be there to benefit from the line's effectiveness. There is no reason that the 2007 Ravens cannot match their second-place finish against the run from last season.
Projections:
Carson Palmer: 250 pass/1 TD/1 INT
Chad Johnson: 70 rec
Doug Houshmandzadeh: 75 rec/1 TD
Rudi Johnson: 65 rush/1 TD/20 rec

Cardinals @ 49ers
Matt Leinart/Anquan Boldin/Larry Fitzgerald
Edgerrin James (vs. SF)
Passing Game Thoughts: Yet another intriguing matchup. Just how much and how long new HC Ken Whisenhunt can stick with the run in this game (and this season, for that matter) to compensate for a defense that is already battered will be interesting. All in all, I expect the Cardinals will need to ditch their running approach before too long in this matchup as the Niners will score a few points. While I do think the Cardinals will be able to pound the ball against some of their opponents, I don't think this will be one of those games. That said, Larry Fitzgerald may have a tough time doing all that much against CB Nate Clements, although no CB can actually shut down either one of the Cardinals' WRs. As such, I like Boldin to beat CB Walt Harris at least one time and expect some of the trickery that Whisenhunt as become known for, especially on the Monday Night Football stage.
This defense has improved by leaps and bounds since HC Mike Nolan took over two seasons ago. He should have playmakers at two linebacking spots (ILB Patrick Willis and OLB Manny Lawson) and the makings of a fine secondary. This will give him the chance to dial up a few blitz packages the likes of what he was able to do when he ran Baltimore's defense.
Running Game Thoughts: Will James carry the ball more than last year, possibly not. Will he be more effective? Very likely. With the addition of assistant Russ Grimm and more attention being paid to the o-line, expect James to come back to the 4.0 yards/carry level he should be at. I actually do like the ability of the Cardinals' line to handle the Niners' defensive line, but James will have to get his numbers due to a lot of attempts as he isn't going to break many long runs.
Once again, the Niners have made some solid additions to solidify the defense. I like their ability to take the next step as a unit, but suspect that run defense will be a bigger issue than the pass defense will be. None of the front three possess the skill or the bulk necessary to demand a double team, meaning teams will have a fair amount of success against them. However, once again don't look for James to pile up huge rushing numbers against this defense because he just is not a breakaway back anymore.
Projections:
Matt Leinart: 235 pass/1 TD/1 INT
Anquan Boldin: 80 rec/1 TD
Larry Fitzgerald: 60 rec
Edgerrin James: 60 rush/30 rec
Alex Smith/Darrell Jackson/Arnaz Battle/Vernon Davis
Frank Gore (vs. ARI)
Passing Game Thoughts: I have a funny feeling this offense takes a step back, even with the addition of Darrell Jackson. Just about everywhere former OC Norv Turner has been, the next year the offense takes a big hit. The Niners have the talent to stop that trend, but I think there will be a small falloff regardless, in the passing and running game. As such, I expect Smith to break out in a big way potentially next year, but not this year. If he does break out, I expect it to be because of Davis, who I see being a handful for just about any defense he faces this season. Assuming good health, I expect him to finish right behind Antonio Gates as fantasy's best TE.
I have the utmost respect for DC Clancy Pendergast, who routinely makes some decent lemonade out of some rotten lemons on this defense. Outside of S Adrian Wilson, most people would have trouble naming the true standouts on this defense, which is usually a good barometer of the talent he has to work with. I like the addition of CB Rod Hood to help Arizona address the third-worst passing defense in the league last season. Once again, though, the toughest matchup for the Cardinals will be against Davis, so expect him to have a field day.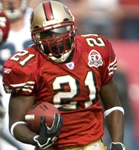 Running Game Thoughts: San Francisco has also built a pretty formidable line, thus I expect Gore to put up some fine numbers, even if he falls off of last year's pace ever so slightly. That pace won't fall off in this game, however, as Gore is set up to have another fine outing against the Cardinals (256 total yards, 4 TDs in two games last season).
It's amazing to me that this rag-tag unit finished in the middle of the pack in rushing yards allowed (118.3) and yards/carry (4.1) last season. Early reports on NT Gabe Watson sound very good, which would give the Cardinals a strong interior presence against the run – a quality that have not had in years. However, even if we assume Watson fulfills expectations, offenses can easily gameplan for the Cardinals at this point. Until they acquire more talent, this will be an average unit at best.
Projections:
Alex Smith: 210 pass/1 TD/0 INT/20 rush
Darrell Jackson: 55 rec
Arnaz Battle: 40 rec
Vernon Davis: 50 rec/1 TD
Frank Gore: 100 rush/1 TD/30 rec