9/14/07



One of the best tools that FF Today provides is the fantasy football points vs. feature and, more specifically, the remaining Strength of Schedule. Using this feature, it is my hope to augment these features and refine them even further. Over time, it should be proven in this column that different styles of players score differently against different opponents. For example, perhaps a possession receiver makes for a better play against a certain defense as opposed to a burner despite the fact that the defensive back guarding him is considered slow. Given the high number of committee running backs and teams without a clear-cut #1 receiver in the NFL, I feel this analysis will help owners with roster decisions throughout this season.

QBs: (1 pt per 25 yds passing; 6 pts for all TDs, -2 pts/INT or fumble)
RBs/WRs/TEs: (1 point per 10 yards rushing/receiving, 6 points per TD)

Note: Teams that have a fantasy relevant TE will be included. Also, for the first weeks, projected fantasy points allowed will be used as teams have yet to establish any trends. After the first month of the season, this column will take on the look it had last season as there will be enough information to start analyzing trends.

ATL @ JAX | BUF @ PIT | CIN @ CLE | GB @ NYG | HOU @ CAR | IND @ TEN | NO @ TB | SF @ STL
DAL @ MIA | MIN @ DET | SEA @ ARI | KC @ CHI | NYJ @ BAL | OAK @ DEN | SD @ NE | WAS @ PHI

Falcons @ Jaguars
Joey Harrington/Joe Horn/Michael Jenkins/Alge Crumpler
Warrick Dunn/Jerious Norwood (vs. JAX)
FF Points Allowed vs. QBs: 12.1
FF Points Allowed vs. WRs: 6.8
FF Points Allowed vs. TEs: 1.8
FF Points Allowed vs. RBs: 25.7
Passing Game Thoughts: All things considered, Atlanta's first game under Bobby Petrino was a success from the standpoint of offensive efficiency, but no from an execution perspective. Harrington completed 72% of his passes, however, both times he threw into the Vikings' defenders hands, they were run back for scores. If their Week 1 numbers were any indication, we should expect as many as 6-7 receivers to contribute to the passing game on a weekly basis, hardly a dramatic departure from Petrino's play-calling days at Louisville. What it also likely means is that Crumpler will once likely be the only fantasy play from this offense.
If the Jaguars did something right on Sunday, it was the fact they held Tennessee to 75 yards passing and picked off one of Vince Young's passes. However, the fine print will reveal a team doesn't need to pass the ball more than 19 times if you can run it 48 times for 282 yards, which is exactly what the Titans did. After that kind of thrashing, Jacksonville may rejoice in seeing an Atlanta team that was dominated by an opponent that believes in a similar defensive philosophy. Obviously, the difference in this contest will be the fact that Harrington does not present the same scrambling threat that Vince Young did.
Running Game Thoughts: It was sad to see Norwood only run the ball eight times in Atlanta's season debut, as he clearly showed a big-play element that Warrick Dunn did not. The second-year man from Mississippi State broke runs of 12 and 16 yards early on and even who contributed 29 receiving yards in garbage time. While the receiving yards could be considered fluky, being able to break runs of double digits against the Vikings defense should serve notice to what should be a changing of the guard in the Falcons backfield. The potential for this offense to be at least mediocre in the run game exists because of Norwood, as what little I have seen of Dunn this season makes me think it may be a while before he'll actually be able to fully recover – if at all – from his offseason back surgery.
Expect the Falcons to watch what the Titans did to the Jaguars on film and exploit it as much as possible. Obviously, the key difference is not having a Vince Young in the backfield. I would be mildly surprised not to see a heavy dose of Norwood in this contest, as he does bring that big-play element to the Falcons offense that no other player on their offensive roster does. After all, it was Chris Brown - and not LenDale White - who used his slashing and cutback style to run roughshod over the Jacksonville defense. While one could argue that sounds like Warrick Dunn, I would argue that that mantle has been passed from an unhealthy Dunn to a young Norwood.
Projections:
Joey Harrington: 170 yds passing/0 TD/2 INT
Joe Horn: 40 yds receiving
Michael Jenkins: 40 yds receiving
Alge Crumpler: 50 yds receiving
Warrick Dunn: 30 yds rushing/15 yds receiving
Jerious Norwood: 50 yds rushing/15 yds receiving
David Garrard/Dennis Northcutt/Ernest Wilford
Fred Taylor/Maurice Jones-Drew/Greg Jones (vs. ATL)
FF Points Allowed vs. QBs: 13.2
FF Points Allowed vs. WRs: 4.4
FF Points Allowed vs. TEs: N/A
FF Points Allowed vs. RBs: 25.4
Passing Game Thoughts: Much like I will say what the running game in the next paragraph, one game is too early to decide whether this is a trend or not. However, OC Dirk Koetter has made his reputation more by basing his offense around his passing game more than he has with the run. As a result - and I'll keep saying this until his ownership in leagues goes up - Dennis Northcutt is going to be a low-risk, high reward #3 fantasy receiver for his owners.
It may come as a relief to the Falcons (and they get to start the season with two - shall we say - rather average passing games. The Falcons drew a break in Week 1, because the Vikings are unlikely to eclipse 200 yards passing in many of their games this season or throw the ball more than 30 times. If my assessment of Koetter is spot on, the Jaguars will be transitioning from the run-based team they have been for some time into more of a balanced offense in which Garrard will take on more of the Jeff Garcia role in which she scrambles some and makes more high percentage, low-risk passes to complement the running game. That being said, there will be more down-the-field passes than in previous years, they will just be more calculated.
Running Game Thoughts: I believe I spoke in the Week 1 edition that I expected an improved Titans run defense. I must say I didn't expect anything close to the performance they displayed against a quality running team such as the Jaguars. Now, I tend to believe a few things are at work here: 1) Koetter did not show near the stubbornness in the run game as his predecessors did, 2) the Titans owned the ball from the majority of the first half. However, the emphasis on the passing game appears to be real as the Jags never trailed by more than one score. While one game is way too early to tell if this is a trend yet, this is one reason why I mentioned Jones-Drew as a possible overvalued candidate. Koetter has made his reputation as an offensive mind by throwing the ball down the field much more than he has made it by sticking with the run and pounding it into the heart of the defense 40 times a game.
Week 1 likely showed that all of us just what the Falcons run defense is made of. It's a speedy unit that may be able to stick with rushing offenses that in the first half of games, but for the teams that keep hammering away, they will wear out the Falcons toward the end of the games due to the lackluster offense they are expected to have for most of the season.
Projections:
David Garrard: 220 pass/2 TD/1 INT/30 rush
Dennis Northcutt: 65 rec/1 TD
Ernest Wilford: 50 rec
Fred Taylor: 70 rush/25 rec
Maurice Jones-Drew: 75 rush/30 rec
Greg Jones: 20 rush/1 TD

Bills @ Steelers
JP Losman/Lee Evans/Peerless Price
Marshawn Lynch (vs. PIT)
FF Points Allowed vs. QBs: 14.9
FF Points Allowed vs. WRs: 10.6
FF Points Allowed vs. TEs: N/A
FF Points Allowed vs. RBs: 12.4
Passing Game Thoughts: As one may have suspected, the Broncos put the clamps on the Bills passing game. Josh Reed and Roscoe Parrish were the only receivers to top 25 yards, but things should get better against the Steelers this week, but not significantly so, as the Steelers will likely put more pressure on Losman than the Broncos were able to. Unfortunately for Evans and his fantasy owners, things are going to likely continue down this road until the Bills face an opponent that that will allow Losman to get somewhat comfortable in the pocket and Evans enough time to get down the field.
Fortunately for the Steelers, the Bills don't represent much of an upgrade in the passing game than the one that the Browns presented. Losman to Evans is a prolific deep ball connection, but unless Losman has time to set his feet in the pocket and fire a strike and 40 yards down the field, it takes away a big part of the Buffalo passing offense. Factor in a healthy Troy Polamalu and you have the recipe for a second straight poor performance out of Losman and Evans.
Running Game Thoughts: Given the amount of work that he actually had, Lynch was able to have a fine game for his owners on Sunday. His luck, more than likely, will run out this coming Sunday, however, as he faces a Steelers defense that generally goes up next to nothing on the ground. Also, if they get off to the same rocky start Cleveland did in week one, Lynch will end up with a Jamal Lewis-like 11 carries for 35 yards. The Steelers game in Week 2 begins a rather daunting stretch of games in which Lynch will likely have to carry the Bills on his back as they travel to New England next week and face the Ravens and the Dolphins later on in the season.
Times and coaches may change, but the Steelers run defense pretty much remains a constant. Don't expect things to dramatically change this week even after Lynch put on a show against the Broncos. While DC Dick LeBeau's zone-blitzing scheme is meant primarily to confuse the passing game of their opponents, it also wrecks havoc in the running game as well. It also helps that Pittsburgh has three down linemen that are able to tie up so many blockers upfront, allowing the linebackers to flow to the ball easily.
Projections:
JP Losman: 200 pass/1 TD/2 INT
Lee Evans: 50 rec
Peerless Price: 40 rec
Marshawn Lynch: 45 rush/25 rec
Ben Roethlisberger/Hines Ward/Santonio Holmes/Heath Miller
Willie Parker (vs. BUF)
FF Points Allowed vs. QBs: 21
FF Points Allowed vs. WRs: 29.6
FF Points Allowed vs. TEs: 2.4
FF Points Allowed vs. RBs: 19.7
Passing Game Thoughts: As I and a few others predicted, Pittsburgh opened up their offense against Cleveland in a big way. While the competition may not have been stout in general, the fact they were able to burn an above-average secondary has to cause some fear in their future opponents. Because of their big early lead, they were able to revert back to Steeler-like football in the second half. Good or bad, they will likely get a shot to do the same thing in Week two as well, as Buffalo does not figure to have any more success in the run game or with the deep ball than they did against the Broncos.
A strong-armed quarterback throwing the ball downfield to legitimate deep threat and a big receiver with good hands... some familiar? In Week 1, Cutler found Walker for 119 yards on nine catches, and also connected with Brandon Marshall for 52 yards and a touchdown. There is very little reason to expect things to change in this game, and with the Steelers defense probably a bit better than the Broncos at this point, one should figure Pittsburgh will have their opportunities to put the game out of reach early with a deep strike to Holmes and short to medium range passing to Ward.
Running Game Thoughts: The Steelers running game isn't a whole lot like the Broncos, but Pittsburgh should have similar success attacking the undersized front four of the Bills defense. Given that the Steelers will likely be able to limit Buffalo's offensive execution early on, expect Pittsburgh to put up some fine numbers on the ground, which will lead to a more effective play-action passing game.
The one redeeming quality from Week 1 is that the Bills can rejoice in the fact that they were able to keep Travis Henry out of the end zone. Just because they may have the same luck with Parker does not mean he won't have a good yardage day and that the Steelers won't be able to put this game away fairly early in the second half. This is not a good run defense and that will likely rear its ugly head as the season continues.
Projections:
Ben Roethlisberger: 210 pass/3 TD/1 INT
Hines Ward: 65 rec/1 TD
Santonio Holmes: 70 rec/1 TD
Heath Miller: 35 rec/1 TD
Willie Parker: 110 rush/1 TD/20 rec

Bengals @ Browns
Carson Palmer/Chad Johnson/Doug Houshmandzadeh
Rudi Johnson (vs. CLE)
FF Points Allowed vs. QBs: 24.2
FF Points Allowed vs. WRs: 22.6
FF Points Allowed vs. TEs: N/A
FF Points Allowed vs. RBs: 17.2
Passing Game Thoughts: Let's keep this one short. Ben Roethlisberger threw for four touchdowns in Week 1 and the Steelers aren't even all that great of a passing team. So while I'm not expecting the same thing for Palmer & Co. in this game, the NFL is renowned for making sure they stick to what has proven to be effective until a team proves it is not effective anymore. Expect both Johnson and Houshmandzadeh to reach paydirt for the second straight week - this time against a much less effective defense than the Ravens.
Perhaps it is just a case of the Steelers picking on the Browns again, but the Browns pass defense was supposed to be their strong point this year. Of course, it doesn't help that their run defense is so porous that they have to respect every play-action fake that is run against their defense or that the offense could not get out of their own way. Until the Browns can get their front seven fixed and hold on to the ball, expect their back four to suffer.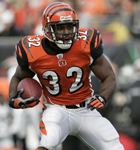 Running Game Thoughts: Suffice to say the Rudi Johnson has owned the Browns over his career. In nine games against them, Johnson is averaging 99 yards and a touchdown per game. In fact, he has 335 fewer yards in one more game played against Baltimore than against Cleveland. While there is no such thing as money in the bank in fantasy football, Johnson gives more bang for his buck against the Browns than he does against any other team. Also consider that what he did against the Ravens in Week 1 was without Levi Jones and Willie Anderson for the most part - the two bookend tackles that often clear the way for Rudi to get things going.
Things just quite simply aren't going to get better in Cleveland until they can stop the run. More than anything, they lack a central force - a Ray Lewis type - that that gets the entire defense on the same page on the early downs. And as great as Ted Washington has been in his career, there is no way Cleveland should still be throwing him out in the middle of its 3-4 each week as a full-time starter. More than likely, they will bring effort each week, but with the rugged running games in the AFC North, that probably won't be enough.
Projections:
Carson Palmer: 260 pass/2 TD/1 INT
Chad Johnson: 90 rec/1 TD
Doug Houshmandzadeh: 80rec/1 TD
Rudi Johnson: 120 rush/2 TD/20 rec
Derek Anderson/Braylon Edwards/Joe Jurevicius/Kellen Winslow
Jamal Lewis (vs. CIN)
FF Points Allowed vs. QBs: 11.1
FF Points Allowed vs. WRs: 13.1
FF Points Allowed vs. TEs: 2.9
FF Points Allowed vs. RBs: 22.9
Passing Game Thoughts: Week 2 and the Browns are already on their second quarterback. With Charlie Frye traded to Seattle and Derek Anderson taking his place in the lineup, expect the Browns offense to be running at maximum efficiency - at least until next season. At this point, it would be a dream to expect Brady Quinn to be able to operate this offense any better than Anderson, considering his long holdout and his inexperience in the pro game. Both Winslow and Edwards have experienced a certain degree of success against the Bengals and there is no reason for that to change in this game.
All in all, when a team forces six turnovers in one game, there is a certain amount of luck involved. At least three of the six miscues were somewhat unforced. But what is good to know from a Bengals point of view is that multiple turnovers in a game sound like the 2005 team as opposed to the 2006 version. Giving Palmer & Co., more possessions than the opposing offense is a good recipe for a blowout. The Ravens were able to hang in due to a spectacular defense; the Browns may not be so lucky if they commit the same errors. Another thing for Bengal fans to take out of the MNF contest with Baltimore was the fact that the secondary was flying around and looked like they could be a physical defense.
Running Game Thoughts: Much like Rudi Johnson has owned the Browns, Lewis has had the Bengals number for most of his career. However, much like the preceding paragraph states, the Ravens defense allows an offense to make mistakes and stay in the game. Lewis does not have the same luxury now with Cleveland, which will take away from the likelihood of 20-25 carry games. Expect a fairly heavy dose of Lewis early on in this game, but as the Browns fall further and further behind, they will likely be forced to go away from him and become one-dimensional.
Despite allowing nearly 170 total yards and a touchdown to the RB position in Week 1, the Bengals held up pretty well against the run versus Baltimore. It wouldn't be overly shocking to see Lewis struggle to reach 50 yards in this contest. I've said it before and I'll say it again, the situation in Cleveland will not get better until they can stop the run. Until that time, even average run-stopping units like the Bengals will be able to keep the Cleveland in check.
Projections:
Derek Anderson: 210 pass/2 TD/2 INT
Braylon Edwards: 85 rec/1 TD
Joe Jurevicius: 35 rec
Kellen Winslow: 60 rec/1 TD
Jamal Lewis: 55rush/20 rec

Packers @ Giants
Brett Favre/Donald Driver/Greg Jennings
Brandon Jackson/Vernand Morency (vs. NYG)
FF Points Allowed vs. QBs: 40.4
FF Points Allowed vs. WRs: 36.9
FF Points Allowed vs. TEs: N/A
FF Points Allowed vs. RBs: 23.1
Passing Game Thoughts: If Favre wannabe Tony Romo can torch this defense, don't you think the real thing could do it too? Seriously, Romo has a few more tools to work with than Favre, but expect the old man to have one of his finer games of the season in Week 2. The Giants will struggle to mount enough pressure on Favre and, more importantly, will struggle to get the Packers in third-and-long, where defenses can sometimes get the gunslinger to force a ball into coverage.
Even though I believe the hiring of DC Steve Spagnulo will turn out to be a good decision, this defense is going to struggle most of the season. Its top playmakers are either on the verge of retirement (Michael Strahan), injured (Osi Umenyiora) or playing a new position (Matthias Kiwanuka). The parts will fit eventually, but it may not happen until 2008. The secondary is – at this point – horrid. If I'm a fantasy owner and I see my players playing against the G-Men during fantasy playoff time, I may be licking my chops.
Running Game Thoughts: We learned that the Eagles defense is a slightly better run-stopping unit than they were in 2006. However, the Packers miss Ahman Green and a certain nastiness up front and it showed in Week 1, as Jackson quite often appeared to run into a brick wall. It should get a little easier against the G-Men, who couldn't stop much of anything against the Cowboys.
The run defense was better than the pass defense on Sunday, but not by much. Spagnulo will have his hands full game-planning each week if the injuries and the poor play continue – a theme that was apparent during the preseason as well. The more aggressive approach the Giants are taking will serve them better down the road against the run and the pass, but for now, he hardly has the personnel to play read-and-react defense. This has become a bad defense very quickly.
Projections:
Brett Favre: 270 pass/3 TD/1 INT
Donald Driver: 100 rec/1 TD
Greg Jennings: 85 rec/1 TD
Brandon Jackson: 70 rush/20 rec/1 TD
Jared Lorenzen/Plaxico Burress/Amani Toomer/Jeremy Shockey
Derrick Ward (vs. GB)
FF Points Allowed vs. QBs: 14.1
FF Points Allowed vs. WRs: 18.1
FF Points Allowed vs. TEs: 1.4
FF Points Allowed vs. RBs: 14.3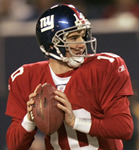 Passing Game Thoughts: The sediment sure has changed in New York. Suddenly, it has went from "Eli isn't his brother" to "Are you kidding…We actually have to play the Hefty Lefty?". Perhaps what worked so well for Manning in Week 1is what Lorenzen may try to do, and that is to find Burress. What is a shame is that for the first time in years, the Giants are building a solid WR corps, meaning Manning was actually being given a shot to take the next step. Now, he may push to come back too early and play poorly, further drawing the ire of Giants fans who want to see him improve.
The Packers defense fared very well against Donovan McNabb, so it shouldn't be much of a shock if they are able to contain Burress and keep the Giants in check, especially considering Lorenzen's inexperience. I would expect a fair amount of the running game mixed in with several short-to-mid range attacks to Toomer and Shockey, making Burress much more of an afterthought than he was against a Terrence Newman-less Cowboys secondary.
Running Game Thoughts: One prominent analyst stated this week that the G-Men had one of the top five run blocking lines in the league. I'm not sure I disagree. Ward played very well in relief of Ward and may just get an opportunity to forge a timeshare situation with Brandon Jacobs if he is able to take advantage of said line in Jacobs' absence. That said, I don't like that situation playing itself out this week against a defense I believe will finish among the best in the league by the end of the season in the Packers, who did a fine job keeping Brian Westbrook from doing too much.
I saw nothing from the much-improved Packers defense to make me believe that they will not be a top option in fantasy leagues this fall. My lone concern coming into the season was a weak pair of safeties, but the play of Atari Bigby has settled those fears a bit. The front seven is otherwise stout and has several sure tacklers among its ranks. In short, I expect a small fantasy number coming from the Giants' backfield this week.
Projections:
Eli Manning or Jared Lorenzen: 220 pass/1 TD/2 INT
Plaxico Burress: 60 rec
Amani Toomer: 50 rec
Jeremy Shockey: 45 rec/TD
Derrick Ward: 60 rush/30 rec

Texans @ Panthers
Matt Schaub/Andre Johnson/Jacoby Jones/Owen Daniels
Ahman Green (vs. CAR)
FF Points Allowed vs. QBs: 14.2
FF Points Allowed vs. WRs: 18.1
FF Points Allowed vs. TEs: 2.4
FF Points Allowed vs. RBs: 8
Passing Game Thoughts: Most Texans fans had to feel good about Schaub's debut. Only six passes hit the ground and he was sacked just twice. I think most Houston fans would accept those numbers in 14 of 16 games this season. With Johnson and Schaub obviously already on the same wavelength, most fantasy owners need to make their move on Johnson before the demand for him goes through the roof. And as teams begin to double him with more frequency, expect Jones to put together some #3 fantasy WR-worthy performances.
The Panthers did a fine job keeping the Rams receivers in check (although St. Louis missed Drew Bennett) for most of the game. They face a less experienced but pretty talented group of WRs from Houston who may just be a bit more productive than the Rams were on Sunday if they dare underestimate the Texans. The potential to keep Houston's passing game under 200 yards (like they did with the Rams) is there if the Panthers DBs bring their A-game. Also, this game figures to be the first true test as to how Schaub reacts with a real pass rush coming at him. Kansas City's front four pales in comparison to Carolina's.
Running Game Thoughts: If anyone was shocked at Green's Texan debut, they probably should not have been. He still has his trademark speed. The question that most every Green owner would like to know though is: Can he hold up all season? I would venture to say he will be good for his usual 12-14 games, all the while making for a good #2 fantasy RB. Also, don't be too alarmed at the number of Green carries as compared to Ron Dayne's (16 to 13) as nine of Dayne's rushes came in the fourth quarter after the Texans had a 17-3 lead with little reason to believe Kansas City would come back.
Another impressive contest from the Panthers when they have MLB Dan Morgan in the lineup. For those that don't recall, last week I stated just how much more dominant the Carolina defense is when they have their spiritual leader in between the stripes and not on the training table. Holding Steven Jackson to a combined 61 yards is a very good sign even though the Rams were likely trying to "break him in" after he did not see a snap in the preseason. Either way, it's likely bad news for Green this week.
Projections:
Matt Schaub: 220 pass/1 TD/1 INT
Andre Johnson: 90 rec/1 TD
Jacoby Jones: 50 rec
Owen Daniels: 25 rec
Ahman Green: 55 rush/30 rec
Jake Delhomme/Steve Smith/Drew Carter
DeShaun Foster/DeAngelo Williams (vs. HOU)
FF Points Allowed vs. QBs: 8.4
FF Points Allowed vs. WRs: 9
FF Points Allowed vs. TEs: N/A
FF Points Allowed vs. RBs: 12.1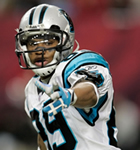 Passing Game Thoughts: No offense, but there a few hundred past and future QBs that could light up the 2007 Rams defense, particularly with a healthy Smith. So long as Smith stays healthy, expect 100 yards and a score on just about a weekly basis. With the amount of attention Smith receives, it's safe to figure there will be more three-TD performances in Delhomme's future, probably just not in this contest as the run game may take center stage.
I'm not sure I'm buying Houston yet as a middle-of-the-pack pass defense quite yet, but once again, they will be improved in this area (pass defense) as well this season, taking advantage of what will be a dreadful Chiefs passing game. A bang-up job on a stud WR like Smith will go a long way in proving where they truly stand against the pass.
Running Game Thoughts: Just imagine if one of these two RBs could separate themselves from the other…oh, what a fantasy force he would be! But I guess if ex-OC Dan Henning and current OC Jeff Davidson see the committee approach as the answer to this situation, they can't be wrong, can they? (We'll save that discussion for another time…) What it does look like for the time being is that Foster will get the first-half work and that Williams will be the man most of the time in the second half. So, I guess it boils down to just how often you think the Panthers will play with a big lead…call me old school, but I'm going to opt with the starter (Foster) and a back that I know will get some carries early on even though Williams is the most talented player in my mind.
Don't look now, but the Texans defense is getting some pub! I'm going to write up their dominating defensive performance over the Chiefs to 75% bad offense and 25% good defense. The Panthers should provide much more of a litmus test on just how improved Houston's defense really is, particularly if they can keep both Panther RBs in front of them all day long.
Projections:
Jake Delhomme: 230 yds passing/2 TD/1 INT
Steve Smith: 110 yds receiving/1 TD
Keary Colbert: 35 yds
DeShaun Foster: 70 yds rushing/1 TD/20 yds receiving
DeAngelo Williams: 50 yds rushing/25 yds receiving

Colts @ Titans
Peyton Manning/Marvin Harrison/Reggie Wayne/Dallas Clark
Joseph Addai (vs. TEN)
FF Points Allowed vs. QBs: 16.6
FF Points Allowed vs. WRs: 19.2
FF Points Allowed vs. TEs: 3.8
FF Points Allowed vs. RBs: 7.6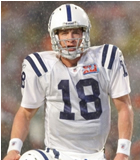 Passing Game Thoughts: As expected, Manning torched the Saints secondary. In Tennessee, he'll face a defense that he has beaten for two or more scores in five of his last six games against them. Harrison absolutely had his way with the Titans in their last meeting in December and that was with Pacman Jones playing. All in all, Manning has just about seen it all, so if Tennessee insists on protecting its CBs from the deep ball, expect a heavy dose of Clark in the passing game and Addai on the ground.
Does the challenge get any more difficult than going from defending John Broussard and Dennis Northcutt than to keeping up with Wayne and Harrison? A Pacman Jones-less team did a fine job keeping Jacksonville under wraps, but I have a hard time seeing Manning & Co. being held under two scores in this contest. And it's not exactly like they shut down the Jags WRs down either. In an effort to keep this game close, expect a lot of zone and cover 2, perhaps at the expense of the run defense.
Running Game Thoughts: I think it was quite clear from Week 1 that Addai will not be sharing too many carries. And what's funny is that the one thing that keeps him from being a candidate to push Tomlinson for being the league's most prolific fantasy RB is the very same thing that allows him to be so productive each week (Manning). That paradox will likely be at work again this Sunday as Addai should have little trouble going over 100 total yards and a score while Manning will make sure the passing game remains the foremost thought on the mind of the Titans defense.
After Week 1, your rushing defense champion is?...The Titans? At least from a fantasy perspective. They held the Jags to 16 touches for 76 yards and no scores. I think a lot of us expected improvement, but being the toughest defense vs. RBs after one week is not what most of us had in mind. Bear in mind that Tennessee probably felt it had little to worry about in the passing game – a luxury that will not have in Week 2. Addai was held in check – although he was splitting carries – by the Titans last season. Don't expect a repeat of that or the dominating rushing defense performance from Tennessee again in Week 2.
Projections:
Peyton Manning: 300 pass/2 TD/1 INT
Marvin Harrison: 105 rec/1 TD
Reggie Wayne: 85 rec/1 TD
Dallas Clark: 50 yds
Joseph Addai: 85 yds rushing/1 TD/35 yds receiving
Vince Young/Brandon Jones/Eric Moulds/Bo Scaife
Chris Brown/LenDale White (vs. IND)
FF Points Allowed vs. QBs: 10
FF Points Allowed vs. WRs: 9.9
FF Points Allowed vs. TEs: 5.7
FF Points Allowed vs. RBs: 13.1
Passing Game Thoughts: If ever a team has treated the passing game as if I didn't matter in an age when most teams live and die by it, it would be the Titans. But when a team like Tennessee can play the ball-control, field possession game like a Jeff Fisher team has historically been able to do, it doesn't matter as much. With that in mind, expect Young to have 75 yards passing (his total from Week 1) by halftime in this contest, as the opportunities to find Scaife and Moulds will be there against the Cover 2.
The thing that was most surprising to me from Thursday's Opening Night win by the Colts was not how effective their pass defense was – they have shown quite a tendency under HC Tony Dungy to do that – but how ineffective all the Saints playmakers were going against it. They face quite an opposite challenge in Week 2, as Young as no problem tucking and running if he doesn't like what he sees after one or two reads.
Running Game Thoughts: I would like to take all the credit for saying last week that Chris Brown would be the back most likely to prosper against the Jags, but I have to admit I did not see him getting 19 carries – for one – and ripping each of them off for an average of nearly 10 yds/carry. The thing is, he has shown the capability to do this from time to time, but he has never stayed healthy long enough in a season to become "the man". As such – and seeing that the Colts are a team built for speed – expect the powerful White to be the best fantasy RB this week.
Sorry, Colts fans…I'm not sure I'm buying the defense's performance from Week 1. Holding down Bush & McAllister to similar stat lines was impressive, but I'm interested in seeing if they can take the same approach on the road, on the grass field of LP Field in Tennessee. The other difference is that the Colts will need to respect any run-action as Young gouged the Colts for 121 yards and a score in two meetings last season. Expect similar success by the Titans QB this time as well as a pretty fair performance from White.
Projections:
Vince Young: 150 pass/1 TD/1 INT/60 rush/1TD
Brandon Jones: 40 rec
Eric Moulds: 35 rec
Bo Scaife: 60 rec/1 TD
Chris Brown: 50 rush/15 rec
LenDale White: 60 rush/1 TD

Saints @ Bucs
Drew Brees/Marques Colston/Devery Henderson/Eric Johnson
Deuce McAllister/Reggie Bush (vs. TB)
FF Points Allowed vs. QBs: 15.8
FF Points Allowed vs. WRs: 11.2
FF Points Allowed vs. TEs: 4.3
FF Points Allowed vs. RBs: 31.6
Passing Game Thoughts: Last season, the passing game took a back seat to the running game in the Saints' 31-14 win at Raymond James Stadium. One has to hope for a bounceback performance from Brees and his mates after looking shellshocked against the Colts in Week 1. The problem is they face another Cover 2 team this week that did a pretty fair job keeping Seattle close for most of the game. HC Sean Payton needs to make sure in his zest to be efficient, he doesn't become conservative with throwing the deep ball. Just planting that seed in the defense's mind should be enough to get Bush and McAllister the room they need to work with in Week 2. Rest easy, Brees fans. The Saints don't face another team that specializes in Cover 2 again until December.
Based on recent history and Week 1, the Bucs defense may be able to keep Brees and the passing game under wraps on Sunday. There are enough weapons in the run game to allow the passing game to take a back seat and it wouldn't be a huge surprise to see Bush be the leading receiver in this contest once it is over. Expect Payton to learn from his Week 1 mistakes and exploit the Bucs rush defense, with just enough play-action passes mixed in to make Brees an effective fantasy starter this week.
Running Game Thoughts: Last season, the running game reigned supreme on the road as the Saints dismantled the Bucs in early October. Bush and McAllister owners have to be pretty happy looking at the fantasy point totals surrendered by the Bucs defense in Week 1 (196 total yards and two TDs to the RB position) against Seattle. There is absolutely no reason they can't match or exceed those numbers.
While Tampa Bay did a fine job in completely shutting down the Seahawks receivers, they had very little success stopping Seattle's RBs in the passing or running game. I like McAllister, Bush and the Saints offensive line just a bit more than Seattle's trio, so it wouldn't be a surprise to see a repeat of Week 1's numbers in Week 2 against the Saints.
Projections:
Drew Brees: 260 pass/2 TD/1 INT
Marques Colston: 55 rec/1 TD
Devery Henderson: 40 rec
Eric Johnson: 60 rec/1 TD
Deuce McAllister: 80 rush/1 TD/15 rec
Reggie Bush: 50 rush/70 rec
Jeff Garcia/Joey Galloway/Maurice Stovall
Cadillac Williams (vs. NO)
FF Points Allowed vs. QBs: 26.2
FF Points Allowed vs. WRs: 37.8
FF Points Allowed vs. TEs: N/A
FF Points Allowed vs. RBs: 23.3
Passing Game Thoughts: Much like Brees, Garcia was efficient but that didn't help a Cadillac-less offense do enough to challenge the Seahawks late in the game. This offense desperately needs Stovall, Michael Clayton or Ike Hilliard to step up each week so the passing game is not so reliant on Galloway to carry it. They may draw a break against the Saints in Week 2, as Galloway torched the Saints for 207 yards and three scores in two meetings last season. Expect Galloway to hold up his end against on Sunday and for the Bucs offense to get on track, meaning Garcia is a strong play.
The above numbers are quite gaudy, but I do expect the Saints defense to improve as the season progresses. They can't help they faced the most potent passing attack in the game in Week 1. But I do think they will struggle with the deep ball for most of the season, an area in which Galloway should expose to his benefit both times the teams meet this season, including this week.
Running Game Thoughts: With Williams likely limited or out, it may mean Michael Pittman may be reintroduced to the feature back position, if only for a game. His forte is catching the ball, which once again makes me think that it is a good week to start Garcia unless you have an elite starting QB on your roster. Even with the Saints not possessing the strongest run defense, it's hard to imagine HC Jon Gruden calling 30 running plays against New Orleans with no grinder available to him in the running game. After seeing the film of the Saints getting lit up in the passing game in Week 1, he may have no choice.
Much like I said in the preceding paragraphs, I expect the Saints' rushing defense will get a bit of a break if Cadillac is unable to go. In short, who wins this game should boil down to the Saints rushing offense vs. the Bucs passing offense.
Projections:
Jeff Garcia: 220 pass/2 TD/0 INT/25 rush
Joey Galloway: 100 rec/1 TD
Maurice Stovall: 50 rec
Cadillac Williams: 90 rush/20 rec

Niners @ Rams
Alex Smith/Darrell Jackson/Arnaz Battle/Vernon Davis
Frank Gore (vs. STL)
FF Points Allowed vs. QBs: 23.3
FF Points Allowed vs. WRs: 32.6
FF Points Allowed vs. TEs: 3.5
FF Points Allowed vs. RBs: 19.2
Passing Game Thoughts: For those that drafted Smith, these are the games that you got him for…I expect all three receivers listed above to contribute heavily, with Davis the biggest beneficiary. While Carolina is probably trying to work the TE more into their offense, for Jeff King to be targeted six times in Week 1 means the TE was open against the Rams as the Panthers have much more appealing options in the aerial attack. If he has five catches like King did Opening Week, figure Davis will have one of his better games as a Niner.
Much like I'll keep repeating throughout the season, the Rams defense will not be very good. For a team that likes to run as much as the Panthers do, it's a bad sign the Rams gave up such gaudy numbers in the passing game. This can only mean good things for teams looking to get their passing games going after a rough showing the previous week.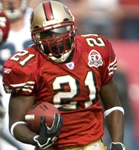 Running Game Thoughts: This matchup bodes very well for Gore. He went well over 100 yards and a score in each meeting last season and the Niners offensive talent has only improved, if anything. Gore should have a huge day with multiple scores somewhat likely.
I believe I stated last week the Rams will not have one of the better defenses and while rookie DT Adam Carriker should one day be a force, it probably isn't going to happen in 2007. The rest of the front seven are either undersized, ineffective a lot of the time or suspended (DT Claude Wroten).
Projections:
Alex Smith: 230 pass/2 TD/1 INT/20 rush
Darrell Jackson: 55 rec/1 TD
Arnaz Battle: 60 rec
Vernon Davis: 70 rec/1 TD
Frank Gore: 120 rush/1 TD/30 rec
Marc Bulger/Torry Holt/Isaac Bruce/Drew Bennett/Randy McMichael
Steven Jackson (vs. SF)
FF Points Allowed vs. QBs: 12.6
FF Points Allowed vs. WRs: 11.4
FF Points Allowed vs. TEs: 2.2
FF Points Allowed vs. RBs: 19.2
Passing Game Thoughts: After finding Holt for a scoring strike in the first half, the Panthers were able to shut down an offense that was without Bennett and may just as well been without McMichael, who only caught two passes late in the game. Remember two things: Bulger and the Rams started off slowly last season as well and Bulger has typically not done all that well against the Niners. Bennett's likely return this week does bode well for the offense, but figure St. Louis will concentrate on getting Jackson going after seeing the success Edgerrin James was able to have against San Francisco on Monday night. Much like the Saints above, things should pick up after this week as the number of teams that have three CBs that can match with the Rams WRs are very few and far between.
So far, so good for the Niners rebuilt secondary, picking off Cardinals QB Matt Leinart twice. It wouldn't be a big surprise to see that trend continue, much like I expect the trend of teams running on San Fran to continue as the season progresses. Holt was held to 30 yards receiving in both games last season, so shift your expectations on him downward until next week. As a result, expect Bruce, Bennett and McMichael to be fairly solid plays.
Running Game Thoughts: Jackson's road to fantasy success in this game does not figure to be as easy as Gore's, but that doesn't mean he won't be every bit as productive. Losing LT Orlando Pace will hurt the passing game more than it will the running game, but it didn't make much of a difference last season for Jackson, who actually exploded onto the fantasy scene in the games in which Pace missed. As far as this game is concerned, expect the gameplan to feature Jackson getting nearly 30 or more touches and for HC Scott Linehan to do his best to eat clock to keep his porous defense off the field.
Week 1 was an interesting test for the Niners. Even without Pace, the Rams o-line figures to be a bit better than the Cardinals' and Edgerrin James, who is not in Jackson's class as a runner anymore, fared pretty well. The Niners will get better vs. the run as the season progresses, but I expect Jackson to be able to carry this offense in Week 2 as San Francisco searches for answers on what they need to do to become a complete defense.
Projections:
Marc Bulger: 230 pass/1 TD/1 INT
Torry Holt: 50 rec
Isaac Bruce: 50 rec
Drew Bennett: 45 rec/1 TD
Randy McMichael: 30 rec
Steven Jackson: 100 rush/2 TD/45 rec

Cowboys @ Dolphins
Tony Romo/Terrell Owens/Terry Glenn/Jason Witten
Julius Jones/Marion Barber (vs. MIA)
FF Points Allowed vs. QBs: 14
FF Points Allowed vs. WRs: 19
FF Points Allowed vs. TEs: 1
FF Points Allowed vs. RBs: 24.7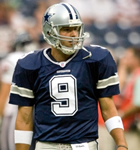 Passing Game Thoughts: Wow. As much as I would like to say Romo set the world on fire Sunday night, I just can't bring myself to say it. I can recall three TDs where the receiver did not have to worry about contact because there was no one close enough for him to be concerned about. And as cliché as it sounds, it was as much good offense as it was bad defense because the Cowboys should have one of the better offenses and I think that time will show the Giants defense is going to be porous as well. For the Cowboys to get going in this game, however, they are going to need to get the ball to Owens much quicker than they did against New York, as he held catch-less for most of the first half. If I'm a Witten owner, I prepare for the worst after seeing what Miami did to Chris Cooley in Week 1.
The Dolphins will present a slightly (ok, much) greater obstacle to the end zone than did the Giants. Much like he ended up doing in Week 1, Romo will need to carry the offense on his shoulders as the running game will likely struggle to maintain a 4 yds/carry clip. Jason Taylor and Joey Porter will likely force Romo out of the pocket a handful of time, so ad lib passing will play a key role in determining whether Miami' s defense or Dallas' offense rules the day.
Running Game Thoughts: This game could get ugly quickly if Dallas experiences anywhere near the success Washington enjoyed against Miami on the ground. However, I'm not going to put Barber/Jones into the Portis/Betts class quite yet and I feel Washington's line is better run blocking unit than Dallas' at this point. Either way, that nugget should not be enough to keep Barber owners from using his as their #2 RB and expecting a score from him while Jones owners could do much worse than use him as their flex player.
Yes, Miami gave up a lot of yards on the ground in Week 1. No, I don't expect a repeat of that in Week 2. There are very few coaches left in the game who are as committed to rushing the ball as Redskins HC Joe Gibbs and OC Al Saunders. Miami's pass defense figures to be more suspect than their run defense, so figure that the Cowboys will attack that area since they possess one of the league's top WRs. The Dallas offense is balanced enough that it should be able to attack a team in whichever area it thinks its opponent is weakest at – a luxury few teams have.
Projections:
Tony Romo: 235 pass/2 TD/1 INT/20 rush
Terrell Owens: 90 rec/1 TD
Patrick Crayton: 50 rec/1 TD
Jason Witten: 40 rec
Julius Jones: 45 rush/20 rec
Marion Barber: 50 rush/1 TD/20 rec
Trent Green/Chris Chambers/Marty Booker/David Martin
Ronnie Brown (vs. DAL)
FF Points Allowed vs. QBs: 32.4
FF Points Allowed vs. WRs: 43.1
FF Points Allowed vs. TEs: 4.1
FF Points Allowed vs. RBs: 20.7
Passing Game Thoughts: Don't look for Eli Manning-like numbers from Green this week, even though the bottom fell out of the Cowboys defense in Week 1. If CB Terrence Newman returns and is anywhere close to 100%, it could make for a tough game for Chambers. As such, expect a fairly equal distribution in the passing game for the Dolphins, similar to last week when their pair of RBs (Brown, Jesse Chatman) combined for 12 catches and 88 yards. Dallas is not unlike Washington nowadays when it comes to being blitz-happy, so expect short, safe passing from Miami.
I knew Newman was good, but Dallas made Plaxico Burress look like the greatest WR ever with their #1 CB gone. If Newman returns and is pronounced fit, feel somewhat safe that Chambers will be held in check. Otherwise, the offensive floodgates may open in this game similar to what they did against the G-Men for Dallas. But plantar fascitis, which is what Newman is suffering from, just doesn't go away, so look for Newman to eventually have to play a reduced role in 2007.
Running Game Thoughts: Expect a high concentration of rushing yards in this contest. Not only will it give the Dolphins' defense time to recover, but it figures to be the Cowboys' greatest weakness on defense now with NT Jason Ferguson out. While losing a NT is not a death sentence when it comes to stopping the run, it can be if there is no other viable alternative behind him. As such, feel good about playing Ronnie Brown as a #2 RB this week, especially if Chatman is ruled out.
In just one week, my opinion of the Cowboys' defense went from potential top 5 to lower-half of the standings. While Ferguson – who was injured in Week 1 and is out for the season – is no All-Pro, he is a very capable veteran at a position not many defensive linemen can play and do well. His loss will be felt repeatedly throughout the season.
Projections:
Trent Green: 220 pass/1 TD/1 INT
Chris Chambers: 80 rec/1 TD
Marty Booker: 50 rec
David Martin: 30 rec
Ronnie Brown: 80 rush/1 TD/35 rec

Vikings @ Lions
Tavaris Jackson/Troy Williamson/Bobby Wade
Chester Taylor/Adrian Peterson (vs. DET)
FF Points Allowed vs. QBs: 24
FF Points Allowed vs. WRs: 23
FF Points Allowed vs. TEs: N/A
FF Points Allowed vs. RBs: 31.9
Passing Game Thoughts: I think Week 1 served as an excellent microcosm of what HC Brad Childress would like to see from his 2007 Vikings. Pound the ball all day, turn any questionable situation over to an opportunistic defense and ask Jackson to do very little outside of being the athlete that he is when he needs to be. That last request may not need to happen in this game, much as it didn't in the first one (10 yards rushing). Expect the Vikings fantasy contributions from the passing game to be minimal for at least another week.
Josh McCown didn't seem to have all that much trouble picking apart the Lions, completing 75% of his passes for over 300 yards. While a good chunk of that came in "garbage time", completing three of every four passes – especially when a team throws 40 times – is not a good sign. It may not matter much this week, but look for Jackson to take a shot or two down the field as he looks to get more comfortable with passing in the NFL in his fourth career start.
Running Game Thoughts: That was a nice little show the rookie Peterson put on for us last week. If Taylor is unable to go, we may get to see it again. Otherwise, hold the optimism down on Peterson. If I'm a Peterson owner right now, I'm doing what I need to do to acquire Taylor, as it is Peterson – not Taylor – who is the more significant injury risk. (Plus, it's just good fantasy business to get a capable player whose stock is a bit down.) Either way, if both backs play, expect a fairly leaky Lions defense to allow Taylor and Peterson to have a field day one week after LaMont Jordan made his triumphant return to the fantasy scene.
Almost five yds/carry and 110 yards receiving to the RB position, are you serious? Where is Chris Spielman when you need him? While Oakland will be a much better offense than last season, they will not exactly find their way into the NFL history annals anytime soon either. All this bodes well for the Vikings RB duo, as the Vikings will likely stick to their plan of starting Taylor and bringing Peterson around later on. If Taylor cannot play, expect a Jordan-esque (LaMont, not Michael) type of day from A.D. (Peterson)
Projections:
Tavaris Jackson: 180 yds passing/1 TD/40 yards rushing/1 TD
Troy Williamson: 55 yds
Bobby Wade: 40 yds/1 TD
Chester Taylor: 50 yds rushing/1 TD/30 yds receiving
Adrian Peterson: 75 yds rushing/10 yds receiving
Jon Kitna/Roy Williams/Calvin Johnson/Mike Furrey/Shaun McDonald
Tatum Bell/Doug Duckett (vs. MIN)
FF Points Allowed vs. QBs: 10.8
FF Points Allowed vs. WRs: 8.8
FF Points Allowed vs. TEs: N/A
FF Points Allowed vs. RBs: 14.1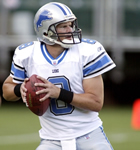 Passing Game Thoughts: To me, this contest registers as one of the more intriguing ones in Week 2. Can the Lions offense – that just got dispatching the #1 overall pass defense from 2006 – do the same thing against a defense that was the worst against the pass last season but looked drastically improved and much more opportunistic? Detroit gets to showcase its aerial circus to the home fans this week and, as such, expect them to score points. Kitna threw three INTs in each game against the Vikings last season with Williams taking a back seat in each one – even though he was injured early in the first game. Expect Furrey and McDonald to show up again – like they did in Week 1 – to make sure Kitna gets his numbers.
While the philosophy of Atlanta HC Bobby Petrino and Lions OC Mike Martz may be similar (get the ball down the field), the talent level that each coach possesses is at quite a different level. So while the schemes may be similar, the Vikings will need to make sure they match the pressure they applied on the Falcons in Week 1 if they hope to keep the Lions tamed.
Running Game Thoughts: What a surprise…a Martz offense passing twice as much as it runs. That was the case in Week 1 as Martz likely had his eye on proving his offense would work against the league's best pass defense from a year ago. However, it would be silly if he went the other way this week and decided he was going to force the issue in the running game as if Bell was going to bust through the Vikings defense. Play Bell only as a flex option, as the Vikings run defense isn't getting any worse.
For the sake of not beating a dead horse, this Vikings defense can stop the run, period. Don't try to overanalyze it. Detroit isn't going anywhere on the ground this week.
Projections:
Jon Kitna: 285 pass/2 TD/2 INT
Roy Williams: 55 rec
Calvin Johnson: 75 rec/1 TD
Mike Furrey: 60 rec/1 TD
Shaun McDonald: 60 rec
Tatum Bell: 40 rush/20 rec

Seahawks @ Cardinals
Matt Hasselbeck/Deion Branch/Nate Burleson/Marcus Pollard
Shaun Alexander (vs. ARI)
FF Points Allowed vs. QBs: 9.9
FF Points Allowed vs. WRs: 9.6
FF Points Allowed vs. TEs: 0.4
FF Points Allowed vs. RBs: 14.1
Passing Game Thoughts: How far back do we have to go to find a team that won by 14 points that had its two WRs combine for seven yards? That's not likely to happen again this year in the NFL, let alone more than a handful of times in our lifetime. Now with DJ Hackett out, expect Branch to get a lot of targets from here on out. Also, don't sleep on Pollard, who caught all five passes thrown his way. He figures to get more work with Hackett out as well.
The Niners did not provide a good "look" for the Cardinals as they prepare to play the Seahawks. Hasselbeck & Co. will be much sharper and will find the going much easier against the Cardinals than they did against the Bucs. Remember, the Bucs scheme helps them deal with receivers much more than the Cardinals, who are a more aggressive, man-to-man type of team. They could get lit up in Week 2 if they don't play a fair amount of zone.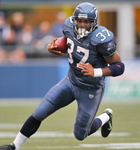 Running Game Thoughts: As I highlighted in some of my preseason articles, the Cardinals commitment to the run can only help their rush defense numbers as well as keep their opponents' down. (Having S Adrian Wilson also helps the run defense in a significant way.) This is especially useful vs. teams like Seattle, which would like nothing more than to get Alexander 30 carries. As a result, don't expect Alexander to carry the ball 25 times again unless the Seahawks go ahead early. Something that is particularly interesting is that as inviting as the Arizona defense was for fantasy RBs last season, it allowed four 100-yard rushers (two in the same game). So while Alexander should have a #1 fantasy RB performance, don't expect him to carry your fantasy team this week.
In general, the Cardinals did a fine job limiting the 49ers offense, especially holding Gore to 76 total yards. Is a similar fate awaiting Alexander? Well, it could be if the Seahawks are unable to get their WRs involved, much like Week 1. Alexander averaged a bit over 80 yards and scored just once in two games last season, a number the Cardinals should be able to limit Alexander to on Sunday. Keep your eye on Wilson, if he continues to creep into the box as effectively as he did on MNF, Alexander may actually struggle.
Projections:
Matt Hasselbeck: 220 pass/2 TD/0 INT
Deion Branch: 90 rec/1 TD
Nate Burleson: 55 rec
Marcus Pollard: 45 rec/1TD
Shaun Alexander: 85 rush/1 TD/10 rec
Matt Leinart/Anquan Boldin/Larry Fitzgerald
Edgerrin James (vs. SEA)
FF Points Allowed vs. QBs: 11.7
FF Points Allowed vs. WRs: 13.2
FF Points Allowed vs. TEs: N/A
FF Points Allowed vs. RBs: 13.2
Passing Game Thoughts: I think the majority of us expected just a bit more from Leinart than 108 yards passing and two INTs. It's also not all that great of a sign he ran for 35 yards either. Of all things, it was the running game that stood out, while Leinart did not appear to be all that much in sync with his WRs. It should be expected from a young QB like Leinart, who is seeing how the league has adjusted to him while, at the same time, learning all the nuances of HC Ken Whisenhunt's offense. It will happen, but then again, this is one big reason Leinart should be your #2 fantasy QB and not a #1.
I'm expecting Seattle to be a much better overall defense this season, particularly in the passing game. Both Kurt Warner and Leinart put together solid games in their starts vs. Seattle, but it wouldn't be at all surprising if this contest takes on the same personality of each team's Week 1 game. Whichever team runs and stops the run the best and wins the field position and turnover battles should win.
Running Game Thoughts: We saw Whisenhunt's commitment to the run…now let's hope he keeps it. If he didn't know it already, he probably knows now that he won't be getting a lot of big gains from James, but he will get consistency. And all Whisenhunt really wants to do is control the game – making sure teams respect James enough to make the pickings easier for Leinart and the passing game as well as resting easy that his defense is not spent at the end of each game. Until we see differently, expect James to get his 20-25 touches each week no matter the opponent, with a TD likely just about every other game.
With the exception of two carries late in the second quarter, the Seahawks bottled up Cadillac Williams. While the run defense looks to be in better shape than it was at the end of last season, let's see how it holds up this week and next week against Cincinnati before we start suggesting they are a top-flight unit. With Arizona's commitment to running the ball, they will get their yards against just about any opponent except the most elite defenses.
Projections:
Matt Leinart: 220 pass/1 TD/1 INT
Anquan Boldin: 80 rec
Larry Fitzgerald: 85 rec/1 TD
Edgerrin James: 80 rush/30 rec

Chiefs @ Bears
Damon Huard/Eddie Kennison/Dwayne Bowe/Tony Gonzalez
Larry Johnson (vs. CHI)
FF Points Allowed vs. QBs: 9.4
FF Points Allowed vs. WRs: 4.3
FF Points Allowed vs. TEs: 17.1
FF Points Allowed vs. RBs: 19.1
Passing Game Thoughts: I thought the Chiefs would get a game against an average Texans defense to get the ship righted just a bit before taking on Chicago…oops. Kansas City will need LJ at 100% (not likely) to have a shot to keep this game close at half, but I expect this to be one of the most lopsided games of the season before it is over.
Much like I'll state below with the running game, San Diego has a much more potent attack and the Bears needed LT to throw its only TD pass. I don't expect LJ to bail Huard out the same way, and that's even if the Chiefs get that close to the end zone.
Running Game Thoughts: Johnson had better be ready after just 10 carries last week. Early prognostications appear to be right on about just how inept the Chiefs offense might be this season. This is not the type of game Kansas City needs after getting handled by the Texans.
The Bears held a much more potent ground attack (Chargers) down in Week 1. This week their sole focus needs to be on LJ. Look for them to get that done and put up some ridiculous defensive numbers in the process.
Projections:
Damon Huard: 165 pass/0 TD/3 INT
Eddie Kennison: 30 rec
Dwayne Bowe: 30 rec
Tony Gonzalez: 50 rec
Larry Johnson: 45 rush/40 rec
Rex Grossman/Bernard Berrian/Muhsin Muhammad/Desmond Clark/Greg Olsen
Cedric Benson (vs. KC)
FF Points Allowed vs. QBs: 15.2
FF Points Allowed vs. WRs: 24.5
FF Points Allowed vs. TEs: 1.4
FF Points Allowed vs. RBs: 13.2
Passing Game Thoughts: Unlike Week 1, this game should be a chance for Grossman to get comfortable. The Chiefs are roughly the exact opposite of the Chargers, that is, a team that is happy to sit back in Cover 2 and not blitz all that much. As a result, expect Grossman to throw for a high completion % and to have a fairly productive day, that is, unless Benson is able to carry the offense by himself.
With DE Jared Allen missing his second straight game due to suspension, expect the Bears to take their shots at picking apart the Chiefs zone packages. With a good offense, this Chiefs defense may be good enough to go places. Unfortunately, the Kansas City defense does not have that luxury, thus, expect Grossman to hit Berrian at least once deep after Benson has been established.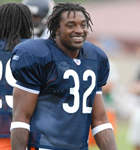 Running Game Thoughts: After getting pretty much stonewalled against the Chargers, running an offense against the Chiefs figures to be much easier. This is definitely one of those "if you got him, play him and expect a lot" type of plays this week for Benson. Given the Bears defense and the lackluster Chiefs offense, Benson could carry the ball close to 30 times as they will probably never trail in this game.
Once again, the Chiefs defense is a good enough all-around unit to keep up with teams like the Bears. But until their offense shows signs of life, it will be a matter of how long their stamina holds up before they crack each and every week.
Projections:
Rex Grossman: 215 pass/3 TD/1 INT
Bernard Berrian: 75 rec/1 TD
Muhsin Muhammad: 45 rec
Desmond Clark: 25 rec
Greg Olsen: 35 rec/1 TD
Cedric Benson: 90 rush/1 TD/10 rec

Jets @ Ravens
Chad Pennington or Kellen Clemens/Laveranues Coles/Jerricho Cotchery
Thomas Jones (vs. BAL)
FF Points Allowed vs. QBs: 17.7
FF Points Allowed vs. WRs: 26.5
FF Points Allowed vs. TEs: N/A
FF Points Allowed vs. RBs: 8
Passing Game Thoughts: One has to admit Pennington's line in Week 1 was pretty good (16-for-21, 2 TDs). My biggest question coming from that game was: How did Pennington's leg not break on that tackle? Either way, it's likely Clemens makes his first start against what is probably the last team a new QB should face in his first start. Clemens does have an arm, but his line is going to have protection issues all day long, making even a nice combo like Coles and Cotchery hard to play as anything more than #3 WRs this week.
Even as their ranks were dropping like flies on Monday Night Football, the Ravens were truly impressive in keeping the Bengals offense under control, especially in the second half. Week 2 does not figure to bring about the same challenge and it will get even worse/better (depending on your loyalties) if Clemens has to make the start. He is more mobile than Pennington, but will not be able to make decisions near as quickly as Pennington does with the ball, meaning he does not stand much of a chance in light of what will be an angry Ravens defense. Downgrade all your Jets regardless.
Running Game Thoughts: You may remember how I stated in the preseason Jones may struggle early on? Consecutive games against the Pats, Ravens and Dolphins will do that to a RB. For owners in the middle of that mix right now, don't say I didn't warn you. For those owners who would like a midseason pick-me-up, trade for him now. As far as the game is concerned, expect a modest stat line similar to the one Jones posted against New England. The Ravens are just too big, too aggressive and too fast for most running attacks.
The Bengals possess a better line and better offense than do the Jets (and even though they were in Cincy), the Ravens held them well under 300 yards and that is with Pro Bowl talent at every offensive skill position. With Clemens under center and an average o-line at best, don't expect the Jets to do any better.
Projections:
Kellen Clemens: 150 pass/0 TD/2 INT/35 run
Laveranues Coles: 45 rec
Jerricho Cotchery: 50 rec
Thomas Jones: 50 rush/20 rec
Steve McNair/Mark Clayton/Derrick Mason/Todd Heap
Willis McGahee (vs. NYJ)
FF Points Allowed vs. QBs: 27.3
FF Points Allowed vs. WRs: 38.8
FF Points Allowed vs. TEs: 6.9
FF Points Allowed vs. RBs: 21.1
Passing Game Thoughts: After hinting he may open things up, the Ravens were pretty much forced to go vanilla when their offense could not hold on to the ball. I fully expect more passing than usual from the Ravens offense as the season progresses, but this game will probably not need McNair to air it out all that much – if he even plays. With Clayton certainly far from 100%, expect more Mason and Demetrius Williams, with Williams likely using his size and speed to get past the Jets defense for a long score.
While the score of this game should be closer than 38-14, I'm not sure the Jets will feel any better after Week 2. They will have issues with stopping McNair if he leaves the pocket as much as they will struggle with him throwing to Mason, Clayton, Heap or Williams. Expect an efficient day from McNair, but not a standout fantasy performance as the Jets try to figure out their defensive identity.
Running Game Thoughts: Don't be scared off by the Bengals game, they are a better defense than given credit for that was playing very aggressively in their home opener on Monday night. The Jets are going to show themselves as a very average defense unless rookie CB Darrelle Revis' star rises earlier than expected. I say all this to tell you that McGahee should post his first 100-yard day against the Jets and get a lot of work as well – he has tortured New York his entire career. Most of the fumbles that occurred on MNF came as a result of missed assignments (McNair turning the wrong way, McGahee expecting the ball in a different place than where he received it). Expect that to get ironed out in time for the Jets.
The Jets surrendered 34 carries for 131 yards on the ground to the Patriots. While that mark is above average from per carry standpoint, it speaks to how easily the Pats controlled the game. The Ravens should be expected to do the same and will likely be more effective doing it.
Projections:
Kyle Boller: 210 pass/2 TD/1 INT/20 rush
Mark Clayton: 55 rec
Derrick Mason: 45 rec
Demetrius Williams: 40 rec/1 TD
Todd Heap: 40 rec/1 TD
Willis McGahee: 100 rush/1 TD/20 rec

Raiders @ Broncos
Josh McCown or Daunte Culpepper/Jerry Porter/Ronald Curry/Zach Miller
LaMont Jordan (vs. DEN)
FF Points Allowed vs. QBs: 6.2
FF Points Allowed vs. WRs: 6.5
FF Points Allowed vs. TEs: 1.5
FF Points Allowed vs. RBs: 16.6
Passing Game Thoughts: Oakland has an offense, everybody! Regardless of whether it was the Lions or not, the 2006 version of the Raiders would not have: 1) come back from a 20-0 deficit or 2) completed 75% of their passes. I'm paying for going against my original inclination that Porter would be the main man. My defense? I thought a few weeks ago and I still think C-pepp ends up being the QB. In that case, Curry and Porter will get a more equal distribution of the targets. Once I sat back and thought it about it, it's not surprising that Curry was so busy in Week 1 as Detroit's Cover 2 combined with McCown's work all offseason with Curry and Miller plus McCown's average arm strength probably all contributed to Curry getting 10 targets and Miller six as opposed to Porter's two. Expect that number to balance out as the season progresses, especially if Culpepper keeps the starting job.
That said, don't look for Porter to step up in this game either. More than likely, CB Champ Bailey will cover Porter most of the day. CB Dre Bly, no slouch himself, will probably draw Curry. Oakland would be best suited to pound Jordan and to throw to him in the flat as the Broncos have a secondary good enough to shut down all but a handful of offenses.
Running Game Thoughts: Jordan is no Marshawn Lynch, but he should be a busy man and should be moderately productive in Week 2. Whether the full load continues to go Jordan's way once Dom Rhodes returns is anybody's guess, so this may be a good sell-high situation as Rhodes' contract almost dictates that he see at least 1/3 of the work. For this Sunday, however, expect Oakland to use Jordan in much the same way it did against Detroit with about 15-18 carries and 5-6 receptions.
The Broncos will be a standout defensive unit, in my estimation, before the season is over. That is, if the front seven can get right and MLB DJ Williams can settle in to his new role in short order. Buffalo should not have been able to have any success on the ground against Denver. Seeing how the league is a copycat league, expect the Raiders to hammer away with the run until the Broncos show they have that leak plugged.
Projections:
Daunte Culpepper: 190 pass/1 TD/1 INT/20 rush
Jerry Porter: 35 rec
Ronald Curry: 55 rec
Zach Miller: 50 rec/1 TD
LaMont Jordan: 80 rush/1 TD/35 rec
Jay Cutler/Javon Walker/Brandon Marshall/Daniel Graham & Tony Scheffler
Travis Henry (vs. OAK)
FF Points Allowed vs. QBs: 28.2
FF Points Allowed vs. WRs: 41.2
FF Points Allowed vs. TEs: 4.6
FF Points Allowed vs. RBs: 16.2
Passing Game Thoughts: Cutler looked like a green QB on occasion in Week 1, as one might expect. He still did go over 300 yards and turned the ball over just once, so while it may not have been all that pretty, he got the job done. Expect the passing game to take a back seat this week though, keeping in mind that – while very talented – Walker & Marshall are not Roy Williams and Calvin Johnson with a little Mike Furrey and Shaun McDonald sprinkled in.
While very good, the Oakland secondary cannot be flawless. Heck, they even allowed Alex Smith and Charlie Frye to each throw for three scores in Weeks 4 & 5 last season before clamping down and yielding just eight more TD passes the rest of the season. So until they string together multiple poor performances, tread carefully with expectations when your fantasy WRs go up against the Oakland secondary.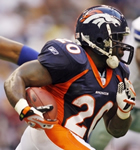 Running Game Thoughts: One week probably is not enough to prove to the fantasy world that Henry is indeed the lone man in the backfield. But he sure did look good in Week 1, even giving his owners 40-plus receiving yards. In fact, if things had gone his way just a bit more, he could have added two scores to what was already an impressive day. I expect more of the same in this contest from Henry, particularly with the Raiders secondary as talented as it is.
The Oakland front seven still has some work to do to catch up with the secondary. Detroit made the Raiders DBs look bad on a few occasions, but bear in mind few teams will stick with the Lions receivers all game long. Their secondary matches up well with Denver's WRs, so expect minimal contributions from them, another reason why I expect a heavy workload for Henry.
Projections:
Jay Cutler: 225 pass/1 TD/1 INT/30 rush
Javon Walker: 65 rec
Brandon Marshall: 55 rec
Daniel Graham: 30 rec/1 TD
Tony Scheffler: 25 rec
Travis Henry: 110 rush/1 TD/10 rec

Chargers @ Patriots
Philip Rivers/Vincent Jackson/Malcolm Floyd/Antonio Gates
LaDainian Tomlinson (vs. NE)
FF Points Allowed vs. QBs: 18.4
FF Points Allowed vs. WRs: 24.6
FF Points Allowed vs. TEs: 2.9
FF Points Allowed vs. RBs: 9.3
Passing Game Thoughts: The Chargers' early-season slate does not bode well for Rivers, but it sure makes for some entertaining football. However, it gets easier after next week (Green Bay). Until then, expect San Diego to struggle just a bit on offense (struggle is a relative term in this case) and, in particular, Rivers. He is not going to be a QB that turns the ball over multiple times, so play him as you normally would. Just realize he is facing three consecutive tough defenses to open the season.
Perhaps it is a bit disconcerting that the Pats could not force Chad Pennington into an INT. It's too easy to assume we will get a carbon-copy of the Charger-Patriot playoff game last year, but this may not exactly be a defensive struggle either. The Pats match up as well as any team does with the Chargers, but it will take a special defense to keep San Diego out of the end zone less than twice a game.
Running Game Thoughts: Tomlinson is one of the few backs I have ever seen in fantasy who can be bottled up all game long and still deliver top-flight numbers. The New England defense figures to put up a better fight than it did in the 2006 playoffs, but LT will come plenty motivated, which is a scary thing if you think about it. LT owners weren't going to bench him regardless, but I must admit I expect a big day from LT this week and just about every week from here on out.
Owners should not have been shocked to see the Pats shut down Thomas Jones. They will not have the same luck against Tomlinson. In fact, I expect New England to give up its highest number of rushing yards this season in this contest. Once again, outside of Chicago, the Pats match up about as well as any team does with San Diego, but New England will desperately miss DE Richard Seymour in this affair.
Projections:
Philip Rivers: 205 pass/1 TD/1 INT
Vincent Jackson: 55 rec
Malcolm Floyd: 30 rec
Antonio Gates: 70 rec
LaDainian Tomlinson: 105 rush/1 TD/30 rec/1 TD
Tom Brady/Randy Moss/Donte Stallworth/Wes Welker/Ben Watson
Laurence Maroney (vs. SD)
FF Points Allowed vs. QBs: 7.3
FF Points Allowed vs. WRs: 9.1
FF Points Allowed vs. TEs: 3.8
FF Points Allowed vs. RBs: 9.6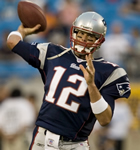 Passing Game Thoughts: Brady owners, let this feeling sink in. I think you may experience it a few more times where Brady goes for nearly 300 and 3 scores. Moss owners, I don't think you will be as fortunate. Moss will be hit or miss, in my opinion, most of the season. The Jets will soon be exposed as an average defense, something the Chargers are not. I'm not suggesting that you should ever sit Moss, but just don't expect Week 1 numbers every game. What is clear is that the Pats will get Welker involved as well, maybe even to the detriment of Stallwoth, which would be an interesting development. Watson appears to be a good play against the best pass defenses for now and an average play vs. the defenses that don't understand how to bracket Moss.
The Chargers likely had one goal in mind against Rex Grossman: don't get beat deep. And they didn't. Is a similar approach in mind for the Pats? I imagine so. Expect San Diego to let New England throw underneath to Welker all day at the expense of keeping Moss contained. The one thing that Brady had against the Jets that he won't have against the Chargers is time in the pocket. The blitzes that the Chargers will run will actually rush Brady, something the Jets' pressure could not do.
Running Game Thoughts: Not sure if fantasy owners are ready to transfer the title of "Public Enemy #1" from Mike Shanahan to Bill Belichick quite yet, but it was somewhat curious Heath Evans got two cracks from inside the 1-yard-line after Maroney had carried four of the first five plays of the Pats' last real drive. This would be quite a buzzkill for a number of owners out there that thought they may be able to count on Maroney as the linchpin of their teams. And Sammy Morris probably got a little too much work for those same Maroney owners. It's never worth playing guessing games with Belichick – one big reason I didn't draft Maroney or any of the WRs – as the Pats could be hiding an injury or going 60/40 with the workload between Maroney and Morris. It may not be a bad idea to field offers for Maroney as I'm not liking the feeling I'm getting here.
Maroney is more Adrian Peterson (the one from Chicago) than he is Cedric Benson. Peterson actually posted fairly good numbers in limited work (7 carries, 38 yards) against the Chargers defense. That being said, it would be mildly surprising if Maroney sees 20 carries in this game as it is still a better idea to attack San Diego via the pass than it is vs. the run. Plan accordingly.
Projections:
Tom Brady: 260 pass/2 TD/1 INT
Randy Moss: 80 rec
Donte Stallworth: 40 rec
Wes Welker: 65 rec/1 TD
Ben Watson: 40 rec/1 TD
Laurence Maroney: 90 rush/1 TD/20 rec

Redskins @ Eagles
Jason Campbell/Santana Moss/Brandon Lloyd/Chris Cooley
Clinton Portis/Ladell Betts (vs. PHI)
FF Points Allowed vs. QBs: 10.1
FF Points Allowed vs. WRs: 10.9
FF Points Allowed vs. TEs: 4.4
FF Points Allowed vs. RBs: 10.1
Passing Game Thoughts: Football can be a funny game sometimes. Moss gets targeted seven times in Week 1 and ends up with three catches for 28 yards, while Randle El gets targeted one less time and collects five receptions for 162 yards. What makes it worse for Moss this week, is that he faces a Philadelphia team that has not allow him to score a touchdown since 2003. In fact, he only caught five balls in two games last year for a measly 51 yards. See how Philly's defense was able to keep Donald Driver in check, it makes me think they can do a similar job on Moss although, if you are a Moss owner, one of the reasons you drafted him was due to his explosive play-making ability. If the Redskins ground game continues to be as effective as it was in Week 1, expect more opportunities for Moss.
Granted, the Eagles were able to hold down a banged up Packers receiving corps as Driver is nursing multiple injuries and fellow starter Greg Jennings was out with a hamstring. The challenge is slightly smaller in stature this week, but probably no less difficult. Expect more attention than usual to be paid to Randal El, who may allow Campbell to hook up with Moss and Cooley on a more regular basis. As Eagles defensive coordinator Jim Johnson gains more trust in his secondary, expect more and more blitzing. I expect a fair share of that on Monday, just to contend with the Redskins running game, if for no other reason.
Running Game Thoughts: It was quite impressive for the Redskins to be able to run 36 times in their Week 1 victory over the Dolphins. If Week 1 was any indication, it appears the Redskins running back situation is the 50-50 timeshare, just as many Portis owners had feared. Obviously, the upside of this is that Portis owners made get their back for a full season as opposed to eight to 10 games. And we all know what a healthy Portis can bring to a fantasy squad. His track record in the Eagles is pretty good, minus his last game against Philadelphia in which he only carried the ball six times before leaving for good in the 27-3 loss. Betts picked up for Portis in that game, and he absolutely annihilated the Eagles in their second meeting, rushing 33 times run and 171 yards. Expect another heavy dose of the run in this game.
The Eagles were able to put aside their rushing defense woes from last year for one game against Packers. However, Green Bay does not figure to be one of the top rushing teams this season. So while the Eagles should be much improved in that stopping the run, the real test will come when a team like Washington, which will commit to running the ball 35 to 40 times a game plays them. Expect Philadelphia to get gashed a couple times as a result.
Projections:
Jason Campbell: 210 pass/1 TD/1 INT/30 rush
Santana Moss: 60 rec
Antwan Randle El: 45 rec
Chris Cooley: 60 rec/1 TD
Clinton Portis: 75 rush/1 TD/10 rec
Ladell Betts: 60 rush/25 rec
Donovan McNabb/Kevin Curtis/Reggie Brown/LJ Smith
Brian Westbrook (vs. WAS)
FF Points Allowed vs. QBs: 15
FF Points Allowed vs. WRs: 11.2
FF Points Allowed vs. TEs: 7.9
FF Points Allowed vs. RBs: 13.5
Passing Game Thoughts: I suggested earlier in my preseason articles that McNabb may start out slow and look a bit rusty in his return from injury. I think it's fair to say that is exactly what we saw for the most part and some of the reason that this offense should be the Westbrook show, with McNabb complementing his talents and not the other way around. As for this week, Curtis has to be licking his chops after seeing what Chris Chambers was able to do against Washington. If Westbrook struggles on the ground at all, don't be surprised to see McNabb try to go up top a few times.
Giving up 88 yards receiving to Ronnie Brown and Jesse Chatman does not bode well for the Redskins as they prepare to stop Westbrook. Expect the Eagles to test this facet of the game early and often as they attempt to move the ball more efficiently than they were able to against the Packers. (Westbrook was targeted 12 times out of the backfield in Week 1, expect a repeat of that.)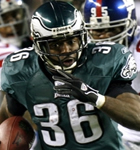 Running Game Thoughts: As a first-time Westbrook owner myself, I know I'll be quite happy with the workload he received in Week 1 all season long. The road will be easier from here on out as the Packers will be one of the top defenses before too long in the NFL. He will face another fairly stiff test in the Redskins, who showed they may be up to their 2005 tricks – that is, being a nasty defense to face. However, Philly's offensive line is one of the best, so continue to expect somewhere around 130-150 total yards from Westbrook.
The Redskins will be taking a step up in offensive competition this week, for the Dolphins are not one of the league's better blocking units nor are they all that sound execution-wise yet. Washington will find their pressure packages will be a bit less effective against a team that knows them as well as the Eagles and an offense that as multi-faceted as Philly's is. That said, the Redskins will force the Eagles into some long down-and-distance situations, so this won't exactly be a track meet either.
Projections:
Donovan McNabb: 245 pass/1 TD/1 INT
Kevin Curtis: 75 rec/1 TD
Reggie Brown: 60 rec
LJ Smith: 25 rec
Brian Westbrook: 85 rush/1 TD/65 rec/1 TD