8/27/07



Each year, the road to a fantasy championship begins with a draft that has each team believing they will be THE team and ends with one team that made enough good draft picks along with several savvy free agent/waiver wire pickups and a number of teams that did not. As many draftniks have stated about the real draft, I wholeheartedly agree that while a team does not win a league with their first-round selection, they sure can lose their league if they blow it. Similarly, I believe that teams – real and fantasy – win with what they do in the later rounds. It is with that in mind that we present a position-by-position overview at some of the "value" that exists in the fantasy marketplace as we kick off the preseason.

This article is going to list three overvalued and undervalued RBs based off of their average draft position (ADP) data from Antsports. The ADP's in this piece are based off drafts conducted in 12-team leagues that start two RBs.

Overvalued

Larry Johnson, Kansas City
Average Draft Position: 1:04

An extended holdout, an NFL-record 416 carries and an eroding offensive line... these are not the qualities I look for in my #1 fantasy running back. Unfortunately for Johnson, this is his reality. Gone are the days where this man-child could run behind future Hall of Famers Willie Roaf and Will Shields. Add in the fact that the Chiefs plan on reducing his carries by nearly five a game and you have all the makings of an overvalued running back.

As a LJ owner last fall in one of my money leagues, I marveled at his ability to produce more-than-respectable fantasy numbers each week despite a fading offensive line. Even more impressive was his ability to handle the workload he was asked to carry without showing signs of wear. In his defense, if Johnson has a saving grace, it's that there are virtually no other weapons in the Kansas City offense besides Tony Gonzalez. The Chiefs opted for veteran quarterback Damon Huard, which means things would appear to remain the same on offense this year as they did when the 11-year-vet took over last year, but let's take a look at why I don't believe that is the case. A quick glimpse at his games from last year reveals that Huard threw nine of his 11 TD passes against the NFC West. He will not experience similar success against the Bears, Vikings, Packers and Lions. This will only crowd the "box" even more for LJ.

Upon reporting from his 25-day holdout last week, Johnson appeared to be in excellent physical condition. However, as we have heard a thousand times, being in great physical shape is not the same as being in football shape. Unlike last season when they only had an injured Michael Bennett behind him, the Chiefs appear to be well-stacked at the running back position this time around, with Bennett, Priest Holmes and rookie Kolby Smith backing him up. As we all know from Tony's Heavy Workload article, history is not kind to those backs to exceed the 370-f/carry mark.

One thing that has me down on LJ's stock is the gradual decline of talent on their once formidable offensive line. Will Shields and Willie Roaf have chosen to pursue life after football over the last two years and while LG Brian Waters and C Casey Wiegmann still remain, the front five will struggle to fill the void created by Shields' retirement. John Welbourn is a capable replacement and has is no stranger to playing guard, but he is also not a double-digit Pro Bowler either. Add to that LT Damion McIntosh, who is injured, and RT Chris Terry – two players that have much to prove. Terry did not make a start last season and McIntosh was benched near the end of the season by the Dolphins, a team that is not exactly loaded with quality linemen.

Besides the holdout, last season's workload and a bad supporting cast, the last thing that gives me much doubt about LJ's chances at fantasy greatness is his schedule. Before their Week 8 bye, the Chiefs face four of the top 10 defenses (Chicago, Minnesota, San Diego, Jacksonville) in terms of fantasy points allowed to the RB position last season. I don't expect Houston, Cincinnati or Oakland (the other three pre-bye teams) to have top 10 rush defenses, but each of those teams should be improved against the run. Weeks 15 and 16 lines up nicely for him, but not much else does. So while a pair of great playoff matchups is great for a #1 RB, it doesn't do his owners any good if they can't make it to the postseason. In my estimation, LJ should be going in the last half of the first round – not going ahead of Frank Gore, Shaun Alexander and Joseph Addai. If you must have LJ, let someone else take him and get him on the cheap after Week 5, the last of a tough four-game streak against top rush defenses. Even then, buyer beware.

Maurice Jones-Drew, Jacksonville
Average Draft Position: 2:07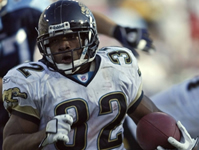 As readers will be able to tell from my LJ selection above, one has to be able to be willing to knock just about any player from the fantasy perch if he doesn't meet certain criteria. I, for one, believe that Jones-Drew could handle the full load in Jacksonville. Unfortunately, Jones-Drew has more things going against him than he has in his favor. Last season, he had only the injury-prone Fred Taylor ahead of him on the depth chart, something that helped a countless number of fantasy owners when Taylor pulled up lame just in time for the fantasy playoffs in most leagues.
What's the downside? If MJD fans enjoyed how he overcame being "too small" for the NFL and 15 carries/game last year, then they have even more to look forward to this year in the "overcoming obstacles" department. Despite showing an incredible nose for the end zone, Jones-Drew will not only be listed behind Taylor on the depth chart, he will likely lose most of his carries inside the 5-yard line to Greg Jones, who HC Jack Del Rio has likened to Mike Alstott in the past. Six of MJD's 15 rushing/receiving TDs last year came from five or fewer yards out with two more coming between six and seven yards. As such, I expect his total scores to be cut in half all the while experiencing only a slight bump up in total rushing and receiving yards.
Additionally (and something that is surprising to me), is the lack of concern from fantasy owners in regards to how beat up the Jaguars already are on the offensive line. C Brad Meester broke his ankle and one has to wonder if the timetable of three regular season games missed will be the only games he actually misses. Starting RG Chris Naeole sprained his knee early in camp and his backup, Stockar McDougle, tore his Achilles and is out for the season. I like stability on the offensive line and value those teams – and their players – that have good depth there. It's not hard to believe then that I'm not exactly high on the Jaguars' luck this season if they already have three players with semi-major to major injuries up front. I'd feel much more comfortable with Jones-Drew going in the late third to early fourth – a place I highly doubt he will last. I'd be just as happy with Deuce McAllister, Brandon Jacobs or Cadillac Williams – three RBs who are being drafted in that area.

Marshawn Lynch, Buffalo
Average Draft Position: 3:11
Every year, the scheduling gods conspire against at least one team. This year, one of those teams is the Buffalo Bills. Of course, they didn't exactly help themselves in the offseason when they cut ties with just about every player that has ever made a Pro Bowl. The one thing they did get right was addressing the offensive line, however, the question must be asked: Does bringing in Derrick Dockery and Langston Walker represent all that much of an upgrade?
Very few will argue that the former Golden Bear has enough of the attributes needed to transition to the pro game. His placement in the "overvalued" section is not a jab at his talent; it's more a haymaker at the situation he finds himself in this season. With that in mind, below are a few reasons that I believe will likely keep Lynch from being the next 1000-yard rookie RB that most fantasy owners seem to think he will be, based on his ADP:
The Defense And Aforementioned Offensive Line.

While there are some decent players remaining on the Bills defense – and I liked the selection of Paul Posluszny – after ridding themselves of Takeo Spikes, London Fletcher and Nate Clements, it will take an incredible coaching job to get this Buffalo defense to respectability. The front seven is fast but light and will get manhandled by most power rushing attacks. And while I could never blame the Bills for not matching San Francisco's ridiculous $80 million contract to Clements, his departure creates a void that Buffalo doesn't have an answer for at the current time. All this contributes to Buffalo's ability to make sure Lynch receives a consistent 20 touches a week;

Anthony Thomas.

Don't laugh, it's not a coincidence that he turns up wherever Dick Jauron ends up being the head coach at – he was a constant threat to steal carries in Chicago – he becomes a pest for fantasy owners who want one back in the Bills' backfield. The fantasy owner in me would like to believe Jauron will do the wise thing and let Lynch get all the scoring chances. The realist in me isn't so sure;

The Schedule.

In my opinion, the Bills face the most brutal schedule that I have seen from a fantasy perspective in some time. Nearly every team the Bills face from Week 1 until the end of November has a stout run defense and at least one CB that should be able to cover WR Lee Evans. Don't believe me? Denver, Pittsburgh, New England (twice), Dallas, Baltimore, Jacksonville and Miami…and that doesn't include Cincinnati and Washington, two teams that I believe will be much-improved on defense this season. In the end, I have Brandon Jackson, Julius Jones, Fred Taylor and fellow rookie Adrian Peterson finishing the season with nearly as many fantasy points as Lynch, each of which are going one to three rounds later than Lynch.

Undervalued

Travis Henry, Denver
Average Draft Position: 1:12
Just when the fantasy world thinks they have tapped into the mind of HC Mike Shanahan, he pulls the rug out from under us. Seemingly satisfied with churning out a different 1,000-yard rusher each year – sometimes by putting square pegs into round holes in the backfield – the Broncos decide they are going to get serious about contending for a title again. As such, shortly after getting released by the Titans, who didn't want to pay a sizeable roster bonus to their leading rusher, Shanahan decided it would be nice to give fantasy owners a true #1 RB again. (Perhaps I am the only one who remembers the joy of owning Clinton Portis in his last year as a Bronco, as he shredded the Kansas City Chiefs defense for five touchdowns in the first week of my fantasy playoffs that year…)
While I will not promise five touchdowns in any game this season, I do like Henry's chances of pushing the elite fantasy RBs for the title of "best fantasy RB in the land". I have contended for some time that Shanahan is not a "committee guy", he just has not had (or been willing to do much about getting a) stud RB since Denver traded Portis. Pride in "his system" likely played a factor into that, but by inking Henry to a fairly hefty contract, Shanahan likely means business now.
If there was one thing that sticks in the back of my mind about Henry, it is his propensity to get nicked up. That said, he has also shown a high pain tolerance. Denver's defense should be good enough to allow Henry to pile up hundreds of clock-killing yards at the end of games and as long as the Broncos can cut-block, they will probably be pretty proficient in the running game. While a half-round difference in value isn't all that great in later rounds, it sure is in the first. Henry should go no later than the fifth pick, in my opinion, and I would argue he could go at #3 or #4. If he fulfills my expectations, fantasy owners will be getting incredible value at the end of the first round. And just for added incentive, Henry faces both of his former teams this season.
Carnell "Cadillac" Williams
Average Draft Position: 4:02
In 2005, Williams showed us that he was ready for the pro game right out of the box, compiling 88 carries and 434 rushing yards on his way to putting together the best three-game run by a rookie RB in NFL history to start a career. Last season, all the goodwill the former Auburn standout built was destroyed. Why?
Williams' first season saw a combination of a few qualities that owners should look for when selecting a fantasy RB that is entering his rookie season or that is a non-elite veteran. In 2005, he had – at the very least – a fairly healthy and decent offensive line. The defense was still one of the better ones in the league, meaning the Bucs had more opportunities to stick with the run late in the game. And while Brian Griese eventually gave way to Chris Simms, teams still had to respect the passing game as the lefthander can go deep when needed. Lastly, the schedule smiled favorably upon the Cadillac as he faced only three teams that season that finished in top 12 in fantasy points allowed to RBs (and two of those games were against division rival Carolina).
Last season was the worst of all those scenarios. While he was injured in 2005 as well, the concern of 2006 was back spasms – and that cannot be good for any RB, especially one whose game is highlighted by the fact he runs with more power than one would expect of someone that size. The offensive line broke in two rookies and left tackle was a disaster. Simms was injured in Week 3, making way for another rookie, Bruce Gradkowski. After the league took a few games to figure him out, it became apparent the deep ball was not going to be in the Bucs' arsenal with Gradkowski running the ship, meaning the "box" was fuller than it ever was in 2005. The schedule? You guessed it…10 of the 14 games Williams played in, he went up against defenses that finished in the top 12 in fantasy points allowed to RBs.
Why will this season be different? We have heard no reports of a Williams' injury, Jeff Garcia should bring stability to the QB position, Luke Petitgout should man the LT spot just fine, the two rookie linemen are a year older and wiser and the schedule looks more like 2005 than 2006 as only Jacksonville in Week 8 appears to be a formidable run defense. Also, while Mike Alstott's neck injury is a bad thing from the standpoint of those of us who love watching him run, it should only benefit Williams as the likelihood of him being the goal-line RB is pretty good. In regards to his "value", give me Cadillac in the fourth round, a full round after Jones-Drew and Clinton Portis.
Deuce McAllister, New Orleans
Average Draft Position: 4:08
For where teams were able to draft him last summer, McAllister was a pillar of consistency. Both he and Reggie Bush were bottled up in Week 8 vs. Baltimore but outside of that, Deuce only gave his owners two other games of less than nine points (in 1 pt/10 rushing/receiving yards, 6 pts/TD leagues). Is the threat of Bush taking touches from him this season real? Of course it is because it will happen. But McAllister is not exactly going to fade away either. In fact, with a fairly easy slate of run defenses, I wouldn't be overly surprised if he matches his numbers from last season, if not surpass them. More threats on offense likely mean more scoring chances within the red zone, something McAllister handles pretty well.
McAllister suffers from what I like to call "an ESPN culture". Owners, in their zest to find the player who can put up big numbers, tend to overlook the backs that are (a) the primary back and (b) the most consistent. Will Bush outscore his backfield mate this season? He'd better, because he's going three rounds earlier. A solid strategy – and one I would consider if I were to select Bush – is to make sure to secure both. Not only is this handcuffing, but last year proved there was certainly enough room for two standouts in the backfield of HC Sean Payton's offense.
Much like with Fred Taylor in Jacksonville, the propensity for the former Ole Miss standout to get hurt when he is "sharing the load" lessens. That is a big reason why I like both of them as solid #3 fantasy RB values in the middle rounds. As far as McAllister is concerned (and something few people seem to realize) is that as the season wore on and Bush served as more than just as a decoy, McAllister's workload also increased. I believe he should be going nearly a full round earlier and think he will make a solid #2 RB, but if he is going to last until the fourth round, why not make him a #3? While owners are selecting Brandon Jacobs behind a lesser offensive line and less explosive offense or picking Lynch – who we have already discussed why he should not be selected high – fill in your #1 QB position opening and/or draft one of the top WRs left on the board and let McAllister bring his consistency to your fantasy offense in the fourth round.