8/17/07



Each year, the road to a fantasy championship begins with a draft that has each team believing they will be THE team and ends with one team that made enough good draft picks along with several savvy free agent/waiver wire pickups and a number of teams that did not. As many draftniks have stated about the real draft, I wholeheartedly agree that while a team does not win a league with their first-round selection, they sure can lose their league if they blow it. Similarly, I believe that teams – real and fantasy – win with what they do in the later rounds. It is with that in mind that we present a position-by-position overview at some of the "value" that exists in the fantasy marketplace as we kick off the preseason.

This article is going to list three overvalued and undervalued TEs based off of their average draft position (ADP) data from Antsports. The ADP's in this piece are based off drafts conducted in 12-team leagues.

Overvalued

Tony Gonzalez, Kansas City
Average Draft Position: 5:06

It's common to pick on the star player who is seeing a change at QB and say that his numbers will drop as a result. One might argue that in the case of one Tony G., Damon Huard found him just fine last season when Trent Green had to miss half the season. This is not so much about the change of QBs near as much as it is about the jaw-dropping drop in offensive talent the Chiefs have experienced over the past two seasons. Not having adequate depth to replace an aging OT in Willie Roaf last season was one thing, but to not have much behind G Will Shields is yet another. (And while John Welbourn can fill the position, he cannot fill the void Shields leaves behind. Also, if Welbourn moves inside, who plays RT, Chris Terry?) Lastly, Damion McIntosh was brought in to play LT and sprained his knee. He is out for the preseason, meaning he will be behind the curve for at least the first month of the regular season. His backup? Will Svitek. So what's the point of discussing the o-line in a fantasy article about the overvaluing of Gonzo? I seem to remember how much Gonzalez struggled fantasy-wise two years ago when Roaf had to miss games due to injury. Gonzalez was asked to block more often to make up the difference – and that was with a offensive line that was pretty solid at the time. Add in the holdout of Larry Johnson and things are getting messy very quickly.

Gonzo is still one of the best TEs in the game, no doubt about it. But gone are the days that he could carry a passing game all by himself. Asking him to be fantasy's #2 TE with a new QB, a conservative scheme, a rapidly eroding offensive line and without Larry Johnson to take some of the focus off of him is just asking too much. Give me Todd Heap a round later, Vernon Davis two rounds later or Chris Cooley three rounds after Gonzo.

Kellen Winslow, Cleveland
Average Draft Position: 7:08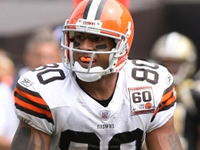 Three overrated TEs, three TEs with issues at QB…maybe there is something to this whole notion that a receiver needs a quality QB throwing him the ball. However, the difference between Winslow and the first two players on this list is not his supporting cast or his offensive line, but more that he is a perpetual injury risk. The offensive line should be vastly improved, allowing Winslow to run pass patterns almost at will. And Jamal Lewis represents an upgrade over Reuben Droughns in the backfield. Lastly, whether it was Derek Anderson or Charlie Frye under center last season, Winslow was pretty consistent from a yardage standpoint, especially for those owners who grabbed him in the 9-10 round area. So, much like Donovan McNabb in my previous article, this pick may look really bad at the end of the season if the recovery from each of their injuries goes quicker than usual.
That said, players coming back from any kind of major surgery (like Winslow's microfracture surgery) do not represent great "value" to me unless he slips a round or two past the rest of the players he is currently slotted with, which apparently is not happening. I also do not like that he will be at best the #2 option in the Browns offense behind Braylon Edwards and tied with Joe Jurevicius, who will be healthy from the start of the season this year – something he was not last season. This is where the QB issue comes into play. All three of Cleveland's QB may see significant action this season, which does nothing for continuity. (It may mean just as many targets and completions, but continuity generally leads to a better offense, which usually means a higher-scoring offense.) And none of the QBs can be considered all that accurate by NFL standards at this point. Right now, he is coming off the board before a healthy Chris Cooley as well as the three players listed in the "undervalued" section below. Don't get me wrong, I had him on half of my teams last year and enjoyed his contributions considering I drafted him as a high-upside backup in most of my leagues. But there is something about being placed on the PUP (Physically Unable to Perform) list to start the preseason that makes me want to go in a different direction for my starting TE this season.
Alge Crumpler, Atlanta
Average Draft Position: 8:07
For all the barbs that fantasy owners throw at Michael Vick, there is one other thing he could do most every week – besides run all day – and that is find Crumpler. I think most would agree that Joey Harrington is a more accurate QB than Vick, but he hasn't actually shown a penchant for finding his TE in the red zone all that often even though he has had some decent to very good options to work with over his five-year career. Stephen Alexander and Mikhael Ricks were at the very least average receiving options in Detroit and Randy McMichael a pretty good option in Miami – if not better than Crumpler. Either way, expecting a repeat of Crumpler's 8-TD year from last season would seem a bit foolish if defenses can sit back knowing they don't have to respect a game-changer like Vick in the pocket. Include a below average pass-blocking offensive line and the Falcons offense this year will be tough to watch at times.
I have a ton of respect for the offensive mind of new HC Bobby Petrino, but he took over this team with the idea he would be working with Vick. The offensive line will struggle and the receiving options outside of Crumpler are not good enough to scare defenses out of the bracket coverage they will give the seven-year veteran as they dare Harrington to beat them deep with an aging Joe Horn and an inconsistent Roddy White. After defenses have had a chance to familiarize themselves with Petrino once again (three years with the Jaguars, one of which was as an OC in 2001), it is likely that the only players that will benefit this season on Atlanta's offense will be the running backs, who will get their fair share of dump-off passes, and Michael Jenkins. In short, for Crumpler to be going ahead of each of the players I have on my underrated list is criminal. While he will still be a #1 TE option, he won't finish #2 overall again this season.
Undervalued

Jason Witten, Dallas
Average Draft Position: 8:12
I think all of us felt a little burned by Witten last season. After all, former HC Bill Parcells whipped out the inevitable comparisons to Mark Bavaro. The fact of the matter was he basically had the same year he did in 2005 minus the touchdowns (five fewer). So why did that happen? No doubt Terrell Owens was responsible for stealing some of Witten's red zone thunder as he scored six of his 13 TDs from inside the 10. However, the biggest culprit may have been Marion Barber III, who scored 15 of his 16 TDs from inside 10 yards. Don't expect the latter to happen again and as such, expect Witten to reclaim his rightful spot amongst the second tier of TEs and not as a low #1 option like he was last season.
Dallas had a pretty good offense last year, but the only player who was a consistent yardage AND scoring threat on the team was Owens. New OC Jason Garrett has worked with some of the league's best offensive minds throughout his playing/coaching career, a list that includes Norv Turner and Jon Gruden. As such, expect a heavy emphasis on the running game and a short passing game that moves the chains (Turner) along with using personnel and a lot of motion to dictate mismatches (Gruden), something that suits Witten well as he is a mismatch that Garrett has already stated he wants to use all over the field. His current ADP has him going at the end of the eighth or beginning of the ninth round. Even if he just repeats 2005 (66 catches, 757 yards, 6 TDs), he will more than match up with the owners who are grabbing Tony Gonzalez 3-4 rounds earlier. He is only an Owens blow-up or a Terry Glenn injury (both are 50-50 propositions) away from becoming a real bargain pick.
Ben Watson, New England
Average Draft Position: 10:03
I can understand Witten's slippage in drafts so far, but Watson's confuses me. Give one of the best QBs in football two excellent vertical threats to open up the middle of the field and it should mean more open space for a very athletic TE. In my opinion, it wouldn't matter if the Patriots signed Moss and James Lofton in their prime, they would still go with a controlled, spread-the-wealth passing game. About the only crime Watson committed last year was that he was injured in Week 14 and missed the next three games. Even with three fewer games than most of his fellow TEs, Watson finished 10th in targets (91), eighth in yards (645) and 12th in fantasy points (80.5). Even with some new toys on offense, Watson is – in all likelihood – Brady's most trusted receiver until further notice.
One should figure Randy Moss and Donte Stallworth will have safeties fearful enough of the big play that Watson should be able to operate pretty freely in the middle of the field. With secondary help unlikely most of the time, this will leave Watson matched up with a linebacker repeatedly and only a handful of the NFL's linebackers can stay with Watson. In all likelihood, if Watson stays healthy this season, he will set career highs across the board. Also count on more than 54% (49 catches, 91 targets) of Brady's passes to Watson will be caught by the TE this season. I don't think he'll outperform Witten at season's end, but I think he has a fair shot of knocking off Crumpler and maybe even Gonzalez.
Randy McMichael, St. Louis
Average Draft Position: 11:03
A signing that really went more under the radar than it should have was McMichael going to St. Louis. In Miami, he experienced almost yearly – if not monthly – turnover at QB. And more than the turnover at the sole position responsible for getting the TE the ball, the play-calling did not help either. However, that is now in the past. In St. Louis, the wonderfully-gifted McMichael goes from somewhat of a fantasy black hole to fantasy nirvana. If you read my previous series "Offseason Movement", I mentioned in the WR section there were three guidelines – among others – that I use to figure whether or not a player transitioning teams can excel on his new team. First, is he moving from a running offense to a passing offense? Second, does the team spread it around? Finally, is his new supporting cast better and, in particular, is his QB more accurate? McMichael gets checks on all three and here's another one: HC Scott Linehan spurred McMichael to a near-career year in the lone season Linehan was calling plays for Miami before he accepted the Rams head job in 2006. Lastly, the former Georgia standout is 28, meaning he should be right in the middle of his athletic prime this year and next.
Critics will say that the 2007 Rams offense has TOO many weapons and that McMichael will suffer as a result. I grant you that St. Louis did not dole out close to $4 million/year to make sure the 6-3, 255-pound TE stayed in to block or serve as a decoy. In Miami, McMichael sometimes served as the main option in the passing game depending on which QB was playing that week and how well they could hit Chris Chambers down the field. As a Ram, McMichael should never see double coverage. In fact, there will be three other players on the roster from last season who caught more balls than he did as a Dolphin last season. Everybody will steal touches from everybody else on this offense (for instance, Steven Jackson will likely catch 50-60 balls – not 90 – and Isaac Bruce will probably catch 60 balls – not 74. Those 40-50 catches will go somewhere – and while rookie RB Brian Leonard will get some of them – I look for at least a 30-reception increase from the TE position in St. Louis, meaning McMichael could come close to matching or exceeding his 60-catch, five-score year with Linehan in 2005. Considering he is going in the 11th round, that is a steal!