Second-half Strategy




10/29/09



Aggressiveness is a characteristic that tends to reward fantasy owners more times than not. In the NFL, an offensive line will sometimes hold up long enough to give the quarterback enough time to beat man coverage down the field and make the defense look foolish against a fierce pass rush. More often than not, though, when a defense brings the heat and forces the action, crisis management becomes the name of the game for the opposing team.

In that same vein, I hope to apply that same kind of pressure to the owners in all of my leagues by beating my opponents to the punch in regards to personnel moves. Sometimes, reaching a conclusion about a player too quickly is much like trying to blitz Peyton Manning – dangerous and painful. However, coming to a correct conclusion two weeks or two minutes quicker than your opponents is considered foresight. Fantasy owners can be a uneasy lot, knowing that one two-or-three-game losing streak can wreak irreparable damage to his/her team's chances to make a visit to the fantasy postseason. But just as it is in the NFL and in life, it's hard to land the big prize by playing scared. Thus, I will strive each week to help each of you become a smart blitzer, so to speak.
---
Bye weeks are a necessary evil of fantasy football. If we, as fantasy owners, have any hope of keeping our players healthy (and performing at a high level) for an entire 16-game schedule in today's NFL, we should be somewhat thankful bye weeks exist. On the other hand, they can absolutely wreak havoc on our ability to set a decent lineup each and every week. If your team is struggling to win games, it seems as if at least one of your key players is either on a bye or injured while your upcoming opponent has no such concerns that week.

Just about every fantasy football league in existence is either right at the midpoint of the fantasy regular season or just crossed the midpoint with last weekend's games. In many fantasy leagues, the trade deadline looms as well, so I can't think of a better topic this week than to discuss "second-half strategy".

Thankfully, there are a fortunate few owners out there - such as myself - who are pretty much done with bye weeks...and it couldn't come at a better time. One money league team in particular - the one I mentioned in this space last week plus Brandon Marshall (for now) – stands at 3-4 but is only two games out of first and, barring further injury, will be at full strength for the remainder of the season. I mention this team – Philip Rivers, Maurice Jones-Drew, Ronnie Brown, Anquan Boldin, Steve Breaston, Marshall and a glut of TEs (Todd Heap, Jermichael Finley and Zach Miller) are the key components – again this week because I feel it best illustrates the points I will be emphasizing this week.

I've long fashioned myself as an owner who is going to "win" draft night or, at the very least, come away with a substantial foundation from which I can build my new team. But I've also said quite regularly that if I cannot trade during the course of a season (be it inactive owners or owners who overvalue their players to a very high degree), I stand very little chance of winning any league. In my Quarterly Stock Report a few weeks back, I stated how fantasy football resembled the stock market in a number of ways. Let's suppose for a minute you went to the most knowledgeable stock market trader you knew and told that person that he/she could have his/her pick of the 15-20 stocks he/she felt were most likely to succeed that year - but informed that person that he/she could not trade any of those stocks at any time during the course of the year – do you feel that person would be willing to take that challenge? The point of this example is that to be an effective "portfolio manager", an owner must have the flexibility to adjust to current market trends – the same goes for owners in fantasy football. But just like our portfolios, our fantasy teams are rarely ever flawless. (And if by chance you may be thinking your team is flawless now, wait a week or two.)

Another point I mentioned in the Quarterly Stock Report is how some NFL coaches split their season into quarters, which is something I also like to do in terms of building my team. However, when it comes to winning leagues, I tend to view the season by "first half" and "second half". In the "first half", my main objective is to survive through my teams' bye weeks. During that time, I'm pretty happy with a high-scoring 5-2 team or better. High-scoring 4-3 or 3-4 teams are also acceptable so long as: 1) they have given me a reason to believe better days are ahead or 2) have put several high-scoring performances together but just have fallen victim to the schedule, which leads me to another one of my fantasy axioms - it's all about who you play against and when you play against them. I focus less on the record at this point of the season and more on how many points my team has scored, as well as my team's place in its division.

The second half of the fantasy regular season is like Saturday at a PGA Golf event. The "second half" is when the good teams (and owners) separate their teams from the pack. For me, this usually involves taking a modified "all-or-nothing" approach in which I attempt to clear out my bench via trade. In short, I want as many "no-brainer" starting options as possible and will go to great lengths to do it. Ideally, after purging my bench by packaging as many "average" players as I can for positional upgrades, I leave myself with at least one worthy option at each position. But if the right situation presents itself, I may leave my team with no proven alternative on the bench at a position or two if it makes my lineup decisions easier and, more importantly, makes my team better. In other words, I will definitely sacrifice depth for quality in the second half.

Take the team I just referenced above – two weeks ago, I was stuck with Boldin, Bernard Berrian and Tim Hightower as my two WRs and flex player, respectively. While that combo isn't too bad in a high-dollar PPR league, I wasn't getting the "championship vibe" from that roster. Through some luck and creativity, I managed to add Breaston, Marshall and Todd Heap (reacting to Finley's knee sprain) in the meantime without dealing a single "cornerstone" player. It is my hope that I can package Marshall along with another bit player for someone like Roddy White – a WR I trust much more than Marshall, who has a difficult schedule ahead – or Marques Colston, who I think will explode in the second half as the Saints face a number of poor teams.

Another example, another money league - as luck would have it, it just so happens that I am pursuing White in this league as well. (Trust me when I tell it is pure coincidence that I started this week not owning White in a single league and, before this week is over, I may own him in three leagues.) In this league, I failed in my attempt to break up my Carson Palmer/Brett Favre conundrum at QB but I may be addressing my WR1 issues. The White owner in this league has no quality WRs behind White, so I found myself in the interesting position of dealing from my team's biggest question mark – receiver – to address his biggest weakness - WR. How does that work, you ask? My team in this league is loaded with WR2 and WR3 candidates – DeSean Jackson, T.J. Houshmandzadeh, Torry Holt and Bernard Berrian – but lacks that one player that puts every other WR in their rightful place (Jackson as a WR2; Holt as a WR3, for example). As I write and edit this piece early Thursday morning, I am nearing completion on a deal that will allow me to acquire Devin Hester. This, in turn, should allow me to send Houshmandzadeh and Holt to the White owner to address his WR depth concerns and allow me to secure the stud WR I desire. If I haven't lost you yet, I hope to turn White around to re-acquire Colston, who I dealt earlier in the year to secure Jones-Drew.

My WRs at the beginning of this week: Jackson, Houshmandzadeh, Holt and Berrian
My WRs at the end of this week: Colston/White, Jackson, Hester

The downside to trading away depth is obvious: What happens when front-liners like MJD or Brown get hurt in the second half? In the cases in which I can acquire the potential handcuff, I do with the extra roster spaces I pick up trading quantity for quality. For MJD, I would make sure to clear space for Rashad Jennings and possibly Greg Jones. For Brown, I will attempt to trade Bradshaw to the Brandon Jacobs owner - who conveniently owns Ricky Williams - and go from there. If I come up short on Williams, I will make sure I secure Lex Hilliard. Who? Hilliard is a 2008 sixth-round draft pick who excelled during the 2009 preseason and would step into a significant role should something happen to Brown or Williams. And if all else fails, I can always roll the dice on the prospective second-half waiver wire gem that seems to emerge every year right around this time. This week, the Jets' Shonn Greene is looking like a pretty good candidate for that title, but he is taken in every meaningful league I'm in. Thus, I'll set my sights on someone like Jason Snelling or Justin Forsett, two backs who are positioning themselves for more work with Atlanta and Seattle, respectively.

My theory to fantasy team-building is this: I want a team that I can confidently set the lineup for each week. Just like any other owner, I don't like having to choose between 2-3 marginal options when I could have done something earlier in the season to make that a non-issue. I'd just as soon say that I went all in on a team I believed in than to say I didn't make the playoffs because I wasn't aggressive enough. At the end of the day, I love the feeling of sitting back and looking at the team I've built, knowing I have a combination of players that my fellow leaguemates despise playing that week.

It's about time to take a look at the updated workload/target numbers. By now, you know the rules, but here they are again. For RBs, I've drew the line at seven touches/game and for WRs/TEs, I stopped at five targets/game, rounding up if I need to.

Each position will be sorted by touches or targets/game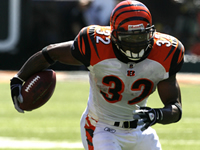 Cedric Benson is barreling toward a 400-touch season.

At 23.4 carries/game, Cedric Benson is just four carries off the pace Michael Turner set last season when he logged 376 carries. Additionally, if Benson continues at his 24.9 touches/game pace through 16 games, Benson could become just the 41st player in NFL history to record 400 touches in a season. As much as I like my RBs to be "the man" for their team in the running game, I get a bit more worried each week that Benson will wilt with his current workload. It's not the 25 touches/game that scares me, it is the 23-24 carries. I didn't mind Turner getting his workload last season because at 5-11 and 245 pounds, he is built to punish tacklers. While Benson is not exactly a lightweight at 225, he isn't exactly a human bulldozer. While his 37 carries in Week 7 were nice for his owners and allowed him to pay back his former employer, Cincinnati would do well to make sure Brian Leonard and rookie Bernard Scott get those late carries after the team is up big in the fourth quarter. I hope I'm wrong, but I don't see Benson lasting the season if he maintains his current workload.

Allow me to clarify, Jones-Drew is on pace for 357 touches, but I am far less concerned with his ability to maintain his current workload because 50-60 of those touches will come from the passing game, which quite often allow the RB to deliver a blow to a defensive back or run out of bounds. In today's NFL, I want my backs to get 25 touches, not 25 carries. Not only does this serve to benefit us as PPR league owners and the rusher's long-term health, it also allows our RBs to operate in space, where they often do the most damage.

Quite often in fantasy football, fantasy writers like to indulge themselves in the "opportunity equals production" discussion. While that is usually a great rule to live by, other factors sometimes get in the way, such as talent, supporting cast and schedule (DeAngelo Williams is a great example). This year's RB leaderboard in PPR leagues - so far - is just the most recent example this fantasy cliché does not always hold true. Of the top 12 RBs that are averaging at least 19 touches/game, only six find themselves in the top 12 at their position in terms of fantasy points/game. Several of the backs missing from the top 12 of points/game just missed the cut, but Michael Turner or Ryan Grant owners didn't draft their RB in the first three rounds with the idea he would be battling Darren Sproles for fantasy relevancy or that either player would be greatly outperformed at the midpoint of the season by Ricky Williams.

Speaking of Williams and Miami, I want to give the Dolphins' staff all the credit I can for their offensive gameplan each week. Someday, in the near future, Chad Henne will have a real WR1, which will make this offense even more dynamic than it already is. In the meantime, Miami's offensive coaching staff does what good coaches should do - play to their team's strengths and stick to it religiously. Since the Week 1 debacle vs. Atlanta, the Dolphins have asked Ronnie Brown and Ricky Williams to handle the ball 40 times a game on average! The duo has returned the team's faith in them by combining for 1,083 total yards and 12 TDs in five games.

Furthermore, the Dolphins have catered to each back's strengths. Ricky Williams is no longer a battering ram that a coach wants to religiously pound up the middle, but he has become a fine runner on the perimeter and may be faster now than he was in his late 20s. Brown is the better inside runner of the two and can get out on the edge as well, but the Wildcat is so effective at this point because defenses must pick their poison of either getting gashed by Williams on outside runs or Brown steamrolling linebackers and safeties up the middle. If/when Miami finally decides to allow Brown to hit a WR on a quick slant (that is, if more teams send the corner blitz like New Orleans did in Week 7), the Wildcat will have evolved yet again and give Brown's owners even more reason to rejoice. If I were to find one fault with Miami's gameplan, I would suggest the team do a better job at getting both backs more involved in the passing game. Williams has 13 catches so far while Brown has nine, low numbers considering Miami's receivers strike little fear into defenses.

Moving right along, I wasn't all that surprised to see Mike Bell take a sizeable chunk of Pierre Thomas' touches away from him upon his return from injury. However, seeing Bell with more touches in the two weeks since his return (27 to 24) does come as a shock, even more so when one considers that all 12 of Bell's touches last week came in the second half. I can tell you that if I had both players and played in a flex league, I would strongly consider playing them both and just eliminate all doubt about which one to play. The Saints' RBs find themselves behind only Baltimore and Miami as far as the most productive backs in fantasy. Certainly, Reggie Bush does help contribute to that and does still get a touch here or there, but a quick look at the remaining schedule reveals New Orleans does not play against a defense currently ranked in the top 15 in run defense the rest of the way. That fact alone, plus the Saints' newfound commitment to running the ball, is worth pinning your fantasy title hopes on this season.

While owners of Saints' RB savor the upcoming schedule, the owners of DeAngelo Williams don't figure to do much celebrating over the next month. All the potential problems that were discussed in the PSAs regarding Williams this summer have come to fruition (and then some, including Jake Delhomme's complete ineptitude). Williams is so talented that he will produce some numbers in the most difficult matchup, but I'd be shocked if top-10 run defenses like Arizona or New Orleans allow him to do anything significant over the next two weeks. (Keep in mind his last two games came against the 31st and 32nd ranked run defenses.) Williams could hit big in Week 10 (vs. Atlanta) and again in Week 13 (vs. Tampa Bay), but it's time to put him on the market in all non-keeper leagues. Although his fantasy playoff schedule doesn't look as menacing as it did in August, all three teams (the Pats, Vikings and Giants) have good enough offenses that Carolina may be forced to abandon the run quickly.

What Leon Washington's owners lost over the weekend, Thomas Jones' owners gained. And based off his utter domination of two overmatched run defenses over the last two weeks, he didn't really need the help. While Jones may not automatically come in when the Jets near the goal line anymore - like he did for Washington - Jones won't likely get pulled from goal line responsibilities when it is "his" drive either. In other words, I predict he'll maintain most of the value he had prior to Washington's injury and add a bit more value by taking on Washington's passing-down duties. To recap, I believe Jones' new role will be Washington's old role plus goal line work on "his" drives. On the other hand, I think Shonn Greene takes most of Washington's carries, but receives very few opportunities to catch the ball. Despite turning 31 earlier this year, Jones doesn't appear to be slowing down and he can be safely viewed as a RB1 against what should be a very favorable schedule, especially after the Jets' Week 9 bye.






It's rather amazing that Wes Welker has missed two games already and is still challenging the WR elite for the PPR points title. Based on a per-game average in the PPR scoring systems I am familiar with, Welker is the most productive non-QB in fantasy football at 23.8 fantasy points/game. When QBs are included, he is ninth! While receivers like Welker expose one of the flaws of a PPR scoring system, his production cannot be denied in that format. He is the only WR in fantasy to receive at least 10 targets in every game. Since he catches 74% of the ball thrown in his direction and averages just under 10 yards/reception, Welker is almost guaranteed 15 points each week he takes the field (20+ if he scores a TD). As any veteran fantasy owner will tell you, that is elite RB1-like consistency, much less WR1-like consistency.

Feel free to tell me if I am missing something, but it would seem to me by now that Arizona should be getting easier to defend instead of harder. Kurt Warner in currently in a four-way tie for 17th place (along the likes of Delhomme, Kevin Kolb and Donovan McNabb) with seven "big" pass plays, defined by STATS, Inc as plays over 25 yards. Considering the quality of WRs he has, this stat suggests Warner won't go downfield...or can't. Even though Fitzgerald has become a more complete WR, he is still at his best (and so is the Cardinals' offense) when he is using his incredible ball skills and beating the double team on a jump ball down the field. Right now, it seems pretty clear that a team would religiously bracket Fitzgerald and try to let a hobbled Anquan Boldin and/or less-than-100% Steve Breaston beat them as the TEs are afterthoughts in the Cards' offense. As a defensive coordinator, I would gladly let Arizona try to beat me with its league-worst three yards/carry running game. Maybe I'm being a bit too simplistic, but I have to believe if teams absolutely made it a priority to "rough up" Fitzgerald at the line of scrimmage, he would not be averaging 10.5 targets per game (with 13 or more in three of his last four games).

I don't own Carolina's Steve Smith this year, but I do own the Giants' version in one league. Both have to be driving their owners crazy and I'm not sure either WR is to blame. For the Panthers' WR, let's just say that I believe Delhomme's problems are in his head at this point. While he was never the most accurate QB to begin with, Delhomme could always be counted on to throw the ball in the general vicinity of his best playmaker. So whether he is pain and just refuses to admit it or just never got over the playoff debacle vs. Arizona, it is well past the time to plug in A.J. Feeley or Matt Moore. I am not generally the person who points to the QB when things go south for a team, but Delhomme's 15 turnovers this season through six games are a league high and match his total from the entire 2008 regular season. The Panthers' problems are more than just poor QB play, but when a QB can't produce despite the backing of a solid ground game and presence of an elite WR, then it is time to make a change.

As for the Giants' Smith, it is beyond comprehension how a player could enter Week 7 as the league's leading WR (in catches) and be targeted only twice in the first half, especially when one considers how Mario Manningham may be losing playing time due to drops and rookie Hakeem Nicks is still in a rotation of sorts with him. Certainly, Nicks is emerging as a big-play threat and Manningham has already proven his abilities in that regard, but there is no way Smith should be getting his first catch in the third quarter against any opponent, not with his sure hands and the way he runs routes. I know I warned owners of the likelihood that Smith would come back down to earth quickly, but I saw his decline coming as a result of a more difficult schedule, fewer TDs and Eli Manning's foot injury more than anything else. While he did finish with 10 targets vs. Arizona, many of those - in my opinion - were "empty" targets. This must change if the Giants want to be an elite team in 2009.

Three receivers I really like as WR2s going forward: Derrick Mason, Dwayne Bowe and Devin Hester. Bowe doesn't warrant much explanation, but I can't wait to see what he can do in HC Todd Haley's offense when the Chiefs finally get some substantial offensive talent around him. The mere fact he is averaging 13 points/game in PPR leagues and has had four games of five targets or less is amazing. Bobby Wade has done a nice job since joining the team, but Bowe should be seeing the same number of targets as Wes Welker. As for Mason and Hester, throw out one game a piece for each player (for Mason, Week 5 vs. Cincinnati; for Hester, Week 4 vs. Detroit) and you have a pair of WRs who should be starting in all leagues. Since Week 3, Mason is cruising along at a 22.4 points/game clip while Hester is averaging 18.7 points/game (if you exclude the poor games). Generally speaking, fantasy owners would pretty happy with that kind of production from their WR1, much less WR2 or WR3. If you any of these players, they need to be in your lineup every week. And if you don't, go out and get at least one.

For all those poor Kevin Walter owners out there who had their hopes built up by his Week 3 performance, you can put pretty much all the blame on the emergence of Owen Daniels, who has essentially doing his best Dallas Clark impression in reality and in fantasy. Long knocked for his inability to score in the red zone in fantasy circles prior to this season, QB Matt Schaub hasn't hesitated looking his way inside the 20 this season as four of his career-high-tying five scores have been 12 yards or less. Only Clark is doing better in PPR leagues than Daniels at the halfway point on a per-game basis at the TE position and only Antonio Gates and Vernon Davis are being targeted more often. As hard as it is to believe, teammate and PPR dynamo Andre Johnson is only outscoring Daniels by a single point per game, so after you consider that RB Steve Slaton has essentially become the Texans' third receiver, there just isn't enough left for Walter or any of his other talented teammates, even in Houston's pass-heavy offense.

Because I know I will get asked the question, the Redskins' Fred Davis should have significant value for the rest of the season. Contrary to current speculation, I don't see any way Chris Cooley returns in four weeks. As Bob Thompson points out, Cooley might be ready to return around Week 12-13. At that point, the Redskins will have to ask themselves if it is really worth it. I can't believe they will take that chance.

In the meantime, Washington's continued devastation across the offensive line should actually benefit Davis. Because his blocking is poor, to say the least, Davis' only use to Washington is as a receiver. I predict the Redskins' line will continue to allow rushers to get to Jason Campbell on a regular basis, so since he already is a check-down QB anyway, I can see Davis emerging as a poor man's Heath Miller (the 2009 version).


e-mail me with any questions/comments.