When One Door Closes…




10/14/10



Aggressiveness is a characteristic that tends to reward fantasy owners more times than not. In the NFL, an offensive line will sometimes hold up long enough to give the quarterback enough time to beat man coverage down the field and make the defense look foolish against a fierce pass rush. More often than not, though, when a defense brings the heat and forces the action, crisis management becomes the name of the game for the opposing team.

In that same vein, I hope to apply that same kind of pressure to the owners in all of my leagues by beating my opponents to the punch in regards to personnel moves. Sometimes, reaching a conclusion about a player too quickly is much like trying to blitz Peyton Manning – dangerous and painful. However, coming to a correct conclusion two weeks or two minutes quicker than your opponents is considered foresight. Fantasy owners can be a uneasy lot, knowing that one two-or-three-game losing streak can wreak irreparable damage to his/her team's chances to make a visit to the fantasy postseason. But just as it is in the NFL and in life, it's hard to land the big prize by playing scared. Thus, I will strive each week to help each of you become a smart blitzer, so to speak.
---
We've all been aware that football is a violent sport for some time; in fact, that is part of its attraction. With that in mind, injuries can happen on a weekly basis. While serious injuries are an unfortunate reality in the game of football, they often create opportunities for second- and third-string RBs, WRs or TEs (even QBs in some cases). And just as injuries can create opportunity in real life for certain players, it also creates opportunities for fantasy owners to jump-start their team or turn their .500 team into a juggernaut. Conversely, they can send a great early-season fantasy team spiraling down the standings just as quickly.
More than any other fantasy sport, football is a game in which in-season management typically determines who is around for the fantasy playoffs and who is not. Like it or not, we can thank injuries for much of that. In just about any other fantasy sport, losing a high-round pick to injury during the middle of the season often means the beginning of the end to an owner's fantasy season. In rare cases, the loss of power hitter in baseball or great scorer in basketball and hockey can be viewed as a good thing by a fantasy owner if that player was dragging the fantasy team down in a certain category and the owner has a viable alternative on the bench. (More often than not, however, that is not the case in those sports.) An injury or benching is a significant problem for fantasy owners in those sports because most real-life teams don't have a big-time power hitter, a 20-30 point-per-game scorer or Art Ross/Maurice Richard Trophy winner on the bench ready to come in at a moment's notice for obvious reasons.
In football, an injury can sometimes even the playing field in one fantasy league while stack the deck in another league. Ryan Grant's owners already learned this lesson in Week 1. In some of my leagues, owners drafted Grant with the sole purpose of using him as trade bait as one of the most dependable backs in the league while others waited at RB in their drafts because they knew they could count on Grant to play every game. Grant's injury led to a spike in value to Brandon Jackson, who many savvy owners probably traded to pick up that last-piece-to-the-puzzle-WR or low-end TE1 to round out their lineup. Now, let's say that same owner who traded Jackson was counting on Mark Clayton as his last starting WR. For that owner, it's likely back to the drawing board again.
Depending on which players you own, the events of Week 5 either gave your team a shot in the arm or hit you like a right cross. It either strengthened the lead dog in your league or brought a team back down to the pack. Again, while injuries are unfortunate, they often reshuffle the deck to a certain extent. Let's take a glance at the players that went down in Week 5 and what players figure to benefit as a result:
(one week?) – With all the attention being rightfully paid to concussions nowadays, Rodgers' start in Week 6 is far from a given. However, considering that Rodgers was allowed to fly back with the team and given backup QB Matt Flynn's glowing "report" on Rodgers, it seems that Rodgers has a better-than-50%-shot at playing against Miami this weekend. It should go without saying that no one on the Packers' offense benefits from the absence of one of the best QBs in the league and everyone suffers.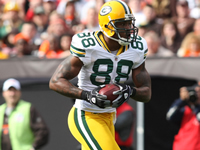 One player who was living up to the hype.

(10-12 weeks?) – Receiving a zero was enough of a punch to the gut, but finding out on Wednesday that my preseason #1 TE may be lost for the season does not help a Packers' team that has to be taxing the team's training staff beyond belief. (I own Finley in three leagues and feel fortunate that I landed Aaron Hernandez in two of them after Week 1 and have Heath Miller in the other, but I obviously had great expectations for Finley this season.) Consider that he has left at least two TDs on the table – one taken away by penalty, the other by Donald Driver – and you have the makings of a TE who was living up to his preseason hype.

Who loses in Finley's absence? Just about everybody in Green Bay, but particularly Rodgers. I would say Greg Jennings as well, but defenses have already been able to take him away ever since the Grant injury because safeties no longer need to respect the Packers' running game. If/when the running game improves or the Green Bay coaching staff makes it more of a priority to involve Jennings as something more than a deep threat, then it is possible he could benefit in fantasy as a result of Finley's injury.

Who wins in Finley's absence? The obvious winner is rookie Andrew Quarless. Unlike many of the league's third TEs, the 2010 fifth-round selection is actually worth strong fantasy consideration as long as Finley and Donald Lee are out. (Anyone who owned or had to go against Spencer Havner last year knows why that statement is true.) But more than that, Quarless is a strong, talented pass-catching option who dropped in the draft mostly due to off-field issues and his lackadaisical approach to the game. His four-catch, 51-yard performance in relief of Finley and Lee is a pretty good expectation for what he could next week vs. Miami if Rodgers can play. Expect Driver to receive even more targets than he's been getting so far, while the inconsistent but highly talent James Jones the next most likely player to benefit. As a result of Finley's absence, Jones should probably be on rosters in just about every 12-team league, particularly in leagues like the ones I play in where each team is afforded 18 roster spots. Jones is a good add, but owners would be wise to wait until Green Bay shows us how it plans to attack defenses without Grant and Finley.

(season) – Just as quickly as he worked his way into our hearts (and fantasy lineups), he reminded us just how quickly a season can come to an end. Despite getting a very late start on learning the Rams' playbook, he showed immediate chemistry with fellow Oklahoma Sooner alum Sam Bradford in posting three games with at least five catches (and two TDs in the contest in which he failed to reach five receptions). Unlike Finley, Clayton was not being counted upon by most fantasy owners entering Week 1, but had emerged as a strong WR3 in PPR leagues.

Who loses in Clayton's absence? As one might imagine, Bradford cannot be expected to overcome the loss of Clayton easily. The rookie QB has been more impressive than just about anyone could have hoped for so far and he had Clayton to thank for a good deal of his early success.

Who wins in Clayton's absence? In fantasy, Danny Amendola re-establishes himself as Bradford's favorite target, just as he had in the preseason. The biggest problem with that is that Amendola does not scare defenses vertically like Clayton. If Laurent Robinson could ever be trusted to stay healthy, he would be the most likely player to try to fill Clayton's shoes, but Brandon Gibson received the start over him in Week 5 and has been getting pretty consistent looks since HC Steve Spagnuolo indicated in late September that Gibson may not be ready to be a regular contributor. It also would not come as a big surprise if rookie Mardy Gilyard stepped up to assume the starting job at some point this season. But as is usually the case with the Rams, when all else fails, they will probably lean on Steven Jackson even more.

This year has seen an inordinate number of in-season fantasy-relevant trades. When Marshawn Lynch was dealt to Seattle, it freed up three backs to be relevant in fantasy again (Lynch, Fred Jackson, C.J. Spiller) while taking away one (Justin Forsett). When Randy Moss was moved to Minnesota, a whole host of players saw their values increase (Brett Favre, Adrian Peterson, Percy Harvin, Brandon Tate, Aaron Hernandez) while other players witnessed their stock dropping (Tom Brady, Wes Welker, Bernard Berrian, Visanthe Shiancoe). Because we covered the impact of the aforementioned trades last week, I'll spare you more discussion here.

However, fantasy owners were hit with yet another deal announced during the Jets-Vikings MNF game from the wheeling-and-dealing Patriots, who gave up a fourth-rounder for Deion Branch. While this deal lacks the sizzle of the first two trades, it will impact more players than one might think it would. Obviously, Branch can only be helped by going back to a QB that loves him and system in which he fits, even if he isn't quite the same WR he was when he was traded to Seattle years ago. For the Seahawks, Mike Williams should remain mostly unaffected, but Branch's departure does serve as an opening for Golden Tate or Deon Butler to each see more snaps. Tate projects as the better receiver long-term, but Butler has done nothing but impress the coaching staff since the start of the preseason. Either way, both players benefit. As for New England, it wouldn't be shocking if Tate goes from hot waiver-wire pickup to an inconsistent fantasy receiver in less than a week. It's not so much that Branch and Tate fill the same niche in the offense so much as it is that Branch will likely overtake Tate in the starting lineup, moving the second-year wideout back into a deep-ball role.

Speaking of making the most of certain opportunities, it's about time we took a closer look at RB workloads and WR/TE targets. Once again, I offer this disclaimer: I have long found it useful to take a regular look at the consistency of workloads for RBs and the target rates for WRs and TEs. For each position, I set the cutoff at five targets or touches/game. While they are hardly foolproof limits, once we get lower than those numbers, we are typically dealing with players who should be readily available on your league's waiver wire or on the cheap from an owner holding onto that player to fill out his/her roster.





Notable names that just missed the list:

Bernard Scott, Derrick Ward, Steve Slaton, Javon Ringer

Quick hits: Knowshon Moreno isn't exactly the kind of fantasy back that is bound to capture the attention of the fantasy world, but given the lackluster contributions of Laurence Maroney and Correll Buckhalter in his absence, it has become pretty clear that he is a bit more important to Denver than most people realize. Considering that Moreno appears to have been handed Darren McFadden's hamstrings, the second-year back may not be the greatest bet to stay healthy for the remainder of the season. Still, owners would be wise to acknowledge that he is an above-average talent and find out what his current owner thinks of him. Yes, there will be some bumps in the road with some difficult opponents, but Denver's passing game figures to start opening up things for the running attack. He is a solid bet for roughly 18-20 touches/game and can convert at the goal line, so owners could do much worse at their RB2 or flex spot.

Oh, how the Saints miss Pierre Thomas and Reggie Bush. Without Bush, defenses can stick in Cover 2 and eliminate most of Drew Brees' downfield shots because the safeties are not needed to deal with Bush's elusiveness. Without Thomas, the Saints lack the all-around back that keeps opponents off balance. Defenses are not scared of Ladell Betts and teams know the Saints will not pass when Chris Ivory is on the field because he cannot be trusted to pick up the blitz.

Hello, Ray Rice. Much as he has in previous years, OC Cam Cameron unleashed his stud RB after keeping his workload in check for the first 3-4 games of the season. Of course, Cameron isn't completely to blame here, the quality defenses that Baltimore faced in Weeks 1-4 greatly contributed to Rice's "slow" start. New England and Buffalo are the next two opponents on the Ravens' schedule – both of which are among the 12 most generous defenses vs. opposing RBs so far. Amazingly, Rice is only one rushing yard behind his pace from last season and right on his 2009 TD pace. Granted, he is eight catches and 108 yards receiving off of last year at this same time, but most owners expected a drop-off in his receiving numbers before the season anyway. Just like they are with just about any player, touchdowns will be a hit-or-miss proposition. But owners can be assured that Baltimore's offense will be in scoring position a lot this season, so with his schedule now pretty clear of stout run defenses, Rice is again in good shape to beat last season's eight-TD total.

Remember what I said about Matt Forte two weeks ago? Nothing has changed in my mind. Forte has just given his owners one more shot to get the kind of value they may have received after Week 2. Good, consistent fantasy RBs don't post four straight weeks of less than 3.0 YPC, so one 7.5 YPC game against a disinterested Carolina defense doesn't impress me a great deal. It says here that Forte's owners may get 3-4 more solid rushing totals this season and possibly 4-5 good PPR games the rest of the way. I think he has next-to-no shot at being productive in the fantasy playoffs (at MIN, vs. NYJ in Weeks 15 and 16), so unless his owners are secure with their options behind him, now is a great time to sell.

I watched the Chiefs-Colts game on Sunday, but I'm not exactly sure what I witnessed. HC Todd Haley indicated a couple of weeks ago that his usage of Thomas Jones and Jamaal Charles would be based on matchups, yet when the Colts appeared on the schedule, Jones' power running sat in favor of Charles' speed and quickness, despite the fact that Indy's defense is all about speed and quickness. So either Haley knew he needed Charles' big-play ability to keep up with the Colts' offense or he used the first four weeks to protect his speedy RB from a full season's worth of punishment. I'm going to bet it was the former and hope it was the latter. As I have said any number of times already in 2010, Charles' talent is undeniable. After a road game in Houston this week, the Chiefs' running game is set for huge numbers for the next three weeks (Jaguars, Bills, Raiders). If Haley has somehow caved in a bit to logic and is ready to give Charles at least 60% of the touches in the Chiefs' backfield, look out.


Notable names that just missed the list: Mario Manningham, Legedu Naanee, Lance Moore, Johnny Knox, Hines Ward, Mike Wallace, Devin Hester

Quick hits: Did you think Chad Ochocinco was kidding during the preseason that Terrell Owens was the new No. 1 WR in Cincinnati? If you did, it may really surprise you that he is now the most-targeted WR in the NFL. Of all the WRs to have played in each of their team's games so far, T.O. is the only to see at least nine targets in every game. Even with the obvious offensive problems going on in Cincinnati, a WR of Owens' caliber that is getting double-digit opportunities every game is going to produce much more often than not.

Is Brandon Lloyd this year's Miles Austin? Averaging an absurd 117.8 yards per game so far, he is on pace for 1,885 yards this season! I tend to believe that his numbers – and the Broncos' passing game as a whole – will slow significantly when Moreno returns and the team can establish some semblance of a running game. Barring injury, it is almost a lock that Kyle Orton will surpass the 4,000-yard mark for the first time in his career, but his pace of over 5,500 yards also doesn't seem sustainable, especially for a team that plays in the elements as often as the Broncos do. When that inevitable falloff happens (or the 30-50 MPH winds strike on gameday in November and December), Lloyd will see his numbers dip as well. But what is quite clear is the inconsistency that dogged Lloyd throughout his career is not an issue yet this year. But let's not forget rookie Demaryius Thomas, who was drafted to eventually assume the role that Lloyd has essentially taken so far. All of this is not to say Lloyd cannot continue his storybook season; it should just serve as a reminder that a number of potential obstacles still need to be cleared in order for him to do so.

Every once in a while, you can watch a game and wonder how certain players can ever go more than a few quarters without being a significant part of the game plan. Such was the case for me during Sunday Night Football when Michael Crabtree reminded us all why he was such a highly sought-after fantasy commodity on draft day this year. The absence of Eagles' CB Asante Samuel certainly helped matters, but the second-year WR nearly matched his four-game totals in one primetime contest. Crabtree, for all the reports we receive about his "diva" demeanor, is such a fun receiver to watch because he is such a great hands-catcher. His next few opponents don't inspire a great deal of confidence (possible matchups vs. Oakland's Nnamdi Asomugha and Denver's Champ Bailey in two of the next three games, but beyond that, Crabtree could still make a push for a 60-70 catch season.

While his first four weeks weren't quite as unproductive as Crabtree's, Greg Jennings has been the source of a great deal of frustration, especially for those owners who hoped he would perform at a WR1 level. After a 10-target game in Week 1 – which led to his best performance of the season to date – Jennings has seen no more than six targets in any of the four games since. As much as owners just want him to produce, Jennings has suffered a great deal due to factors out of his control. When Ryan Grant was lost for the season, defenses did not take long to adjust, sitting back in Cover 2 to take away the deep ball that Jennings has become known for in recent years. Because Jennings is not a WR like Randy Moss (with great size and speed), Larry Fitzgerald (incredible ball skills) or Mike Wallace (elite deep speed) who has one tool in his toolbox that can overcome any coverage, a defense can actually take him away if they so choose. And let's not forget that Green Bay possesses the deepest and most talented WR corps in the league, so the offense can still function at a high level even if one player is taken away. Still, Green Bay will either start leaning more on the running game (be it Brandon Jackson, James Starks or a combination of the two) or make sure Jennings is featured in the short and intermediate passing game, especially in light of Jermichael Finley's injury. Either way, look for the Packers to make a pronounced effort to make sure Jennings is no longer "the forgotten man" in the offense.

I am no longer confident that Dwayne Bowe will become a relevant player anytime soon in fantasy. The fact of the matter is that when a coach praises his main receiver for his unselfishness and blocking ability – on a day where that same player dropped at least two catchable yet critical passes – it's a pretty good sign that he isn't going to ask for that same player to carry the team's passing game. It's also becoming clear Matt Cassel is not the answer at QB nor does it appear the Chiefs have any interest in "fixing" him like OC Charlie Weis suggested upon his arrival.

Although he does not appear on the list above (and will not for some time), we finally received some positive news regarding Vincent Jackson on Wednesday night. As reported by ESPN's Chris Mortensen, V-Jax announced his intention to report by October 31. While there is some debate as to whether he will still be traded or when he can actually play in an actual game, it appears Jackson received some advice from the NFLPA in regards to his future unrestricted free agent status. In short, Jackson misses an opportunity to accrue a year toward free agency if he fails to report by Week 10. While no one knows for sure what the new Collective Bargaining Agreement has in store for future free agents, it appears the NFLPA believes that a player with six years of service in the NFL will still be granted unrestricted free agent status. What this means for fantasy players this year is that Jackson may very well be a fantasy playoff asset after all. This episode is far from settled, but at least there is now some light at the end of the tunnel.





Notable names that just missed the list:

Marcedes Lewis, Greg Olsen, Owen Daniels, Heath Miller

Quick hits: Zach Miller has been banging on the elite TE door for years, just waiting for a non-JaMarcus Russell QB willing to feed him the ball and a play-caller who could accentuate the most reliable pass catcher the Raiders have. Check and check. Miller is the only TE to go toe-to-toe with Antonio Gates over the last three weeks in PPR leagues and not lose substantial ground. With either Jason Campbell or Bruce Gradkowski throwing him the ball, there is little reason to believe this kind of production won't continue, although his three-game streak of scoring touchdowns cannot be expected to continue. (After all, only Gates is allowed to score a TD in every game, right?)

Owners hoping Chris Cooley would not only fully recover from last year's foot injury, but also benefit from having Donovan McNabb as his QB struck gold on both accounts. Only Gates and Cooley have managed to post double-digit PPR fantasy point totals in each one of their games so far. Even though the TE position is deeper than it ever has been, finding game-to-game consistency at that position is still fairly difficult. Anthony Armstrong may be on his way to overtaking Joey Galloway as the starter opposite Santana Moss, but neither Moss nor Cooley should have their weekly targets threatened anytime soon, which means Cooley is a good bet to keep his current pace up all season long.

For those keeping count…Detroit 2, Denver 0. What do I mean? This offseason, a great deal of fantasy owners swept the Lions' three-way trade for Tony Scheffler under the rug, willing to dismiss it as a trade from a team that doesn't use TEs to a team that might not recognize a good TE if they saw him (given their recent history). However, Detroit said upon acquiring Scheffler that it hoped he would assume a Dallas Clark-like role in the offense. Outside of one dud of a game in Week 2 vs. the Eagles, the Lions were not exaggerating his importance to the offense as he has averaged eight targets in the other four games. Brandon Pettigrew has obviously stolen some of his thunder of late, but we can probably place a lot of the blame for that on Shaun Hill's insertion into the lineup in place of Matthew Stafford. Still, Pettigrew has dropped a few too many passes for the Lions' liking over the last few weeks, so he may not be a good bet to remain a top-10 fantasy TE much longer.

As for the other prize that Denver let Detroit have on the cheap? CB Alphonso Smith. Right before the start of the season, the 2009 second-rounder (who the Broncos traded a 2010 first-rounder to draft) was acquired for TE Dan Gronkowski. A noted ballhawk during his college days at Wake Forest, it took Smith less than a month to intercept three passes and move into the Lions' starting lineup. Long-term, Smith is probably stretched as anything more than a nickel CB, but the Lions have fleeced the Broncos twice now in 2010.

Back to the TE discussion, we'll wrap up this week with an oldie but a goodie, Jeremy Shockey. Judging by his availability on most of my league's waiver wires, it is pretty clear that just about every fantasy owner has been burned by Shockey at some point since most TEs in powerful offenses typically don't remain on the waiver wire this far into the season. I'm not going to tell you that 2010 will be Shockey's year, but given the current predicament, the Saints need Shockey to produce and he has ever since Reggie Bush and Pierre Thomas have been sidelined. Robert Meachem is still not all the way back from toe surgery, so with defenses game-planning to stop Marques Colston, Lance Moore and Shockey are being asked to step up. This is not doing wonders for the fantasy bottom line of Drew Brees and is obviously dragging down the Saints' ability to score like they did last season. But with so many key offensive players sidelined, New Orleans is going to continue dinking-and-dunking until its playmakers get healthy.


Suggestions, comments, musings about the article or fantasy football in general? e-mail me.