A Return To Concern




10/21/10



Aggressiveness is a characteristic that tends to reward fantasy owners more times than not. In the NFL, an offensive line will sometimes hold up long enough to give the quarterback enough time to beat man coverage down the field and make the defense look foolish against a fierce pass rush. More often than not, though, when a defense brings the heat and forces the action, crisis management becomes the name of the game for the opposing team.

In that same vein, I hope to apply that same kind of pressure to the owners in all of my leagues by beating my opponents to the punch in regards to personnel moves. Sometimes, reaching a conclusion about a player too quickly is much like trying to blitz Peyton Manning – dangerous and painful. However, coming to a correct conclusion two weeks or two minutes quicker than your opponents is considered foresight. Fantasy owners can be a uneasy lot, knowing that one two-or-three-game losing streak can wreak irreparable damage to his/her team's chances to make a visit to the fantasy postseason. But just as it is in the NFL and in life, it's hard to land the big prize by playing scared. Thus, I will strive each week to help each of you become a smart blitzer, so to speak.
---
As I struggled to come up with a theme for this week's column, it occurred to me that it never hurts to take a look back. About this time last season, I wrote a piece titled "Midseason Concern" in which I deliberated the concept of "fantasy inadequacy". (No, it is not anything that requires a therapist or a prescription.) In short, "fantasy inadequacy" is the feeling an owner gets when at least one roster shortcoming is sabotaging the entire team or when the team is falling short in the standings even if the team is among the top scorers in the league.

Below is a slightly updated excerpt from that column:

One thing I have learned in all my years of managing in the "real world" is that, in addition to being detailed and organized, a person had better be prepared each day to plug a hole. Sometimes, that "hole" is created when an employee calls out, other times it is a self-inflicted wound and yet other times it is the result of an oversight by your boss. Still other times, the "hole" can be something that your company needs, but because of limited funds, you have to get a bit creative to get the job done. Just like any parent, one emotion can reign supreme as a manager - worry.

It's about the mid-point of the fantasy season each year that I get a bit concerned as a fantasy manager if/when at least one of my teams isn't doing as well I think it should be doing. Quite often, I realize there is at least one spot on my team that is coming up short - a hole, if you will. And in highly competitive leagues, it's only natural to have at least one shortcoming on your team. If you focus your draft around building the best starting lineup possible, your team often lacks quality depth from which to trade from at the start of the season. If you subscribe to selecting the best player available in just about every instance, your team may be strong at a certain position but is almost entirely reliant on your ability to swing a deal or hit on a waiver-wire bargain, which can be difficult in many leagues due to inactive owners or deep benches.

After reviewing last year's column, I realized this is a topic I probably need to revisit about this time every season. Week 7 represents the halfway point for owners who start their postseason in Week 14 and is just past the midway point for owners who begin their playoffs one week earlier. Simple deduction (and common sense) dictates that for every owner that is sitting at 6-0 or 5-1 right now, there are bound to be at least two or three owners who are under .500 wondering how it seemingly fell apart so fast. But owners must remember .500 is not necessarily a bad thing at this point. In fact, leading the pack at the midway point is only a good thing if you can maintain or increase that same pace all season long and just means the margin for error in November is a bit more than it is for other owners. It is my opinion that your record says less about your team than points scored and the consistency with which your team scores those points. Also remember what I said a couple of weeks ago: injuries tend to reshuffle the deck in fantasy. Since they occur frequently in the NFL, an opportunity to improve dramatically comes around fairly often and tends to even out the playing field.

The football season may be shorter than it is in other professional sports, but for fantasy owners, the 16-game schedule is a four-month marathon. Some teams sprint out of the gate but crawl to the finish while others do just the opposite. Despite the fact most of my money-league teams currently sit at .500 (and believe me, that is far from what I expected), I'm happy that I don't have a single money-league team with a losing record at the moment, considering how many of my opponents played my teams like it was their personal Super Bowl over the first 2-3 weeks of the season. Generally speaking, I feel pretty good about my chances in any league in which I'm at .500 or better at midseason because my preseason approach is built on a few important points: full-season consistency, building quality depth, gaining as many "soft" postseason matchups as possible and the belief that I will outmaneuver my opponent when it matters the most.

Even though there is no set formula that guarantees a fantasy title, my experience has been that the first half of the first half of the season is about building depth (to survive injuries and bye weeks) – particularly through the waiver wire – while the second half is about emptying the bench intelligently through trades and plugging in as many sure-fire starters into my lineup as possible – a strategy we'll revisit at some point down the road. The waiver wire can offer several potential assets over the course of the season, so collecting a few of those means you have the ability to offer up a trade that helps another owner plug two holes while you address your weakest link.

My point is simply this: the first half of the season is all about positioning yourself for a strong second half. Just as you would in business, don't burn a bridge and leave every possible trade discussion on a positive note because there is a fair chance the two of you will be talking again at some point. And just as importantly, always keep an eye on how your team is winning or losing. For example, one of my teams has led the league in scoring three of the last four weeks but my record for the season is merely 3-3. This team is in good shape, although improvements will be made. I already swapped Cedric Benson for Darren McFadden in a PPR league (I have Michael Bush) last week and may be on the verge of acquiring Arian Foster for Steven Jackson in a six-player deal this week in which I may end up parting with Hines Ward as well. My recent success could lead me to believe that my roster is in good shape, but my gut tells me that Jackson and Benson will not be guiding me to the fantasy title.

On the other hand, I have another 3-3 team that has won three straight after dropping the first three games of the season. In this league, I went 0-3 with Pierre Thomas in my lineup and 3-0 with Chris Ivory. I am uncharacteristically thin at RB in this league, but feel like I am one good RB away from having a pretty formidable team despite the rough start. I hope that player is already on my roster (James Starks), but I also realize he is a relative long-shot to take over the Packers' backfield anytime soon, so the search continues. And that's another lesson to be learned here – your work as a fantasy owner doesn't stop just because you may be four-deep at RB or five-deep at WR. I recall one team some years ago that featured five RBs who should have all been starting in this league on my team at one time. One trade and two injuries later and I was in the market for another RB, less than a month after believing I was stocked at that position for the rest of the season.

With that said, let's dive into the latest workload and target update. For each position, I set the cutoff at five targets or touches/game. While they are hardly foolproof limits, once we get lower than those numbers, we are typically dealing with players who should be readily available on your league's waiver wire or on the cheap from an owner holding onto that player to fill out his/her roster.





Notable names that just missed the list:

Earnest Graham, Derrick Ward

Quick hits: The beauty of a conservative offense for fantasy owners is that when a team has a featured back, he is bound to get a lot of opportunities to touch the ball. The ugliness that comes along with a conservative offense is that sometimes the play calling is too unimaginative. In other words, there is sticking to what the strength of your team is and/or pounding the middle of the defense repeatedly in order to "soften" them up later in the game. On the other hand, there is just needlessly running your stud RB against a wall. Frank Gore is undoubtedly one of the most physical running backs in the game today and should have a number of inside runs called for him every game. But it was difficult to watch Gore in Week 6 repeatedly run on an "inside power" play that is a 49er favorite only to see a poor Raiders defense stop it over and over again. It wasn't until San Francisco called the one outside run I can actually remember that Gore broke off a 64-yard scamper that essentially sealed the game. It was about that same time that it occurred to me that just about every big run I've seen the Raiders surrender this year has been a designed outside run. So allow me to offer this bit of advice: please understand that inside running is a necessary part of a successful, well-balanced offense, but failing to take advantage of the speed and vision of your feature back by calling outside runs (like a toss, off tackle or stretch play) defeats the whole purpose of pounding your RB inside the tackles.

It could be mere coincidence, but the Ravens' usage pattern of Ray Rice follows a long pattern OC Cam Cameron has established in recent years of breaking in his stud RB over the first quarter of the season before completely setting him free. In essence, Cameron seems to look at the first quarter of the season as an opportunity to "ramp up" the workload and turn the season into a 12-game schedule for his bellcow RB. As I noted several times over the preseason and through September, Baltimore's schedule was heavily front-loaded and didn't allow for much production from Rice, but over the past two weeks, Rice's 67 touches are 11 more than the next closest RB (Steven Jackson). Furthermore, the 33.5 touches over the last two weeks dwarfs the 17.75 touches he was receiving during the first four weeks of the season. Neither workload sounds right for Rice, but his current average of 23 touches does. Willis McGahee won't sit out every week – there is some thought Baltimore was holding out for a trade and wanted to make sure McGahee wasn't injured so they could swing a deal – but Rice should perform up to preseason expectations for the rest of the season.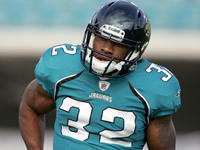 Jones-Drew: Twelve receptions through six games is laughable.

Jones-Drew's 19 touches were a farce in the ugly Monday Night Football loss to the Titans. Heading into the fourth quarter, MJD had a meager eight carries and two catches – most of which came in the first 15 minutes. Once again, Jacksonville completely forgot its offensive identity and the Week 6 debacle was just the latest example of that. Much like the Niners and Gore, the quality, timing and consistency of touches for a runner means just as much, if not more, than the quantity. Again, like Gore, it's great to be stubborn about running inside with a physical back, but it is not the best idea to have that be the entirety of the running game. Big plays – which the Jags dearly need – seem to happen much more often on the perimeter and with an all-purpose battering ram like Jones-Drew, it is a mystery to me as to why Jacksonville wouldn't want him outside running over defensive backs on a regular basis. Also, I'm not sure if it is MJD's preference, but I've also realized that MJD is rarely lined up 5-to-7 yards behind the line of scrimmage, which is pretty much a tip-off to the defense any run is going up the middle.

My advice is simple to the Jags' staff: when teams are loading up the box against Jones-Drew, it probably means they don't have a safety deep that can out-jump the ultra-athletic 6'6" TE Marcedes Lewis for a throw down the field. And if Lewis ever draws enough attention to command a double team, it just so happens the best receiver on your team is also your running back, so the fact that he has twelve receptions through six games is laughable. The main difference between Jones-Drew and the other elite backs in the league (Peterson, Johnson, Gore, Steven Jackson, etc) is that the other backs are rarely ever forgotten in their offense. For Jones-Drew, it happens 3-4 times every year. Offensive coordinators get fired way too easily in the NFL, but the first hint that an OC needs to go is when an offense cannot find a way to get its best players the ball consistently in positions where they can have success. Considering that OC Dirk Koetter was such an innovative play-caller in college, it saddens me that Jacksonville shows such little imagination with its offensive attack.

Unfortunately for Ahmad Bradshaw's owners, Brandon Jacobs appears to have found his willingness to run inside once again (or he's healthy for the first time in a couple of years). After scoring three times in his first four games, Bradshaw has been held without a TD in two straight games while Jacobs has scored four times – all of which have come from six yards out or less. HC Tom Coughlin never wanted to lean too much on either RB, so he's likely pleased with the production he has received lately from both recently. As we know, just about anything change can from week to week in the NFL, but with Jacobs now running better than he has in about two years, it might be a bit much to expect a score to go along with Bradshaw's otherwise stellar PPR totals going forward. I believe Bradshaw's 20.7 touch average is probably pretty safe, but until Jacobs goes down with an injury or experiences another emotional meltdown like he did in Week 2 (the helmet toss into the stands), he's the RB of choice at the goal line.

I consider myself to be a pretty thorough fantasy owner, so I must admit some level of disappointment in the lack of reports coming out of Philadelphia this offseason about a much stronger LeSean McCoy. Evidently, before Brian Westbrook left Philly, the Eagles' icon told his apprentice he needed to get stronger, especially in his lower half. Now certainly the early-season loss of Leonard Weaver helped free up some more playing time for McCoy, but it is clear from the amount of arm tackles he is breaking this year – as opposed to last year – that McCoy was going to take command of this backfield before too long anyway. While the 25.3 touches/game he has seen over the past three weeks is probably too much of a workload, he's a solid bet to stay over 20 for the remainder of the year.

As of press time, it remains unclear if the Raiders are willing to allow Darren McFadden to fully test his injured hamstring this week, which may allow Michael Bush one more opportunity to show exactly why he should be the lead back in Oakland. And it certainly helps this week's opponent (Denver) has been exploited to the tune of five rushing TDs over the past two games. Bush could have made a strong case for the feature-back role if he had followed up his 29-touch, 135-total-yard performance in Week 5 with another such game against the Niners last week, but alas, San Francisco's run defense finally came to life as the Raiders' passing game gave them little reason to back off Bush. I still believe Bush is the best candidate for the feature back job in this offense – especially given McFadden's history of injuries – but I am compelled to call it as I see it, not how I want to see it. Oakland loves what McFadden brings to the passing game and OC Hue Jackson has seemingly favored a feature back this year, saying as much a few weeks ago (admittedly the timing of the Bush and McFadden injuries have contributed greatly to that). So Bush owners need to prepare for a Bradshaw-Jacobs kind of setup, at least until one of the backs get hurt again. Then again, with the top two QBs currently hurt in Oakland and Kyle Boller a candidate to draw the start in Week 7, there may not be much production coming from anyone wearing a Raiders' uniform in the near future.

So far, so good after one week into Miami's re-commitment to running the ball. Ronnie Brown saw a season-high 20 touches while Ricky Williams logged 14 – his second-best total in 2010. Oddly enough, Brown's 10 catches are just four shy of his catch total from last year while Williams has seen his involvement in that area drop precipitously (five catches through five games after hauling in 35 in 2009). With the "Wildcat" becoming less of an offensive emphasis in Miami, the need for the Dolphins to use Brown as the QB – especially near the goal line – and Williams on the "jet sweep" has cut both players' scoring potential rather quickly. The result has been two total TDs from the duo through five games this year as opposed to the nine they scored at the same time last season.

By my count, there have been 89 instances of a RB going over 20 touches through six weeks, an average just shy of 15 per week. Only Chris Johnson and Frank Gore have done it each week. Rashard Mendenhall fell one touch short in Week 3, Steven Jackson's groin pull in the same week kept him off the list and Peterson's 19-touch Week 5 saw him just a bit short as well. Because I acknowledge 20 touches is a subjective figure, let's call the five aforementioned running backs the most trustworthy RBs in fantasy – at least from a workload standpoint, if not a consistency one as well.

One last nugget: Donald Brown's value soared on Wednesday. Early reports out of Indy indicate that Joseph Addai could miss substantial time after this week's bye with potential nerve damage in his left shoulder. Addai is under the impression that it may take 4-5 weeks to regain strength in his shoulder, but indicated there was "nothing torn or anything". Brown has been out of action since Week 3 with a hamstring injury, but is reportedly on pace to make it back in time for Week 8. Because neither Brown nor Mike Hart are nearly as good in pass protection as Addai, the Colts may back off a bit from their pass-heavy ways until Addai returns. Regardless, either scenario vaults Brown into strong flex status immediately.


Notable names that just missed the list: Kenny Britt, Craig Davis, Devery Henderson, Kevin Walter, Lance Moore, Mario Manningham, Anthony Armstrong, James Jones

Quick hits: Because no WR has been targeted 10 times in every week, I'll take this opportunity to talk about the ones who have done it the most recently. Since the bye weeks began three weeks ago, no one has been any better in that department than Brandon Lloyd. (Brandon Lloyd?) His 14 targets/game over that time is 0.5 better than Terrell Owens and one better than Andre Johnson and Reggie Wayne. Lloyd is the only receiver to receive at least 10 targets in four straight games – only Johnson and Santana Moss have current two-game streaks with that many targets. For anyone who watched the Broncos-Jets game this weekend, there is no reason to believe this is going to stop anytime soon. Kyle Orton repeatedly forced back-shoulder or jump-ball throws down the sideline in Lloyd's direction regardless of who was guarding him. For all the past and present Demaryius Thomas owners out there, it has to be painful to see the journeyman Lloyd get all the opportunities the rookie was slated to receive had he not spent so much of the preseason sidelined. Even though Austin Collie has been the best PPR receiver in fantasy thus far, it's a safe bet that Lloyd has been the most valuable given that he went undrafted in all but the deepest of fantasy leagues.

In one experts' league I'm in, I used Santana Moss' Week 4 (one target) as an opportunity to move in on a player I felt I could snag at a reasonable price. After giving up Ricky Williams and Fred Jackson to get Moss along with Derrick Ward (I have Arian Foster), I felt I accomplished my mission. For a player that was typically drafted as a WR3 this summer, it's hard to argue with the consistency Moss has displayed. Fantasy owners are thrilled with WR1s who can put up six catches a game, so the fact he's done that in all but one game from his draft slot is special. About the only other thing his owners could ask for is more opportunity inside the red zone. According to STATS, Moss has not logged a single reception inside the 10 despite his second-place standing in the NFC in receptions. Granted, Moss has rarely ever been a great bet for top-notch TD production, but on a team such as the Redskins, one would think OC Kyle Shanahan would dial up a quick screen inside the 10 to his team's best receiver once every six games. Nevertheless, Moss owners should continue to expect top-notch PPR production going forward.

It's almost inconceivable in today's pass-happy NFL that one team could have three players among the top four in receptions this late into the season. Yet, Reggie Wayne's first-place total of 45 is just one ahead of second-place Austin Collie. Then, sitting in a four-way tie for fourth is TE Dallas Clark, who we will get to in a little while. The first reason this can happen is when a team has a QB like Peyton Manning, who is calling pass plays over 62% of the time and completing 67% of his throws. What cannot be seen from the box score is the breakneck pace at which the Colts run their offense, which should be Exhibit A for owners and GMs when they consider who they bring in to coach the team and run the offense. Certainly, there are very few Mannings out there, but imagine how much better the lesser-talented QBs of the league would fare if they weren't being asked to learn a different phonebook-sized playbook every 2-3 years. Yes, player and coach turnover will happen with great regularity, but one of several points I took away from the Colts-Redskins Sunday Night Football game last weekend is how infrequently Indianapolis commits an offensive penalty despite rarely ever communicating plays verbally. (Most amazing to me is watching how the Colts' linemen rarely false start.) It is understandable how older veterans like Wayne and Clark would be able to speak Manning's unspoken language so well, but for someone like Collie to always end up in the right place less than halfway through his second season speaks volumes. With that said, perhaps it is not all that shocking that Collie is reportedly the only receiver that watches film with Manning because it obviously carries over to the field (81% catch rate).

What were the chances that not one, but two receivers named Mike Williams would be valuable fantasy properties in 2010? Strictly from a common name standpoint, the odds probably weren't all that daunting as finding a "Mike" or a "Williams" in the NFL isn't all that hard. But considering we knew one of the receivers named Mike Williams was an overweight, former first-round bust in Detroit and the other one was a Tampa Bay rookie with a checkered past, the fact that both players warrant WR3 consideration in 12-team PPR leagues is rather remarkable. The Bucs' rookie has been targeted nine times in three of his first five games, caught at least five passes in three contests and scored three times. The Seahawks' version appeared to be losing his momentum after a stellar preseason, but Seattle came out of its bye week with the idea that it was going to let the 6-5 behemoth run with the job after trading away Deion Branch. Fifteen targets, ten catches and 123 yards later, it might be ready to get back on his bandwagon again. While he has obviously added some explosion as a result of dropping weight, his best fit is as the possession receiver in this offense while Deon Butler and Golden Tate add the vertical element. While I feel the rookie Williams will be a fairly consistent force going forward, I have mixed feelings about the veteran. Perhaps Week 6 is a sign of things to come since "Big Mike" stated this past week was the healthiest he has been in some time. However, I would still suggest "buyer beware" with him, although he is certainly worth adding to your bench right away. Given his size, he should be a red-zone monster. However, he figures to see plenty of Dominique Rodgers-Cromartie (twice), Nnamdi Asomugha and the Giants' defense over the next four games. I'd sit him this week against DRC, but if he performs well again, he's probably in good shape from here on out, although the schedule offers up very few cupcakes for Seattle the rest of the way in the passing game.

Speaking of the Branch trade, his return to New England was met with so little optimism in fantasy that I was the only owner to bid on him in three of my money leagues (and I wouldn't be surprised if he went unclaimed in more leagues than not last week). Considering the owners in my 18-player, 12-team rosters usually spend free agent money on any player that has an iota of fantasy potential, that fact was pretty shocking to me. Despite entering the fourth quarter with a mere two catches, Branch finished with nine receptions, 98 yards and a score (and just missed out on a second score). Amazingly, in one game with the Patriots after four-plus injury-plagued seasons in Seattle, Tom Brady sought Branch out 12 times – a number Randy Moss hasn't eclipsed since Week 10 of last season. While some fantasy owners will likely use Week 6 as Branch's new bar and maybe proclaim him and Welker as Options 1A and 1B, the pecking order still figures to be Welker, TE Aaron Hernandez and then Branch – with any of the three a good bet to lead his team in a given receiving category each week.

Revisiting the Jaguars' offense for just a second, I'm glad I'm not an owner of any player in their passing game right now. But that doesn't mean for a second that I am pleased with the waste of receiving talent they have – unrealized talent in any segment of society drives me crazy. Granted, Mike Sims-Walker and Mike Thomas aren't elite receivers by any stretch, but they would thrive in several other offenses across the league. Part of the problem is that David Garrard runs hot and cold more than any other QB I've seen in recent memory. Add to that a general unwillingness or inability to audible (Garrard had his ability to audible out of play taken away around this time last season) and Jacksonville has an offense that can really look dreadful at times. To their credit, the Jags appear to have a built-in quick screen to Thomas or Sims-Walker when the box is loaded up to stop Jones-Drew, but it is anyone's guess why we didn't see that quick hitter 10-15 times on Monday night.

We'll close the receiver portion out this week with the possible return of Devin Aromashodu. To be honest, I'm not really sure what to make sure of his five targets against Seattle in Week 6, but it seems to me if the Bears are going to ask Jay Cutler to pay the price for playing behind such a porous offensive line, they should at least allow him to throw to his favorite receiver. Just as he was in the preseason, Johnny Knox is safe in his job and may end up being a cheaper version of Greg Jennings in fantasy. But in the other spot opposite him, it's getting harder and harder to believe the Bears believe in Devin Hester (the receiver) after four straight games with three or fewer catches and no more than 26 yards in any contest. I've believed all along that Aromashodu would make a substantial impact in fantasy before the season comes to an end, but it is hard to justify a roster spot on a player that was a healthy scratch in two of his team's six games. Either way, Greg Olsen has become a complete non-factor of late and Earl Bennett isn't exactly tearing it up in the slot, so with the Bears talking about reducing Hester's role to keep him fresh for the return game, Aromashodu makes some sense going forward. The fact that Matt Forte has been held to 30 rushing yards or less in four of six games lends even more credibility to the idea that some receiver besides Knox is going to step up.





Notable names that just missed the list:

Visanthe Shiancoe, Marcedes Lewis, Owen Daniels, Greg Olsen

Quick hits: I had a nice long write-up for Dallas Clark done on Tuesday, but Wednesday's news that he is out indefinitely may rob fantasy owners of a third top-shelf TE in two weeks. As we already know, Jermichael Finley was lost for the season with a knee injury. Antonio Gates has a toe injury which could easily hamper him all season long and now Clark will be sidelined with a hand and/or wrist injury, one which the Colts "are not optimistic" about according to ESPN's Adam Schefter. There is even some speculation it may be season ending, although it is just speculation at this point. It probably goes without saying the Colts do not have any TE on their roster that fills Clark's shoes, so his owners will need to look outside Indy to find their replacement for him. Clark's production speaks for itself, but he was one of only two TEs (Brandon Pettigrew is the other) to have two 10-target games this season. With a 70% catch rate, Clark was almost a lock for six catches/game. What a long-term injury to Clark does mean is that the fantasy prospects of Austin Collie just got that much brighter.

When was the last time you could say Cleveland did something right and New England may have erred in the same sentence? Perhaps that is a bit of an exaggeration due to the emergence of rookie TEs Aaron Hernandez and Rob Gronkowski, but Ben Watson has been remarkably consistent - if not excellent - despite working with three QBs in six weeks. In PPR leagues, he has scored in double digits in four of his last five games, with his 9.5-point performance in Week 5 the one outlier. No other TE in fantasy has scored at least 9.5 points/game over the last five weeks! In New England, the reason given for his diminishing contributions in the passing game was his penchant for drops. In Cleveland, he's been credited with two - half as many as the Jets' Dustin Keller and even one fewer than his own backup, Evan Moore. Much like many of the other surprises we've already discussed this week, there's no reason this cannot continue given the lack of quality and experience at receiver in Cleveland.

In case he is floating around your league's waiver wire, it may be time to find a home on your roster for Owen Daniels. Chances are he has been the bane of his owner's existence for a while – too much of a "name" to drop but too little production to play. You may remember that I felt Daniels would emerge as a second-half force during the preseason, so long as he didn't experience another setback with his knee. With his five-catch, 79-yard performance in Week 6, that prediction may just be coming true. He's not going to approach last year's incredible pace in any of the key fantasy categories, but he could emerge as a pretty reasonable replacement for the former owners of Jermichael Finley (and Clark too, if the speculation on his injury is correct).


Suggestions, comments, musings about the article or fantasy football in general? e-mail me.