Dealing With The Deadline




10/28/10



Aggressiveness is a characteristic that tends to reward fantasy owners more times than not. In the NFL, an offensive line will sometimes hold up long enough to give the quarterback enough time to beat man coverage down the field and make the defense look foolish against a fierce pass rush. More often than not, though, when a defense brings the heat and forces the action, crisis management becomes the name of the game for the opposing team.

In that same vein, I hope to apply that same kind of pressure to the owners in all of my leagues by beating my opponents to the punch in regards to personnel moves. Sometimes, reaching a conclusion about a player too quickly is much like trying to blitz Peyton Manning – dangerous and painful. However, coming to a correct conclusion two weeks or two minutes quicker than your opponents is considered foresight. Fantasy owners can be a uneasy lot, knowing that one two-or-three-game losing streak can wreak irreparable damage to his/her team's chances to make a visit to the fantasy postseason. But just as it is in the NFL and in life, it's hard to land the big prize by playing scared. Thus, I will strive each week to help each of you become a smart blitzer, so to speak.
---
In my First Quarter Stock Report a few weeks back, I stated how fantasy football resembled the stock market in a number of ways. Let's suppose for a minute you asked the best stock market trader you could find to pick 15-20 of the stocks he/she felt were most likely to succeed that year - but informed that person that he/she could not trade any of those stocks at any time during the course of the year – do you feel that person would be willing to take that challenge? The point of this example is that to be an effective "portfolio manager", an owner must have the flexibility to adjust to current market trends – the same goes for owners in fantasy football. But just like our portfolios, our fantasy teams are rarely ever flawless. (And if by chance you may be thinking your team is right now, wait a week or two.)

Another point I mentioned in the aforementioned article is how some NFL coaches split their season into quarters, which is something I also like to do in terms of building my team. However, when it comes to winning leagues, I tend to view the season by "first half" and "second half". In the "first half", my main objective is to survive through my teams' bye weeks. During that time, I'm pretty happy with a high-scoring 5-2 team or better. Even high-scoring 4-3 or 3-4 teams are acceptable so long as: 1) they have given me a reason to believe better days are ahead or 2) have put several high-scoring performances together but just have fallen victim to the schedule, which leads me to another one of my fantasy axioms - it's all about who you play against and when you play against them. I focus less on the record at this point of the season and more on how many points my team has scored, as well as my team's place in its division.

The second half of the fantasy regular season is like Saturday at a PGA event. "Moving Day" on the tour is when players attempt to separate themselves from the pack. Just like any golfer playing for a championship, fantasy owners often need to utilize "Moving Day" and take some calculated risks in order to gain some breathing room in their division. For me, this usually involves taking a modified "all-or-nothing" approach in which I attempt to clear out my bench via trade. I will definitely sacrifice depth for quality in the second half because, in short, I want as many "no-brainer" starting options as possible and will go to great lengths to do it. Ideally, after purging my bench by packaging as many "average" players as I can for positional upgrades, I leave myself with at least one worthy option at each position. One point I need to make clear here is that I view the waiver wire as a 16-week opportunity to continually build depth, so when I suggest that I trade away depth at the deadline, it is with the belief I have in my ability to replace the player(s) I just dealt over the next few weeks. If an owner isn't always in asset-acquiring mode, there is a good chance his/her portfolio will not stand the test of time.

Much like I stated last week, the fantasy season is a marathon – one that cannot be finished successfully without the ability to withstand adversity or endure the trials and tribulations the NFL season can hit us with when we least expect it. Just as adding free agents in the first half of the season is about building up your team's stamina (giving it a foundation on which it can be in position to compete for a prize), the second half of the season is about finishing (taking advantage of the slightest hiccup or miscalculation of your competition).

Going back to the investment analogy for a second, sometimes your portfolio is only as good as your weakest link. If there is one stock that is a money drain, it tends to bring the rest of your portfolio down as a result. Similarly, it is hard for a fantasy team to go from good to great or great to championship-caliber if that "money drain" exists on your team because you spend each week attempting to plug the hole that player creates as opposed to restocking the shelves. When an owner is able to select the best available talent as opposed to reaching for need, the chance of "hitting" is much higher.

With all that said, just about every fantasy football league in existence is either right at the midpoint of the fantasy regular season or crossed the midpoint with last weekend's games. Obviously, many owners have different trade deadlines, but this week is the last week I can trade in all of my money leagues, so the pressure to make solid decisions for the rest of the season is growing. Therefore, I thought it would make a lot of sense to put together some rest-of-the-year positional rankings that could assist you in closing some beneficial "deadline deals".

Owners who count on my weekly workload/target numbers, do not panic…I will post those below. Because I will be delivering my "Quick Hits" for the rankings, I will not do so this week below the workload/target numbers.

Fantasy playoff schedules were weighted quite heavily in these rankings, especially with QBs and RBs. The gray highlights in each box below represents a road game for that player.

Here is the scoring system that I used to rank the players:




Quick hits:

At QB, the first four QBs are a cut above the rest. Philip Rivers has far surpassed my expectations and given how quickly HC Norv Turner turns to his passing game when the Chargers commit another special-teams blunder or mind-boggling turnover, there's little reason to expect Rivers' production to stop anytime soon. He is averaging 335 passing yards/game, with a low total of 241 yards in a Week 4 blowout win vs. Arizona.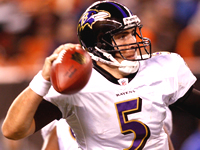 Flacco has a favorable second-half schedule.

The high ranking of Joe Flacco and Ben Roethlisberger figures to raise a few eyebrows, but each QB has at least three legitimate weapons – if not the support of a strong running game – which should ensure strong passing numbers the rest of the way. The fact that Flacco faces a pretty soft pass defense schedule gives him the edge over the rest of the Tier 2 QBs (in this ranking, it starts with Flacco and ends with Matt Schaub). It would not surprise me if any one of the first four players in this group (Flacco, Roethlisberger, Brady or Ryan) were able to overtake the other and finish right behind the Tier 1 QBs.

Moving down to the lower half of the Tier 2 QBs, it may seem as if I have Michael Vick ranked a bit low and Matthew Stafford too high. I won't deny that is certainly a possibility, but let's remember that Vick torched two of the worst secondaries in the league before getting injured in his third start. His running ability goes a long way in ensuring he will be a solid start almost regardless of the competition. As far as Stafford, I'm going to assume that he can stay healthy for the first time in a while and do his best Shaun Hill impression, starting this week against a Washington pass defense that has been torn apart a time or two this season.

Continuing with the eyebrow-raising theme, most readers are sure to be stunned at my ranking of Ryan Fitzpatrick. As each week passes, it is getting harder to ignore the Bills' new starting QB, who has posted four straight multi-TD games since overtaking Trent Edwards. Perhaps we shouldn't be surprised by this revelation; after all, HC Chan Gailey was the play-caller in Kansas City in 2008 when a similar QB named Tyler Thigpen was a second-half fantasy revelation for his owners. (Gailey has also overseen the offenses when Jay Fiedler and Kordell Stewart were attractive fantasy properties.) Gailey's ability to run a highly effective NFL offense has rarely ever been in question; the level of talent he has to work with in some of his recent stops has been. While there is speculation that Buffalo wants to see what Brian Brohm can bring to the table, Gailey has been effusive in his praise of Fitzpatrick lately. Therefore, any concerns about the team wanting to see Brohm should be an afterthought as long as Fitzpatrick keeps producing at or near the level he is right now.





Quick hits:

It bears mentioning at this very point of the season last year, Maurice Jones-Drew and Ray Rice were setting the pace (at least in PPR leagues) at the RB position. Chris Johnson had announced his presence, but it wasn't until Week 8 when he used a 228-yard, two-TD rushing performance against the Jags to jump-start his candidacy for fantasy Player of the Year honors. Much like 2009, no single RB is miles ahead of the competition, although if you measure it on a per-game basis, Darren McFadden is 2.4 fantasy points/game better than Arian Foster, who is 1.8 FPPG ahead of Adrian Peterson.

Chris Johnson and Adrian Peterson top this list because they are the elite talents at the RB position and, perhaps not so coincidentally, are 1-2 in the workload department. Given their situations (Johnson facing loaded boxes every week, Peterson with a hobbled Brett Favre on a team that isn't playing with the lead nearly as much as it did last year), I don't expect either back to pull away from the pack in fantasy. The same second-half schedule that looked so good to me this summer for Frank Gore looks a bit more treacherous now, but much like the two players ahead of him on this list, it helps when an elite talent is healthy and getting all the touches he can handle. Much like Johnson (26.2) and Peterson (25.7), Gore (24.6) is averaging over 24 touches/game – numbers that are probably too high for any of the three backs to sustain for the entire season (especially Gore with his injury history).

I don't like the idea of designating tiers at the RB position at this point simply because eight backs are currently averaging over 18 FPPG – three more than 2009 – with no back really separating himself from the crowd all that much. For the purposes of this article, however, I'll call the first three backs mentioned in the paragraph above the "upper class" Tier 1 RBs and call the next five the "middle class" of Tier 1 runners. By now, we know the deal with LaDainian Tomlinson; he's averaging 18.5 touches running behind one of the best run-blocking lines in football. He doesn't get pulled at the goal line, is his team's best receiving back and has a defense that ensures the Jets will almost always be holding a lead or within one score. Foster has been about as good as it gets at RB this season, but has a tough road ahead of him and has the threat of Derrick Ward stealing a handful of touches from him each week. Ward's not a serious threat to his workload, but reduced touches against stiffer competition will probably keep him from competing against the likes of Johnson and Peterson.

In some respects, LeSean McCoy has emerged as this season's Rice. He leads all running backs with 37 receptions and is on pace for 87. His rushing totals have declined considerably in recent weeks, but much like Johnson in Tennessee, having the threat of having a QB (Vick) who can break down a defense by running the ball does wonders for a back's running lanes. Facing the Giants and Vikings in Weeks 15 and 16 doesn't look promising, but McCoy is contributing so much in the passing game right now that it may not matter who the competition is.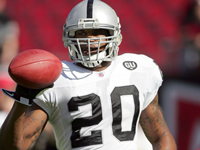 A great buy and sell-high candidate.

We will close out the middle class of Tier 1 rushers with two of my favorite runners since their college days that, unfortunately, will both need to prove they are not injury risks anymore – Steven Jackson and Darren McFadden. Jackson has a laundry list of injuries he is playing through and is still limited by his surrounding talent, but over the last year-plus, has shown us he has a high pain threshold. He's as good of a bet for 20-plus touches and double-digit fantasy points as there is in fantasy football.

As for McFadden, Week 7 was the kind of performance I think most of us who watched him as an Arkansas Razorback thought he was capable of giving the Raiders. Shortly after I completed last week's column, it finally occurred to me that McFadden is more suited for Oakland's zone-blocking scheme than Bush is and that if the Raiders activated him this Sunday, it was with the intent on starting him. What is odd is that his four-TD performance in Week 7 makes him both a great-buy and sell-high candidate right now. How's that? With his injury history, McFadden owners without Bush on the roster should be able to ask for a king's ransom in return from the Bush owner. Conversely, Bush owners without McFadden should acquire him as the Raiders are starting to show they won't hesitate sticking with one runner and his current owner may not want to take the chance of hoping "Run DMC" makes it through the rest of the season. On the plus side, McFadden has surpassed 150 total yards in each of the four games he's finished and it should also be mentioned that his fantasy playoff schedule sets up quite nicely. (To give you some idea on how strongly I now feel about the McFadden-Bush tag team concept, I am considering a MJD-for-McFadden trade in my biggest money league. I'm not sure if this admission tells you more about how quickly I've soured on Jones-Drew or how high my expectations are now for a healthy McFadden, but this trade would give me three money-league teams that I have both Oakland RBs on.) As if you couldn't tell, if you are looking for a RB from the "middle class" to challenge the "upper class" over the second half of the season, look no further than McFadden.

Putting Peyton Hillis up this high just feels wrong, but he has passed a pretty difficult first-half test with flying colors. Owners shouldn't expect his TD binge to continue, but he has scored in all but one game (Pittsburgh) and has no threat to his workload. His rushing totals are fairly pedestrian – he's on pace for 1,051 yards rushing – so if that TD reservoir should dry up anytime soon, he could quickly become a RB2. But even at that level, Hillis is delivering so much more than his owners could have hoped for, so his owners should enjoy the waiver-wire gem they discovered a few weeks ago.

It physically pains me to put Rice and Jones-Drew so low, but I have grown tired of the way they are being used or their situations in Baltimore and Jacksonville, respectively. Rice wasn't expected to contribute as much in the passing game this year with the addition of Anquan Boldin, but I find it hard to defend giving Rice only 17 touches against a lackluster Bills' run defense after feeding him the ball 67 times over the past two weeks against better run defenses. As for MJD, I hate jumping off his bandwagon this season, but there is something not quite right in Jacksonville. Since Week 9 of the 2009 season, Jones-Drew's longest run from scrimmage is 33 yards and his YPC over that time is 4.18, well off his career 4.5 YPC mark. While Jacksonville finally got him involved in the passing game in Week 7, there just appears to be a general lack of confidence in the offensive gameplan each week. (To that end, 92 of MJD's 135 carries this season have been right up the middle. But that's not the most alarming number; it's that he's averaging 3.6 YPC on those runs this year as opposed to 4.3 last year.) Add to that the season-ending injury to solid run-blocking RT Eben Britton and there isn't much hope things are going to get better anytime soon.

Much to the chagrin of Jamaal Charles' owners everywhere, Thomas Jones isn't going away anytime soon. Fortunately, the Chiefs are running the ball so much (35.2 carries/game) and so well (5.0 YPC), that it isn't as big of a deal as we thought it could be at the start of the season. As a result, both backs are fine RB2s. Still, if either RB were to go down for any length of time, the other would become an instant high-end RB1 with a 25 touch-per-game workload in all likelihood.

Assuming Joseph Addai is back in three weeks (which will have given his shoulder four weeks to heal), I like the Colts' RB to continue being what he has become in recent years – a rather ho-hum option to watch in real life but a player who give his owners about 60-80 yards rushing, a TD every other game and 3-5 catches. It doesn't sound like much to get excited about, but that combination has allowed Addai to post at least 13 points in PPR in all but one game this season. For those of us who consider ourselves aggressive owners, Addai is a very good option for those owners who keep one eye on the fantasy playoffs and have the depth at RB to withstand his absence. While Addai is out, Donald Brown makes a fine low-end RB2 option in 12-team leagues.

I'm still a pretty firm believer in the notion that Ricky Williams is a sound second-half investment. Not only has he been more effective than teammate Ronnie Brown in fantasy so far, but Brown is obviously the one that has a poor track record of staying healthy all season long. Given the offensive line in Miami and two rather soft run defenses in Weeks 15-16 (Buffalo and Detroit), Williams is one likely injury away from making another strong second-half fantasy run.



* - Ranking takes into consideration the uncertainty of his rehab
** - Ranking takes into consideration the uncertainty of Troy Smith in the 49ers system

Quick hits: The top three receivers on my list are all playing at such a high level right now that you could toss a coin on which one is the best one to use going forward. Boldin settles in at #4 simply because it is only natural to expect him to get hurt at some point given the physical nature in which he plays the game. However, his remaining schedule is kinder than it is for Andre Johnson, who is still dealing with a nagging ankle injury – the two reasons I have the ex-Cardinal higher on this list. Wayne has been consistently great all season long and probably should be at #4, but with the injuries to the receiving corps in Indy, can defenses actually now use bracket coverage on him all game long and make the likes of Jacob Tamme, Anthony Gonzalez and Blair White beat them? Marshall closes out this collection of elite WRs as he has been a double-digit performer in PPR leagues in every game so far, but his owners hope a spike in his TD numbers through six games (one) is coming.

If it weren't for his zero-catch Week 4, Santana Moss would probably be right below the top three WRs (Roddy White, Hakeem Nicks, Austin Collie) in total fantasy points right now. As it is, he is still averaging about six catches and 80 yards/game, which makes him one of the best draft bargains this season. He does some face solid competition before the fantasy playoffs, but his owners have to like the idea of seeing him match up against the secondaries of Tampa Bay, Dallas and Jacksonville in Weeks 14-16.

Even though Randy Moss hasn't set the fantasy world on fire (which should have been expected given his inexperience in a West Coast offense), his presence has sure done wonders for Percy Harvin. With Moss in town, Harvin has been able to operate out of the slot again and use his RB build and WR quickness to his advantage. With Moss occupying two defenders and the defense usually keen on containing the running game, Harvin is almost always guaranteed a one-on-one matchup and is often a mismatch for the CB across from him.

Lloyd is a tough player to rank in this kind of setup. No one will question that he has been among the best bargains of the fantasy season so far, but I am reluctant to think of him as a WR1 in fantasy, especially after a one-catch, three-target game in Week 7. Some would argue that he was a victim of the lackadaisical approach his team subscribed to vs. Oakland once the Broncos fell behind so quickly, but a true WR1 would have put up some solid fantasy numbers in a game in which Denver was forced to throw so early and often. Still, most of his upcoming schedule appears to be set for him to produce, so it wouldn't be a shock to me if he lived up to this ranking as long as his targets stay in the 10-to-18 range, like they were in Weeks 3-6.

After his huge 2 ˝-quarter performance against Philadelphia in Week 7, Kenny Britt's owners likely believe they have a potential WR1 on their hands. They just might, but it is hard for me to imagine a Chris Johnson-centered offense with Vince Young at QB is going to allow Britt to keep up his high-scoring ways. Because much of the damage Britt did against the Eagles was against rookie S Nate Allen, it is not all that reasonable for him to remain a top 10 fantasy receiver (which he is now in PPR). If, by chance, Britt can post another solid line against San Diego this weekend, I might change my tune.

The low ranking of Floyd is sure to draw an eyebrow raise as well. Perhaps I have too high of an opinion of Vincent Jackson, but his return will make Floyd a less desirable fantasy WR in my opinion. Add in the hamstring injury that might keep him out this week and the Chargers' Week 10 bye and we may be looking at 1-2 more productive games at most for the 16th-best receiver in PPR right now.

Sure, it was garbage time, but the pure enthusiasm and athletic ability that Dez Bryant showed vs. the Giants was enough for me to believe he is on the verge of making Roy Williams a less relevant fantasy wideout. Miles Austin is still the clear No.1 in Dallas and Williams has proven to be a solid red-zone receiver at the very least, but Bryant will soon be every bit the big-play WR Austin is. The loss of Tony Romo hurts all three players, but Jon Kitna is not such a significant downgrade that he'll send all of their stocks spiraling.

Much like his teammate Joseph Addai, Austin Collie is a mystery simply because we have no idea how long he is out. If it is just a couple of games, Collie probably deserves to be ranked around #20. If "several games" means 4-5, then Anthony Gonzalez should move into WR3 territory (in 12-team PPR leagues) for the remainder of the fantasy regular season, with Collie likely taking back those honors just in time for the fantasy playoffs.

I feel I'm short-changing the Bills' WR duo of Steve Johnson and Lee Evans a bit, especially with their numbers in the shootout loss vs. the Ravens. Johnson has been consistently good since Fitzpatrick was named the starter and probably warrants every-week starting status in 12-team, three-WR leagues going forward. Much like Britt, it is getting harder and harder to ignore a player that is in the midst of a long scoring streak (four games in Johnson's case). His targets are on the rise on a weekly basis as well, so we may be seeing the start of something pretty big in Buffalo. On the other hand, Evans has teased owners with his talents for most of his career, earning the label of one of the league's most inconsistent fantasy players. Even though he has matured as a receiver, his best attribute is still the deep ball, which does not cater to Fitzpatrick's strengths. But as his 6-105-3 line should attest, Evans needs to be on a roster in every fantasy league.

Donald Driver saw his long 133-game regular-season reception streak come to an end over the weekend; much of the blame for that lies in a quadriceps injury that is forcing him to miss practice time – a rare occurrence for the 35-year-old. His low ranking on this list reflects his current injury status and should it be something he is unable to get over anytime soon, it would be a reasonable assumption that James Jones would take his place in my rankings.





Quick hits:

In what was labeled as the best fantasy TE crop in years this summer, injuries have laid waste to two elite options (Dallas Clark, Jermichael Finley) and may end up grabbing a third before long (Gates). Even though he is far from 100%, Gates still has to be considered the crown jewel of his position. His closest competition figures to come from the Raiders' Zach Miller, although the revolving door of QBs taking snaps in Oakland has me a bit concerned, which is why is looking up at Cooley in these rankings.

If I were a Vernon Davis owner this year, I just got a bit more worried. While Alex Smith was doing all he could just to hold on to (or lose) his job each week, he could at least be counted on to find Davis in the red zone. With Smith out 2-3 weeks, does new QB Troy Smith latch on to another option in the passing game? While he is mobile and can extend a play, a shorter QB like Smith may be hard-pressed to locate his TE over the middle if he is not given a clear throwing lane. It may be an overreaction on my part, but it certainly something worth thinking about if you do own Davis.

As I have stated before on the Blitz, the return of Matthew Stafford should have Tony Scheffler's stock going up considerably and send Brandon Pettigrew's down a bit. In fact it wouldn't be all that surprising to me if they swapped places in PPR leagues (Pettigrew is currently eighth while Scheffler is 19th in FPPG), which is essentially what I have happening here.

Colts' GM Bill Polian said recently, "you just don't pull another Dallas Clark off the shelf…" and he is right. However, it would be a mistake to assume that Jacob Tamme isn't going to produce at a TE2 level right away. Peyton Manning has been able to find his TE over the years (Marcus Pollard, Clark, Bryan Fletcher, etc.) and Tamme is just another one of those underrated receiving TEs that Polian finds that can serve as Manning's outlet over the middle.

I realize that Heap has accounted for three scores over the last two weeks and is probably the current TE of choice for many ex-Clark owners. However, Ravens HC John Harbaugh recently suggested that he would be working in his two rookie TEs more often over the second half of the season. Add in his history of injuries and the fact that he has taken a number of violent shots of late and it is probably time for his owners to find another option at the position.

Workloads and Targets

Here are the update breakdowns in each category. As is usually the case, the cutoff was five touches or targets/game. Enjoy…






Suggestions, comments, musings about the article or fantasy football in general? e-mail me.