Hello, Goodbye




11/11/10



Aggressiveness is a characteristic that tends to reward fantasy owners more times than not. In the NFL, an offensive line will sometimes hold up long enough to give the quarterback enough time to beat man coverage down the field and make the defense look foolish against a fierce pass rush. More often than not, though, when a defense brings the heat and forces the action, crisis management becomes the name of the game for the opposing team.

In that same vein, I hope to apply that same kind of pressure to the owners in all of my leagues by beating my opponents to the punch in regards to personnel moves. Sometimes, reaching a conclusion about a player too quickly is much like trying to blitz Peyton Manning – dangerous and painful. However, coming to a correct conclusion two weeks or two minutes quicker than your opponents is considered foresight. Fantasy owners can be a uneasy lot, knowing that one two-or-three-game losing streak can wreak irreparable damage to his/her team's chances to make a visit to the fantasy postseason. But just as it is in the NFL and in life, it's hard to land the big prize by playing scared. Thus, I will strive each week to help each of you become a smart blitzer, so to speak.
---
For fantasy football owners, Week 10 represents the end of bye weeks and the start of fantasy football "crunch time". I suppose there is something to be said about the symmetry of a 13-week fantasy football regular season, considering three weeks of non-bye weeks sandwich the seven-week stretch of byes that start in Week 4 and end in Week 10. But as we embark on the second round of full-strength fantasy football, where do owners go from here? The answer is detailed yet simple in my estimation:
For those owners who play in leagues with late trade deadlines, identify where your team stands. If you stand atop your division after nine weeks and own one of the higher-scoring teams in your league with a 6-3 record or better, take a fine-tooth comb to your team and identify your weakness – or at least the player(s) most likely to disappoint. Not only is trading fun, it is a necessary part of winning just about any competitive league. Hoping your team continues to "roll" as is can be a very dangerous strategy if a small part of your team has been covering up for deficiencies in other areas. In those leagues where a potential fantasy playoff stud like Pierre Thomas may have been dropped (this just happened in one of my leagues this week), pick him up and stash him away. I'm sure you'd be surprised how often I have taken a chance on an injured player like Thomas around this time of year – not believing I would need him at any point – only to ride him to a fantasy title when he ends up outperforming my RB1.
For owners hovering around .500, I suggest you do the same (be critical of where your team may be coming up short), but make winning the rest of your regular season games the highest priority when it comes to trading – as opposed to lining up your team with a softer fantasy playoff schedule. (I'll get into an example of that in one of my leagues in just a moment with Terrell Owens and Reggie Wayne.)
For those owners who are past their trade deadlines, focus solely on acquiring the best player(s) you can find off the waiver wire each week. Obviously, there are exceptions (such as you lost Matthew Stafford this past week and don't have another QB on your roster) but for the most part, picking up a potential stud at a position of less need serves three potential purposes: 1) it improves your overall roster –which can never be considered a bad thing, 2) it allows you to keep that player away from someone else in your league that might be able to use him – better on your bench than your fellow competitor's starting lineup – and 3) it provides you with a potential fantasy playoff hero.
These observations may seem rather elementary to veteran fantasy owners, but I have been playing fantasy football for well over a decade and still need to remind myself each year that looking for potential upgrades for each of my teams is a task that doesn't end until the season ends, no matter how good my team is. Sometimes, a 6-3 or 7-2 record can lull an owner into a false sense of security. Again, allow me to remind you that fantasy football is much like playing the stock market. Investing in stable stocks (QBs with pass-heavy systems and good receivers, RBs in run-friendly systems operating behind solid offensive lines, etc.) is often the way to go and tends to pay off big during the fantasy postseason.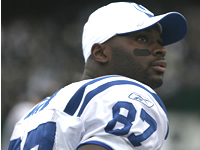 Consistency down the stretch.

For instance, I referred to a trade in last week's Blitz in which I traded Owens and Knowshon Moreno in an effort to acquire Wayne. After a couple of weeks, I look like a loser in that deal. But I am comforted by the consistency Wayne provides and I feel very good about his ability to perform at a high level against Tennessee, Jacksonville (a team he has abused lately) and Oakland in Weeks 14-16. Do I feel as strongly about Owens on a sinking Bengals' ship? Will he consistently match Wayne week after week as he opposes the likes of the Jets, Saints, Steelers, Browns and Chargers over the final five weeks of the fantasy season? I doubt it. This is just another example of why I like to constantly analyze the schedule. In short, I want a team of consistent players who have the path of least resistance at the end of the season.

Getting back to the subject at hand, a fantasy owner's goal at the end of the bye weeks should be to have as many no-brainer starts in his/her fantasy lineup as possible. This is good not only for an owner's sanity, but also because over the next three weeks (Weeks 11-13), wins will be at a premium. Losses created as a result of choosing between two or three mediocre options at a position each week at this point of the season can often result in a long and bitter offseason of wondering what could have been. If there are qualities I've learned about winning and losing over the years, it is that both winning and losing are habits, but while one never gets old, the other gets old fast.

With today's lesson (or reminder) out of the way, let's take a look at the updated workload and target numbers. Once again, the cutoff at each position is five touches or targets/game. To help provide some perspective this week, the average FPPT (fantasy points/touch) for the 64 RBs that qualify for my list above is 0.77. Feel free to use that number as a barometer to help you evaluate who is making the grade in that department and who is not.





Quick Hits:

How ridiculously productive has Arian Foster been this year? At 1.10 FPPT in PPR leagues, he is ahead of the pace set by Chris Johnson last year (1.04) and Maurice Jones-Drew in 2008 (1.07). In fact, I had to go back to 2006 to find averages that high for RB who received a significant amount of his team's touches out of the backfield – LaDainian Tomlinson (1.16) and Jones-Drew (1.28). Even though the run schedule does increase in difficulty over the second half, I have been extremely impressed by the holes Houston's offensive line has been able to create as well as the patience and vision Foster brings to the table week in and week out. As the Texans stand at the exact midpoint of their season, Foster is on pace for 312 carries, 1,724 rushing yards and 18 rushing TDs to go along with 64 catches, 630 receiving yards and two receiving scores!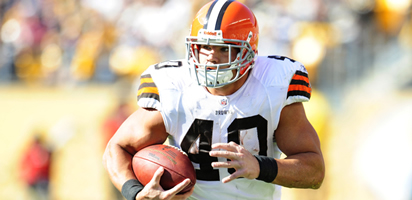 Hillis has three 100-yd rushing games in 2010.
One part of football that never fails to amaze me is the concept of how a defense knows what is coming and still cannot stop it. Granted, the Patriots did not enter Week 9 as an elite run-stopping defense, but just about everyone knew going into their game against Cleveland that the key to stopping the Browns' offense was loading up the box and stuffing the run game. I am well aware this New England defense is not the same kind of incredibly-talented, veteran-laden unit the team became synonymous for during its Super Bowl run. I also understand that a younger defense is more prone to playing below its full potential on the road, but how does one explain the Pats allowing 94 more rushing yards this week against a one-dimensional Browns' offense than it has against any other opponent? With that said, let's give a ton of credit to Peyton Hillis and the Browns' offensive line. Part of being able to field a productive offense in the NFL is figuring out "who you are" and sticking with it. With a rookie QB and the best receiver being a Patriot discard (Ben Watson), the Browns have decided to ride their offensive line and a ground game that has had its moments over the years (Jamal Lewis, 2007; Jerome Harrison, late 2009). As long as the line continues to remain relatively healthy, Hillis remains a solid bet to finish out the season as a top-notch fantasy RB1. Much like Foster, the upcoming schedule isn't exactly soft, but Hillis' involvement in the gameplan is making him pretty much matchup-proof.
During the offseason, Lions HC Jim Schwartz hinted at his desire to use Jahvid Best in much the same way as his old team (the Titans) used Chris Johnson. Certainly, from a production standpoint, the rookie hasn't met those lofty standards outside of one incredible game (3.3 YPC and 353 yards rushing for Best; 4.9 YPC and 715 yards rushing for Johnson at the same time during his rookie season). But Best's owners should take some solace in the fact that he is actually on the same workload pace that CJ was in 2008 (298; Johnson had 294), is playing through a painful toe injury and is being used in the way he should be used right now as Detroit is attempting to build its offensive juggernaut. What I mean by the last part of that statement is OC Scott Linehan would be foolish to pound the speedy rookie into the middle of an offensive line that lacks the talent up front to maul opponents like the Titans have done in recent years. As a result, Detroit has decided to get Best on the outside more often by using him as a receiver (tied with LeSean McCoy for first among RBs with 41 receptions). As painful as it is for Best owners who were hoping his first two weeks in the NFL was how the rest of the season was going to play out, his future is still incredibly bright. Schwartz is a strong believer that football games are won up front, so you can be sure the Lions' top offseason priority will be adding some maulers up front to let Best do his best CJ impression starting next year. His drop in production this year can be traced back to when he injured his toe, so while it'd be foolish for me to say he is ready to become the next Johnson, I see no reason why Best isn't ready to become a full-season fantasy darling in 2011. As for this season, he should be viewed as a high-end RB2.
Are we witnessing the start of another late-season opportunity (or explosion) for Shonn Greene? For those owners who may not remember how the Jets' RB situation unfolded last year, Thomas Jones carried the load exceedingly well all season long only to look his age at playoff time, paving the way for Greene to take the postseason by storm. It's too early to say we are seeing that scenario play out again, but Tomlinson has been at 3.7 YPC or less in each of the last three games (two of which were matchups that he theoretically should have been able to exploit in Denver and Detroit. Conversely, Greene has been at 4.6 or better in those same games.) As one of LT's biggest supporters over the past few years when most fantasy pundits had him long past his prime, I'm not ready to suggest he is about to lose his job; again, my hope is to point out that prior to this three-game stretch, he did not have a single game as a Jet with less than a 4.7 YPC. Tomlinson is going to remain the more valuable player of the two RBs simply because of his contributions in the passing game (30 receptions is tied for sixth-best among RBs), but it wouldn't be all that surprising if Greene can eventually turn this into a near 50-50 split on the ground by the time the NFL postseason rolls around.
Getting back to ridiculous FPPT averages, how about Danny Woodhead? In addition to being the newer and younger version of Kevin Faulk, Woodhead has settled into an 11-touch/game routine and while represents a lower upside than BenJarvus Green-Ellis, he is easily a more consistent alternative in fantasy than his teammate. Calling him this season's version of 2009 Darren Sproles may be a bit much, but in New England's thinned-out backfield, he has become a pretty strong weekly flex play.
I'll close out this part of the Blitz by discussing the highly disappointing RB situation in Carolina. Very few would argue that DeAngelo Williams and Jonathan Stewart is about as good as it gets when it comes to a 1-2 punch in the NFL from a talent standpoint. But as I have said from time to time over the years, talent doesn't always win the day in fantasy or reality. Both members of "Double Trouble" averaged over 5.0 YPC last season but are a full yard/carry (or two in Stewart's case) off that mark this season. Because I fashion myself as a researcher who can find answers to questions others cannot answer, I went to the each player's season splits to attempt to see if there was an issue up front (since we pretty much know Williams and Stewart are highly skilled). Here are the results I uncovered; the first number will be the backs' YPC while the second one in parentheses will be the number of rushing attempts:

| | | | | |
| --- | --- | --- | --- | --- |
| | DW2009 (YPC) | JS2009 (YPC) | DW2010 (YPC) | JS2010 (YPC) |
| Wide Right | 3.2 (13) | 6.8 (45) | 2.9 (14) | 2.9 (21) |
| Right | 5.9 (45) | 4.5 (37) | 2.3 (4) | 3 (5) |
| Middle | 4.6 (85) | 3.8 (71) | 4.3 (41) | 4 (26) |
| Left | 6.3 (44) | 4.7 (35) | 2.1 (9) | 1.5 (2) |
| Wide Left | 4.8 (29) | 6.8 (33) | 6.1 (19) | 1.7 (15) |
Taking a quick glance at last season, Williams struggled to run wide right while Stewart was slightly below the usual league average of 4.0 up the middle. Given the limited opportunities Williams had wide right (13 carries), the physical nature of the Panthers' rushing attack (156 combined carries up the middle) and the fact that were in clock-killing mode in about half of their games, those numbers are easily forgivable when one considers just how productive they were everywhere else.

This season, however, has been a completely different story. While the production up the middle hasn't changed all that much – which speaks well for C Ryan Kalil – the only other number that is even passable is Williams' 6.1 YPC to the wide left. Every other average in 2010 is a full yard or more under the 4.0 benchmark. Some of that ineffectiveness can be blamed on the Carolina defense for putting its offense at a disadvantage on the scoreboard (which doesn't allow either back to run against a tired defense late in games) and some more of the criticism can fall on the shoulders of the best run-blocker on the team, RT Jeff Otah, who has yet to play a game this season and was placed on IR earlier this week. But how do we explain such a dramatic downturn? Carolina hasn't exactly featured an all-world passing game in recent years but still has been able to put up healthy numbers in the running game, which suggests that – along with the absence of Otah – the left side of LT Jordan Gross and LG Travelle Wharton are falling short of expectations. I also get the sense that apathy has set in down in Carolina due to a lack of personnel moves over the past offseason. Expect a complete housecleaning in the coaching and front office ranks this offseason.

In the short term, however, make a move and grab Mike Goodson off the waiver wire. With all the injuries in the Panthers' backfield, he is in line for his first career start against Tampa Bay. He's a gifted receiver out of the backfield that is certainly talented enough to take advantage of a good matchup. With all the backfields that are in flux at this time of the year, a savvy fantasy owner cannot turn a blind eye to a situation in which one runner is set to receive 15-20 touches, no matter how disappointing a team has been this season.






Quick Hits:

I must admit I'm stunned that Chad Ochocinco continues to draw double teams or, at the very least, a safety over the top while Terrell Owens burns defenses week after week. This is a trend I expect to see reversed in the near future as Owens has put together the best five-game stretch by a WR since Torry Holt lit up the NFL back in 2003. According to Steelers' HC Mike Tomlin, the main reason Ocho saw the heavy coverage he did on Monday was due the fact that he was the "single-receiver side guy". To me, that roughly translates to "let's frustrate Ocho and hope that the embarrassment of getting shut down on a national stage will be more than his ego can take". I can remember several times throughout the MNF game when Owens lined up in the slot and Ocho was out wide on the same side; each time, T.O. was left in single coverage.

In the end, I have become convinced that Bengals OC Bob Bratkowski's time is coming to an end in his current role. This offseason's mission statement was largely about adding enough weapons to the Cincinnati offense to enable Carson Palmer to reclaim his place among the elite QBs in the game again. Instead, each Bengals' game seems to feature about five pass plays in which the main receiver runs a wrong route, one or two plays in which Palmer throws an unforgivable pass into coverage and a number of holding or false start penalties that end up creating third-and-long situations. The fact the Bengals are so disjointed on offense (especially early in games) speaks to a lack of focus by the players, but it also says a great deal about a coordinator not being able to get through to his personnel. My point about Bratkowski is simply this: when the same problems creep up game after game, it means mediocrity is being accepted at some point during the week. Considering Bratkowski is in his 10th season with the Bengals (and seventh with Palmer), the offense should be hitting on all cylinders with Palmer running the no-huddle as effortlessly as he did 3-4 years ago and operating like a well-oiled machine. Suffice it to say that it is not.

It wasn't too long ago when Marques Colston was being considered as a 2010 "fantasy bust". It's amazing how far 33 targets, 24 catches and two touchdowns over the last three contests go in changing opinions. Perhaps what is most surprising to me is that he currently stands fourth in receptions (54) among receivers. Yes, his number is somewhat inflated by the fact he is the only WR in the top 20 not to have already served his bye week, but it would take a monster week by a number of receivers in Week 10 for him to fall out of the top ten. Colston's yards per catch is down substantially (2.8 YPC from his career average) and he is on pace for a career-low four scores, but things only figure to get better when the Saints finally get healthy on offense. His PPR owners should be thrilled about the 96-catch pace he is on, which would be just two off his career high. Considering he faces a few beatable secondaries after the bye (Seattle and Dallas stand out the most), his final TD numbers may end up looking Colston-like after all.

Just as quickly as I suggested the Panthers' Steve Smith was on the verge of being trustworthy again in last week's Blitz, he is better off on your bench once again. The season-ending injury to Matt Moore means eight games with some combination of rookie QBs Jimmy Clausen or Tony Pike, neither of which inspires a great deal of confidence – especially now in the injury-ravaged Carolina backfield. Now in his 10th season, Smith will likely be viewed as a receiver in decline as he has posted consecutive underwhelming seasons in fantasy. While there may be a small shred of truth to Smith may be falling out of his prime at age 31, he is someone to keep in mind for a bounce-back season in 2011 should he be lucky enough to be granted a legit NFL quarterback for the first time in years.

Dwayne Bowe has become the subject of some debate in the fantasy community over the last month. Along with the injured Kenny Britt, the duo's seven touchdowns apiece catch the eye, especially when one considers neither wideout has more than 26 catches (Bowe; Britt has 23). Despite starting the season out firmly on his bandwagon, I have been driving the anti-Bowe cause for some time and will continue to do so. Why the dislike? The short answer is Bowe's current 1:3.71 TD/catch ratio, which is highly unlikely to continue. The last receiver I can find with that kind of ratio is former Jaguar Reggie Williams back in 2007 (10 TDs on 38 catches). It would be one thing if Bowe was a feared deep threat (fewer opportunities but more opportunity for big plays and TDs) or had a upper-echelon QB, but he has neither of those things going for him nor is he his team's most trustworthy receiver anymore (I believe Tony Moeaki holds that distinction). Bowe's score in Week 9 was due to Oakland not being lined up correctly when the ball was snapped, which is just the latest in a long line of mental lapses against inferior secondaries that have led to touchdowns for Bowe. In no way am I suggesting that he won't find the end zone again this season, but TDs in football are highly variable and Cassel is playing much worse than his stats indicate. And for those owners that hope he'll be there when they need him the most in the fantasy playoffs, good luck. The Chiefs play at the Chargers and the Rams before hosting the Titans in Week 16. St. Louis has proven to be a tough defense at home this year while San Diego and Tennessee have been very stingy this year when it comes to allowing WR scores (a total of seven scores in 17 combined games).

While it is easy to be critical of Al Davis' drafts over the last decade or so, he has done a fine job over the past two drafts of finding mid-round receivers who are NFL-quality playmakers. Last year, the Raiders welcomed fourth-rounder Louis Murphy, three rounds after selecting Darrius Heyward-Bey. A year and a half into their careers, Murphy has a substantial lead in that horserace. This past offseason, the Raiders went after another speed WR (as they are prone to do) in the fourth round when they selected Clemson's Jacoby Ford. Known primarily for his prowess as a track athlete and inconsistency on the football field in college, Ford did something in Week 9 no one else in the NFL has done up to this point this season – make Chiefs CB Brandon Flowers look average – and he looked great doing it, with at least two catches that should tell you everything you need to know about his incredible potential as a receiver. (For those who haven't been paying attention, Flowers has emerged as a top 10-15 CB in the league. In fact, as late as mid-October, Flowers had allowed 81 yards to opposing receivers on 31 targets.) When Murphy is finally able to return to the field, I fully expect that he will resume starting with DHB, but Ford showed so much against Kansas City in Week 9 that he deserves a shot at unseating Heyward-Bey. If he gets that shot, Oakland may finally have two receivers worth using in fantasy.





Quick Hits:

With fantasy's top two TEs out with injuries and three more on a bye, the path was clear for someone to make significant headway on the leaderboard in Week 9. That somebody turned out to be hyped rookie Aaron Hernandez, who caught his first two TD passes as a pro in the blowout loss to the Browns. There is no doubt some luck was involved and that he benefited from the struggles that fellow rookie Rob Gronkowski had in every phase of the game. (The first score was tipped by Gronkowski at the goal line and ricocheted nicely into the hands of Hernandez, who did a great job of getting both feet down in the back of the end zone. The second score was on a play-action fake that I have seen Gronkowski convert a time or two already this season with a couple yards of the end zone.) It is unlikely Hernandez will steal more of the red-zone work from Gronkowski just because of his work in Week 9, but the fact that he converted both times may lead to more red-zone work– a situation in which he has been removed from the game on many occasions. In PPR, Hernandez currently stands ninth overall among TEs with a very respectable 11.6 fantasy points/game.

It's too easy sometimes to say that a young player "hits the rookie wall". I believe when it is all said and done, there will be plenty of people who suggest that is happening right now to Jermaine Gresham. I couldn't disagree more. Terrell Owens has emerged as Carson Palmer's favorite target and rightfully so. But I have yet to see the Bengals use their rookie TE in the way I imagined they would when they drafted him. With two scores in his first five games, it appeared he was about to settle in as a Visanthe Shiancoe-type of TE this year in which he would be one of the featured options in the red zone. However, he has become an afterthought there and just about everywhere else as he hasn't recorded more than 35 yards in a single game since Week 4. Gresham, Owens and Chad Ochocinco are all players that can stretch the field, but none of those players are being used in that fashion, which is another argument of mine as to why their offensive coordinator needs to be shown the door.

In case you hadn't noticed, Shiancoe went back to his productive ways the same week Randy Moss left town. Sometimes in fantasy, it isn't always easy to find answers to all the cause-effect questions we encounter. This one, however, wasn't too hard. Whether Brett Favre felt obligated to target Moss or not is debatable, but Shiancoe has scored twice and posted no fewer than 66 yards in the three games pre- and post-Moss in which he started and finished. In the four games Moss played in Minnesota, Shiancoe was held out of the zone and finished with 38 yards or less each time.


Suggestions, comments, musings about the article or fantasy football in general? e-mail me.