Getting Gored




12/2/10



Aggressiveness is a characteristic that tends to reward fantasy owners more times than not. In the NFL, an offensive line will sometimes hold up long enough to give the quarterback enough time to beat man coverage down the field and make the defense look foolish against a fierce pass rush. More often than not, though, when a defense brings the heat and forces the action, crisis management becomes the name of the game for the opposing team.

In that same vein, I hope to apply that same kind of pressure to the owners in all of my leagues by beating my opponents to the punch in regards to personnel moves. Sometimes, reaching a conclusion about a player too quickly is much like trying to blitz Peyton Manning – dangerous and painful. However, coming to a correct conclusion two weeks or two minutes quicker than your opponents is considered foresight. Fantasy owners can be a uneasy lot, knowing that one two-or-three-game losing streak can wreak irreparable damage to his/her team's chances to make a visit to the fantasy postseason. But just as it is in the NFL and in life, it's hard to land the big prize by playing scared. Thus, I will strive each week to help each of you become a smart blitzer, so to speak.
---
In what can only be described as cruel irony, I suppose it is appropriate that one week after I detailed the injury landscape in the NFL, fantasy owners would get hit with another round of news that could potentially ruin their season. Many owners have long anticipated getting Vincent Jackson back, but two plays into his return, it is now unlikely he'll contribute much in fantasy this season. Then, the big one struck Monday night when Frank Gore was lost for the season.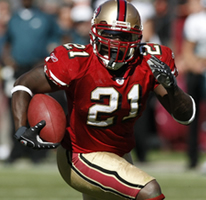 Gore's injury has sent his owners scrambling for alternatives.
Before the Gore injury, I was focused on this week's column being about one of the most aggravating aspects of fantasy football – the early departure. (In fact, I was going to call the column "Getting V-Jacked"…) In the one money league, my team has been ravaged lately by a number of players who were hurt early in the game and did not return (Adrian Peterson, Hines Ward and Austin Collie have been the most recent offenders), costing that team potential important late-season wins in the process. As a result, this is the one money league that is unlikely to make it to the playoffs
As frustrating as that has been, I take solace in the fact this troubling trend has not struck my big-money teams yet this season. In fact, some of my success in recent years has been due in part to my teams staying relatively healthy (at least during the course of the actual games) – getting four quarters out of each of your players each week is something we can easily take for granted in fantasy. This bit of reality only hit closer to home this week for fantasy owners when Jackson's long-awaited return ended almost as quickly as it started. A holdout for much of the season, Jackson was on many a fantasy roster in most competitive leagues all season long with the idea that he could serve as a late-season boost at a position that is always in demand about this time of year. If there is a positive for his owners, it is the fact that Jackson had been viewed as potential production all season long, so he should be replaced easily by someone already on owners' rosters.
Much like the Peterson-Ward-Collie trio I mentioned above, Gore was in the midst of a rock-solid matchup this past Monday before leaving the game early. Given his production up to that point in the contest (and Arizona's apparent lack of interest in stopping him), he was well on his way to a huge fantasy day. However, Jackson's calf injury became a mere footnote late Monday when it was announced that Gore will miss the remainder of the season with a fractured right hip. It's difficult to understand how the injury happened (I cannot recall ever seeing someone with a severe hip injury walk/jog as effortlessly as he was post-injury, but I digress…), but suffice it to say that owners who thought he may have been pulled for cautionary reasons have much bigger concerns now. As big of a deal as the injury alone is in fantasy football, Gore's fantasy owners likely had the wrong back "handcuffed" to him. It's not that Brian Westbrook (10 touches entering Week 12) or Anthony Dixon (11 touches) were necessarily running away with the backup job, but the rookie appeared to be the better bet for the most work on a power-running team like the San Francisco 49ers. At worst, Dixon appeared primed for running downs and Westbrook for passing downs. An injury and 23 carries later, Gore owners who smartly grabbed Dixon early on in the season may have been dealt a double dose of bad news – for one week anyway.
It goes without saying that both healthy backs need to be owned now that Gore is on IR. But current Dixon owners shouldn't panic too much just yet; Westbrook was unable to stay healthy for more than three full weeks at any point in 2009 and has a chronic knee issue that figures to hamper his ability to play a significant number of snaps consistently week after week. Obviously, neither Westbrook nor Dixon can be expected to match the production of the fifth-highest scoring RB in PPR leagues (eighth in non-PPR), but both backs could serve as serviceable flex or low-end RB2 options for the remainder of the season. Most fantasy owners will flock to Westbrook this week after seeing the touch differential between him and Dixon on Monday night, but I wonder if the veteran will be given anything more than 15 touches/week through Week 16. Furthermore, only a home game vs. Seattle (seventh-most points allowed to opposing RBs) appears to be a decent matchup in fantasy for the Niners' RBs. In the other three weeks, Green Bay (29th), St. Louis (19th) and San Diego (26th) will be hosting San Francisco and each sport pretty solid run defenses, especially at their respective home stadiums.
So, in short, what I'm saying here is that while both Westbrook and Dixon are worth waiver-wire pickups this week, they may not come in and help your fantasy team coast to a league championship in the same way Jerome Harrison did last season. (As a Gore owner in one of my smaller money leagues, I am left with Darren McFadden and Fred Jackson as my top two RBs, so I can feel your pain fellow Gore owners…)
With that business out of the way, let's get our final pre-fantasy playoff version of the Blitz started. Once again, five touches/targets is the cutoff at each position.

RB Workloads
Rk
Player
1
2
3
4
5
6
7
8
9
10
11
12
Total
Avg
PPR Pts
Pts/Touch
1
Arian Foster
34
22
21
19
13
24
bye
24
31
16
28
39
271
24.6
281.8
1.04
2
Steven Jackson
26
23
11
25
26
30
24
24
bye
28
14
30
261
23.7
159.0
0.61
3
Maurice Jones-Drew
26
13
24
28
21
19
21
29
bye
26
26
25
258
23.5
186.2
0.72
4
Rashard Mendenhall
24
24
19
27
bye
30
16
17
25
13
23
36
254
23.1
172.0
0.68
5
Ray Rice
23
20
19
9
31
36
17
bye
29
15
25
27
251
22.8
185.7
0.74
6
Chris Johnson
31
21
32
22
20
28
26
20
bye
18
23
9
250
22.7
184.8
0.74
7
Frank Gore
23
27
24
28
22
25
23
30
bye
25
17
5
249
22.6
202.5
0.81
8
Adrian Peterson
22
33
28
bye
19
25
30
30
19
21
15
7
249
22.6
220.7
0.89
9
Peyton Hillis
13
11
29
29
14
18
17
bye
32
23
27
32
245
22.3
247.9
1.01
10
Cedric Benson
16
23
29
15
25
bye
21
23
20
19
28
19
238
21.6
133.4
0.56
11
Michael Turner
20
9
32
19
19
16
25
bye
24
17
29
24
234
21.3
157.7
0.67
12
Darren McFadden
24
32
27
18
DNP
DNP
18
23
21
bye
12
15
190
21.1
176.4
0.93
13
Pierre Thomas
22
26
15
DNP
DNP
DNP
DNP
DNP
DNP
bye
DNP
DNP
63
21.0
51.0
0.81
14
Ahmad Bradshaw
22
17
20
25
19
21
26
bye
23
26
14
13
226
20.5
166.7
0.74
15
LeSean McCoy
12
20
13
28
23
25
22
bye
19
16
19
18
215
19.5
221.7
1.03
16
LaDainian Tomlinson
13
15
18
22
25
18
bye
21
21
24
19
15
211
19.2
180.7
0.86
17
Knowshon Moreno
16
28
DNP
DNP
DNP
12
17
15
bye
25
20
18
151
18.9
143.3
0.95
18
Joseph Addai
16
22
15
19
22
17
bye
DNP
DNP
DNP
DNP
DNP
111
18.5
86.4
0.78
19
Matt Forte
24
15
13
14
24
11
15
bye
17
22
27
16
198
18.0
175.7
0.89
20
Jamaal Charles
12
12
15
bye
19
20
15
26
15
19
16
24
193
17.5
190.0
0.98
21
Thomas Jones
11
23
20
bye
8
20
20
20
19
5
15
23
184
16.7
114.6
0.62
22
Ryan Torain
DNP
DNP
7
18
20
21
21
12
bye
DNP
DNP
DNP
99
16.5
74.6
0.75
23
Jahvid Best
19
26
9
17
22
18
bye
17
21
21
7
0
177
16.1
153.5
0.87
24
Fred Jackson
6
9
4
3
13
bye
24
23
13
31
24
17
167
15.2
144.3
0.86
25
Brandon Jackson
20
12
11
10
15
15
16
17
17
bye
18
13
164
14.9
131.5
0.80
26
Ronnie Brown
15
14
13
15
bye
20
11
17
14
12
6
24
161
14.6
104.8
0.65
27
Mike Tolbert
2
17
20
18
14
3
3
15
9
bye
27
28
156
14.2
144.5
0.93
28
BenJarvus Green-Ellis
5
10
17
16
bye
10
11
18
9
22
22
12
152
13.8
129.4
0.85
29
Shonn Greene
6
16
10
22
10
9
bye
7
12
23
15
19
149
13.5
75.4
0.51
30
Felix Jones
10
9
7
bye
19
24
12
11
5
17
14
20
148
13.5
120.4
0.81
31
Cadillac Williams
24
28
11
bye
11
17
12
7
9
7
8
9
143
13.0
113.4
0.79
32
LeGarrette Blount
DNP
DNP
6
bye
4
0
11
24
13
19
26
13
116
12.9
74.5
0.64
33
Donald Brown
1
17
7
DNP
DNP
DNP
bye
11
18
12
20
16
102
12.8
37.2
0.36
34
Ryan Mathews
20
7
DNP
10
10
15
10
18
11
bye
DNP
DNP
101
12.6
68.1
0.67
35
Marshawn Lynch
3
17
14
4
bye
20
24
9
11
15
11
9
137
12.5
69.8
0.51
36
Chris Ivory
DNP
DNP
7
12
10
16
15
7
12
bye
23
7
109
12.1
68.6
0.63
37
Michael Bush
DNP
DNP
3
9
29
22
16
10
5
bye
6
1
101
11.2
85.3
0.84
38
Ricky Williams
18
10
7
12
bye
14
11
10
2
13
4
21
122
11.1
82.3
0.67
39
Justin Forsett
10
9
20
21
bye
11
11
8
2
12
13
4
121
11.0
98.5
0.81
40
Chris Wells
DNP
DNP
14
6
21
bye
14
17
1
DNP
8
6
87
10.9
51.1
0.59
41
Marion Barber
10
11
18
bye
6
13
5
9
6
9
14
12
113
10.3
65.2
0.58
42
Tim Hightower
17
13
12
7
4
bye
7
1
13
15
15
6
110
10.0
80.9
0.74
43
Jason Snelling
3
29
15
9
8
5
9
bye
10
9
4
8
109
9.9
112.9
1.04
44
Mike Goodson
3
7
4
1
0
bye
1
5
12
26
27
22
108
9.8
96.0
0.89
45
Jonathan Stewart
5
8
10
8
9
bye
14
15
5
DNP
DNP
12
86
9.6
52.1
0.61
46
Fred Taylor
16
5
6
DNP
bye
DNP
DNP
DNP
DNP
DNP
DNP
DNP
27
9.0
12.4
0.46
47
Brandon Jacobs
14
4
5
7
10
9
12
bye
11
7
6
14
99
9.0
88.3
0.89
48
Danny Woodhead
0
DNP
3
9
bye
16
11
11
11
6
11
10
88
8.8
105.4
1.20
49
Chester Taylor
12
6
3
3
20
5
5
bye
11
14
11
6
96
8.7
51.3
0.53
50
Ladell Betts
DNP
DNP
0
17
15
7
8
4
14
bye
3
DNP
68
8.5
62.1
0.91
51
Willis McGahee
7
3
7
16
10
DNP
12
bye
9
4
10
6
84
8.4
70.8
0.84
52
Keiland Williams
0
4
4
0
2
6
1
9
bye
20
29
7
82
7.5
96.3
1.17
53
Mike Hart
DNP
2
0
2
12
11
bye
15
DNP
DNP
DNP
DNP
42
7.0
30.1
0.72
54
Julius Jones
8
4
0
DNP
DNP
10
2
10
8
bye
6
13
61
6.8
37.1
0.61
55
Darren Sproles
7
9
2
6
5
6
11
8
2
bye
10
8
74
6.7
97.6
1.32
56
Laurence Maroney
DNP
DNP
14
13
6
7
0
0
bye
DNP
DNP
DNP
40
6.7
16.4
0.41
57
C.J. Spiller
11
5
7
3
6
bye
7
10
8
2
DNP
DNP
59
6.6
46.5
0.79
58
Jerome Harrison
10
19
DNP
0
6
DNP
DNP
bye
2
12
0
2
51
6.4
36.9
0.72
59
John Kuhn
2
9
8
9
5
5
7
8
15
bye
0
1
69
6.3
40.1
0.58
60
Toby Gerhart
DNP
5
3
bye
2
1
6
7
3
6
4
24
61
6.1
47.6
0.78
61
Reggie Bush
7
9
DNP
DNP
DNP
DNP
DNP
DNP
DNP
bye
DNP
2
18
6.0
23.4
1.30
62
Maurice Morris
4
3
11
DNP
DNP
DNP
bye
0
0
0
14
14
46
5.8
49.0
1.07
63
Correll Buckhalter
6
11
10
11
6
6
0
4
bye
2
1
DNP
57
5.7
50.8
0.89
64
Aaron Brown
0
5
0
DNP
DNP
DNP
bye
DNP
DNP
DNP
3
17
25
5.0
18.3
0.73



Notable RBs that just missed the list:

Rashad Jennings, Javon Ringer



Quick Hits:

It's worth noting that after a long stretch in which Arian Foster did not see more than 24 touches in a game, he has been handed three of his four biggest workloads of the season in the five weeks following the Texans' bye. Perhaps HC Gary Kubiak was intent on beating Tennessee in Week 12 and nothing else, but I find it hard to believe that he decided to give his main RB his heaviest workload of any running back this season in what he knew would be a short week this week. Granted, Foster is such a smooth and shifty runner that his heavy workloads probably don't affect him in quite the same way it would a more physical back like Michael Turner, but Foster's owners have a right to be a bit concerned about their back getting through this week. If the Texans are to defeat the Eagles on Thursday, they will need a heavy dose of the running game again that will limit the number of snaps their pass defense has to face Michael Vick, DeSean Jackson and Jeremy Maclin. We've seen in recent weeks ground games – much less formidable than Houston's – enjoy a great deal of success against Philly (Keiland Williams' three-TD performance on Monday Night Football in Week 10; Matt Forte's 117-yard day on 14 carries last week), so a Thursday game presents an interesting dilemma for Kubiak: allow Foster to recover by giving him fewer touches in a game that could put pressure on an entire division that is separated by one game (the AFC South) or risk running Foster into the ground and ruining the one piece of your offense that has been a constant all season long.

Speaking of huge workloads, Rashard Mendenhall received the second-most touches in Week 12. Unlike Foster – who hauled in nine receptions – all of Mendenhall's contributions were via the running game. As much as I applaud Pittsburgh for focusing on the weakness of Buffalo's defense – stopping the run – it does seem a bit odd that he would receive as many carries in one week as he had touches in the two previous weeks combined. Further consider the given reason to cut Mendenhall's touches was to make sure he still had something left late in the season. It is worth noting the last time the Steelers faced Baltimore, Mendenhall received 27 touches (his third-highest single-game total of the season). Much like Foster and Houston, I suspect the coaching staff will find a way to get the backups (Mewelde Moore and Isaac Redman) a few more touches this week. Again, just like Foster, last week's heavy workload is just something to keep in mind, not a reason to bench either player.

As it typically happens in fantasy football (and especially for those of us that write about it), just as soon as you believe that one player has settled in as a fairly dependable every-week starter, he reminds you exactly why you doubted him in the first place. Whether he is wearing down (he has averaged 3.2 YPC or less in the last three games) or whether Green Bay has chosen to share the wealth a bit more, Brandon Jackson has come up pretty small – particularly in non-PPR leagues – in three of the last four weeks. Leading up to Week 12, HC Mike McCarthy sounded as if he was ready for former Falcons practice squader Dimitri Nance to assume more of a role in the offense. That "move" lasted all of one play because Nance suffered a concussion on his only rushing attempt in Week 12. Now, the Packers will either let John Kuhn reassume his complementary role with Jackson or they will finally see what they have in rookie James Starks. Despite being the most talented back on the roster at the moment, Starks has always been a long shot to produce this season due to all the intangibles a running back must have that don't show up in a box score but make him a trusted option (the ability to get/stay healthy, blitz pickup, etc.) for his team. For all intents and purposes, Starks is going through his own preseason as we speak and with no exhibition games, the Packers can't exactly take their lumps with him until they can trust him in all phases of the game. Still, if Jackson cannot start posting serviceable YPC numbers like he was during the first half of the season, McCarthy may have no choice but to turn to Starks. In deeper leagues, the rookie is a worthy roster stash once again.

Dallas Cowboys owner Jerry Jones indirectly called out Tashard Choice earlier this week, suggesting the reasons for his lack of use this season have to do with his lack of contributions on special teams and poor pass protection. First of all, neither of these comments makes a great deal of sense. Since most RB3s need to participate on special teams to have any use on game day, why does the team continue to dress him each and every week if he is a liability there? And given that Felix Jones isn't exactly the best or most willing blitz pickup artist, it seems laughable the owner considers Choice the greater of two evils in that regard. Fantasy owners may recall that Jerry called Choice "one of the top backs in the league" as late as September, so given the fact that Marion Barber has been unproductive all season long, one has to wonder what unforgivable crime Choice committed (are the Cowboys still punishing him for the Week 1 fumble when they should have never put him in that spot to begin with?). With Barber possibly out for Week 13 with a calf injury, he may get his window. The better long-term answer, however, is for Jerry to trade him in the offseason. With $555 K due to him in 2011, Choice would come cheap in terms of the salary cap. And in terms of draft pick compensation, Dallas cannot ask for more than a fourth-rounder given how little it has used him. For a RB-needy team, getting a possible feature-back at that price may be too much to resist.

Remember how I said last week that Keiland Williams hadn't given Redskins HC Mike Shanahan a reason to sit him. Well, apparently Shanahan doesn't always need a reason, just an inclination to change his depth chart at a moment's notice. It's not exactly news, but it never hurts to remind owners that just about the time we feel like we should put even the tiniest amount of faith in a Shanahan RB, it is time to abort. Fortunately for Williams' owners, James Davis didn't exactly wow the masses, so the undrafted rookie free agent may have some PPR value for a short while longer. Ryan Torain should be back any week, but given his coach and injury history, that may not be a ride I want to trust anytime soon either.

I didn't directly benefit from it in fantasy (in terms of getting his stats in my box score), but Maurice Morris' Thanksgiving Day performance vs. the Patriots probably struck the right chord with the few owners desperate enough that needed to play him. However, I feel the most significant part of his performance last week was that it highlighted just how much pain Jahvid Best must be dealing with at the moment. As we have discussed a time or two before in this very column, a turf toe injury is no laughing matter and will make even the most talented runners look ordinary – Best has them on both feet. Whether or not HC Jim Schwartz feels his rookie RB is best served by remaining active all season long is certainly up to him, but fantasy owners need to accept that we likely aren't going to see the best of Best until 2011.





Notable WRs who just missed the cut:

Roy Williams, Earl Bennett, Jordy Nelson, Brandon Stokley



Quick Hits:

In what has to be considered very good news for Hakeem Nicks' owners (and bad news for the owner in one of my money leagues who inexplicably dropped him last week from his 18-man roster), the stud Giants' receiver is eyeing a Week 14 return. On Wednesday, he told reporters that the compartment syndrome that was to keep him out at least three weeks is no longer a problem. He plans on running next week and believes it is "realistic" that he will face the vulnerable Vikings' pass defense next week. His fantasy playoff schedule is no cakewalk, but Nicks has emerged as a legitimate WR1 in fantasy this season, so he needs to be in lineups as soon as he is able to go. Obviously, most owners do not like the idea of trusting a WR in his first game back from injury (myself included), but unless Nicks' current owners have assembled great depth at the position, Nicks' talent and likely production are too great to sit whenever he is on the field.

Where have you gone, Anquan Boldin? In the Ravens' four games since their Week 8 bye, Boldin has seen no more than seven targets in a contest and is averaging a meager 8.1 fantasy points/game in PPR leagues. Considering he had only one game in the first half of the season below either one of these marks, it is troubling he hasn't been any more productive. Boldin has stayed remarkably healthy this season and Joe Flacco's attempts haven't changed all that much (33.7 in the first half, 32.25 in the second half so far), so what gives? If you answered "his opponents are making other players beat them", you would be mostly correct. Ever since the bye week, each opponent (Dolphins, Falcons, Panthers and Bucs) has bracketed Boldin for the entire game – or at least for long stretches – which has allowed Derrick Mason, Todd Heap and even T.J. Houshmandzadeh to post respectable numbers. Of the Ravens' remaining opponents, expect Pittsburgh and New Orleans to employ the same strategy in Weeks 13 and 15. Houston (Week 14) hasn't shown much ability to stop any respectable QB or passing game, so Cleveland (Week 16) is the lone wild-card. Considering how badly the Browns were burned by Boldin in Week 3, I'd expect Browns DC Rob Ryan to bracket Boldin as well. What this all means is that Mason and Heap should remain solid plays from here on out. And don't expect to hear a peep out of Boldin about a lack of involvement anytime soon. As such, his owners should consider Boldin a high-upside WR3 in 12-team leagues until Baltimore decides to feature him more in bunch formations or putting him in motion.

The owners of Dez Bryant could not have been happy with the bagel he provided in fantasy on Thanksgiving Day, but those people need to understand that New Orleans was the first team to give the rookie the kind of treatment he deserved – placing a safety over the top on his side of the formation. As time goes on, I suspect Bryant and Miles Austin will share slot duties in order to make sure both players get a fair shot at facing single coverage during the course of the game. Still, don't expect the rookie to get shut out again anytime soon. The Colts (this week) and Eagles (Week 14) should do a fair job of keeping Bryant under control, but all bets are off in Weeks 15-16 when he faces the Redskins and Cardinals, respectively.

Jason Avant is a curious case for owners in deeper PPR formats. Over the last three contests, Philadelphia has faced opponents currently ranked fifth (Washington), 23rd (Chicago) and 27th (New York Giants) in the league in terms of most points allowed to fantasy WRs in PPR leagues. Over that time, he has been the 25th most productive receiver. It is easy enough to explain why he was productive in two of those games (the Redskins' awful pass defense and the Bears' Cover 2 which went to great lengths to take away DeSean Jackson and Jeremy Maclin), but why can't he be an option over the next two weeks against Houston and Dallas, two poor pass defenses who will allocate all their resources to stop Jackson and Maclin? Avant is well-respected around the league for his ability to catch everything thrown his way (72% catch rate over the last 1 ½ years with three different quarterbacks), so desperate owners hoping to fill a void left by a receiver like Nicks should consider the Eagles' slot WR this week and maybe beyond.

Speaking of explosive playmakers, I cannot fully express how impressed I am by the improvement rookie Jacoby Ford has made in just one year. His track speed was always going to give him a shot in the NFL, but he has made more difficult catches in the last month than I have seen most receivers make all season. He's already shown an ability to be a "matchup" WR with both Jason Campbell and Bruce Gradkowski under center. Now, with the latter likely out for the season, the former and his stronger arm should complement Ford's long speed, at least in theory. I can't advocate plugging Ford in this week against the Chargers, but the Jags and Broncos in Weeks 14-15 may be smart spot starts if you are struggling to fill a WR or flex position. The rookie has seen no fewer than eight targets in any of his last three games and has posted two 100-yard performances over that time. It's been hard to trust just about any Raider in fantasy for what seems like years, but Ford and a healthy Zach Miller may be the players that change that perception starting next season.





Notable TEs who just missed the cut:

Heath Miller, Tony Moeaki, Aaron Hernandez, Greg Olsen, Kevin Boss



Quick Hits:

At the midpoint of this season, a couple of possibilities seemed inevitable. Antonio Gates was going to have one of the best seasons by a tight end in NFL history and Oakland's Zach Miller was going to do his best to give him a run for his money, at least in fantasy. Just a few weeks later, Gates is a risky bet to make through the season and Miller isn't even the most productive player with his name in the league anymore. In what had been billed as the "Year of the TE" this preseason, it has become Jacob Tamme, Jason Witten, Marcedes Lewis and a whole lot of question marks. The position itself is still as deep and talented as it ever has been, but injuries have devastated tight ends as a whole in 2010. It has gotten so bad that Dustin Keller, who hasn't scored in seven games, still sits at No. 7 in PPR leagues at his position despite the fact he has recorded one double-digit fantasy point total since Week 4.

Conversely, Tamme – who has only caught passes in five games – checks in at No. 15 on that same list and should move into the top 10 in a week or two. Rookie Rob Gronkowski, a mere afterthought in most fantasy leagues throughout the first half of the season, is already at No. 17 based primarily on the strength of one huge game and two other solid fantasy performances.

Getting to the actual business of targets, it is hard not to like what Brandon Pettigrew is doing lately. Thanks in small part to Tony Scheffler dealing with shoulder and rib injuries, the second-year TE has continued to remain near the top of the target board after a slight lull during Weeks 8-9. I still believe the Lions' coaching staff has every intention of using Scheffler in the same way they envisioned this summer (the same way Indianapolis has used Dallas Clark), but the key difference is the Colts do not have an all-purpose, first-round TE opposite Clark. One reason I did not give Pettigrew much of a chance this year was due to his season-ending ACL injury last season and when he suffered it. It's still going to be hard for me to put a significant amount of trust in Pettigrew if/when Scheffler returns (especially now with both Matthew Stafford and Shaun Hill possibly out for a while), but with 55 catches through 11 games, it is pretty clear he has earned the trust of all of the Lions' QBs.

Perhaps I am a glutton for punishment, but with Jake Delhomme back at QB – at least for the short term – I am slightly intrigued by whatever TE can go in Cleveland, be it Ben Watson or Evan Moore. Watson has been dealing with an ankle injury for a couple of weeks, but was a target beast in the first half of the season when Delhomme and Seneca Wallace were running the show. When rookie Colt McCoy took over, Watson's usage became much more sporadic. In deeper leagues in which he was dropped, he's worth a stash, although I feel someone like Owen Daniels is a better "stash candidate" than Watson at this point.


Suggestions, comments, musings about the article or fantasy football in general? e-mail me.