All Out Blitz: Volume 36




10/13/11



Aggressiveness is a characteristic that tends to reward fantasy owners more times than not. In the NFL, an offensive line will sometimes hold up long enough to give the quarterback enough time to beat man coverage down the field and make the defense look foolish against a fierce pass rush. More often than not, though, when a defense brings the heat and forces the action, crisis management becomes the name of the game for the opposing team.

In that same vein, I hope to apply that same kind of pressure to the owners in all of my leagues by beating my opponents to the punch in regards to personnel moves. Sometimes, reaching a conclusion about a player too quickly results in making a bad situation worse. However, coming to a correct conclusion two weeks or two minutes quicker than your opponents is considered foresight and can often lead to fantasy championships.

Fantasy owners can be a uneasy lot, knowing that one two-or-three-game losing streak can wreak irreparable damage to his/her team's chances to make a visit to the fantasy postseason. But just as it is in the NFL and in life, it's hard to land the big prize by playing scared. Thus, I will strive each week to help each of you become a smart blitzer, so to speak.
---
It's not often I devote any time to the exploits of front office personnel in this space, but it's also not very often the NFL loses an icon. With the passing of Al Davis this past weekend, the NFL lost a man that was one of the biggest driving forces behind the game we love today – real and fantasy. From his willingness to take chances on young, bright unproven assistants (such as John Madden, Mike Shanahan and Jon Gruden) or being the first owner to hire an African-American head coach (Art Shell) or one of the first Latino head coaches (Tom Flores), Davis saw potential in places most executives didn't look in his prime. Davis selected, coached or developed each of the 12 Raiders players/coaches (not including himself, obviously) currently in the NFL Hall of Fame – some of which came from colleges not exactly considered talent hotbeds for NFL talent (Howie Long – Villanova, Gene Upshaw – Texas A&I, to name a couple).
While Davis was mocked in his later years for his questionable drafts selections and numerous lawsuits against the league, it was his strong determination to promote a vertical passing game that made the AFL an exciting brand of football to watch nearly 50 years ago. Thanks in large part to Davis and his vision for the AFL, his pursuit of the NFL's top players at a key point of the league's growth was also one of the driving forces that ultimately led to the AFL-NFL merger.
I have no particular attachment to the Raiders as a fan and was certainly one of Davis' biggest critics when it came to his decision-making ability in the draft, but it's hard to question just how much impact he had, not only on his team but also on the NFL as a whole. His motto – "Just Win, Baby" – and the phrase "Commitment to Excellence" the team is associated with are good adages to keep in mind when trying to successfully complete the marathon the fantasy football season is year in and year out.
It is the aforementioned adages that provide the basis for my writing this week. I don't ever try to hide the fact I invest a great deal of time and research into this hobby. I also take a lot of pride in my good fantasy weeks and feel a lot of pain in my bad ones. Long story short, this past week was one of the worst in all of the years I have been playing this game. While the start of the bye weeks certainly didn't help matters this week, part of my success over the years has been my ability to build deep teams that can win despite the absence of a player or two for a week or two.
For one week anyway, I feel like Bill Belichick did during one clip of "A Football Life" on NFL Network. In the closing minutes of the Patriots' blowout loss to the Saints on a Monday night in 2009, Belichick turns to Tom Brady and says, "I just can't get this team to play like we need to play." I understand that I cannot motivate or coach my team to achieve greatness and am limited to setting my lineups or making personnel moves, but it troubles me when I own a team that hasn't put together one noteworthy scoring performance at this point of the season. It's even worse when I felt that team was my best one after the draft because it makes you question what you actually know about this game.
Just like a good cornerback who got burned on the last play, it's important to have a short memory and not let one managerial mistake turn into multiple mistakes. But just as importantly, try to find out why it happened. Each season gives us new lessons that need to be learned because the game is constantly changing. Just like the real game, fantasy football at the most competitive level boils down to a commitment to excellence; this in turn often leads to winning (just win, baby). Almost every fantasy team ever created encounters adversity at some point of the season, it's how the owner deals with it that ultimately determines how the season ends.
Of course, as I have said in just about every year I have been writing about fantasy football, slow starts – for at least one or two of my teams each year – are nothing new, so I suppose the fact that only one of my five teams is not meeting my expectations is actually a good thing. The reason I share this with you is because it is more important at this point of the season to look at how your team is doing from a points-scored perspective and how to improve it than to look at the standings each week. I've seen teams start out 7-0 and not make the playoffs just as often as I've seen 0-5 teams turn things around to win the championship. This is a crazy game we play, but I have found that reason and logic win out more often than not, with each week introducing new players onto the fantasy scene we likely would have never considered just one week earlier.
With my ode to Davis (and a little reassurance the sky is not falling) complete, let's get to the touch-target analysis. The cutoff at each position is five touches or targets/game. To help provide some perspective this week, the average fantasy points/touch for the 61 RBs that qualify for my list above is 0.83. At WR, the overall average for catch rate was 58% and at TE, it was 61%. Feel free to use that number as a barometer to help you evaluate who is making the grade and who is not.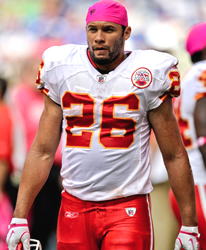 Is Battle this year's Peyton Hillis?
Considering six teams were on a bye in Week 5, I find it rather amazing that 14 RBs touched the ball at least 18 times while eight others logged at least 15 touches. The most surprising player of that group was undoubtedly Jackie Battle, who HC Todd Haley suggested would see more work just hours after this column hit the site last Thursday. Had Haley broke the news to us 24 hours sooner, I would have recommended owners pick him up in just about any league in which owners are allowed a fairly deep bench. (I picked him in only one of my four money leagues simply because each add/drop costs a team a bit of free-agent money that needs to be managed over the course of the season. So as much as I would like to follow every hunch I have about a player, doing so would bankrupt me of my fictional money well before the end of the season.) It's much too early and entirely inaccurate to suggest Battle is this year's Peyton Hillis, but the size and speed are similar, so are the fumbling problems and lack of a great supporting cast. And let's not forget the opponent – the Colts –have served as a boon to opposing running games for years. With that said, it was pretty much a foregone conclusion that Battle was going to outperform Thomas Jones if he saw the same number of touches that Jones did. Haley hasn't reached Mike Shanahan-like proportions in terms of the way he uses his RBs, but he isn't exactly predictable either. Still, Battle has earned himself another opportunity with his Week 5 performance and needs to be considered a good bet for Jones' old 10-12 touch workload. Dexter McCluster will not be forgotten in KC, but his usage figures to decrease should Battle continue to make the most of his opportunities going forward.
One of my favorite things to do with workload/target analysis is to discover which players are seeing their touch numbers trend upward over three straight weeks - nine RBs met that criteria last week. Several players on this list (Adrian Peterson. Fred Jackson, Cedric Benson, BenJarvus Green-Ellis) are not surprises simply because their "lack" of usage in earlier weeks can be attributed to situation/fear of being overworked or any other number of reasonable variables given their status as starting RBs. Two others (Delone Carter and Isaac Redman) saw significantly more touches because of injuries to the players ahead of them on the depth chart. We've already discussed Battle – who was one of the nine – so we'll focus instead on the final two players – Darren Sproles and Bernard Scott. Sproles' Week 5 total of 16 touches was a season high and twice as many as he saw just two weeks earlier.
With the Saints' RBs averaging 34.6 touches per game, there is definitely room for two players to be regular fantasy starters, even if Sproles proves capable of handling more than 12 touches per game, which I think is entirely possible. I remain convinced, however, that HC Sean Payton will lean on Mark Ingram more going forward. It's not uncommon for coaches to take it easy on their rookie RBs early in the season in order to preserve them for the back half of the schedule, which is what I anticipate happening in the near future. The use of FB Jed Collins at the goal line over the last two weeks has been upsetting for Ingram's owners, but not entirely unexpected as Payton teased fantasy owners with Mike Karney a few years ago in a similar fashion. I'll pose the same question now that I alluded to last week: would the Saints have given up next year's first-round pick for a RB they didn't plan on featuring at some point this season? His fantasy numbers have been slightly disappointing so far, but one has to believe if Payton were disappointed, Ingram would not have led the team in touches in each of the first four weeks. Hang tight Ingram owners, his fantasy numbers should pick up in short order.
As for Scott, his 2-6-8 touch progression over the last three weeks is hardly earth-shattering, but is it a sign that Cincinnati trusts him a bit more now or is the team preparing for life without Cedric Benson if he ever has to serve his suspension? Until Benson is actually suspended, I wouldn't expect Scott's workload to increase any more. The latest report suggests that a decision will not be made regarding Benson's suspension for another 3-4 weeks, so Scott goes from intriguing bye-week fill-in to end-of-the-fantasy-roster player. I've given up on understanding why the Bengals are so enamored with Benson's lackluster per-touch average, because no matter what kind of "physical presence" a running back offers, it's hard to justify giving him the majority of the carries when he offers next-to-no big-play ability and isn't all that valuable in passing game. Either way, Benson is an unexciting RB2 in fantasy, if only because he is such a high-volume runner.

Much as we did with the running backs, let's take a deeper look at the receivers who have seen their targets rise in each of the last three weeks. Of the group, Dwayne Bowe, Victor Cruz and Jordy Nelson probably don't come as much of a surprise. For Bowe, the Chiefs stopped the bleeding caused by the injuries they suffered over the first two weeks and have settled in a bit on the offensive end, albeit against two winless teams at the time they played them. Cruz has been equal parts amazing and aggravating over the last three games, although the latter doesn't matter much to his owners right now so long as he keeps putting up the numbers I had ticketed for Mario Manningham in the preseason. Perhaps I'm always going to be one of the last people to jump on a player's bandwagon, but I have a hard time believing in a player who couldn't see the field due to a lack of reliability (hands and routes) has all of the sudden emerged as Eli Manning's go-to guy in crunch time. Perhaps that statement is a bit of a stretch, but Manning often didn't even look at Hakeem Nicks or Manningham in the final quarter of the Giants' loss to Seattle. As for Nelson, he is usually priority No. 3 in an efficient offensive machine. Aaron Rodgers is doing a brilliant job at identifying single coverage on his receivers and distributing the ball based almost solely on that because of the trust that any of his receivers are simply better than the defensive backs assigned to them. Deion Branch's inclusion on this list also isn't surprising simply because he had been so uninvolved in Weeks 3 and 4.
Let's quickly discuss the other six receivers that made this list (Darrius Heyward-Bey, Jason Avant, Ben Obomanu, Doug Baldwin, Damian Williams and Sam Hurd). Considering I have never owned DHB, it's hard for me to believe I might be carrying a grudge, but I tend to believe his production is due more to the matchup (New England in Week 4, Houston CB Jason Allen for most of Week 5). However, he has been more than solid in each of the last two weeks and is worth a look in medium to deep leagues. It'll be interesting if he (or Denarius Moore or Jacoby Ford) draws Browns shadow CB Joe Haden in coverage this week. Avant will be somewhat usable in fantasy as long as Philadelphia continues to trail in games, which is getting to be a weekly thing. With that said, he's no higher than the fourth option in the passing game, so his consistency will fluctuate. Despite some impressive target numbers from a third receiver, he's a desperate bye-week filler at best.
We discussed Obomanu late last season and he's produced a bit again this year, but it's going to be a while before I can recommend him, especially when Sidney Rice commands the attention that he does and Baldwin playing as well as he has. Baldwin – like any other Seattle WR – will peak and valley a lot in this offense, but he's posted 83+ yards in three of five games this season and scored twice, even if his score last week was a bit fluky. QB Charlie Whitehurst told the Tacoma News Tribune that the undrafted rookie's fast start is hardly a surprise to them because he was one of the teammates that had "a smirk on their face" during the first few days of training camp after watching him play. I have a feeling he'll be useful more often than not this season. Williams' steady increase in snaps is no surprise since he is just now getting settled into his new role as a starter, so we'll close with Hurd. The ex-Cowboy always seemed to be a player Dallas had plans for, but he rarely did anything of note in fantasy. Until Chicago gets its offensive line fixed (which may not happen for a while), no Bears WR should be counted on in fantasy.
After posting a week-high 16 targets in Week 5, one has to wonder if Early Doucet is moving ahead of Andre Roberts in the Cardinals' timeshare opposite Larry Fitzgerald. Obviously, Arizona had to abandon any semblance of offensive balance last week after falling behind 28-0 to Minnesota in the first quarter, so his Week 5 target number will almost certainly be a season high. But it does bear mentioning that his targets have not dropped yet this season (3-6-6-6-16), so keep an eye on any news out of Arizona during its bye week about Doucet's role. He's a poor bet to stay healthy, but he was a player the team identified last year as someone it felt could fill some of the physical presence Anquan Boldin gave the team during his time in the desert.
Let's close out the receiver portion by discussing one of my favorite receivers entering the season – Manningham. During the Monday Night Football telecast last week (Bears vs. Lions), the MNF crew talked about Calvin Johnson's "catch radius" being over 4,000 cubic feet – the size of a two-car garage. The reason I mention that nugget here is because that is roughly the catch radius Manningham would need to catch some of the passes Eli Manning has thrown to him this season. Manningham's 46% catch rate is tied with Antonio Brown for the worst in the league for a receiver that is averaging at least seven targets. Since Manningham has been credited with one drop in 28 targets, that argument can be safely tossed aside. Because Hakeem Nicks and Victor Cruz each find themselves in the mid-60s in terms of catch rate, there is a deeper issue at play here and/or something we aren't been told by the Giants. Certainly, I don't want to discount the possibility that Manningham is still not a good route runner in his fourth NFL season, but I can distinctly remember three incomplete passes this season that could have easily been touchdowns that were simply poor throws. On the bright side, Manningham saw a season-high in catches, yards and targets in Week 5, so there is a bit of hope going forward.

For a player that was supposed to split time all season long, Ed Dickson sure seems to be taking the majority of the work at TE in Baltimore. Not only did Dickson record 12 targets in Week 4, but it marked the third straight week his targets have increased. If he was dropped in advance of the Ravens' bye last week (as he inexplicably was in my biggest money league), he is definitely a worthwhile option. Mind you, owners would sure like to see a bit more than a 50% catch rate for a player that is among the league leaders in targets at his position, but he's only been credited with two drops, so it's not as if he's hurting himself all that much. I think after four games, he's established himself as a player that should be good for 4-5 catches and around 50 yards most weeks, so if that plays well in your league, scoop him up. He doesn't have quite the upside of a Jared Cook, but 10 fantasy points in PPR leagues out of your TE position rarely ever hurts the cause.
Speaking of "boring consistency", Ben Watson is another player capable of being an every-week fantasy starter in 12-team leagues. Despite the fact that Cleveland acknowledged that it needs to get Evan Moore more involved, the Browns' staff made sure to declare Watson a "three-down tight end". With Cleveland doing whatever it can to pick up its somewhat lackluster offense, look for Moore to see a lot of action in the slot going forward (with Watson remaining inside) in what could be a very cheap imitation of the Patriots' TE situation. What the Browns have in quantity at WR, they don't have much for quality, which makes it possible they could have two fantasy-relevant TEs some weeks. Believe it or not, Colt McCoy is playing pretty well from fantasy perspective, so as long as he throws the ball around as often as he has so far (39+ attempts in three of four games), he's going to be able to make himself and at least two WRs/TEs usable in fantasy. I'd bet my money on those players being Greg Little and Watson.
I'm starting to wonder if my theme this week should have been "keep the faith". In Dustin Keller, owners have to make a decision to make. Is this is the same old Keller or has he just hit a string of bad matchups? Allow me to explain the first part: after three weeks, Keller was the third-highest scoring TE in PPR. Just two weeks later, he's quickly fell to 11th with a pair of lackluster games. As much as I study the numbers – past and present – it is not lost on me that Keller has a history of starting fast and ending slow. I've also never been the biggest Mark Sanchez fan. But I'd certainly wait at least one more week before I did anything too drastic with him. First of all, Keller was on the field for all but nine of the Jets' 53 offensive snaps in Week 5, so playing time is not a concern. Second, he's faced the Ravens and Patriots in consecutive weeks. Baltimore is the stingiest defense vs. TEs this season and the Patriots are the fourth-best at limiting TE points. And there is little doubt in my mind that Keller wasn't exaggerating this week when he suggested he was double-teamed all day vs. the Patriots – New England employed a similar strategy against Antonio Gates in Week 2. This week, he gets to face the Dolphins, who are the league's most charitable defense vs. TEs. Last but not least, I was encouraged by the news that Keller worked with new consultant (and former Colts OC) Tom Moore on his route-running earlier in the year. Although that may not sound like a big deal, Moore's insight and intellect has been on display for decades; he is an invaluable resource to have on the Jets' staff.
---
Next Week's Waiver Wire Stars
Each week, I'll select one player at QB, RB, WR and TE that is available in at least three of my five leagues and make a case as to why they could be important to you the following week or at some point in the very near future. For those of you who have been loyal readers for some time, you already know I am not concerned with making safe picks; selective and smart aggressiveness is often the name of the game in fantasy.
I cannot emphasize enough these players are not necessarily recommended additions to your fantasy team – I will make sure to make that obvious if that is the case – but have a chance, however small, to make an impact as a potentially valuable reserve down the line.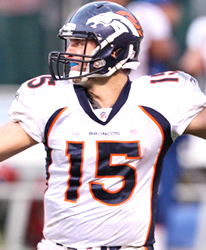 Tebow's rushing ability will make him fantasy viable even if his passer rating scrapes the barrel.
QB: Tim Tebow. It wouldn't be right if I didn't devote a couple of lines to one of the most divisive nice guys in the NFL. One also has to wonder how much of the decision to go with Tebow was based on the constant reminders Broncos fans gave the new coaching staff about how wonderful life seemed with Tebow as the starter last season. Or maybe it was the success that Cam Newton is enjoying in Carolina. Let's discuss the positives: the play-caller for Tebow late last season (OC Mike McCoy) remains on staff in the same capacity, so the shift in thinking from the play-caller's point of view should be minimal. Eric Decker has emerged as a viable threat and is no stranger to Tebow while Brandon Lloyd is still around. I'd even go so far as to say that HC John Fox's conservative offensive philosophy also suits this move as well. I'd be leery of chasing last year's numbers since the competition wasn't the greatest. He's not going to continue to average one rushing and one passing TD each week, but the fact of the matter is that good running QBs can be fantasy gold, especially when their coaches encourage them to do just that. As we've seen with Cam Newton this year and Michael Vick throughout his career, gaudy rushing stats at the QB position can stabilize or greatly enhance a QB's fantasy value based on the fact that he is in control of the ball even more than a regular QB. In other words, whereas a normal QB may hand the ball off 25-28 times in a game, the Tebows of the world may steal 7-12 of those handoffs for themselves. When you consider that Tebow is capable of 10+ fantasy points each week just as a rusher and add in the weeks where he can throw for two scores and pass for 175-200 yards, you have a player that is a clear fantasy QB1 despite the fact he isn't really all that efficient as a real quarterback.
Previous recommendations: Week 3: Matt Cassel; Week 4: Vince Young
RB: Jacquizz Rodgers. Jackie Battle will be the selection of record, but since I covered him above, I'll spend a bit of time talking about the dynamic all-purpose rookie from Oregon State. At some point, the Falcons are going to come to a realization their line isn't getting the job done, Michael Turner isn't getting the job done or the play-calling isn't getting the job done (or all the above). The first part of that can be explained by the loss of C Todd McClure and the struggle to replace the mean streak of RG Harvey Dahl, now in St. Louis. However, Turner is averaging just 2.6 YPC when the team is leading and 3.5 YPC when the game is tied, which means he's either declining or the play-calling is too predictable. Now the play-calling issues shouldn't be that big of a problem since Matt Ryan was supposed to lead a fast-paced up-tempo offense this season. But that plan has most likely been scrapped temporarily because of the injury woes of McClure, which means I'm suggesting there are several reasons for the Falcons' offensive issues. This all leads me back to the recommendation of Rodgers, who is (and was drafted to be) the one explosive element out of the backfield that was supposed to make teams pay for giving Julio Jones and Roddy White too much respect. Assuming McClure, Jones (hamstring) and Roddy White all can find some way to get healthy over the next week or two, a number of these issues could get corrected quickly. If/when they do, it will mean more time for Rodgers. He isn't going to be anything more than a complementary player anytime soon, but it shouldn't take long before Atlanta realizes it can get some of the explosive plays out of Rodgers that the Saints are getting out of Darren Sproles nowadays.
Previous recommendations: Week 3: Alfonso Smith; Week 4: Keiland Williams
WR: Naaman Roosevelt. If I hadn't picked up Lee Evans in two leagues last week, he would have been my recommendation, but let's take a look at a complete longshot. Roosevelt is a complete wild-card selection based on HC Chan Gailey's history. With Donald Jones likely out 4-6 weeks, David Nelson is being moved outside to replace him. While that typically would mean more targets for Nelson, Gailey's offenses have typically very slot-friendly. Take my selection of Roosevelt as a watch-list selection – as opposed to a must-add – since Gailey could easily change his stripes given the number of injuries the Bills have experienced at receiver. Gailey has leaned more on Fred Jackson in recent weeks and could ultimately choose to use C.J. Spiller in the slot more often in an effort to get as many of his most skilled players on the field as possible. However, Roosevelt had seven targets in his first extensive action of the season, which is a lot considering that Buffalo held a substantial lead for most of their game against the Eagles in Week 5.

Previous recommendations: Week 3: Michael Jenkins/Dane Sanzenbacher; Week 4: Mark Clayton
TE: Joel Dreessen. I briefly discussed Evan Moore above as a viable matchup play the rest of the way, although owners looking for more immediate, short-term help could certainly consider Dreessen. It was a foregone conclusion that someone was going to step up in Andre Johnson's absence, but what wasn't as obvious was who would benefit the most. Kevin Walter is a solid possession receiver who is stretched as a WR2 – much less a WR1 – while Jacoby Jones is certainly looking like a player that just won't ever be able to capitalize on all of his talent. What this means is that unless new Texans WR Derrick Mason is a quick study, Dreessen will be Matt Schaub's third option in the passing game behind Owen Daniels and Arian Foster. Dreessen could and should be dropped immediately upon Johnson's return, but since that date remains a mystery, desperate owners could do worse than to take a shot with Dreessen.
Previous recommendations: Week 3: Ben Watson; Week 4: Jake Ballard

Suggestions, comments, musings about the article or fantasy football in general? E-mail me.

---
Doug Orth has written for FF Today since 2006, appeared in USA Today's Fantasy Football Preview magazine in each of the last two seasons and served as a weekly fantasy football analyst for 106.7 The Fan in Washington, D.C. this past season. He is also a member of the Fantasy Sports Writers Association. You can also follow him on Twitter.