All Out Blitz: Volume 39




11/10/11



Aggressiveness is a characteristic that tends to reward fantasy owners more times than not. In the NFL, an offensive line will sometimes hold up long enough to give the quarterback enough time to beat man coverage down the field and make the defense look foolish against a fierce pass rush. More often than not, though, when a defense brings the heat and forces the action, crisis management becomes the name of the game for the opposing team.

In that same vein, I hope to apply that same kind of pressure to the owners in all of my leagues by beating my opponents to the punch in regards to personnel moves. Sometimes, reaching a conclusion about a player too quickly results in making a bad situation worse. However, coming to a correct conclusion two weeks or two minutes quicker than your opponents is considered foresight and can often lead to fantasy championships.

Fantasy owners can be a uneasy lot, knowing that one two-or-three-game losing streak can wreak irreparable damage to his/her team's chances to make a visit to the fantasy postseason. But just as it is in the NFL and in life, it's hard to land the big prize by playing scared. Thus, I will strive each week to help each of you become a smart blitzer, so to speak.
---
Following my nature-imposed one-week suspension, it's good to be back. While I'll spare each of you the details of the ongoing outrage that has left families without electricity nearly two weeks after a Nor'easter ravaged the Northeast, all I can say is how great it felt to dive right back into my normal routine over the past week. I probably cannot express to each of you just how much I enjoy NFL weekends and the opportunity to discuss fantasy football in a forum such as this one.
Thankfully, the theme of my recent Blitz articles – injuries – took a back seat in Week 9. Certainly, the absences of players such as Darren McFadden and Ryan Mathews – mixed in with another round of bye weeks – caused many owners to scramble for one more week and consider the merits of starting such desirable options like Taiwan Jones or Kevin Faulk, which did not end well for those owners who started them. But as a whole, fantasy owners who find themselves with a winning record at this point need only to work around Week 11, when fantasy juggernauts Houston, New Orleans and Pittsburgh join Indianapolis on the final bye week of the regular season schedule.
Whether or not your league's trade deadline has passed, there is still an obligation to continue collecting talent as waiver-wire surprises turn up with great frequency during the second half of the season. While running backs and quarterbacks can sometimes seemingly appear out of nowhere at this point, it is often at receiver where owners can still find that diamond in the rough. And it makes sense if you spend a bit of time crunching the numbers. For example, in my 12-team leagues with 18-man rosters, roughly 24-25 QBs and 68-70 RBs are already on rosters. Since NFL teams don't subscribe to quarterback-by-committee or often find 10 touches for the third-string RB, it's easy to understand why trying to find a player at those positions is so hard to do more than halfway through a season. On the other hand, most NFL teams do run three-WR sets on a regular basis, which means that 96 receivers (32 teams times three receivers) have a fair-to-decent shot at posting some kind of fantasy production in a given week.
Collecting talent at any point of the season is one of my primary focuses each week and something I try to do with my touch/target analysis. At the same time, I'm somewhat obligated to point out some of the numbers that catch my eye from the more established players. As I try my best to strike a good balance, let's get started with some analysis.
Once again, the cutoff at each position is five touches or targets/game. To help provide some perspective, the average fantasy points/touch for the 65 RBs that qualify for my list above is 0.80. For the 72 WRs who qualified, the overall average for fantasy points/target is 0.58 and among the 23 that made the list at TE, it is 0.62. Feel free to use that number as a barometer to help you evaluate who is making the grade and who is not. For the players whose names and touches/targets are bolded and italicized, it reflects the touches/targets each player had with their former team before they were traded or released by that team.

RB Workloads
Rk
Player
TM
1
2
3
4
5
6
7
8
9
Avg
Total
FPts
FPts/Touch
1
Arian Foster
HOU
DNP
12
DNP
33
27
21
30
34
24
25.9
181
162.9
0.90
2
Matt Forte
CHI
21
20
16
29
26
23
27
bye
27
23.6
189
179.1
0.95
3
Adrian Peterson
MIN
18
27
21
24
29
13
24
26
bye
22.8
182
168.3
0.92
4
Fred Jackson
BUF
21
17
17
22
32
21
bye
29
21
22.5
180
183.4
1.02
5
LeSean McCoy
PHI
17
22
27
15
15
30
bye
32
21
22.4
179
194.9
1.09
6
Maurice Jones-Drew
JAC
24
21
27
12
19
24
32
19
bye
22.3
178
110.5
0.62
7
Frank Gore
SF
25
23
17
17
22
17
bye
31
20
21.5
172
125.0
0.73
8
Ray Rice
BAL
23
18
13
27
bye
28
13
25
23
21.3
170
178.8
1.05
9
Michael Turner
ATL
13
22
11
28
16
28
27
bye
20
20.6
165
127.7
0.77
10
Cedric Benson
CIN
26
19
17
19
24
17
bye
DNP
20
20.3
142
73.0
0.51
11
Ryan Mathews
SD
15
19
25
21
25
bye
17
19
DNP
20.1
141
131.1
0.93
12
Willis McGahee
DEN
9
29
25
17
16
bye
18
DNP
20
19.1
134
100.2
0.75
13
Ahmad Bradshaw
NYG
14
20
20
16
17
28
bye
18
DNP
19.0
133
123.0
0.92
14
Chris Johnson
TEN
15
27
17
25
17
bye
16
17
18
19.0
152
94.2
0.62
15
Darren McFadden
OAK
23
27
22
18
18
21
3
bye
DNP
18.9
132
123.8
0.94
16
Peyton Hillis
CLE
23
31
DNP
15
bye
6
DNP
DNP
DNP
18.8
75
53.7
0.72
17
Steven Jackson
STL
2
DNP
4
21
bye
22
22
29
30
18.6
130
114.4
0.88
18
Jahvid Best
DET
25
22
17
13
16
18
DNP
DNP
bye
18.5
111
112.7
1.02
19
Beanie Wells
ARI
22
14
DNP
27
20
bye
12
22
12
18.4
129
103.1
0.80
20
Shonn Greene
NYJ
11
18
22
10
23
22
20
bye
19
18.1
145
83.9
0.58
21
Daniel Thomas
MIA
DNP
19
26
DNP
bye
16
21
DNP
7
17.8
89
47.3
0.53
21
Rashard Mendenhall
PIT
12
21
21
9
DNP
23
14
16
14
16.3
130
84.4
0.65
22
LeGarrette Blount
TB
5
13
25
26
12
DNP
DNP
bye
15
16.0
96
70.6
0.74
23
Felix Jones
DAL
20
10
17
21
bye
10
DNP
DNP
DNP
15.6
78
54.0
0.69
24
Marshawn Lynch
SEA
15
7
20
11
16
bye
DNP
16
24
15.6
109
80.9
0.74
25
BenJarvus Green-Ellis
NE
15
18
9
17
28
15
bye
5
13
15.0
120
84.9
0.71
26
James Starks
GB
12
12
14
18
14
15
16
bye
14
14.4
115
81.6
0.71
27
Ben Tate
HOU
24
27
20
2
DNP
9
15
5
12
14.3
114
79.3
0.70
28
Reggie Bush
MIA
20
7
12
15
bye
12
12
19
16
14.1
113
94.2
0.83
29
Mike Tolbert
SD
21
17
7
11
8
bye
11
DNP
23
14.0
98
119.6
1.22
30
Montario Hardesty
CLE
DNP
3
17
12
bye
13
35
2
DNP
13.7
82
47.7
0.58
31
Mark Ingram
NO
13
14
11
19
11
10
15
DNP
DNP
13.3
93
59.8
0.64
32
Jonathan Stewart
CAR
9
14
13
12
7
10
14
15
bye
11.8
94
89.7
0.95
33
Darren Sproles
NO
9
12
8
12
16
9
18
12
9
11.7
105
165.3
1.57
34
Joseph Addai
IND
10
18
18
12
7
DNP
4
DNP
DNP
11.5
69
50.3
0.73
35
Brandon Jacobs
NYG
6
17
9
10
DNP
DNP
bye
5
22
11.5
69
61.5
0.89
36
Michael Bush
OAK
9
4
10
12
4
11
19
bye
21
11.3
90
82.7
0.92
37
DeMarco Murray
DAL
3
7
2
5
bye
11
25
9
26
11.0
88
75.5
0.86
38
Kevin Faulk
NE
DNP
DNP
DNP
DNP
DNP
DNP
bye
11
DNP
11.0
11
10.2
0.93
39
DeAngelo Williams
CAR
13
9
12
10
9
13
10
9
bye
10.6
85
58.4
0.69
40
Chris Ivory
NO
DNP
DNP
DNP
DNP
DNP
DNP
DNP
6
15
10.5
21
8.5
0.40
41
Pierre Thomas
NO
9
11
8
10
10
8
15
11
12
10.4
94
99.3
1.06
42
Cadillac Williams
STL
24
16
19
DNP
bye
6
3
2
3
10.4
73
43.4
0.59
43
Ryan Grant
GB
10
9
17
DNP
8
11
9
bye
4
9.7
68
34.7
0.51
44
Dexter McCluster
KC
9
12
14
10
5
bye
10
9
8
9.6
77
51.1
0.66
45
Jackie Battle
KC
0
0
0
5
21
bye
16
19
15
9.5
76
48.4
0.64
46
Delone Carter
IND
7
11
4
7
14
14
10
11
4
9.1
82
44.6
0.54
47
Thomas Jones
KC
2
12
15
11
12
bye
9
5
3
8.6
69
23.9
0.35
48
Ryan Torain
WAS
DNP
DNP
DNP
19
bye
10
2
9
2
8.4
42
26.1
0.62
49
Chris Ogbonnaya
CLE
DNP
DNP
DNP
1
2
bye
8
16
14
8.2
41
25.6
0.62
50
Bernard Scott
CIN
4
2
2
6
8
12
bye
25
6
8.1
65
33.8
0.52
51
Javon Ringer
TEN
DNP
7
8
4
9
bye
4
19
5
8.0
56
49.9
0.89
52
Roy Helu
WAS
1
13
7
8
bye
4
3
3
24
7.9
63
60.9
0.97
53
LaDainian Tomlinson
NYJ
11
7
11
4
3
10
8
bye
8
7.8
62
76.9
1.24
54
Isaac Redman
PIT
3
11
3
7
18
5
8
8
4
7.4
67
44.5
0.66
55
Ricky Williams
BAL
13
4
6
12
bye
2
3
6
10
7.0
56
32.6
0.58
56
Marion Barber
CHI
DNP
DNP
DNP
5
2
12
6
bye
10
7.0
35
41.0
1.17
57
Deji Karim
JAC
17
7
7
4
5
5
7
3
bye
6.9
55
30.3
0.55
58
Danny Woodhead
NE
15
6
9
2
DNP
6
bye
0
10
6.9
48
35.5
0.74
59
Kendall Hunter
SF
2
0
11
11
9
8
bye
3
8
6.5
52
39.1
0.75
60
Tashard Choice
WAS
4
7
8
10
bye
8
2
DNP
DNP
6.5
39
21.6
0.55
61
Knowshon Moreno
DEN
10
DNP
0
3
3
bye
9
15
4
6.3
44
37.8
0.86
62
Stevan Ridley
NE
DNP
2
8
11
7
3
bye
DNP
4
5.8
35
29.5
0.84
63
Donald Brown
IND
0
0
0
0
8
7
9
11
17
5.8
52
40.1
0.77
64
Keiland Williams
DET
DNP
9
2
4
4
0
9
12
bye
5.7
40
19.3
0.48
65
Thomas Clayton
CLE
DNP
DNP
DNP
DNP
DNP
bye
DNP
DNP
5
5.0
5
1.0
0.20
It is mind-boggling to me how much the Texans are leaning on Arian Foster right now. If you subtract the first three games of his season (missed Weeks 1 & 3 and pulled early in Week 2) in which he was recovering from his hamstring injury, he is averaging an otherworldly 28.1 touches. To put that into some perspective, just two other RBs (Matt Forte and Fred Jackson) are averaging at least 25 touches and only 12 RBs are averaging over 20 touches over that same time. The fact that he is accepting such a heavy workload and still producing at a very high level (0.9 points/touch) speaks to the level of play he is getting from his line. He does have a tough matchup or two following the bye, but it is scary to think what he may do in Weeks 15 and 16 when he gets Carolina and Indianapolis in the most important weeks of the fantasy season. If you own him like I do in my biggest money league, enjoy the ride.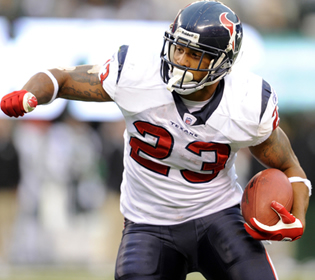 The Texans are leaning heavily on #23.
Speaking of Houston RBs, I would not be afraid to start Ben Tate at a flex spot this weekend against the Bucs. Certainly, there is a great risk in doing so, but Tampa Bay has the fourth-most generous defense vs. opposing RBs and it only figures to get worse after losing DT Gerald McCoy for the year last week and adding Albert Haynesworth. With 34.8 rush attempts/game, the Texans are on the exact same pace as last year's Chiefs in that category. Kansas City finished last season with 2,627 rushing yards and it's not out of the question that Houston tops that after considering some of its upcoming matchups. While I'm quite hesitant to ever rely on a team's backup RB for fantasy points, it's about time we acknowledge that halfway through the season, Foster and Tate are eighth and ninth in the league in rushing, respectively. Not only are both backs on pace to surpass 1,000 yards this season, they are both on pace to surpass 1,200 yards rushing!
On the other end of the spectrum is the disdain I hold for Cedric Benson. His off-field troubles aside, I find it incredibly hard to muster any kind of positive emotion for a RB who simply is not all that productive and a near-liability in the passing game. His current 0.51 points/touch is easily the worst average for any RB who is seeing the most touches for his team and is the same number that Ryan Grant is operating at right now. Neither player has much of an excuse considering the threats each team has in its respective passing game, but at least Green Bay is limiting Grant's touches; Benson continues to be one of 11 RBs who averages more than 20 touches/game.
Don't look now, but Reggie Bush is starting to show some signs of being a real NFL running back, although I am very skeptical of his ability to stay healthy given his history. Since the Dolphins' Week 5 bye, he is averaging 6.4 YPC and been a PPR asset in each of the past two weeks. While those games could easily be written off as flukes (disinterested Giants' defense in Week 8, Chiefs' inability to contain opposing fantasy RBs for most of the season), the fact that Bush is getting most of his fantasy points from the running game is an encouraging sign. HC Tony Sparano credits his emergence to the team finally learning how to use him the right way. We should get a better idea of whether or not Bush's recent play is a trend or mirage this week as the Dolphins host a desperate Washington team this Sunday that is currently ranked as the fifth-most difficult defense vs. opposing RBs.
I think it took a bit more time than most of us expected, but it may be time to greatly reduce your expectations for Beanie Wells. Not only has he been working through a knee issue for a few weeks, but his massive September workloads have been cut in half in two of his last three games. Furthermore, he has been limited to 3.8 YPC or less in each of his last four starts after starting out the season with three straight performances over 5.0 YPC. He is still the team's best bet to score – especially with John Skelton throwing the ball – but is now strictly a low-end RB2, if not a matchup play, until we see some reason to believe again.


If you want to get a good indication on which QBs are playing well over the course of a season, it doesn't hurt to see how high the catch rate is for their top WR. For the truly elite QBs, you will see high catch rates among two or three different receivers. In Wes Welker (71%), Greg Jennings (73%), Jeremy Maclin (70%), Mike Wallace (73%) and Marques Colston (72%), each 70+% catch-rate WR is linked with a QB that has established a reputation as a premier signal-caller in this league. Each aforementioned receiver and their incredible catch rate are special in their own way, but Jennings is the one that strikes me the most. While Wallace is undoubtedly one of the best deep threats in the league, the Steelers have used him much more in the short and intermediate passing game this year. On the other hand, I rarely ever see Jennings catch a ball within 10 yards of the line of scrimmage anymore, which only speaks to how easily he is getting open and the level at which Aaron Rodgers is playing at this season.
Getting back to the business of targets, it is hard not to be encouraged by the amount of targets four receivers on the above list have been getting recently. Brandon Lloyd (12.6) has been an absolute target monster since coming over from Denver and leads a group of six receivers who have averaged 10 targets or more over the past three weeks. Granted, Hakeem Nicks' inclusion (10 targets) on the list is a bit insignificant considering he has only played one game over that time, but fantasy owners of Anquan Boldin, Dwayne Bowe, Victor Cruz and Antonio Brown have to be thrilled with the number of passes their likely WR2s or WR3s are seeing of late. As we know in fantasy, opportunity is sometimes more than half the battle when it comes to getting production from some of our players, so it's hard to argue against the value of owning a receiver that you can pencil in for 5-6 catches/game when you are setting your lineups each week, especially in a PPR league.
After pledging my support for Mario Manningham for most of the first half, I am ready to acknowledge that Cruz (64%) is simply making more plays more often than Manningham (52%) is. It became obvious to me in Week 9 (without Hakeem Nicks playing) that Eli Manning simply trusts Cruz more than Manningham to make plays all over the field, so while the latter still has high-end WR3 or low-end WR2 appeal, the former is starting to pull away from him for fantasy purposes, regardless of whether or not the Giants' coaching staff wants to suggest otherwise. He's the ideal WR3 in fantasy – a player that will be inconsistent from time to time but can help his owners win some weeks almost singlehandedly at a fantasy position many owners just hope to get some production.
Let's wrap up this part of the discussion by discussing some receivers who are near the bottom of the list or do not appear on it at all. I was fortunate enough to pick up Denarius Moore last week in one of my money leagues late last week and feel like I may have found my WR3 for that team. With 12 targets in Carson Palmer's first start and the Raiders doing everything they could to move him all over the field, I believe his re-emergence is coming. In that same league, I had an opportunity to pick up Laurent Robinson and strongly considered doing it before opting for Moore. Miles Austin is supposed to miss the next 2-4 weeks with a hamstring injury, but Robinson has been doing enough to justify a roster spot in all but the shallowest leagues before the injury and now needs to be considered a strong WR3 candidate himself. While Dez Bryant has converted 55% of his 6.7 targets into catches this year, Robinson is converting 73% of his 5.5 targets. He doesn't quite have the same waiver-wire upside that Cruz did earlier in the year, but owners should not hesitate starting him for as long as Austin is sidelined.
Last but not least, Earl Bennett put on a show on Monday night. Please understand that 95 yards and a score should not be expected each week, but it became clear very quickly that Jay Cutler was his one and only read on several pass plays. With the Bears realizing they need to be a running team a bit earlier than they did last year and eliminating the number of deep drops QB Jay Cutler makes, Chicago's deep threats (Devin Hester and Johnny Knox) have become nearly useless in fantasy. As a result of the Bears' new reliance on the running game, they will face a number of third-and-medium situations in which Bennett will be featured. I expect 4-5 catches for 55-70 yards to be a typical line for him going forward, which is acceptable at a flex/WR3 spot in deeper fantasy leagues.

One of my biggest regrets following the completion of my drafts this summer was my failure to select Rob Gronkowski. Thankfully, I acquired him in my biggest money league coming off his bye week after his production tailed off in the three previous weeks following an incredible start. I attributed the three "down" weeks to New England trying to establish the run and bleed the clock to help cover for its defense, which meant Gronk would be asked to stay in and block on a regular basis. Needless to say after weeks of living with the meager production of Lance Kendricks (Week 1) and Dustin Keller (Weeks 2-7), I cannot tell you how much joy I feel seeing Tom Brady target him as often as he has over the past two weeks. Against the Giants, Brady was so intent on feeding him the ball on the Pats' final scoring drive that he targeted Gronkowski on three straight downs, including the fourth-down catch that gave New England a short-lived lead. Gronk's 15 targets in Week 9 were the most by any TE this season. Because he is such a great all-around TE, there's no guarantee that Gronk won't have a down game or two when the Pats decide to focus on the run. But in terms of the scoring upside of TEs going forward, he is easily in the top five and may be Jimmy Graham's only true threat for the highest-scoring player at the position this year.
Jake Ballard is still a little ways away from appearing on this list, but it is getting harder and harder to ignore his level of production. Over the last five weeks, Ballard is the fifth-most productive TE in fantasy (PPR), outscoring the likes of Jason Witten, Aaron Hernandez and Tony Gonzalez. Of the 27 TEs who currently average more targets/game, only Heath Miller's 76% surpasses Ballard's 74% catch rate. Surprisingly, Fred Davis has overcome a great deal of change around him and is converting 70% of his targets, which speaks volumes about his upside in 2012 and beyond.
Between Weeks 6 and 7 last season, a thumb injury for Dallas Clark – which ended up being a season-ender – displayed the true power of Peyton Manning to make just about any player in his offense a household name in fantasy circles. It's not that Jacob Tamme lacks for talent as a receiver, it just seemed unlikely at the time that any player – much less Clark's little-used backup – could fill in so effectively for him and become a fantasy force in his own right. Just over one year later, here we are again; Clark may miss significant time with a leg injury. This year, however, it's hard to say that Tamme is even worth a pickup. Clark has been exposed as a blocker this season and Tamme proved last year he is a liability in that phase of the game, so one could easily deduce that last year's waiver-wire wonder will not see the field much outside of passing downs (even if he is technically the starter). Clark was already a borderline TE2 as a full-time player, so expecting his replacement to do more than that with less playing time and Curtis Painter throwing the ball is asking for too much.
Finally, it would be careless of me not to mention the absence of one very prominent TE from the list above, Vernon Davis. A top-two PPR tight end (total fantasy points) in 2009 and 2010, Davis has carried significant fantasy risk for his entire NFL career since he has been linked to Alex Smith. In previous seasons, San Francisco needed to pass the ball more often in order to compensate for a less-than-stellar defense. This season, with the defense performing at a near-elite level, the passing game has taken a back seat and so has Smith's reliance on Davis. Michael Crabtree 7.3 targets/game dwarfs Davis' 4.8, so even though the athletic TE is converting an incredible 82% of his targets, it is nearly impossible to expect him to be a fantasy force with so little opportunity. Davis' one truly solid fantasy performance this season was against Cincinnati's top-notch defense, so he may actually be an anti-matchup play for the remainder of the season. In other words, Davis may be at his best in fantasy when the matchup suggests the Niners will struggle to run the ball. If this is a correct assessment, Davis could be useful in Week 12 at Baltimore, Week 15 vs. Pittsburgh and Week 16 at Seattle.

***

Before I wrap up this portion of the Blitz, I feel somewhat obligated to pay my respects to the passing of "Smokin" Joe Frazier. For a number of younger readers of this column, I am old enough to remember when boxing was not only considered a major sport, but also seemed to produce a legendary matchup on a regular basis with multiple all-time greats competing in the same weight class at the same time. While Frazier's prime predates my birth, ask anyone who had a TV set or interest in sports in the early-to-mid 70s about "The Fight of the Century" or the "Thrilla in Manila" and see how quickly their eyes light up and the passion with which they speak about those matches against Muhammad Ali.
However, the appeal of these fights (especially the first one) wasn't just about the quality of the boxers, it was cultural as well. Whether Ali or Frazier asked for it or not, each fighter served as a symbol for a country divided by the Vietnam War. Ali represented those who denounced the war because he famously declined to serve (and was incarcerated because of it) while Frazier had the support of the pro-war movement, even though Smokin' Joe didn't actually fight in the war because he was a father. Regardless, this is just one of many examples of what can happen when legendary talent does battle on a stage where the fight itself almost means as much – if not more – than the final result. Some 40 years after their first fight, many still regard Frazier vs. Ali as one of the greatest rivalries in all of sports.

---
Next Week's Waiver Wire Stars
Each week, I'll select one player at QB, RB, WR and TE that is available in at least three of my five leagues and make a case as to why they could be important to you the following week or at some point in the very near future. For those of you who have been loyal readers for some time, you already know I am not concerned with making safe picks; selective and smart aggressiveness is often the name of the game in fantasy.
I cannot emphasize enough these players are not necessarily recommended additions to your fantasy team – I will make sure to make that obvious if that is the case – but have a chance, however small, to make an impact as a potentially valuable reserve down the line.
QB: Colt McCoy, Cleveland. I make this recommendation with a great deal of hesitation, so only the most desperate of owners should even consider him. But with several of the QBs I would like to feature this week already having served as previous selections, I am almost forced to go with McCoy. Here's the good: McCoy has no immediate threat at his position and faces the Rams' highly questionable secondary this week. His 308 attempts register as the fifth-highest total in the league and third among those QBs who have already served their bye week. With Chris Ogbannaya struggling mightily as a runner, the temptation will be to throw the ball even more, so it's not unthinkable that McCoy could have his first 300-yard passing game since Week 4 or first two-TD game since Week 6 this week. Now, the bad news: after this week, the Browns face the Jags, Bengals, Ravens and Steelers, which means McCoy will have virtually no value again until Week 15 vs. Arizona.
Previous recommendations: Matt Cassel, Week 3; Vince Young, Week 4; Tim Tebow, Week 5; John Beck, Week 6; Christian Ponder, Week 7
RB: Tashard Choice, Washington. I mentioned Choice in last week's blog, but I feel somewhat compelled to discuss him here as well. And let's be clear about something before I go any further: Roy Helu is the most talented back remaining on the Redskins' roster and should have been the starter from the minute Tim Hightower was injured. My support of Choice at this point does not have a great deal to do with the ability he may or may not still have, but more to do with the lack of trust I think HC Mike Shanahan has in Helu. My main questions: why has it taken this long for Shanny to hand the rookie significant carries? And if he does trust his current stable of healthy RBs, why have they combined for just 19 carries in the last two games? If there is anything Shanahan loves to do more than upset fantasy owners, it is running the football. In short, something doesn't add up here and I believe it has to do with a lack of trust in Helu and Ryan Torain. I acknowledge trying to read Shanahan's mind is an exercise in futility, but with Choice practicing fully this week and a game against the Cowboys in Week 11, I sense another changing of the guard. Washington's upcoming schedule isn't particularly RB-friendly, but a motivated Choice could easily work his way into the backfield mix this week and be in line for 10-15 carries as early as next week.
Note: Please feel free to check out my aforementioned blog entry for other RBs to consider.
Previous recommendations: Alfonso Smith, Week 3; Keiland Williams Week 4; Jackie Battle/Jazquizz Rodgers, Week 5; Joe McKnight, Week 6; Phillip Tanner, Week 7
WR: Josh Cribbs, Cleveland. Much like McCoy above, this is pretty much a one-week recommendation. Cribbs' two-game scoring streak has definitely helped his overall fantasy numbers, but his production against Houston and San Francisco has caught my eye, even if it a good part of it came during garbage time. Again, like McCoy, Cribbs should only be considered in the deepest of leagues this week, but he's seen five or more targets in five of his last six games and figures to remain a big part of the weekly gameplan for as long as Ogbannaya struggles to run the football. At some point, it wouldn't surprise me to see the Browns use him more as a runner since he has proven to be adept in that aspect of the game, although it would likely take injuries to Ogbannaya and Thomas Clayton for that to happen. Even without any future rushing yards, Cribbs' ability in the open field is undeniable, so he warrants a look, especially this week as McCoy attempts 35-40 more passes vs. the Rams.

Previous recommendations: Michael Jenkins/Dane Sanzenbacher, Week 3; Mark Clayton, Week 4, Naaman Roosevelt, Week 5; Arrelious Benn, Week 6; Roy Williams, Week 7
TE: Dennis Pitta, Baltimore. If you would have asked me this summer which Ravens' TE was going to step up to fill the void left behind by Todd Heap, I would have said Pitta. Ed Dickson is easily the flashier and more athletic player of the two, but QBs often favor the more consistent route-runner, which is what I believe Pitta is. Whether or not Dickson became more of a priority for OC Cam Cameron after his huge Week 1 performance, the two have essentially been the same fantasy TE since. And over the last two weeks, Pitta has actually outscored Dickson and posted low-end TE1 totals in PPR leagues. The fact he has seen eight targets in each of those games is even more encouraging. Without a doubt, the upside here is small, but sometimes, fantasy owners only need a player they know will keep them competitive at a position. This week's opponent (Seattle) isn't exactly the kind of TE-friendly matchup fantasy owners target, but upcoming matchups against Cincinnati, San Francisco and Cleveland are worth considering.
Previous recommendations: Ben Watson, Week 3; Jake Ballard, Week 4; Joel Dreessen, Week 5; Lance Kendricks, Week 6; Visanthe Shiancoe/Jeremy Shockey, Week 7

Suggestions, comments, musings about the article or fantasy football in general? E-mail me.

---
Doug Orth has written for FF Today since 2006, appeared in USA Today's Fantasy Football Preview magazine in each of the last two seasons and served as a weekly fantasy football analyst for 106.7 The Fan in Washington, D.C. this past season. He is also a member of the Fantasy Sports Writers Association. You can also follow him on Twitter.