All Out Blitz: Volume 40




11/17/11



Aggressiveness is a characteristic that tends to reward fantasy owners more times than not. In the NFL, an offensive line will sometimes hold up long enough to give the quarterback enough time to beat man coverage down the field and make the defense look foolish against a fierce pass rush. More often than not, though, when a defense brings the heat and forces the action, crisis management becomes the name of the game for the opposing team.

In that same vein, I hope to apply that same kind of pressure to the owners in all of my leagues by beating my opponents to the punch in regards to personnel moves. Sometimes, reaching a conclusion about a player too quickly results in making a bad situation worse. However, coming to a correct conclusion two weeks or two minutes quicker than your opponents is considered foresight and can often lead to fantasy championships.

Fantasy owners can be a uneasy lot, knowing that one two-or-three-game losing streak can wreak irreparable damage to his/her team's chances to make a visit to the fantasy postseason. But just as it is in the NFL and in life, it's hard to land the big prize by playing scared. Thus, I will strive each week to help each of you become a smart blitzer, so to speak.
---
As much as I hate to see the trade deadline in my leagues come and go each season, I cannot wait for the end of bye weeks. This year, more than most, it has felt like I have been working around byes for the better part of two months. While that may sound like a rather obvious statement seeing as how teams began taking byes in Week 5, I mean it in the sense that it seems like each week when I look at my 18-man rosters, I am still left with little choice as far as starting options go for that week. One week, it is three byes and four injuries while another week it is five byes and three injuries. (It has gotten so bad in one of my leagues that all five of my first five draft choices are either currently hurt or have been ruled out for the season. How I still lead the league in scoring is beyond me…)
The point is that I will probably remember the 2011 season for two reasons: 1) the lockout and 2) injuries. While there is little doubt in my mind that one helped contribute to the surplus of the other and bye weeks are a necessary evil for our fantasy players, the season just doesn't feel quite the same if an owner looks at his/her team and, in some cases, has no choice but to play his/her RB5 and RB6 or take a flyer on a waiver-wire receiver to fill the final starting WR spot because three of the first five options on the roster are injured or on a bye.
With that said, we are starting to get a clearer picture of what each team is becoming, which is definitely a good thing. There's no doubt that it was a terrible week for QBs (especially those whose first name is Matt), but aside from that, the only major injury concerns coming out of Week 10 are Michael Vick and Willis McGahee. Otherwise, the same injury issues we had going into last week (Darren McFadden, Jahvid Best, Ahmad Bradshaw, etc.) are the same ones we have now.
Houston, New Orleans, Pittsburgh and Indianapolis will go on a bye this week and are the final teams to do so, meaning now would be a pretty good time to lock up the low-touch/target reserves with huge upside. Yes, I realize that in deeper leagues, many owners already did that at the draft or in the first few weeks of the season, but I am not exactly talking about the obvious handcuffs that should already be on rosters such as Marion Barber, Kendall Hunter or Javon Ringer. I am referring more to players like Dion Lewis, Isaac Redman (if he has been dropped after five straight weeks of lackluster production), Joe McKnight and Jacquizz Rodgers, among others. Each and every player is one injury away from potentially becoming a fantasy team's missing piece.
Obviously, I spend a lot of my time in this column discussing RBs, but the same logic obviously applies to every other position as well. For example, I've wanted to add Vincent Brown to my roster all season long and now it makes some sense to do so. It may not be long before the rookie unseats Malcom Floyd; at the very least, HC Norv Turner has to be considering it. Danario Alexander, if he could ever stay healthy, is another receiver who I believe would become a definite fantasy asset with Brandon Lloyd opposite him. I've also liked Titus Young from the get-go, but it has taken longer for Detroit to warm up to him than it has me. Either way, all three players could be the latest player to become your team's savior in the fantasy postseason.
As just about any longtime fantasy owner will tell you, the only thing that beats finding that second-half stud is riding that stud to your league title. Owners should always be on the lookout for the next big thing, but the end of the bye weeks is a great time to begin dropping the dead weight – as in the players who may not outperform your stud's backup if he suffered a season-ending injury – from your roster and fill it with players that are supremely talent and just need an opportunity or obvious handcuffs. This strategy pays off more often than you might think.
While I cannot promise that stud will be included in this edition of the Blitz, I assure you that I won't stop looking. In the meantime, let's take a look at the touch and target numbers that stuck out to me this week.
The cutoff at each position below is five touches/targets per game. To help provide some perspective, the average fantasy points/touch for the 68 RBs that qualify for my list above is 0.79. For the 69 WRs who qualified, the overall average for fantasy points/target is 0.58 and among the 21 that made the list at TE, it is 0.63. Feel free to use that number as a barometer to help you evaluate who is making the grade and who is not.
Note: For the players whose names and touches/targets are bolded and italicized, it reflects the touches/targets each player had with their former team before they were traded/released by that team.

RB Workloads
Rk
Player
TM
1
2
3
4
5
6
7
8
9
10
Avg
Total
FPts
FPts/Touch
1
Arian Foster
HOU
DNP
12
DNP
33
27
21
30
34
24
21
25.3
202
197.5
0.98
2
Matt Forte
CHI
21
20
16
29
26
23
27
bye
27
19
23.1
208
192.8
0.93
3
Maurice Jones-Drew
JAC
24
21
27
12
19
24
32
19
bye
28
22.9
206
133.2
0.65
4
Fred Jackson
BUF
21
17
17
22
32
21
bye
29
21
17
21.9
197
196.9
1.00
5
Adrian Peterson
MIN
18
27
21
24
29
13
24
26
bye
14
21.8
196
179.4
0.92
6
LeSean McCoy
PHI
17
22
27
15
15
30
bye
32
21
17
21.8
196
213.2
1.09
7
Michael Turner
ATL
13
22
11
28
16
28
27
bye
20
23
20.9
188
139.3
0.74
8
Ray Rice
BAL
23
18
13
27
bye
28
13
25
23
13
20.3
183
194.9
1.07
9
Chris Johnson
TEN
15
27
17
25
17
bye
16
17
18
31
20.3
183
121.6
0.66
10
Steven Jackson
STL
2
DNP
4
21
bye
22
22
29
30
30
20.0
160
130.5
0.82
11
Frank Gore
SF
25
23
17
17
22
17
bye
31
20
7
19.9
179
126.8
0.71
12
Cedric Benson
CIN
26
19
17
19
24
17
bye
DNP
20
16
19.8
158
80.2
0.51
13
Beanie Wells
ARI
22
14
DNP
27
20
bye
12
22
12
23
19.0
152
109.3
0.72
14
Ahmad Bradshaw
NYG
14
20
20
16
17
28
bye
18
DNP
DNP
19.0
133
123.0
0.92
15
Darren McFadden
OAK
23
27
22
18
18
21
3
bye
DNP
DNP
18.9
132
123.8
0.94
16
Peyton Hillis
CLE
23
31
DNP
15
bye
6
DNP
DNP
DNP
DNP
18.8
75
53.7
0.72
17
Ryan Mathews
SD
15
19
25
21
25
bye
17
19
DNP
9
18.8
150
139.8
0.93
18
Jahvid Best
DET
25
22
17
13
16
18
DNP
DNP
bye
DNP
18.5
111
112.7
1.02
19
Marshawn Lynch
SEA
15
7
20
11
16
bye
DNP
16
24
37
18.3
146
108.6
0.74
20
Shonn Greene
NYJ
11
18
22
10
23
22
20
bye
19
15
17.8
160
93.4
0.58
21
Daniel Thomas
MIA
DNP
19
26
DNP
bye
16
21
DNP
7
17
17.7
106
51.5
0.49
21
Willis McGahee
DEN
9
29
25
17
16
bye
18
DNP
20
4
17.3
138
101.9
0.74
22
Rashard Mendenhall
PIT
12
21
21
9
DNP
23
14
16
14
17
16.3
147
104.4
0.71
23
Felix Jones
DAL
20
10
17
21
bye
10
DNP
DNP
DNP
DNP
15.6
78
54.0
0.69
24
LeGarrette Blount
TB
5
13
25
26
12
DNP
DNP
bye
15
11
15.3
107
75.0
0.70
25
Reggie Bush
MIA
20
7
12
15
bye
12
12
19
16
18
14.6
131
115.3
0.88
26
James Starks
GB
12
12
14
18
14
15
16
bye
14
16
14.6
131
92.0
0.70
27
BenJarvus Green-Ellis
NE
15
18
9
17
28
15
bye
5
13
8
14.2
128
85.7
0.67
28
Ben Tate
HOU
24
27
20
2
DNP
9
15
5
12
13
14.1
127
91.6
0.72
29
Mike Tolbert
SD
21
17
7
11
8
bye
11
DNP
23
12
13.8
110
131.9
1.20
30
Montario Hardesty
CLE
DNP
3
17
12
bye
13
35
2
DNP
DNP
13.7
82
47.7
0.58
31
Michael Bush
OAK
9
4
10
12
4
11
19
bye
21
33
13.7
123
115.9
0.94
32
Mark Ingram
NO
13
14
11
19
11
10
15
DNP
DNP
9
12.8
102
62.2
0.61
33
Brandon Jacobs
NYG
6
17
9
10
DNP
DNP
bye
5
22
20
12.7
89
70.7
0.79
34
DeMarco Murray
DAL
3
7
2
5
bye
11
25
9
26
26
12.7
114
104.6
0.92
35
Joseph Addai
IND
10
18
18
12
7
DNP
4
DNP
DNP
DNP
11.5
69
50.3
0.73
36
Jonathan Stewart
CAR
9
14
13
12
7
10
14
15
bye
8
11.3
102
98.2
0.96
37
Darren Sproles
NO
9
12
8
12
16
9
18
12
9
6
11.1
111
169.6
1.53
38
Chris Ivory
NO
DNP
DNP
DNP
DNP
DNP
DNP
DNP
6
15
DNP
10.5
21
8.5
0.40
39
Pierre Thomas
NO
9
11
8
10
10
8
15
11
12
10
10.4
104
107.1
1.03
40
DeAngelo Williams
CAR
13
9
12
10
9
13
10
9
bye
8
10.3
93
61.9
0.67
41
Chris Ogbonnaya
CLE
DNP
DNP
DNP
1
2
bye
8
16
14
21
10.3
62
38.5
0.62
42
Dexter McCluster
KC
9
12
14
10
5
bye
10
9
8
14
10.1
91
66.4
0.73
43
Ryan Grant
GB
10
9
17
DNP
8
11
9
bye
4
9
9.6
77
38.0
0.49
44
Jackie Battle
KC
0
0
0
5
21
bye
16
19
15
9
9.4
85
54.5
0.64
45
Cadillac Williams
STL
24
16
19
DNP
bye
6
3
2
3
0
9.1
73
43.4
0.59
46
Ryan Torain
WAS
DNP
DNP
DNP
19
bye
10
2
9
2
12
9.0
54
29.5
0.55
47
Delone Carter
IND
7
11
4
7
14
14
10
11
4
6
8.8
88
46.0
0.52
48
Thomas Jones
KC
2
12
15
11
12
bye
9
5
3
4
8.1
73
24.3
0.33
49
Marion Barber
CHI
DNP
DNP
DNP
5
2
12
6
bye
10
13
8.0
48
43.7
0.91
50
Bernard Scott
CIN
4
2
2
6
8
12
bye
25
6
7
8.0
72
37.6
0.52
51
Kevin Faulk
NE
DNP
DNP
DNP
DNP
DNP
DNP
bye
11
DNP
5
8.0
16
11.0
0.69
52
Roy Helu
WAS
1
13
7
8
bye
4
3
3
24
9
8.0
72
69.3
0.96
53
LaDainian Tomlinson
NYJ
11
7
11
4
3
10
8
bye
8
9
7.9
71
84.9
1.20
54
Javon Ringer
TEN
DNP
7
8
4
9
bye
4
19
5
7
7.9
63
53.5
0.85
55
Isaac Redman
PIT
3
11
3
7
18
5
8
8
4
8
7.5
75
47.2
0.63
56
Deji Karim
JAC
17
7
7
4
5
5
7
3
bye
12
7.4
67
36.5
0.54
57
Donald Brown
IND
0
0
0
0
8
7
9
11
17
18
7.0
70
50.6
0.72
58
Danny Woodhead
NE
15
6
9
2
DNP
6
bye
0
10
8
7.0
56
40.9
0.73
59
Ricky Williams
BAL
13
4
6
12
bye
2
3
6
10
6
6.9
62
38.8
0.63
60
Lance Ball
DEN
1
6
4
3
0
bye
6
7
4
30
6.8
61
35.7
0.59
61
Kendall Hunter
SF
2
0
11
11
9
8
bye
3
8
7
6.6
59
50.5
0.86
62
Tashard Choice
WAS
4
7
8
10
bye
8
2
DNP
DNP
DNP
6.5
39
21.6
0.55
63
Kevin Smith
DET
DNP
DNP
DNP
DNP
DNP
DNP
DNP
DNP
bye
6
6.0
6
4.9
0.82
64
Stevan Ridley
NE
DNP
2
8
11
7
3
bye
DNP
4
5
5.7
40
29.9
0.75
65
Maurice Morris
DET
4
0
3
0
1
6
11
14
bye
11
5.6
50
40.3
0.81
66
Derrick Ward
HOU
11
DNP
DNP
DNP
DNP
0
5
0
6
11
5.5
33
22.4
0.68
67
Keiland Williams
DET
DNP
9
2
4
4
0
9
12
bye
1
5.1
41
19.4
0.47
68
Jacquizz Rodgers
ATL
5
3
4
7
1
2
4
bye
11
8
5.0
45
37.1
0.82
It's about time. I'm not even an owner of this runner, but there's a pretty good chance you already know who I'm talking about. I know two games is still a pretty small sample size, but Chris Johnson has posted YPC averages of 4.6 and 4.8 in consecutive games – the former against a stout Bengals' defense and the latter against the Panthers' lackluster defense – marking the first time all season he has enjoyed back-to-back games with a YPC average higher than 3.6. Johnson still isn't running with a great deal of authority, which is obviously a concern long-term, but the remaining schedule suggests he could enjoy another solid game or two – especially against the likes of Tampa Bay in Week 12 and Indianapolis in Week 15.
It seems odd to even mention this considering where he was drafted this summer, but because of the expectations he has created throughout the first half of the season, I'm wondering why my Darren Sproles has seen just 15 touches over the last two weeks. If anything, I would have expected his touches to increase slightly over the two weeks Mark Ingram was hurt and this past week when the rookie was getting eased back into action. Pierre Thomas' workload numbers are about the same as well over that time, which makes you wonder if HC Sean Payton is getting a bit too pass-happy for his own good. But there within lies the rub since the passing game is where the bulk of Sproles' value lies. Hopefully, this is a just a two-week mirage, but defenses could be wising up now after half a season of seeing what Sproles can do with regular touches. Several teams have already decided to double-team him already, so it will be interesting to see if more defenses elect to do the same thing. With Drew Brees already a spread-the-wealth QB, he won't blink if opponents decide to take away one of his backfield options and opt to single-cover Jimmy Graham or Marques Colston.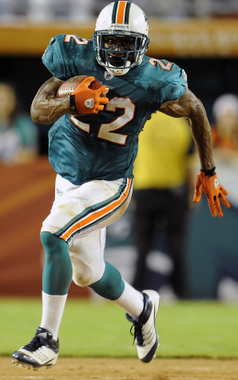 Reggie Bush: An unlikely workhorse.
I don't usually like to talk about players in consecutive weeks, but in a year where only 10 RBs are averaging 20 touches/game, it is almost appropriate to consider Reggie Bush something of a workhorse now with 53 touches over his last three games. Even though the rules of traditional fantasy RBs don't necessarily apply to Bush, it is notable that his remaining schedule is not all that daunting. There's no doubt it has been an unusual year – especially at RB – and perhaps the poster child of it is Bush, who has fought through groin and neck injuries to play in every game so far this season. In PPR leagues, Bush finds himself just six fantasy points behind CJ2K despite 52 fewer touches. I admit it looked bleak after Miami pulled the rug out from under him in Week 2, but Bush has seen at least 12 touches in every game since. With an acceptable fantasy point/touch average of 0.88, there is no reason to expect his role to decrease.
Speaking of unlikely workhorse RBs, it's about time I mention DeMarco Murray. The rookie possessed a world of potential and showed it often at Oklahoma, but fell in the draft in large part because teams doubted his durability. Apparently, Cowboys HC Jason Garrett didn't get that memo because he has averaged the tenth-most touches in the league since Week 7 – the week after Felix Jones suffered his ankle injury. There used to be a time when I felt I could count on Garrett running the ball regularly, but perhaps the talent he has now in the passing game and the annual injuries to Marion Barber and (now) Jones has made him a bit more pass-oriented in recent seasons. While it is a bit too early to say anything definitive – the Eagles' game in Week 8 gives me the most pause – it may be time for me to believe in Garrett again as a coach who will run the ball. Murray has eclipsed 20 carries in three of his last four games and has rewarded his coach with at least 135 yards rushing in each game. It will likely take me the rest of this season to believe in Murray's newfound durability, but assuming he can stay healthy, expect any talk of a committee role with Jones to come to an end quickly. Jones has always had the talent to do the same thing Murray is doing now, but as of now, it is looking highly doubtful he'll ever get another chance to prove it in Dallas.
Two quick hits: 1) in what has been a lost season from the start for the Colts, they may have finally gotten what they wanted two years ago from Donald Brown – production. His fantasy numbers haven't exactly been eye-popping, but the fact he's doing much of anything without Peyton Manning around to threaten defenses suggests he wants to extend his stay in Indy. Joseph Addai could return at any time and Delone Carter will continue to steal a few touches, but the fact Brown has emerged as a passable flex option is news in itself. 2) Following the season-ending injury to FB Ovie Mughelli, Jason Snelling was moved to FB, leaving the door open for Jacquizz Rodgers. His fantasy upside is extremely limited as long as Michael Turner continues his 20.9 touches/game pace, but the rookie has seen 19 touches over the last two weeks. An injury to Turner at any point would send his PPR stock through the roof, almost allowing him to be a very poor man's Sproles, while Snelling would handle most of the rushing chores. In such a scenario, both players would be worthy of strong flex consideration.


Oh, the agony of owning Vincent Jackson this season. In PPR, he has given his owners two 39-point games and five single-digit games. While his 134.6 fantasy points is good for 10th overall among receivers, that level of inconsistency has to be driving his owners crazy (I should know as I own him in a league). Perhaps not so coincidentally, Jackson's two huge fantasy games have come in the only two games in which he received double-digit targets. There's no doubt from watching the Raiders game last Thursday that Philip Rivers is a bit off, but now he isn't even challenging defenders much downfield. In previous years, a 40- or 50-yard jump-ball pass to Jackson down the sideline was a regular occurrence. Now, it doesn't even seem to be part of the offense. And then, on one of the few deep balls he did attempt against Oakland, Jackson either lost the ball in the lights or decided to hang his QB out to dry, neither of which is particularly acceptable excuse since most receivers would have simply tried to interfere on that play when they saw two defenders going for the same ball that was intended for him. As of this moment, Jackson needs to be viewed as a WR2 because of his inconsistency but with obvious WR1 upside.
On the other hand, rookie Vincent Brown showed everyone (at least those of us with NFL Network) why Rivers called him "pro-ready" even before the lockout had ended. Whether or not he has done enough to pass Malcom Floyd on the depth chart in HC Norv Turner's mind is another story. Brown has big-play potential but is a much better complement to Jackson than Floyd, who is best used as a situational deep threat given his game and injury history. I've been looking for a glimmer of hope all season long to add him in any one of my leagues and his last two weeks have given me reason to believe. Of course, nothing would beat receiving Turner's confirmation that Brown is now a starter, but as is often the case in deeper leagues, owners must make moves before the coaches make them official. I'm skeptical Turner will defer to the veteran, but I have little doubt the Chargers – as unwatchable as they were on Thursday – will be a better team if they go with Brown.
It's been hard for me to wrap my mind around Mark Sanchez as a legit pro QB. Recently, my major beef with him is his inability to keep Santonio Holmes involved on a regular basis. If a team has roughly 10-12 possessions in an average NFL game, it is inexcusable that a $45 M receiver such as Holmes isn't seeing double-digit targets in just about every game. Instead, Holmes (6.1) trails both Plaxico Burress (6.4) AND Dustin Keller (6.3) in targets/game. Sure, the difference between the averages is minimal, but that's not really the point. While each player is a difficult cover for defenses, it would seem to me that Holmes' speed and quickness would give him a slight edge over the others, especially considering the fact the Jets are running the ball with some effectiveness now. This alone should open Holmes up for some deep shots off play-action. Maybe we saw the first sign of Holmes' re-emergence in Week 10, but his best games so far this season have come against the Dolphins and Patriots (twice), neither of which is setting the world on fire with their play in the secondary. If you can still make trades in your leagues, he is a good buy-low, but buy him as a WR3 with WR2 upside.
It's been a while since I've talked about Percy Harvin in this space, but lo and behold, we finally got a glimpse of what he looks like when he's healthy (or at least close to it). His eight targets are more in line with what I expected entering the season and a number he should hit or exceed regularly so long as he doesn't aggravate his rib injury. Regardless of whether he was operating at 60-70% for the majority of this season, his 5.7 targets/game is still a laughable number when you consider the talent around him. If his injury was so dehabilitating, why was he being used as a running back in any package over the first half of the season? And if he wasn't all that limited physically, why was he seeing fewer snaps than Michael Jenkins and Bernard Berrian on a regular basis? Assuming he was in good enough shape to play – which he apparently was since he hasn't missed a game – a much more sophisticated offensive play-caller (than Bill Musgrave) would have found a way to line him up all over the field with minimal missed snaps, including using him as a runner 3-5 times to relieve Adrian Peterson. Harvin appeared to be Christian Ponder's first read on most of the Vikings' pass plays, which can only be good news for the entire Vikings' offense going forward. More attention is good for Harvin's fantasy numbers while any player who can threaten a defense in the passing game is obviously good for Adrian Peterson.

Josh Freeman said earlier this week that he was feeling "better than ever". Would you like some proof that he may not be? Mike Williams (8.4) and Kellen Winslow (7.8) are easily his two favorite targets, yet Williams' 51% catch rate is right in line with Winslow's 54%. While Williams' ineffectiveness can be explained away by the increased defensive attention he is seeing this season, it's hard to understand why a short-to-intermediate threat like Winslow is sporting the second-worst catch rate of the 21 TEs who qualified for the list above. Then again, Winslow's owners should have known what they were getting when they drafted him – a low-upside TE who will catch more passes than the average TE (making him somewhat useful in PPR leagues) but with extremely limited touchdown-scoring potential (he's never had more than five in a season).
I'm sure many of you have already dropped Jared Cook in shallow- and medium-sized leagues. I'm about to do the same in all of my leagues as well. Yes, I was well aware when I drafted him that blocking was going to be an issue and that he may not see the same kind of snap counts that other more trustworthy fantasy TEs might see. However, when OC Chris Palmer stated that his biggest fear was overusing his athletic marvel, I took it to mean he would actually make him a focal point of the passing game from time to time. Considering the state of the Titans' passing game (Kenny Britt on IR, Nate Washington playing through injury), it would seem as if Cook would see more 2-3 targets. Yet, that is exactly the range he has been at in three of the last four games.
Perhaps this offseason, I will make a list of play-callers I simply cannot trust. If I do, Palmer will probably be on that list (as will Bill Musgrave). The misuse (or lack of use) of a supremely-talented natural mismatch is a hard crime for me to forgive as a fantasy owner. Certainly, Cook could help himself immensely by just becoming even a passable blocker, but a good coach takes the mismatches he has on his roster and finds a way to exploit the defense with them. Neither Palmer nor Musgrave have shown the ability to do that consistently enough for my liking in their respective returns to play-calling duties. What makes it worse is that each coach has a RB in his backfield that defenses need to respect (even if Chris Johnson is just now coming around), meaning that drawing up big plays in the passing game should be that much easier.

---
Next Week's Waiver Wire Stars
Each week, I'll select one player at QB, RB, WR and TE that is available in at least three of my five leagues and make a case as to why they could be important to you the following week or beyond. For those of you who have been loyal readers for some time, you already know I am not concerned with making safe picks; selective and smart aggressiveness is often the name of the game in fantasy.
I cannot emphasize enough these players are not necessarily recommended additions to your fantasy team – I will make sure to make that obvious if that is the case – but have a chance, however small, to make an impact, even if it is only as a potentially valuable reserve down the line.
QB: Alex Smith, San Francisco. So here's what we know: Smith has enjoyed his best three seasons from a fantasy points/game perspective over the last three seasons. Jimmy Raye gave Smith the first hint of play-calling stability he's had in his pro career until Raye was removed from his position early last season after the offense's terrible start and his supposed failure to be able to properly communicate his plays to Smith. Enter Jim Harbaugh (or OC Greg Roman), who didn't even need an offseason to decide the best way to manage Smith was to manage Smith. At just over 26 attempts per game, Smith is averaging five less throws per game than he did last year. He's completing a career-high 64% of his throws and has tossed just three interceptions. Arizona has managed to bottle up Joe Flacco, Sam Bradford and a battered Michael Vick in the three straight weeks, but the Cardinals' secondary was getting carved up on a regular basis prior to that. In all likelihood, San Francisco will not need Smith to break out of his 26-attempt routine against Arizona, but even if Frank Gore is limited, the chances Smith could put up a 175-yard, two-score game are pretty good this week. Those numbers are certainly passable for any desperate owner looking for a short-term replacement for Matt Schaub.
Previous recommendations: Matt Cassel, Week 3; Vince Young, Week 4; Tim Tebow, Week 5; John Beck, Week 6; Christian Ponder, Week 7; Colt McCoy, Week 9
RB: Kevin Smith, Detroit. It may be something, it may be nothing. But when the Lions suggested they had no intention of signing Smith before a 25-player workout recently and then signed him, there was a glimmer of hope, especially after HC Jim Schwartz praised the RB for how good he looked and the shape he was in. When he saw some action – much less six touches – in his first game, there was a little more reason to believe. Yes, I understand the Bears' game was completely one-sided, but it is not unthinkable that Smith could be an asset by the time the fantasy playoffs roll around. He's already shown himself to be a capable receiver and in Detroit's pass-heavy offense, that is a necessity. Maurice Morris isn't exactly dripping with upside and Keiland Williams hasn't come close to establishing the Mikel Leshoure role the team had in mind for him when he joined the Lions. Detroit has won just once since Jahvid Best has been sidelined with his concussion, so his loss should not be understated. The Lions would probably prefer to have Morris in a complementary role and Williams in a limited role, so there could be a 1-3 week (or more) window for Smith to do his best imitation (pun intentional, unfortunately) and become a valuable fantasy asset.
Previous recommendations: Alfonso Smith, Week 3; Keiland Williams Week 4; Jackie Battle/Jazquizz Rodgers, Week 5; Joe McKnight, Week 6; Phillip Tanner, Week 7; Tashard Choice, Week 9
WR: Andre Roberts, Arizona. It troubles me to even consider someone not named Larry Fitzgerald for a spot on my fantasy roster, but allow me to explain why Roberts is worth a look going forward, perhaps including this week against a difficult Niners' defense. First of all, Arizona has virtually no chance to establish a ground game this week, which will turn Arizona into a passing team as it has been since John Skelton has taken over for an injured Kevin Kolb. Skelton has attempted 35 and 40 passes, respectively, in each of his two starts, with nearly a third of those targets going in Fitzgerald's direction. While Fitzgerald has managed to catch just 11 of his 25 targets over the last two weeks, Roberts has hauled in nine of 14, with seven targets in each contest. Obviously, we aren't talking about huge upside here in a game I think the Niners will hold the Cardinals to 10 points or less, but I must admit that when I see an un-owned receiver put together two straight weeks of seven-plus targets, I will put him on my watch list at the very least. Roberts was able to muster some solid games over the second half of last season, with his best game coming against Dallas in Week 16 with Skelton under center. I wouldn't risk playing him this week, but if Kolb's return from injury continues to move slowly, Roberts could have some value in Week 12 vs. St. Louis and perhaps again in Week 15 if Cleveland assigns CB Joe Haden to Fitzgerald.

Previous recommendations: Michael Jenkins/Dane Sanzenbacher, Week 3; Mark Clayton, Week 4, Naaman Roosevelt, Week 5; Arrelious Benn, Week 6; Roy Williams, Week 7; Joshua Cribbs, Week 9
TE: Daniel Fells, Denver. Remember what I just said about Roberts? The same first sentence pretty much applies to any receiver from Denver. The idea that any team can win a game when its quarterback completes only two passes is equal parts amazing and saddening. With that said, I do not expect the zone-read offense to be nearly as effective against the Jets – even on short rest – as it was against the Chiefs. One reason is because I expect New York to enjoy a fair amount of success running the ball itself. If the Jets can get can establish any kind of lead – and I expect they will – the fatigue that could come with watching Denver run the ball 45-50 times in the altitude isn't going to be as much of a factor as some might believe. Because Jets HC Rex Ryan loves to leave his cornerbacks on an island, I expect a heavy dose of A-gap blitzing to discourage the first read of the option, which would in turn allow ILBs Bart Scott and David Harris to track Tim Tebow as he attempts to get to the edge. In short, there will be plenty of eight- and nine-man boxes, simply because New York does not figure to be scared by the pass with its set of CBs. As a result, the one area in which the Broncos can exploit a weakness will be at TE, where the talent gap between Fells and the Jets' safeties is minimal (whereas Eric Decker will struggle with Darrelle Revis and Eddie Royal with Antonio Cromartie or Kyle Wilson). The Jets are the fifth-friendliest defense vs. opposing TEs – two games vs. New England is responsible for much of that – but if Denver is going to have a shot to win on Thursday, it will likely come because Fells was able to win his individual matchup.
Previous recommendations: Ben Watson, Week 3; Jake Ballard, Week 4; Joel Dreessen, Week 5; Lance Kendricks, Week 6; Visanthe Shiancoe/Jeremy Shockey, Week 7; Dennis Pitta, Week 9

Suggestions, comments, musings about the article or fantasy football in general? E-mail me.

---
Doug Orth has written for FF Today since 2006, appeared in USA Today's Fantasy Football Preview magazine in each of the last two seasons and served as a weekly fantasy football analyst for 106.7 The Fan in Washington, D.C. this past season. He is also a member of the Fantasy Sports Writers Association. You can also follow him on Twitter.