Preseason Matchup Analysis




6/12/12



Anyone who had some free time late last summer probably remembers how chaotic the first few hours and days of free agency were following the end of the lockout. While free agency always seems to start out with a bang and produce at least a few surprises, those unknowns usually play out over the course of a few weeks and/or months, not a few days. In fact, it was that flurry of activity that inspired the title of last year's Free Agency Frenzy Review.

Thankfully, free agency returned to normal this season. While it didn't move at the same blistering pace it did last year, it didn't disappoint in terms of suspense. From Peyton Manning's tour across America to the Brandon Marshall trade to another team taking a chance on Randy Moss, some of the key players in free agency gave this round of offseason activity a "blast from the past" feel.

In redraft leagues, every new season gives owners a chance to hit the reset button and learn from the previous season's mistakes while also looking forward to the future. While projecting player stats via my usual methods is my favorite part of doing what I do, evaluating how the new (rookies) and old (free agents) players fit into their current situations may be a close second. After all, if we treat the players whose situations remain pretty much the same from the previous year as constants, then it is the ability to predict the variables (such as how the players adapt to their new environment and the positive/negative impact they can have on the constants) that can sometimes determine which fantasy owners excel and which ones do not.

Since I have already provided my thoughts about the incoming rookie class over the past two weeks, I will now turn my attention to the free agent skill-position players who changed teams this offseason. Over the next two weeks, I will likely provide more detail about a few of these same players when I bring back the two-part Early Observations series that took a one-year hiatus due to the lockout. Following that, I have a couple of fascinating new projects I'm working on that I think will really help the hard-core fantasy owners separate themselves from the pack on draft day, so keep an eye out for those pieces in early July.

But for now, let's turn our attention back to old faces in new places. (The players will be separated initially by position then ordered by likely "impact" in 2012):


QB Peyton Manning
2011 Team: DNP
2012 Team: Denver

Fantasy Analysis: If ever there was a player that seemed capable of overcoming four neck surgeries, missing an entire season and adjusting to a new team and receivers all over the course of about one year, Manning would probably that player. There have been nothing but positive reports about his neck since Manning agreed to join the Broncos, so it would seem he is about as risky from an injury standpoint as any 36-year-old NFL quarterback would be. Manning's feel for the game will always be sharp and be the one quality that separates him from most quarterbacks, so any "rust" he feels should be a relatively small hurdle for him. As for the fit with his new team, one could easily make the argument that Manning is joining an offense with the most receiving talent he's had at his disposal since Marvin Harrison and Reggie Wayne were tearing apart defenses years ago. While HC John Fox and OC Mike McCoy will make probably do whatever they can to make sure the running game remains a bigger part of the Broncos' offense than it ever was for Manning in Indy, they will surely allow Manning to run the no-huddle on a regular basis whenever he sees fit (especially to wear out opposing defenses in the thin air during home games). As a result, Manning and just about every likely starter tied to his hip in the passing game (Demaryius Thomas, Eric Decker and Jacob Tamme) warrant every-week starter status in fantasy. The five-time All-Pro selection has never attempted fewer than 453 passes or thrown for less than 26 touchdowns over the course of his NFL career and there isn't much reason to think he'll start now. Digging even deeper, Manning's teams have finished in the top eight in pass attempts nine (out of 13 times). As long as everyone mentioned stays healthy (Manning and Thomas being the biggest injury risks given their recent history), Denver should score enough touchdowns to keep every one of them happy and field one of the highest-scoring offenses in the league in 2012. Consider Manning a QB1 as always, just below the elite options such as Aaron Rodgers, Drew Brees and Matthew Stafford.


QB Matt Flynn
2011 Team: Green Bay
2012 Team: Seattle

Fantasy Analysis: With 731 yards (365.5 yards/game), nine touchdowns and two interceptions (4.5 TD-INT ratio) and a 67.9% completion clip, Flynn has easily exceeded expectations in his two career starts in relief of Aaron Rodgers. Critics are quick to point out that Flynn's numbers as a starter came against two relatively "soft" matchups against New England (2010) and Detroit (2011) and happened primarily on the strength of the Packers' deep and talented receiving corps. But allow me to provide a bit of perspective here: over the last two seasons and with the same supporting cast, Rodgers averaged 285.5 yards/game, a 4.3:1 TD-INT ratio and a 67% completion rate. While I am comparing the two quarterbacks and understand the trap that reading into small sample sizes can spring, I am also not suggesting Flynn's career trajectory has him on pace to be the next Rodgers. What I am saying is that Flynn is almost certainly better than anyone Seattle had at the position last season and that he did just about as much as he could do when given the opportunity to play. Now a member of the lone NFL franchise in the Pacific Northwest, Flynn will likely be asked to do less than he ever did starting for the Packers thanks to a physical running game and improving defense. The Seahawks have promised Tarvaris Jackson, rookie Russell Wilson and Flynn will all have their opportunities to vie for a starting job, but it would come as a pretty big surprise if Seattle did anything less than hand Flynn the job early in camp over the less-accurate Jackson and less-experienced Wilson. The team is very high on Wilson, so Flynn had better not get too comfortable. As for this season, Flynn will miss the incredible receiving talent he had in Green Bay, but he should appreciate the fact he won't be asked to carry the offense right away. The running game will remain the focus of the offense for the foreseeable future, so consider Flynn as a middle-of-the-pack fantasy QB2 operating in a more balanced offense with fewer weapons in the passing game.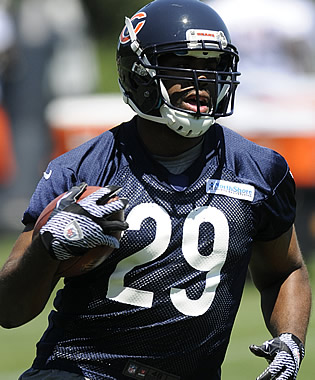 A change of scenery hasn't changed Bush's value from last year. He could fall into RB2 value quickly if Forte holds out or succumbs to injury.
RB Michael Bush
2011 Team: Oakland
2012 Team: Chicago
Fantasy Analysis: From strictly a team management perspective, I love the Bears' signing of Bush since it is typically the front office's job to acquire talent and the coaches' job to utilize it. Additionally, management often must prepare for the worst and hope for the best in order to be successful. From a player management point of view, however, the Bears had to understand that bringing in Bush would serve as a direct shot at their best offensive player, Matt Forte – who did the "team thing" by keeping quiet about his contract status and not bringing any unwanted attention to the franchise last season. As you likely already know, the 26-year-old Forte was franchised in the offseason and would like to move on to that second contract – typically the richest deal a running back will sign in his career – while he is still in his prime. In short, by signing the top free-agent RB on the market, the Bears may have alienated their offensive centerpiece while leaving Bush in a no-win position (as he does not possess the same skill Forte does). Therefore, trying to project Bush's impact now is nearly pointless, at least until Forte is guaranteed to play this season. Under that likely scenario, Chicago will ask Forte and Bush to play in tandem, although it is quite likely Forte will still push 250 touches like he did last season. Bush, who will serve in the same kind of role he did in Oakland, will be more prominent in the passing game than Marion Barber was and likely be a lot more effective at the goal line and in relief of Forte than his predecessor. All this figures to do is further upset Forte while also lowering his price tag next season since his touches will be reduced and the team will be able to show what Bush could do with a similar workload. So, in a weird way, about the only thing we know right now is that Bush's value should remain at least about the same as it was in Oakland. It is anybody's guess if Forte will play angry or just be upset and how that will reflect in his ability to contribute in fantasy, meaning he should probably be slotted as a low-end RB1 or high-end RB2. Bush, on the other hand, is a very high-upside flex option that could fall into high-end RB2 value quickly if Forte holds out for any length of time, injures himself if/when he returns from a lengthy holdout or is anything less than what we have come to expect from him over his career.

RB BenJarvus Green-Ellis
2011 Team: New England
2012 Team: Cincinnati
Fantasy Analysis: Let's get one thing straight about the "Law Firm", perhaps no running back in the league is more underrated for doing what a running back is supposed to do – hold onto the ball (he has yet to fumble despite 536 career regular-season touches) and get positive yards. From that perspective, it is hard to fault the Bengals' enthusiasm for Green-Ellis as they turn the page from Cedric Benson. What Green-Ellis is not (or hasn't proven to be) is the every-down running back Cincinnati says he is. Last but not least, he might be as explosive as Benson was in 2011, but even that might be a stretch. Those two points would be enough to make most people think BJGE will simply resume the role he enjoyed in New England, but the Bengals don't exactly have a better alternative on the roster – at least that is what their actions suggest anyway. Along with many Cincinnati fans, I have spent three years wondering why Bernard Scott – a running back HC Marvin Lewis compared to Chris Johnson during his rookie season – continues to be an afterthought. This is the third straight offseason the Bengals have suggested they will bump up Scott's responsibilities as he proves he isn't near the injury risk Cincy once feared he was. Even though Lewis told the Boston Herald back in March that his team's starting RB has yet to be determined, the Bengals have rarely elected to go the committee route. Furthermore, their recent history also suggests they value a physical back over an explosive one (Rudi Johnson and Cedric Benson have easily led the team in rushing in eight of Lewis' nine seasons as the coach). As a result, pencil Scott in for roughly 140 touches while BJGE checks in between 200-230. For most backs, that workload would warrant fantasy RB1 consideration, but since Green-Ellis will contribute very little in the passing game and won't break off many big scoring runs, his fantasy upside is as a mid-to-low fantasy RB2.

RB Peyton Hillis
2011 Team: Cleveland
2012 Team: Kansas City
Fantasy Analysis: For all the fantasy owners that remember how equal parts exhilarating and frustrating it was to own Jamaal Charles back in 2010 (since he was forced to share carries with a plodding Thomas Jones), they can relive that feeling all over again in 2012 with the added concern that Kansas City will tread lightly with Charles' knee following his recovery from ACL surgery. In Hillis, the Chiefs added a player that has something to prove after garnering little interest on the free-agent market because he reportedly allowed his contract situation with the Browns to dramatically affect his ability to be a "good teammate" in 2011. Hillis is also much more versatile and well-rounded than Jones was (he's a good receiver and may play some fullback in addition to serving as the goal-line back) and has the added benefit of playing for the same OC (Brian Daboll) who oversaw his 2010 breakout season in Cleveland. Granted, the Chiefs have many more weapons in the passing game now than they did two years ago, so they may not have two runners both eclipse 250 touches like Charles and Jones did in 2010. However, one could easily make the argument that Hillis might be the more consistent fantasy RB of the two this season given his familiarity with Daboll, his projected role and the likelihood the team will lean on the bigger back as a way to take it easy on Charles. In all likelihood, Hillis will probably be drafted as a flex option, but that should be his fantasy floor. His upside – with a healthy Charles – is as a low-end RB2 for all the reasons I have already stated. And if, by chance, Charles was to suffer a significant injury again this season, Hillis has enough skill, motivation and blocking necessary to repeat his 2010 production.

RB Mike Tolbert
2011 Team: San Diego
2012 Team: Carolina
Fantasy Analysis: Like many other NFL fans, it was hard to understand the Panthers' thinking when they handed Tolbert a four-year deal worth over $8 M this offseason. While I'm sure there was some homecoming sentiment (he played his college football at Coastal Carolina), a team cannot typically convince a quality free-agent running back like Tolbert to sign with the team when it already has three quality runners and tell him he will have to accept a blocking role. Consider for a second that Tolbert logged 382 touches over the last two seasons in the same backfield that had both Ryan Mathews and Darren Sproles at one point. In other words, we aren't being given the whole truth here. Let's look at what we know first: Tolbert is a great special-teamer and will be used in that capacity. He also has the size and ability to play fullback and will likely be used a lot in that role as well. Jonathan Stewart is also entering the final year of his contract, so the addition of Tolbert may have also been a move to soften that loss. But even after considering all of that information (and the trade of Mike Goodson to Oakland), it sure seems to me that Carolina is rethinking the whole notion of using Cam Newton as its main option at the goal line. Furthermore, despite Stewart's increased production as a receiver last season, it is likely that HC Ron Rivera and OC Rob Chudzinski – both ex-Charger assistants – trust Tolbert in the passing game than either Williams or Stewart, meaning Tolbert could settle in as the rare player who will play fullback on early downs, move to the primary back on third down and be the likely goal-line back. It's a role that few backs could actually pull off, but Tolbert probably could. It is also not unthinkable that Tolbert could steal half of Newton's 14 rushing scores and catch 30-40 balls in this kind of hybrid role. If that is truly the kind of contribution the Panthers envision from Tolbert in 2012, then he is certainly draftable in fantasy despite the apparent logjam on the depth chart. Just keep in mind, though, this is all speculation on my part, so Williams and Stewart should be drafted ahead of him as they will continue to see more touches.

WR Brandon Marshall
2011 Team: Miami
2012 Team: Chicago
Fantasy Analysis: Perhaps the NFL's modern poster boy for "off-the-field" incidents, Marshall gets one more chance to reinvent himself again, this time with a Bears franchise whose quarterback just happens to be the same player that threw him the ball during his three most productive seasons as a Bronco. As it usually goes with Marshall, assuming he's focused and staying on the right side of the law, Marshall carries fantasy WR1 upside with him, especially considering Jay Cutler was his primary quarterback during his three consecutive 100-catch seasons. Also, for the first time in recent memory, Chicago actually added a talented receiver in the draft with second-round pick Alshon Jeffery, who may be the most talented complementary receiver Marshall will have played with in his six-year career (although Eddie Royal may have something to say about that). Combine this information with the fact that Matt Forte's contract status is in some doubt – not to mention Chicago needing to score points to keep up with the likes of Green Bay and Detroit – and Marshall is in prime position to turn back the clock. New OC Mike Tice will lean on the run more consistently than Mike Martz ever did, but that doesn't mean Marshall's overall numbers will suffer. (Look no further than Marshall's production under former Broncos HC Mike Shanahan, a running-game enthusiast.) Marshall is a solid bet to match his production from Miami at the very least and will benefit from the deep threat Jeffery will provide, meaning he should be a low-end fantasy WR1 at worst this season.

WR Brandon Lloyd
2011 Team: Denver/St. Louis
2012 Team: New England
Fantasy Analysis: Quite often in the NFL, we only hear about the toxic relationships. Fortunately, New England decided to extend one of the league's best stories this offseason when it reunited Lloyd with new OC Josh McDaniels for the third time since the 2009 season. Lloyd credits McDaniels as being one of the few people in the NFL that believed in him after the ex-Broncos head coach salvaged the receiver's floundering NFL career that year, so it was only appropriate that when McDaniels was re-hired by New England during the playoffs and told he would run the offense following Bill O'Brien's departure to Penn State that Lloyd would join him once again. Just as was the case in Denver and St. Louis, Lloyd joins an offense desperate to reintroduce the big play, something that has been missing really since 2009 – the year before Randy Moss was traded to Minnesota. While Lloyd has never had so much talent around him, it is also no secret that Lloyd will be playing for the best quarterback he's ever played with in an offense that needs what it couldn't get from Chad Ochocinco last season or Brandon Tate in 2010. Some will look at Lloyd's age and see a player entering his age-31 season with a resume that includes six teams and downgrade him for those reasons. Although a repeat of his breakout 2010 campaign is unlikely given that Tom Brady has to find roughly 250-300 catches for the trio of Rob Gronkowski, Aaron Hernandez and Wes Welker, Lloyd should be in line for the second-best fantasy season of his career in 2012. As such, fantasy owners should keep him in mind as a mid-to-low-end WR2 in fantasy drafts.

WR Vincent Jackson
2011 Team: San Diego
2012 Team: Tampa Bay
Fantasy Analysis: With his incredible size (6-5, 230) and speed, it was always going to be difficult for Jackson to meet the expectations people typically have for someone with his skill level. Despite playing with perennial Pro Bowler Antonio Gates and one of the league's top quarterbacks in Philip Rivers, Jackson never caught more than 68 passes in a season or scored double-digit touchdowns. What he did on a regular basis, though, is sport one of the league's best YPC marks year in and year out. After signing a five-year, $55.555 M deal to join new HC Greg Schiano and OC Mike Sullivan in Tampa, expect the team to try to get Jackson more involved in the short and intermediate passing game as well. Like Norv Turner in San Diego, expect the Bucs' new offense to feature a lot of deep passes off play-action. Bu with the trade of Kellen Winslow to Seattle, a receiver will need to step into his old role as the go-to option for QB Josh Freeman since Luke Stocker is primarily a blocker and Dallas Clark cannot be counted on for much at this point. Jackson should have another receiver to help him carry the passing game in Mike Williams but it is anybody's guess how he'll respond to Schiano's disciplinarian ways after being identified as one of the two main players who reportedly mailed it in last season as the 2011 season started to unravel for the Bucs. With Winslow gone, Jackson is almost a lock to lead his new team in receiving if he's willing to embrace the short and intermediate throws Freeman will make. He has fantasy WR1 talent, but with his inconsistency and the run-centric focus of this offense, savvy owners will treat him more as a high-upside WR2.

WR Robert Meachem
2011 Team: New Orleans
2012 Team: San Diego
Fantasy Analysis: More than just a few people scoffed at the beginning of free agency when the Chargers elected to fill the WR1 void left behind by Vincent Jackson with Meachem. And who could blame them? After all, if Jackson was disappointing at times in the powder blue, then the University of Tennessee alum was downright bust-worthy since the former first-rounder never turned in a season better than the 45-722-9 line he had back in 2009 (all career highs). Before you join the skeptics, however, understand the situation he now finds himself in. First, HC Norv Turner believes Meachem is a NFL-caliber WR1 and the team is paying him like one, so he'll have ample opportunity to prove it. Second, it is worth mentioning that San Diego hasn't had a wide receiver catch 70 balls in a single season during the Norv Turner era. (The last time it happened was 2005 when Keenan McCardell caught exactly that many.) In his offense, Turner doesn't typically ask his receivers to catch the ball short and turn upfield. Instead, he usually brings in big wideouts (like the 6-2, 210-pound Meachem) who have the size to block in the running game and enough speed to catch Philip Rivers' deep strikes. In other words, a WR1 in a Turner offense isn't necessarily an 80-100 reception player like he is in other offenses. This brings me to my third and final point: Turner loves play-action passing. Much like Pierre Garcon (we'll get to him in a second), Meachem finds himself in a situation where the running game will make his job easier since defenses can't realistically expect to stop the run and always keep a safety back in case Meachem gets by his defender. Since Antonio Gates is feeling better than he has in a couple years, Meachem may also catch a break in regards to the amount of defensive attention he will receive. Outside of the oft-injured Malcom Floyd, San Diego doesn't exactly have another receiver on the roster that can do what the 27-year-old speedster should do for this offense. As a result, Meachem should adequately fill the WR1 role for the Chargers, setting career highs in receptions and yards in the process. Given his underwhelming production over his four-year Saints' career, casual fantasy owners may view him as a middling WR3 option, but he should perform – at worst – as a low-end WR2 this season, making him a likely draft-day steal.

WR Pierre Garcon
2011 Team: Indianapolis
2012 Team: Washington
Fantasy Analysis: In what became a debacle of a season for the 2011 Indianapolis Colts, perhaps no player from that team exceeded expectations more than Garcon. A product of Division III Mount Union, Garcon managed to post a 70-947-6 line from the likes of Curtis Painter, Kerry Collins and Dan Orlovsky and turn that into a five-year, $42.5 contract with over $20 M guaranteed – good money for a receiver whose consistency was repeatedly questioned when Peyton Manning was his quarterback. Whether he understood how his game meshed with the Redskins or just got lucky despite chasing the big payday, Garcon landed in one of the few situations in Washington that figures to accentuate his positives and hide many of his negatives. Although his short and intermediate game has improved over the past two years, Garcon is at his best down the field. In Washington, HC Mike Shanahan will make sure defenses respect the running game – making the play-action fake a bit more threatening – which should give Garcon the extra split-second he needs. But it is the addition of No. 2 overall pick Robert Griffin III that makes Garcon especially appealing in fantasy going forward because of the rookie's ability to extend plays and his big arm. When RG3 breaks containment – either via the bootleg or escaping the rush with his incredible speed and quickness – the odds are that he'll be throwing the ball in Garcon's direction. Receivers that are predominantly deep threats (think DeSean Jackson) typically are inconsistent for fantasy use, but can win some games singlehandedly because they only require 1-2 big plays to make a big splash in the box score. This would fit my description of a high-end fantasy WR3, which is how he should be viewed for fantasy purposes in 2012 despite having a number of the aforementioned factors working in his favor. Why? Because it is important to keep in mind that he will be playing in a division with supremely-talented defenses with a rookie quarterback.

WR Randy Moss
2011 Team: Out of football
2012 Team: San Francisco
Fantasy Analysis: Even though work ethic questions have dogged him almost from the time he joined the NFL as a rookie in 1998, you'll have a hard time finding a quarterback and/or coach that doesn't consider Moss one of the smartest players in the game. And as we have seen over the course of his career, when he is mentally stimulated, included prominently in the gameplan AND his team is winning, he can still be a force despite the fact he isn't typically asked to run the whole route tree. Although he is one of the game's all-time best deep threats, that is not all he is. Moss also has enough motivation – he's on a one-year contract with the Niners due in large part to a disastrous 2010 season that led to him sitting out of football. (It's also entirely possible HC Jim Harbaugh just wanted to bring Moss in for a season to serve as an example of the football intelligence he wants his receivers to have.) While that may have been part of Harbaugh's intent, I don't think it was the primary motivation; I tend to believe Harbaugh viewed Moss as a receiver still capable of serving as a team's most dangerous receiver for an offense he hopes will be far more explosive. Red-zone production was also a sore spot for San Francisco last season, which is another area Moss should help the team improve. Along with Vernon Davis, Moss should be Alex Smith's primary option inside the 20. I also think the Niners' offseason movement suggests a dramatic shift in offensive philosophy – they are going to release the reins on Alex Smith and allow him to prove he is a top 15 QB. According to Fantasy Football Calculator, Moss' current ADP is 9.03, making him a WR4 in most drafts. At that point of the draft, Moss is worth the gamble, even for a 35-year-old receiver. Personally, I'd be mildly surprised if he doesn't end up as an every-week starter in a 12-team, three-WR league, meaning he is going at least two rounds too late right now.

WR Laurent Robinson
2011 Team: Dallas
2012 Team: Jacksonville
Fantasy Analysis: So the going rate on a sixth-year receiver coming off a career year but has yet to play a 16-game schedule is roughly $6.5 M/year? Admittedly, that sounds harsh considering Robinson's injury history was the main obstacle standing in the way of him enjoying a true breakout before 2011. But the facts are the facts: last year was the first time in five seasons Robinson was not riddled with injuries. Talent has rarely ever been a question for the Illinois State product even though the Falcons traded him two years after drafting him and the Rams and Chargers both felt they had better options when they released him. So assuming for a second he can stay healthy, can he replicate last season? With a shaky quarterback situation and an offense built around the running game, the answer is probably no – especially in the touchdown department, where Robinson scored 11 times and nearly tripled his career scoring output (four) coming into the season. In 2012, Robinson should once again be the second option – like he was in Dallas last season – with first-round pick Justin Blackmon now on board. In new HC Mike Mularkey's offense, Blackmon will serve as the flanker (the Roddy White role) while Robinson should operate downfield more often as the split end (Julio Jones). Granted, Blaine Gabbert is no Matt Ryan, but as bad as the second-year quarterback was as a rookie, remember that Jacksonville basically went against its own draft-day plan last season and forced Gabbert to start once it released David Garrard. And bear in mind that just about every NFL quarterback would have struggled with Mike Thomas and Jason Hill as the primary receiving options, so the fact Gabbert has legitimate talent to work with this season may allow him to be an average signal-caller in 2012. Admittedly, no one is suggesting that any of the aforementioned Jags' players rival their Atlanta counterparts at their respective positions yet, but the talent gap is far less than it was at the same time last year. If healthy, Robinson could push his 2011 catch and yardage totals, but expect his TDs to be cut in half. Those kind of numbers are acceptable for a low-end WR3, but it's highly improbable Robinson will be consistent enough to be an every-week fantasy starter in this offense. Therefore, Robinson warrants a WR4 tag in 12-team PPR redraft leagues this summer.

WR Jerome Simpson
2011 Team: Cincinnati
2012 Team: Minnesota
Fantasy Analysis: Over the course of about one month, Simpson went from the highlight reel (with his midair somersault Week 16 touchdown against Arizona) to the courtroom (being indicted for trafficking marijuana). He eventually pleaded guilty to a felony drug count of "prohibited act relating to a controlled substance", which pretty much ended what little chance he had to re-sign with the Bengals after a maddeningly inconsistent run in the Queen City. Although the NFL would go on to suspend Simpson for three games, the incident and the inconsistency was not enough to scare off the Vikings, who were desperate for an athlete like Simpson to give them some kind of threat in the passing game besides Percy Harvin. And to this point, OC Bill Musgrave sounds pleased with his likely new starting split end. (Now would be a great time to remind my loyal readers of the complete lack of respect I have for Musgrave's ability to coordinate an offense, recognize talent in general and to maximize the talent he does have to work with.) Regardless of my disdain for Musgrave, the upside for Minnesota is that the team didn't need to take much of a financial risk to acquire a receiver who has shown he can dominate from time to time. The downside is that Simpson's route-running is still one of his biggest question marks – even after four years in the league – which obviously contributes to his inconsistency since a quarterback cannot count on him being where he is supposed to be. Because Simpson will begin his Vikings' career by missing the first three weeks of the season, it is entirely possible that he will go undrafted– despite being a likely starter in Minnesota – in most regular-sized redraft leagues for an offense that probably won't have a completely effective Adrian Peterson or an offensive line capable of giving Christian Ponder and Simpson enough time to connect regularly on long pass plays. And that undrafted status will be justified if everything plays out like I suspect it will. With Peterson probably not striking his usual fear into defenses in 2012, the combination of Simpson's inconsistent ways and the porous offensive line, this offense may not be able to support more than one fantasy receiver consistent (Harvin). Although Simpson will have some big games – he's too talented not to – let some other owner deal with him this season.

WR Mario Manningham
2011 Team: NY Giants
2012 Team: San Francisco
Fantasy Analysis: After beginning the 2011 season as the unquestioned starter with Hakeem Nicks in New York, Manningham has to wonder why he's having a hard time even landing a WR3 gig now. Due in large part to the emergence of Victor Cruz and their wish (at the time free agency started) to bring Jerrel Jernigan and Ramses Barden along, the Giants did not pursue Manningham much – if at all – once his contract expired. He eventually signed a two-year deal with the Niners one week after the team inked Randy Moss, who should win the starting job opposite Michael Crabtree and force Manningham to be the second outside receiver when San Francisco goes three-wide. But even that role is in some question now after the Niners drafted A.J. Jenkins in the first round. While San Francisco has a wealth of talent on offense, it's highly unlikely they will opt to play Manningham ahead of the rookie if the two are performing anywhere close to the same level in training camp. However, keep in mind everything written before now is probably the worst-case scenario for Manningham in 2012. Moss is 35 and no guarantee to (pick one: hold up physically/remain interested/try hard) the entire season and Jenkins probably needs at least a year to adjust to the pro game. It is these two variables that make Manningham a near-the-end-of-draft consideration right now because he has the potential to repeat what he did for the Giants in 2009 and 2010 as a full-time starter in what should be a more wide-open attack than San Francisco used last season. With that said, a repeat of 2011 is much more likely.

TE Jacob Tamme
2011 Team: Indianapolis
2012 Team: Denver
Fantasy Analysis: From strictly a fantasy projection standpoint, tight end can be the most difficult. For example, when forecasting all-around tight ends (those that are at least above average blockers and receivers), there is always the threat their production will be the first to suffer when an offensive linemen is injured since the offensive staff may elect to keep the tight end in to block more often. On the other hand, the "rocked-up receiver" tight ends (as NFL Network Mike Mayock refers to most current pass-catching TEs) are risky because their snap counts from game to game can be highly unpredictable and it is the latter group to which Tamme belongs. Most fantasy owners and prognosticators will look at Tamme's reunion with Peyton Manning in Denver and project a stat line approaching or exceeding the 67-catch, 631-yard, four-TD numbers he posted in Indianapolis in 2010, which would be the wrong approach on at least two levels. First off, the Broncos will run the ball, even if it is not to the ridiculous degree they did last year with Tim Tebow at quarterback. Although HC John Fox has never had someone like Manning as a quarterback, he probably isn't going to change his risk-averse ways (ball control and defense) and sign off on a pass-happy offense either. Furthermore, most of Tamme's production two years ago came after Dallas Clark was lost for the season after the sixth game. In other words, 66 of his 67 catches (and all but two of his 93 targets) came after the team's Week 7 bye that year. Last but not least, I would not discount the possibility that second-year TE Julius Thomas steals some of Tamme's passing-game thunder at some point this season. Thomas has an ankle surgery to recover from and two veterans (Tamme and fellow free agent signee Joel Dreessen) to overtake, but the former Portland State basketball player has more athleticism than any TE Manning has worked with since another hoops star he threw to in Indianapolis, Marcus Pollard. Whether all those factors cancel each other out remains to be seen, but the point is that Tamme should not necessarily be considered a lock for TE1 production. Having said that, it's hard to believe – for this year anyway – that Manning won't lean on the one player he knows best from his days with the Colts, meaning Tamme should be considered a top 10 fantasy TE this summer who will be rock-solid in PPR leagues but slightly less proficient in non-PPR since he is not likely to score all that many touchdowns.

TE Martellus Bennett
2011 Team: Dallas
2012 Team: NY Giants
Fantasy Analysis: Usually, when a talented free agent signs a one-year deal, he's doing so because he had few other options. At the very least, it rarely ever indicates a potential breakout season may be on the horizon. However, there are several reasons to believe Bennett could be on the verge of a special season by his standards. First and foremost, he will have the opportunity to start after four long years on the depth chart behind Jason Witten. In New York, Jake Ballard has already been waived and Travis Beckum is a poor bet to return to full health this season. Secondly, the 6-6, 265-pound Bennett has the size, athleticism and blocking ability to stay on the field every down. Yet two more positives working in his favor is the incredible receiving talent he has around him – Hakeem Nicks and Victor Cruz (and perhaps even Reuben Randle) – and his quarterback (Eli Manning). In short, Bennett stayed in the division he knows, landed a better opportunity and didn't really sacrifice much – if anything – in terms of the quality of his supporting cast. Last but not least, don't overlook the presence of TE coach Mike Pope, who is regarded as perhaps the finest assistant at his position in the league, as I mentioned first during my Dynasty Rankings series. Just over the last few years, Pope has taken a pair of seventh-round tight ends (Kevin Boss and Ballard) and coaxed pretty solid production out of them. In terms of talent, Bennett is much closer to one of Pope's earlier pupils (Jeremy Shockey) than he is the other two. While his long-term outlook isn't quite as good (the short contract combined with the presence of the supremely talented but raw fourth-round pick Adrien Robinson), he should have every opportunity to stake his claim to the job and shed the "underachiever" label that has dogged him in recent years unless, of course, his offseason weight gain is a sign of things to come (reportedly gained 36 pounds!!!). And it is that final bit of information and his inconsistency in Dallas that should be the reasons why owners consider him nothing more than a mid-to-low-end TE2 in most 12-team leagues, even if he has the talent to be a top 10 player at his position.

And for your reading enjoyment, here are a few more players that should go undrafted in most regular-sized leagues, but could have some relevancy in fantasy if a few things work out in their favor (sorted by position and then alphabetical order):
QB David Garrard
2011 Team: Out of football
2012 Team: Miami
Fantasy Analysis: Garrard turned 34 in February, so it wasn't as if he was ever going to be the long-term answer in Miami. But when the Dolphins spent their first-round pick on Ryan Tannehill in April, it basically served as another reminder that Garrard is unlikely to remain in Miami after his one-year deal ends. With Tannehill having more knowledge of the playbook than either Garrard or Matt Moore, it is unlikely either veteran quarterback will be able to keep their job more than half a season anyway if Miami doesn't win right away. Assuming Garrard beats the odds and wins the starting job out of camp, he would still be a poor bet to have fantasy value anyway since the Dolphins lack proven receivers; his persistent back issues also make him a poor fantasy investment.

QB Chad Henne
2011 Team: Miami
2012 Team: Jacksonville
Fantasy Analysis: In a free-agent swap of two quarterbacks who made their name with Florida NFL franchises, one could argue that Jacksonville found its short-term answer at QB by plucking a player Miami deemed not good enough to keep around. First things first, however, as Blaine Gabbert has the "full support" of the coaching staff and the second-year signal-caller would likely have to fall on his face and show zero improvement from his rookie season in order to lose his hold of the job. Given how bad Gabbert did look in 2011, however, it could happen. And if it does, Henne will have the likes of Justin Blackmon, Laurent Robinson, Mike Thomas and Marcedes Lewis at his disposal – a foursome of receiving talents that would match, if not exceed, any combination of players he had as a Dolphin.

RB Joseph Addai
2011 Team: Indianapolis
2012 Team: New England
Fantasy Analysis: Just the most recent "old" running back hoping to extend his career with the Patriots, it could be argued that Addai left the one place that could give him some sort of fantasy value for a place where few running backs ever maintain consistent fantasy value. In other words, it is a solid signing in reality but one that is unlikely to have much impact in fantasy. At best, he's probably a 5-8 touch/game player in the Patriots' RB committee when everyone is healthy. Stevan Ridley should assume most of the rushing workload while Shane Vereen and Danny Woodhead are both more dynamic in the passing game than Addai is at this point of his career.

WR Andre Caldwell
2011 Team: Cincinnati
2012 Team: Denver
Fantasy Analysis: As much as fantasy owners want to believe the Broncos' passing-game situation is predictable now with Peyton Manning throwing the ball around all day to Demaryius Thomas, Eric Decker and Jacob Tamme, allow me to interject a bit of pessimism. While I don't doubt the aforementioned trio will lead the team in most receiving categories, it is Tamme's numbers who are the most volatile considering he is not a three-down tight end and will receive a challenge from the likes of Caldwell and Brandon Stokley as the main slot receiver. Caldwell isn't going to post great numbers, but even if he steals 30 catches out of the slot this season from Tamme, it will dramatically affect the value of the former Colt. Aside from his possible drain on the value of Tamme, Caldwell is probably the receiver most suited to take over a starting spot should Decker or the oft-injured Thomas be sidelined for any amount of time this season. For that reason alone, he needs to be on your watch list.

WR Chad Ochocinco
2011 Team: New England
2012 Team: Miami
Fantasy Analysis: Exactly one team showed interest in the 34-year-old six-time Pro Bowl selection after his one-and-done with the Patriots. While the pressure to fit into "the system" may not be as great in Miami as it was in New England, it will be interesting to see how Ochocinco fits into this version of the West Coast offense and what his role will be. Fantasy owners may initially think he will be handed a starting job, but given how poorly he looked as a Pat, we cannot simply assume he will beat out rookies B.J. Cunningham or Jeff Fuller. In other words, no one can say with any degree of certainty that he will claim the Greg Jennings' role in this offense that will be overseen by two former Green Bay play-callers. Further consider the likely inconsistency at quarterback this season and Ochocinco should probably left to the nostalgic owner in your league who remembers the good ole' days or uses "Hard Knocks" as a scouting tool.

WR Josh Morgan
2011 Team: San Francisco
2012 Team: Washington
Fantasy Analysis: The Redskins reportedly view Leonard Hankerson as a future No. 1 WR in the league, but he will remain something of a question mark following his hip surgery until the team cuts him loose in training camp. Until then, the favorite in the battle for the "Z" receiver should be Morgan, who is obviously healthier and, well, wealthier after signing a rich free-agent deal this offseason. There's little question the job will be Hankerson's at some point in the near future, but until that time, Morgan has a shot to stake his short-term claim to the job. And as we saw last year with a league-average receiver like Jabar Gaffney, HC Mike Shanahan's offense will typically support at least two usable fantasy receivers even with a below-average quarterback, so imagine what a more talented receiver like Morgan can do with an incredible athlete at quarterback like Robert Griffin III.

WR Steve Smith
2011 Team: Philadelphia
2012 Team: St. Louis
Fantasy Analysis: Obviously, there are no guarantees when it comes to Smith, who is now about 1 ½ years removed from microfracture knee surgery. The ex-Giant was signed by the Eagles last season, but contributed just 11 catches before going on IR with a bone bruise in his left knee – the same knee that required the surgery. However, Smith was virtually signed on the spot this spring by the Rams following an "extraordinary" workout with the team. He is highly unlikely to ever match his incredible 2009 season, but if he can even approach that standard at some point in the near future, he could nudge Danny Amendola out of the slot and possibly give QB Sam Bradford a veteran option opposite Brian Quick. On the other hand, keep in mind this is a best-case scenario because despite all the optimism, Smith will not be guaranteed a roster spot this summer.

TE Kellen Winslow
2011 Team: Tampa Bay
2012 Team: Seattle
Fantasy Analysis: Going from the soon-to-be run-heavy Bucs to the run-heavy Seahawks certainly won't help Winslow. It could be argued that outside of running back and tight end, Tampa Bay has superior talent at just about every other offensive position. Of course, the latter position is the one Winslow plays, where he will have to battle Zach Miller for the attention of whichever quarterback wins the competition in training camp as opposed to Josh Freeman, who clearly leaned on him throughout his time in Tampa Bay. It's possible that Winslow maintains some level of TE2 value, but his TE1 days are likely over.

TE Joel Dreessen
2011 Team: Houston
2012 Team: Denver
Fantasy Analysis: Capable of being a slightly more productive version of Anthony Fasano if he was ever able to secure a job all to himself, Dreessen leaves one TE2 situation for another. Dreessen is part of a dying breed at the position, possessing enough size, strength and technique to be a more than capable blocker and good enough hands to be an asset, particularly in the red zone – where he has scored 10 touchdowns over the past two seasons. It's a pretty good bet that Peyton Manning will find him at least as much as Matt Schaub did, but don't expect anything much better than the 36-518-4 line he posted in 2010 barring a rash of injuries to the Broncos' key playmakers. Dreessen was brought in for his ability to help the running game as much as he was to augment the passing attack.

TE John Carlson
2011 Team: Seattle
2012 Team: Minnesota
Fantasy Analysis: One of the more puzzling signings from this offseason, Carlson chose to leave Zach Miller and the Seahawks for the Vikings, who may have a younger and slightly more talented more version of Miller in Kyle Rudolph. Granted, one cannot fault Carlson for accepting a five-year contract worth an average of $5 M/year, but one has to wonder if Minnesota's financial resources would not have been better spent on a more consistent deep threat than Jerome Simpson or at cornerback. Regardless, Carlson's presence in Minnesota likely means a lot of two-TE sets and moderate production from both Vikings' tight ends. On the plus side for fantasy owners, both players are talented enough that either one could emerge as a high-end TE2 candidate if the other one was to get injured.

Suggestions, comments, musings about the article or fantasy football in general? E-mail me or follow me on Twitter.

---
Doug Orth has written for FF Today since 2006, appeared in USA Today's Fantasy Football Preview magazine in each of the last two seasons and served as a weekly fantasy football analyst for 106.7 The Fan (WJFK – Washington, D.C). He is also a member of the Fantasy Sports Writers Association.