Editor's note:

Predict the top ten picks of the NFL Draft for a chance to win FFToday prizes. Our annual NFL Draft Contest is free to join. The top 20 finishers will reap the rewards. Enter Now.

As we begin the countdown to the NFL Draft starting on April 30, I will spend anywhere from 4-8 hours to break down the strengths and weaknesses of at least the top 15 offensive skill-position prospects available in this draft.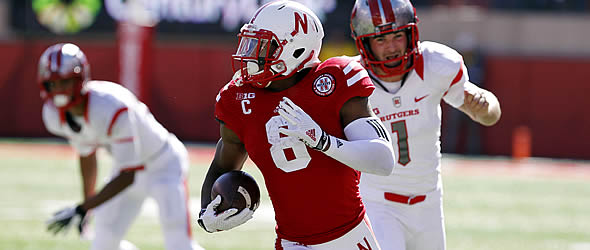 Ameer Abdullah is a first round talent stuck in a frame smaller than NFL personnel types would like.




Vitals


College: Nebraska
Height/Weight: 5'9"/205
Hands: 8 5/8"



Important NFL Combine Numbers


40-Yard Dash: 4.60
Vertical Jump: 42.5"
Broad Jump: 10'10"
20-Yard Shuttle: 3.95
3-Cone: 6.79



Background

(College Stats)
Abdullah spurned offers to attend schools like Alabama or Auburn because most of the coaches recruiting him wanted him to play cornerback. He ascended to second on the depth chart behind Rex Burkhead and made his impact mostly as a returner in 2011 before taking advantage of an early knee injury to Burkhead as a sophomore and went on to run for at least 100 yards in his first five starts – the first Nebraska to accomplish that feat since 1994. Abdullah eventually posted the first of his three 1,000-yard rushing seasons, which is a school record for a program renowned for its running backs. His assault on the school's record books began in earnest as a junior, stringing together 100-yard games in 11 of his 13 contests – including eight straight at one point – while his 1,690 rushing yards in 2013 were enough to help him beat out Wisconsin's Melvin Gordon for All-Big Ten honors. Abdullah was one of the leading candidates for the Heisman Trophy halfway through his final season, putting together four 200-yard rushing performances through the first eight games and even setting a school record with 341 all-purpose yards against Rutgers. He sustained a sprained left MCL injury the following week and was limited by it for the rest of the season. Nevertheless, Abdullah still accomplished enough to be considered a finalist for the Doak Walker Award, Hornung Award and Wuerffel Trophy in 2014. He ranks second on the school's all-time rushing list behind only Mike Rozier and is one of just 11 players in FBS history to surpass 7,000 career all-purpose yards.

NFL Player Comp(s): Ahmad Bradshaw

Best Scheme Fit: Zone-running scheme. Combination of patience, vision, decisiveness and burst after he plants his foot is as good as any runner in this draft. Could easily hold his own in a power-based scheme as well due to his ability to fit through tight creases, sense cutback lanes and willingness to run between the tackles.

Strengths
Violent jump-cut and incredible anticipation makes it nearly early impossible for tacklers to square him up; runs angry and fights for more yards after contact than most runners his size.

Regularly exploits cutback lanes and can immediately accelerate after stopping on a dime; will leave defenders flat-footed with his quickness and ability to change speeds in space.

Excellent patience/vision and sets up second-level defender well; reaches top speed quickly and difficult to catch from behind.

Consistently lowers his shoulders to give defenders even less of a target and delivers the blow while avoiding the big hit.

Hands-catcher and sure-handed receiver out of the backfield (73 career receptions) who was underutilized in that regard by the Huskers' run-heavy offensive philosophy.

Impeccable character and fearless competitor that will give his team everything he has on and off the field.

Weaknesses
Played in all 53 games, but totaled 978 total touches over his college career – including 886 on offense and 92 on kickoff or punt returns.

Despite his well-known commitment to weight room, lack of ideal size makes it difficult for him to push the pile or create an opening when one doesn't exist.

Will not back down from bigger defenders, but effort – sometimes will only put a shoulder into a defender – and execution are somewhat lacking in pass pro (will adding 5-8 more pounds be enough to help him anchor better against blitzing linebackers?).

Unwillingness to give up on runs and small hands have played a big role in ball-security woes (24 career fumbles, 17 lost), although his fumble rate improved as his career progressed.

Bottom Line
Before critics talk about how Abdullah cannot be a feature back, let me remind you that LeSean McCoy was 5-10 and 198 pounds with 8 7/8-inch hands coming out of Pittsburgh. (Abdullah was a more productive college player and is ranked by most analysts in the same neighborhood that "Shady" was drafted in 2009 (McCoy was drafted No. 59 overall). Here's a trip down memory lane; let me know if you see any similarities between the profiles of the two backs. While I think the majority of NFL teams will see Abdullah as a complementary change-of-pace back that can also return kicks initially, I believe his floor is as a lead back with a good possibility that he will be featured early in his NFL career. Unlike Bradshaw, the Alabama native does not enter the league with off-field concerns or suffer from a chronic injury, so his future employer may be more apt to trust him right away and let him prove he cannot withstand the punishment of the NFL first before putting him in a committee backfield. Abdullah is a first-round talent stuck in a body that is about two inches and 5-10 pounds smaller than the NFL would like. Is that really enough reason to make him a mid-Day 2 pick? In the mind of NFL talent evaluators, the answer is probably yes. Fantasy owners don't have to make the same mistake; Abdullah is no worse than the fourth-best running back prospects available and one of the best bets at any position to outperform his draft position.
---
Doug Orth has written for FF Today since 2006 and appeared in USA Today's Fantasy Football Preview magazine in 2010 and 2011. He is also the host of USA Today's hour-long, pre-kickoff fantasy football internet chat every Sunday. Doug regularly appears as a fantasy football analyst on Sirius XM's "Fantasy Drive" and for 106.7 The Fan (WJFK – Washington, D.C). He is also a member of the Fantasy Sports Writers Association. E-mail Doug or follow him on Twitter.