Editor's note:

Predict the top ten picks of the NFL Draft for a chance to win FFToday prizes. Our annual NFL Draft Contest is free to join. The top 20 finishers will reap the rewards. Enter Now.

As we begin the countdown to the NFL Draft starting on April 30, I will spend anywhere from 4-8 hours to break down the strengths and weaknesses of at least the top 15 offensive skill-position prospects available in this draft.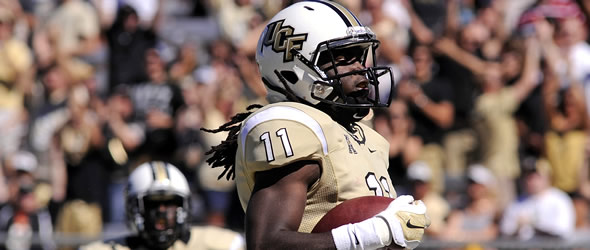 Downfield Threat: Perriman averaged nearly 21 yards per catch over his final two college seasons.




Vitals


College: Central Florida
Height/Weight: 6'2"/212
Hands: 9 1/4"



Important NFL Combine Numbers


40-Yard Dash: 4.26 (pro day)
Vertical Jump: 36 ½" (pro day)
Broad Jump: 10'7" (pro day)
20-Yard Shuttle: N/A
3-Cone: N/A



Background

(College Stats)
The son of 10-year NFL veteran receiver Brett Perriman, Breshad established himself as a big-play threat in 2013, recording a 91-yard touchdown reception in the opener against Akron - the longest play from scrimmage in school history – and beginning to flourish while working in tandem with future No. 3 overall pick Blake Bortles. Perriman's per-catch average was eye-popping (20.8), but his final line of 39-811-4 didn't give UCF fans or onlookers much of a reason to believe he was just over a year away from being a potential first-round draft choice. Perriman maintained his stellar per-catch average (20.9) as a junior despite Bortles' departure and became the clear go-to receiver in 2014, posting team-high totals of 50 catches, 1,044 yards and nine receiving touchdowns despite the scattershot accuracy of new quarterback Justin Holman. His game-ending 51-yard Hail Mary catch against East Carolina – in which several Pirates badly misplayed the ball in the air – is probably the reason why most casual fans knew of him during the college season and was the play that clinched the Knights' second consecutive American Athletic Conference title. It also probably didn't hurt his cause when the time came to decide on all-conference honors either; he was named to the All-AAC first team in his final campaign.


NFL Player Comp(s): Torrey Smith

Best Scheme Fit: A vertical-based offense; his ideal fit would be with a team that would allow him to settle in with a "Perriman package" initially. Should settle in as a No. 2 receiver down the road with No. 1 receiver upside.

Strengths
Nearly ideal mix of height, bulk and straight-line speed; dynamic big-play threat that averaged nearly 21 yards per catch over final two college seasons.

Uses thick, muscular build to block out defenders on downfield throws; weight-room strength carries over to the field – a powerful player after the catch.

Long stride gives him deceptive speed, which he routinely uses to eat up the defensive back's cushion; consistently gets behind the defender on deep balls.

Snatches most short and intermediate throws with his hands and is quick to transition from catch to run-after-catch; not afraid to operate over the middle.

"Easy" accelerator that uses tempo to set up defenders during route.

Weaknesses
Flashes high-point ability, but mistimes jump too often and isn't as competitive on 50-50 balls as other top-flight prospects in this draft class.

Shows the ability to adjust to a ball thrown outside of his frame, but suffers far too many drops of catchable passes (14 percent drop rate in 2014); fights the ball, especially when working back to the quarterback.

Much like other bigger receivers, he can get too high and is a bit stiff coming out of his break.

Allows defensive backs to redirect him more often than he should; could stand to improve getting release off press (although the sample size of instances where is getting jammed is admittedly small because defenses fear his speed).

Concentration comes and goes; can make the spectacular catch or maul a defender in the running game at times, but will also gear it down a bit on occasion when he isn't the primary target.


Bottom Line
Whereas his father was a 5-9, 180-pound possession receiver for most of his NFL career, the son is nearly the exact opposite as a physical downfield receiver with more track speed than what should be legal for a player his size. Perhaps the most surprising part about Breshad, though, is that a son of a former pro receiver isn't a more precise route-runner. Still, Perriman is going to go high in Round 1 because 6-2, 212-pound receivers that run under 4.30 rarely ever fall far in any draft – no matter how inconsistent their hands are – because the skill-set is too tempting to ignore. High drop rates are worrisome for any receiver – they are paid to catch the ball after all – although his drops decreased as his final season progressed. So, is the NFL team that selects him getting him as he is just beginning to figure it out or is he just another size/speed phenomenon destined to disappoint? There is evidence to lead interested teams down either path, but the truth of the matter is that a player with a drop rate around 13 or 14 percent has little to no shot to become a No. 1 receiver in the NFL. However, the biggest problem for a receiver that makes the difficult catch look easy and the easy catch look difficult isn't bad hands, but inconsistent focus. He more than passes the eye test and has measureables that most receivers can only dream of, but how long can NFL teams wait for his down-to-down focus to improve? It's a tricky question.
Considering he is most likely going to be a top-20 pick, there is a high probability he will disappoint his future owners (real and fantasy) early in his career. Perriman is a lesser-talented and smaller version of Dorial Green-Beckham (but much less risky), yet isn't quite the receiver Jaelen Strong is at the moment despite being a better prospect. Ideally, Perriman will get drafted to a team that will allow him to start out as a third receiver and evolve into a No. 2 over the next 2-3 years. At the moment, I'd be hard-pressed to sell him as a first-round pick to a general manager. In a draft so deep at the position, I'd be tempted to wait until the second round and potentially snag Miami's Phillip Dorsett or Ohio State's Devin Smith if I wanted a receiver that could contribute as a deep threat right away and possibly emerge into something more later in his career.

---
Doug Orth has written for FF Today since 2006 and appeared in USA Today's Fantasy Football Preview magazine in 2010 and 2011. He is also the host of USA Today's hour-long, pre-kickoff fantasy football internet chat every Sunday. Doug regularly appears as a fantasy football analyst on Sirius XM's "Fantasy Drive" and for 106.7 The Fan (WJFK – Washington, D.C). He is also a member of the Fantasy Sports Writers Association. E-mail Doug or follow him on Twitter.