As we begin the countdown to the NFL Draft starting on April 30, I will spend anywhere from 4-8 hours to break down the strengths and weaknesses of at least the top 15 offensive skill-position prospects available in this draft.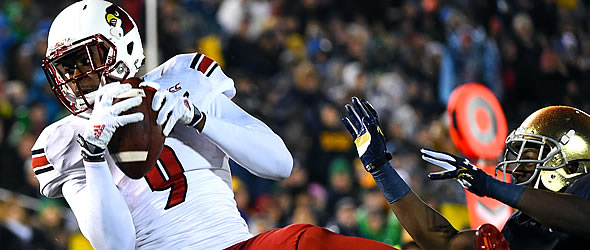 Parker has NFL size and sneaky speed but will need the right scheme to flourish at the next level.




Vitals


College: Louisville
Height/Weight: 6'3"/209
Hands: 9 1/4"



Important NFL Combine Numbers


40-Yard Dash: 4.45
Vertical Jump: 36.5"
Broad Jump: 10' 5"
20-Yard Shuttle: N/A
3-Cone: N/A



Background

(College Stats)
Parker burst onto the scene as a sophomore, leading the Cardinals with 744 yards receiving and a school-record tying 10 touchdown receptions in 2012. The Kentucky native stepped up the production even more as a junior, recording career highs nearly across the board (55-885-12), with the 12 touchdowns setting a school record. Still, he generated only second- and third-round grades from the NFL as a junior, so he returned to school despite the fact quarterback Teddy Bridgewater turned pro and played out his final year. Although his senior season got off to a rough start – he missed the first seven games of 2014 after suffering a left foot injury during summer practice that required surgery – Parker came back like a man possessed, nearly matching his junior-year totals by posting a 43-855-5 line despite playing half as many contests in 2014 (six) than in 2013 (12). Even though he made only four starts and missed more than half the season, Parker still earned second-team All-ACC honors as voted on by the league's coaches and leaves Louisville tied for first in career touchdown receptions (33).

NFL Player Comp(s): Braylon Edwards

Best Scheme Fit: West Coast offense, especially after he puts on more muscle. His route-running, which is already better than most college receivers, should only improve as he moves forward, making him an even better fit for a short-to-intermediate passing attack.

Strengths
Evolved from primarily a deep threat into an all-around receiver in 2014, increasing the number of routes he ran and turning numerous short throws into big plays.

Hands-catcher who was credited with only three drops since 2012; more than willing to go over the middle and consistently tracks the ball well over his shoulder on sideline throws.

Surprising open-field elusiveness for a taller receiver; defenders are rarely able to get a jam on him.

Long strider with build-up speed; also does nice job of setting defenders up, allowing him to create separation on intermediate and deep routes.

Huge wingspan (80-plus inches) combined with prototypical height gives him a big edge in close quarters and on poorly-thrown passes.

Consistently works his way back to the quarterback when he is under duress (scramble rules).

Weaknesses
Will win more than his fair share of jump balls, but seems indifferent at times if the deep ball isn't thrown close enough to him; shows too much inconsistent (and sometimes poor) effort when he is not the target.

Lacks elite initial burst, which could make it hard for him to separate from NFL defensive backs; doesn't use big frame well enough at this point to shield off defenders.

Has shown a tendency to push off on downfield throws to create last little bit of separation; unlikely to consistently get away with that in the NFL.

Made strides in terms of his blocking in 2014, but still has much work to do to become merely average at the pro level.

Durability will be a bit of a question until he adds more muscle; missed at least one game each of the last two seasons.


Bottom Line
While he flashed first-round talent and played with a much-heightened sense of urgency in 2014, I feel Parkerís ability to be a No. 1 receiver at the next level will be much more scheme-dependent than West Virginiaís Kevin White or Alabamaís Amari Cooperís will. As such, I will place him on a rung below the two receivers most analysts have recognized as the draftís top two prospects at the position. For what it is worth, Parker did his draft stock a huge favor by coming back for his final year of college as I saw very little in six pre-2014 games to suggest he wanted to be anything more than a downfield threat. Based on the jump he made from his junior to senior year (and projecting the same to his rookie year in the NFL), I can easily see why evaluators are ready to put him into the top 10 of this draft. After all, he has great height/wingspan with the frame to add more weight, is slippery in the short passing game and sneaky good as a vertical threat. Iím just not ready to go there yet with him. As you might be able to tell from above, my biggest problem with him is desire; I studied him in nine games and not once did I see an example of him making a play to break up an interception on a poorly-thrown ball or a critical block to spring a running back for a big gain. Thereís no doubt in my mind he is a NFL receiver, but I believe how good he becomes will ultimately depend on how much his coaches stay on him to get the most of his talent. Iíd feel more comfortable with him as a second receiver initially, although he could easily enjoy the same kind of immediate success as a deep/red-zone threat that Martavis Bryant did in 2014 for the Pittsburgh Steelers. He could just as easily land in a poor situation and struggle due to a lack of strength and separation as a rookie. Suffice it to say I believe there is a wide range between his floor and ceiling at the pro level.
---
Doug Orth has written for FF Today since 2006 and appeared in USA Today's Fantasy Football Preview magazine in 2010 and 2011. He is also the host of USA Today's hour-long, pre-kickoff fantasy football internet chat every Sunday. Doug regularly appears as a fantasy football analyst on Sirius XM's "Fantasy Drive" and for 106.7 The Fan (WJFK – Washington, D.C). He is also a member of the Fantasy Sports Writers Association. E-mail Doug or follow him on Twitter.