Editor's note:

Predict the top ten picks of the NFL Draft for a chance to win FFToday prizes. Our annual NFL Draft Contest is free to join. The top 20 finishers will reap the rewards. Enter Now.

As we begin the countdown to the NFL Draft starting on April 30, I will spend anywhere from 4-8 hours to break down the strengths and weaknesses of at least the top 15 offensive skill-position prospects available in this draft.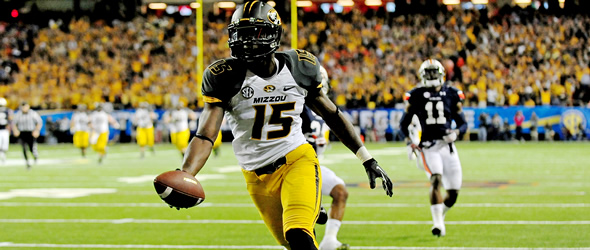 Dorial Green-Beckham has the talent to be a star but must improving his route-running ability.




Vitals


College: Missouri
Height/Weight: 6'5"/237
Hands: 9"



Important NFL Combine Numbers


40-Yard Dash: 4.49
Vertical Jump: 33.5"
Broad Jump: 9' 11"
20-Yard Shuttle: 4.45
3-Cone: 6.89



Background

(College Stats)
For a detailed account as to why Green-Beckham is lucky to even be alive, read this story. Under the guidance of his adopted father and high-school coach (John Beckham), it didn't take long for the former basketball prodigy to become the most sought-after high-school football recruit in the nation in 2012 following a career in which he amassed 6,353 receiving yards and 75 touchdowns. After deciding to remain close to home for college, Green-Beckham posted a 28-395-5 line as a freshman in his first season with the Tigers. It was during that first year that his off-field problems began as he was arrested along with two teammates after they were allegedly caught smoking marijuana in a campus parking lot, resulting in a one-game suspension.

As a sophomore in 2013, Green-Beckham led Missouri in receptions (59) and touchdowns (12) while finishing second in receiving yards (883) and, most importantly, stayed out of trouble to earn second-team All-SEC honors. A week after that season ended, however, he was back in the news when he was arrested for possession of a controlled substance (marijuana) with intent to distribute, although he was later released without charges. Three months later, Green-Beckham was dismissed from the Missouri football team following an incident in which he allegedly forced open an apartment door and pushed an 18-year-old woman down several stairs. He was not charged in the incident, but Tigers HC Gary Pinkel believed a fresh start was best for all parties involved. Pinkel vouched for his troubled wideout to coaching buddy Bob Stoops at Oklahoma, but it proved to be for naught as the transfer waiver the Sooners hoped would allow Green-Beckham to play immediately was denied by the NCAA. To his credit, Green-Beckham stayed out of trouble in Norman and became a model scout-team player, putting in all the early-morning conditioning and weightlifting sessions that he would have been asked to participate in had he been eligible.


NFL Player Comp(s): Plaxico Burress

Best Scheme Fit: His best initial fit will likely be in a role and/or scheme in which he can be the next Martavis Bryant. His size, speed and ball skills should play well in deep-ball and red-zone situations just as they did in college and the limited snaps would protect him somewhat from getting exposed as a one- or two-trick pony while he develops his route-running skills.

Strengths
Rare athleticism and body control for such a huge-framed wideout; more fluid than most receivers with similar height/weight.

Does a fine job of using his wingspan and frame to shield off defenders on downfield throws, especially in high-point situations in the red zone.

Long-strider with enough wiggle to make defenders miss in the open field and a very powerful runner after the catch.

Lack of route-running chops creates a lot of contested-ball situations, but he wins the majority of them anyway.

Usually an effective and willing blocker that uses huge frame to his advantage; walls off defender some of the time and will occasionally put the defender on skates or deliver a crushing backside block.

Weaknesses
Multiple major off-field concerns.

Doesn't play nearly as physical as his size suggests he should and often struggled with press coverage; disappointed with 13 reps of 225 lbs. at the combine.

Has much work to do before he is considered an average route-runner (ran mostly tunnel screens, 9-routes and fades in college); creates most of his separation due to superior athleticism.

Did not show much of a feel for reading defenses and is unpredictable in terms of when he makes his breaks; doesn't always appear to be on the same page as his quarterback.

Will allow the ball to get into his body too often, especially on non-red zone routes.

Bottom Line
Green-Beckham – even more than Jameis Winston – should serve as a pretty good litmus test as to how much (more?) stock NFL teams want to put into character going forward. Will he enter the league with one strike against him when it comes to domestic violence, substance abuse or both? The reason DGB is a better test case than Winston is because this draft features two first-round quarterback prospects and a host of players that talent evaluators will be nothing more than long-term backups while the receiver position is likely loaded with future starters. From a pure talent perspective, Green-Beckham is as good as this draft has to offer. One AFC college scout even went so far as to say, "If not for all that (off-field) stuff, he'd be the best receiver to come out since Calvin Johnson." Another scout (assigned to cover Oklahoma) told Bleacher Report, "He's completely turned his life around. Big brother moved in, whipped his (butt) and took control. He's on the straight-and-narrow since leaving Mizzou." While Johnson has more talent and was clean as a whistle off the field coming out of Georgia Tech, the comparison to DGB is appropriate in that both players are both huge-framed and freakishly-talented receivers that entered (or will enter) the league as raw route-runners.
Green-Beckham is a huge piece of football clay that could easily be molded into a masterpiece in the right situation or be out of the league in three years if he thrown into the wrong situation. As a result, he has more space between his pro ceiling and floor than any other prospect in this draft. Much as is the case with many impressionable young men coming into the league with checkered pasts, so much of whether or not DGB succeeds or fails will depend on the support system that his next team offers, making it important that his next team insist on a zero-tolerance policy AND the Green-Beckham brothers are a package deal at the very least.

---
Doug Orth has written for FF Today since 2006 and appeared in USA Today's Fantasy Football Preview magazine in 2010 and 2011. He is also the host of USA Today's hour-long, pre-kickoff fantasy football internet chat every Sunday. Doug regularly appears as a fantasy football analyst on Sirius XM's "Fantasy Drive" and for 106.7 The Fan (WJFK – Washington, D.C). He is also a member of the Fantasy Sports Writers Association. E-mail Doug or follow him on Twitter.