Editor's note:

Predict the top ten picks of the NFL Draft for a chance to win FFToday prizes. Our annual NFL Draft Contest is free to join. The top 20 finishers will reap the rewards. Enter Now.

As we begin the countdown to the NFL Draft starting on April 30, I will spend anywhere from 4-8 hours to break down the strengths and weaknesses of at least the top 15 offensive skill-position prospects available in this draft.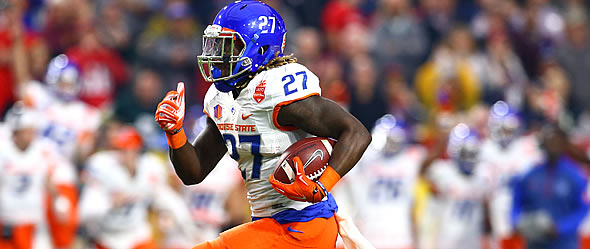 Jay Ajayi is a solid second-round selection with enough upside to warrant a late first-round pick.
Vitals
College: Boise State
Height/Weight: 6'0"/221
Hands: 10"
Important NFL Combine Numbers
40-Yard Dash: 4.57
Vertical Jump: 39"
Broad Jump: 10' 1"
20-Yard Shuttle: 4.10
3-Cone: 7.10

Background (College Stats)
Ajayi, who was born in London to Nigerian parents, moved first to Maryland and then to Texas during his youth, eventually settling on football over soccer. He signed with the Broncos in 2011, but quickly fell into the doghouse in October of that year when he was arrested for stealing a pair of sweatpants (later sentenced to five days in jail) and tore his right ACL over the course of one week, prompting him to redshirt. After sitting behind D.J. Harper on the depth chart in 2012, the Boise State coaching staff made Ajayi earn his starting job in 2013 and he quickly burst onto the scene by running for 1,425 yards and 18 touchdowns as a sophomore en route to All-Mountain West Conference honors. Continuing to take advantage of the second chance the Broncos afforded him, Ajayi set single-season school records for rushing yards (1,823), carries (347), all-purpose yardage (2,358), rushing touchdowns (28) and 100-yard rushing performances (10) in 2014, becoming the first player with 1,800 rushing yards and 500 yards receiving in a single season.
NFL Player Comp(s): A less explosive Bryce Brown
Best Scheme Fit: His natural inclination to bounce runs to the perimeter probably make him a better fit for a team that runs a lot of stretch plays or outside zone runs while his receiving chops would be a solid fit in a scheme that heavily utilizes its running back in the passing game.
Strengths
Outstanding balance and jump cut for a bigger back (soccer background likely contributed to fluid hips and quick feet).

Determined and aggressive runner with enough size to take a pounding; did not miss a game despite 751 touches in his last three years (673 over his final two seasons) at Boise.

Accelerates very quickly and can reach top speed in a hurry; frequently spins off contact and uses it to regain stability.

Comfortable in space and able to string together multiple moves; showed off a bit of a stiff arm as career progressed.

Appears to be a natural as a receiver and has experience lining up all over the field; good route-runner with superb body control, hand-eye coordination and overall ball skills.

Weaknesses
Too quick to bounce runs outside and seems to absorb more punishment than he should have to on inside runs, especially given how elusive he is for a 220-pound runner.

Consistently underwhelms at point of attack – likely due to lack of lower-body power – and unlikely to be a good short-yardage or goal-line option as a result, at least early in his NFL career.

Ball security (seven of his 12 career fumbles came in 2014); allows ball-carrying arm to swing away from body too often and has a frustrating tendency to carry the ball with inside arm.

Good, but not great, top-end speed results in a fair number of big plays, but not too many big-play touchdowns.

Doesn't identify or sustain well in pass pro, allows himself to get pushed back too often (improved as season progressed in 2014).

Bottom Line
Ajayi has the size and many of the skills necessary to become a top-level three-down NFL back, but his current shortcomings are also serious enough that he could struggle to be anything more than a part-time receiving back (and even that assumes his pass blocking gets better). As such, the Marshawn Lynch comparisons Ajayi receives are well off the mark at the moment. With that said, most of his flaws are correctable and rare is the opportunity for a NFL team to get a 220-pound runner that has the ability to play like a smaller and a bigger back in one package. Ajayi started off the 2014 season running like a 205-pound (or smaller) back – which is both a blessing and a curse – but appeared to be much more disciplined as an inside rusher by the time he closed his college career out with a win over Arizona in the Fiesta Bowl. Assuming that is the start of a permanent change, the former soccer player desperately needs to get with his new strength and conditioning coach as well as his new position coach to improve his lower-body strength and ball-carrying fundamentals, respectively, during the offseason. There is admittedly a great deal of uncertainty as to whether or not Ajayi can correct most of his flaws over a summer or even as a rookie, but there isn't much of a question that he is different (in a good way) from most 220-pound backs. That fact alone makes him a solid second-round selection with enough upside to warrant a late first-round pick.
---
Doug Orth has written for FF Today since 2006 and appeared in USA Today's Fantasy Football Preview magazine in 2010 and 2011. He is also the host of USA Today's hour-long, pre-kickoff fantasy football internet chat every Sunday. Doug regularly appears as a fantasy football analyst on Sirius XM's "Fantasy Drive" and for 106.7 The Fan (WJFK – Washington, D.C). He is also a member of the Fantasy Sports Writers Association. E-mail Doug or follow him on Twitter.