As we begin the countdown to the NFL Draft starting on April 30, I will spend anywhere from 4-8 hours to break down the strengths and weaknesses of at least the top 15 offensive skill-position prospects available in this draft.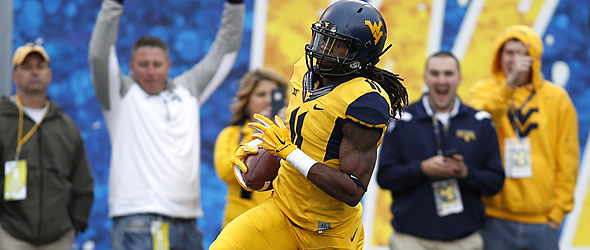 Rising: Kevin White's huge leap between his junior and senior seasons has him on the top ten radar.
Vitals
College: West Virginia
Height/Weight: 6'3"/215
Hands: 9 1/4"
Important NFL Combine Numbers
40-Yard Dash: 4.35
Vertical Jump: 36 1/2"
Broad Jump: 10' 3"
20-Yard Shuttle: 4.14
3-Cone: 6.92

Background (College Stats)
White went the JUCO route out of high school, landing at Lackawanna College in Pennsylvania when he failed to qualify academically. He sat out the 2010 season with a shoulder injury and missed the 2011 campaign because he didn't have the financial means to stay enrolled at Lackawanna. White finally saw the field for the first time in 2012 and quickly attracted the interest of Division I programs. He eventually settled on West Virginia after taking note of the success that former Mountaineers Tavon Austin and Stedman Bailey had in HC Dana Holgorsen's spread offense. White took a back seat to eventual third-round RB Charles Sims in 2013 in part because West Virginia cycled through three quarterbacks. The Biletnikoff Award finalist announced his arrival in the team's season debut in 2014 in a 33-23 loss to Alabama on Aug. 30, posting a 9-143-1 line – the first of his school-record seven consecutive 100-yard games.
NFL Player Comp(s): Larry Fitzgerald
Best Scheme Fit: Universal (eventually). Should have little problem outrunning most NFL cornerbacks on deep throws and enjoyed enough success on underneath routes (particularly drags and hitches) to move the chains when defenses put a safety over the top.
Strengths
Prototypical size and speed to be a NFL lead receiver; exceptional concentration on contested catches – including deep balls and red-zone throws.

Tracks the ball well downfield and consistently wins 50-50 throws, but not simply a deep-ball receiver; generally pulls away from defender when ball is in the air.

Unafraid to work the middle of the field and can take a short pass the distance if/when he finds a seam on an underneath throw.

Is primarily a hands-catcher and more than capable of snagging poorly-thrown passes outside his frame; showed much more consistency in terms of not dropping passes in 2014.

Fights through contact during the course of his route and is already stronger than all but a handful of NFL defensive backs.
Weaknesses
Has a tendency to swing ball away from body when attempting to elude defenders in the open field.

Walls off defensive backs in the run game as opposed to mauling them, although there was much improvement in this area from 2013 to 2014.

Although he seems to have little trouble creating separation, he still needs polish in and out of cuts (again, much improved from 2013 to 2014).

Transition from West Virginia's spread offense to a pro-style offense could prove to be a small obstacle initially.

Would like to see such a physically-strong receiver break more tackles in the open field; can make a defender miss, but is not overly elusive yet after the catch.

Bottom Line
The term "one-year wonder" has been tossed around in regards to White, who went from 35-507-5 in 2013 to 109-1,447-10 in 2014. While one year of elite production can be scary for talent evaluators when investing in a player, a receiver can also enjoy a breakout season when he gets significantly better quarterback play from one year to the next and takes it upon his himself to improve his own skills, which White clearly did in between his junior and senior seasons. In other cases, a player gets his chance to shine and, along with that, develops enough confidence in his abilities to dominate the competition. I believe all of these factors came into play for him in 2014. White may not be the refined route-runner Fitzgerald was coming out of Pittsburgh, but the former Mountaineer is slightly stronger and faster than the eight-time Pro Bowler was in 2004. All this is to say that White is more than capable of enjoying instant success in the NFL; he is the embodiment of today's pro receiver (big, strong, fast and able to win on high-point throws) and still has much room to grow in the finer points of the game. White's dramatic improvement during his two-year stay in Morgantown suggests his mind is in the right place and he is committed to improving at his craft, so he's probably a much safer pick than most draft analysts or casual observers believe he is at the moment.

---
Doug Orth has written for FF Today since 2006 and appeared in USA Today's Fantasy Football Preview magazine in 2010 and 2011. He is also the host of USA Today's hour-long, pre-kickoff fantasy football internet chat every Sunday. Doug regularly appears as a fantasy football analyst on Sirius XM's "Fantasy Drive" and for 106.7 The Fan (WJFK – Washington, D.C). He is also a member of the Fantasy Sports Writers Association. E-mail Doug or follow him on Twitter.