Editor's note:

Predict the top ten picks of the NFL Draft for a chance to win FFToday prizes. Our annual NFL Draft Contest is free to join. The top 20 finishers will reap the rewards. Enter Now.

As we begin the countdown to the NFL Draft starting on April 30, I will spend anywhere from 4-8 hours to break down the strengths and weaknesses of at least the top 15 offensive skill-position prospects available in this draft.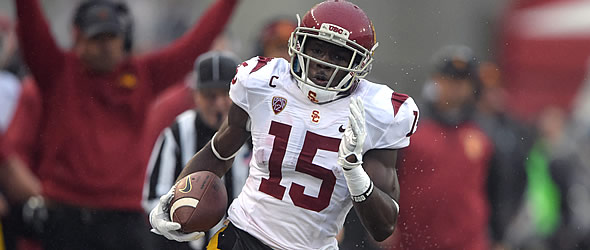 Efficient route-runner that creates impressive separation with sharp cuts coming out of breaks.




Vitals


College: USC
Height/Weight: 6'0"/198
Hands: 9 1/4"



Important NFL Combine Numbers


40-Yard Dash: 4.42
Vertical Jump: N/A
Broad Jump: 10'5" (pro day)
20-Yard Shuttle: 4.34 (pro day)
3-Cone: 6.83 (pro day)



Background

(College Stats)
Born in Nigeria, Agholor moved to United States when he was five years old and played his high school ball in Tampa (Fla.). The former five-star recruit lived in the shadow of Marqise Lee and Robert Woods in his first year of college, settling for 19 catches, 340 yards and two scores as the No. 3 receiver for USC as a freshman. Agholor wasn't able to fill Woods' shoes statistically when he became a starter as a sophomore, but most of that can be blamed on the fact that quarterback Matt Barkley left along with Woods to the pros after the 2012 season. With Lee hobbled for most of his final campaign in 2013, Agholor became the de facto lead receiver for the Trojans, pacing the team with 918 receiving yards and six touchdowns while finishing with one less reception (56) than Lee (57). He made the All-Pac-12 second team that season (as a return specialist) and honorable mention (as a wide receiver). Agholor continued his ascent into one of the nation's top wideouts in 2014, catching 62 passes for 908 yards and eight scores over the last seven games of his college career. His final tally (104-1,313-12) was good enough to make him a third-team All-American and first-team all-conference selection.

NFL Player Comp(s): Eddie Royal

Best Scheme Fit: Possession and/or slot receiver in a West Coast offense.

Strengths
Efficient route-runner that creates impressive separation with sharp cuts coming out of breaks (appears to love running the "whip" or "pivot" route).

Smooth and sudden receiver who does a good job of winning the route before the break by varying his tempo and through the use of head-and-shoulder fakes.

Surprises defenders with initial burst (did this on a number of wide receiver screens in 2014) and probably offers the quickest transition from catch to run of any of the top receiver prospects in this class.

Will suffer a focus drop from time to time, but usually flashes quick and strong hands to easily pluck the ball anywhere near his frame; willing to pay the price in traffic.

Should be an immediate contributor on special teams – returned four of 37 punts for touchdowns in college; that same spatial awareness and vision shows up as a receiver, especially against zone coverage.

Strong character shows up in preparation and attention to detail; recognized as a team leader in college.

Weaknesses
Thin-framed receiver that needs to add at least 7-10 pounds of muscle; while he is more advanced than most receivers in this draft class as a route-runner, he lacks the strength to consistently maintain his path against physical coverage.

Shows good field awareness near sideline and can high-point as well as track the ball over his shoulder, but isn't ever likely to win more than his fair share of 50-50 balls.

Quicker than fast and does not always play to his timed speed; struggled in 2014 against the best cornerback prospect on the schedule (likely Day 2 pick Steven Nelson of Oregon State).

Willing blocker, but ends up walling off defender simply because he lacks the strength to hold up for more than a couple of seconds.

Durability did not prove to be a problem in college and toughness is not in question, but the lack of thick muscle throughout body raises concerns about his ability to hold up in NFL.

Bottom Line
Agholor is a fun prospect to watch given his unique running style and obvious attention to detail, but does it carry over to fantasy superstardom? Unless he lands in a situation in which he is the clear No. 2 receiver with a dominant No. 1 in a high-volume passing offense, I don't foresee him evolving into the kind of top-flight producer that teams want when they spend a first-round pick at the position. What he does offer is versatility; he should thrive in the slot at some point early in his rookie season and it wouldn't surprise me much if he regularly finishes with 60-70 receptions as one of the league's better chain-moving possession receivers down the road. What I don't see is the one redeeming quality that will allow him to dominate stretches of games for any length of time or become a red-zone fiend. Almost by definition, that means Agholor's NFL ceiling is as a No. 2 option that has the ability to move inside in three-wide packages. There is no shame in that role, but it does call into question if he belongs in the first-round conversation. (I do think he is more than worthy of a second-round selection, however.) Then again, more than one draft analyst has suggested there are only about 15 players in this draft with first-round grades. If that is the case, then it really doesn't matter if Agholor is the No. 20 or No. 40 overall prospect because everything after the midpoint of the first round will be the second round in the eyes of the talent evaluators anyway.
---
Doug Orth has written for FF Today since 2006 and appeared in USA Today's Fantasy Football Preview magazine in 2010 and 2011. He is also the host of USA Today's hour-long, pre-kickoff fantasy football internet chat every Sunday. Doug regularly appears as a fantasy football analyst on Sirius XM's "Fantasy Drive" and for 106.7 The Fan (WJFK – Washington, D.C). He is also a member of the Fantasy Sports Writers Association. E-mail Doug or follow him on Twitter.