A d v e r t i s e m e n t
Well, we're movin' on up
To the east side
To a deluxe apartment in the sky…
- Ja'net Dubois and Jeff Barry (co-writers for the theme song of The Jeffersons)
For the younger members of my audience, the above lyrics may not be all that familiar to you. For all of those readers around 40 years of age, The Jeffersons was a staple in the entertainment lineup of many Americans from 1975-1985 and one of the longest running sitcoms in the history of American television. (Ah, don't we all remember the days when TV Guide was just a magazine?)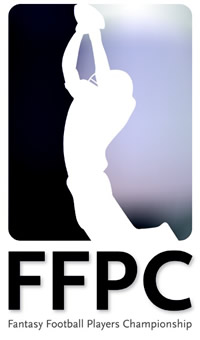 The reason I chose "Movin' on Up" to lead into this week's article is because that is exactly what I am trying to do with this week's submissions. The Fantasy Championship and FFPC offer the biggest payouts in fantasy football, so it is about time that I start creating some Big Boards that not only cater to those contests, but also recognize the difference between the scoring in those leagues and the more traditional formats I have been focused on for the last few years. I know of several high-stakes players that have used the traditional Big Boards I have built in the past with great success, so it only makes sense to make a few alterations on my end in order to make sure those owners have the same kind of resource that many of you have utilized.
The TFC and FFPC use scoring that is very similar to the PPR scoring I used in last week's Big Boards. The main differences are as follows:
1) the TFC rewards four points (instead of six) for passing touchdowns, penalizes one point (instead of two) for interceptions and hands out a point for every 20 yards passing (instead of 25).

2) the FFPC uses the same scoring as I just laid out for the TFC, but rewards tight ends 1.5 points for every catch and one point for every other position.

Needless to say, there isn't going to be much difference between the Big Boards this week, outside of the fact that tight ends will appear much earlier and slightly more often in the FFPC Big Board. I realize that 150 players probably won't be enough for you this week (both sites use a 20-round draft) and I apologize for that. Fear not, however, as next week's 200-player Big Boards should be deep enough for the majority of you. (And honestly, shouldn't most of us be drafting our most important teams next week anyway?)

Before I get to the boards, I would like to remind readers about two key points:

1) I doubt you will find another draft board like this one and further doubt you will find a similar set of rankings anywhere else. The standard the industry uses to measure accuracy among analysts is overall scoring, but I am more concerned with projected consistency and matchups. Consistency tends to lead to big fantasy numbers at the end of the season and championships while inconsistency and bad matchups at the wrong time usually lead to frustration. Someday, I hope the industry catches on to my way of thinking. Until then, I'll try to win as many titles as possible and help you do the same.

2 ) Much like the past three seasons, I want to provide readers with a clear risk sign. If a player is a moderate risk – be it due to injury, off-field, etc. – you will see a

next his name. If I feel a player is a severe risk, you will see a

next to his name. While I feel like I have accounted for each player's "risk" with their spot on the Big Board, you may be more or less inclined to deal with that risk than I am. This is just another way of helping you take a look at the board and quickly identifying which players stand a good chance to frustrate you at some point this season.

Let's revisit the color-coding system before we start:

Red – A very difficult matchup. For lower-level players, a red matchup means they should not be used in fantasy that week. For a second- or third-tier player, drop your expectations for them at least one grade that week (i.e. from WR2 to WR3). For elite players, expect them to perform one level lower than their usual status (i.e. RB1 performs like a RB2).

Yellow – Keep expectations fairly low in this matchup. For lower-level players, a yellow matchup is a borderline start at best. For a second- or third-tier player, they can probably overcome the matchup if things fall right. For the elite players, expect slightly better than average production.

White – Basically, this matchup is one that could go either way. In some cases, I just don't feel like I have a good feel yet for this defense. Generally speaking, these matchups are winnable matchups for all levels of players.

Green – It doesn't get much better than this. For non-elite players, the stage is basically set for said player to exploit the matchup. For the elite player, this matchup should produce special numbers..

Key:


OVR – Overall Rank
PR – Position Rank
FPts – Fantasy points scored
FPts/ G – Fantasy points/game
Success score (SSI) – The sum of several position-specific attributes that I feel are important to fantasy production, weighted and scored. A perfect score is 1000, but it may help to move the decimal point one spot to the left and think of each score as a percentage. It may also help to think of the final score as the likelihood that player will produce at the level I have projected him if his current environment stays roughly the same as it is now.

Just so you know what you are getting yourself into, here are some of the attributes I weighed and scored at each position:

Quarterback – Talent, job security, four-game stat projection, red-zone projection (how often I believe the quarterback will either throw or run the ball himself inside the 20) and the degree to which I believe his offense is conservative or will play that way because of an elite defense.

Running back – Talent, job security, durability, four-game stat projection, three-down back (based on projected snaps) and the run-blocking prowess of his offensive line.

Wide receiver – Talent, job security, four-game stat projection and projected red-zone scores.

Tight end – Talent, job security, projected red-zone scores and projected targets in relation to his peers at the position.

Here is the scoring system that I used to rank the players in the PPR format:



Top 25:

One of the most common mistakes drafters make is attaching a label to one player while often disregarding the fact his peers at the same position have the same issue. If you don't buy into C.J. Anderson as an early first-round pick, I can completely understand that decision since he is less proven than the other top backs behind him on my board. Here's the problem: the Chiefs want to rest Jamaal Charles more this season (Knile Davis is a more-than-capable reserve), the Packers have already talked about keeping Eddie Lacy fresh by limiting his touches (they did this last season by liberally using James Starks) and we already know Jeremy Hill will miss out on a productive fantasy day or two when Giovani Bernard steals some work in the passing game. I take some degree of comfort in remembering how new HC Gary Kubiak handled his backfield with the Texans in 2011, when Arian Foster finished as the RB4 and Ben Tate the RB32 in PPR. (For what it is worth, Tate piled up 188 touches and Foster missed three games that year!) My advice: take advantage of the uncertainty surrounding Anderson right now and get him at a discount. Just make sure to spend an early mid-round pick (maybe in the 10th-round area in 12-team leagues) on Ronnie Hillman. If you do so, there is a strong chance you have landed a RB1 and part-time flex option.

Randall Cobb's upside – especially in PPR leagues – was already pretty high and it's hard seeing him better his 2014 numbers since he posted a 91-1,287-12 line WITH Jordy Nelson operating as Aaron Rodgers' favorite target. The crushing loss of Nelson to an ACL tear over the weekend probably pushes Cobb over the 100-catch mark, but the Packers are not hurting for options even with their top receiver sidelined. I think the safe assumption is that if Cobb plays all 16 games, he is a very good bet to match last year's production but not necessarily blow it out of the water. For what it is worth, I had projected Cobb on a 108-catch pace prior to Nelson's injury and I think that is about where he will end up since Rodgers will also pepper Lacy, Davante Adams as well as Richard Rodgers, Jeff Janis and rookie Ty Montgomery with targets to fill the void left behind.


26-50:

Most of the running backs in this group of 25 players have a healthy mix of positive qualities that could thrust them into the top 10-12 at their position and enough potential pitfalls to make owners question a third- or fourth-round investment in them. One of the toughest ones to rank has to be Alfred Morris, who saw his team add one of the league's best offensive line coaches (Bill Callahan) and a team-wide commitment to run the ball more often in his contract year. So what's the problem? "Alf" might as well be the lower-scoring, present-day version of Michael Turner in that he is going to play all 16 games, run for 1,000 yards and eight or so touchdowns and do next to nothing in the passing game. The bigger issue, however, could be that his likely replacement (Morris is in a contract year and the team drafted Matt Jones) is bigger, stronger, faster and can do more than hold his own as a receiver out of the backfield. Morris' YPC has declined each year since his incredible rookie season in 2012, so it is fair to wonder just how strong of a grip Morris has on his job. The fourth-year runner has been a safe RB2 over the last two seasons because he's been a lock for at least 250 carries, but I'm not sure that is going to be the case again in 2015.

51-100:

If Jameis Winston can bring any kind of respectability to the Tampa Bay offense, then Doug Martin's owners may finally be able to get a taste of what it was like to own the "Muscle Hamster" as a rookie in 2012. No, I don't expect Martin to come anywhere close to 1,972 total yards or 12 touchdowns simply because the Bucs aren't going to give him the ball 368 times like former HC Greg Schiano did. What Martin can do if he stays healthy for 16 games is approach 225-250 carries and roughly 25 catches simply because I cannot foresee a scenario in which Tampa Bay opens up the offense for its rookie quarterback in 2015. Charles Sims figures to cap Martin's upside in the passing game again, so owners need to set their sights on a low-end RB2 if they draft the fourth-year back.

I have a feeling I will end up with Tyler Eifert on roughly half of my money-league teams this year. Consider for a second that Cincinnati found a way to funnel 80 targets (resulting in a 62-460-5 line) to Jermaine Gresham last season, albeit in a season in which the Bengals couldn't keep any receiving option healthy for more than a few games at a time. Before succumbing to a rash of injuries over his first two NFL seasons, Eifert came into the league as a very athletic tight end with exceptional high-point ability for a player at his position. It is important to note we aren't talking about a Rob Gronkowski-, Jimmy Graham- or Travis Kelce-like skill set here, but a player of his abilities that has an elite receiver like A.J. Green and a very good ground game taking defensive attention away from him is set up for fantasy success. Eifert's ADP (according to Fantasy Football Calculator) has climbed nearly a full round in the last week alone to the middle of the ninth round, but that price is still nearly two rounds lower than I think he should go. Whereas I think Vernon Davis can have a bounce-back season and believe Kyle Rudolph could be a mid-level TE1 if he could ever stay healthy, I tend to believe Eifert will push both and make a solid charge at finishing among the top 5-8 players at his position in fantasy.

I'm going to keep expectations in check in regards to Devin Funchess replacing Kelvin Benjamin, perhaps in part because I expect Greg Olsen to benefit the most from a fantasy perspective. Having said that, Cam Newton displayed an affinity for throwing the fade to Benjamin in the red zone and take his chances the 6-5 receiver would consistently win the battle against a smallish corner last year. While I don't think the 6-5 Funchess can match Benjamin in terms of his impact outside the 20, I do think he has a solid chance to rival his production inside the red zone. The Panthers have quickly gone from a team that appeared to be on the verge of competing for a third straight NFC South title to an outfit with an inefficient quarterback that could very well be without Benjamin and C Ryan Kalil (sprained knee, questionable for Week 1), who is the one established blocker the team had, and lacks legitimate receiving options outside of Olsen and Funchess.

101-150:

It is about time for owners to start getting on board with the Vikings' offense. All Teddy Bridgewater has done in three exhibition games is complete 78.6 percent of his passes and avoid sacks. Once Charles Johnson established himself as a go-to receiver for Bridgewater around Week 11 last season, the then-rookie quarterback proceeded to complete 68.2 percent of his attempts for 228.3 yards per game and 11 touchdowns. Considering Bridgewater and Johnson were both first-year players and the Vikings had an average-at-best ground game, those numbers are pretty good. This year, Minnesota is flush with offensive talent as Mike Wallace, a healthy Kyle Rudolph, a highly-motivated Adrian Peterson and even versatile rookie TE MyCole Pruitt are along for the ride. I think 25-plus touchdown throws is a completely realistic goal for him, assuming Peterson doesn't become the first back in league history to top 2,000 rushing yards twice.

I desperately want to see Brian Quick play this weekend. Cleared for contact after about 10 months after sustaining a shoulder injury in Week 8 last season, the No. 33 overall pick of the 2012 draft only needs to prove to me he can take a few hits in order to move up my boards. Quick was on a 64-973-8 pace despite the Rams' lackluster quarterback play last season, so there is reason to believe he can emerge as a trustworthy every-week WR3 with a more stable situation under center. I'd be remiss if I didn't include a plug in this section for teammate Tavon Austin, who I tend to believe is going to be very fantasy-relevant at some point early in the season (at least as much as any potential No. 2 receiver in a run-heavy offense can). I can assure you he will be a regular on next week's boards; I think Austin makes a great end-of-the-draft flyer pick in the 20-round formats of The Fantasy Championship and the FFPC.

Next: TFC

---
Doug Orth has written for FF Today since 2006 and been featured in USA Today's Fantasy Football Preview magazine since 2010. He hosted USA Today's hour-long, pre-kickoff fantasy football internet chat every Sunday in 2012-13 and appears as a guest analyst on a number of national sports radio shows, including Sirius XM's "Fantasy Drive". Doug is also a member of the Fantasy Sports Writers Association.