In six years of evaluating the incoming rookie class for redraft purposes, I don't recall one in which so many players can make a fairly strong case to be considered. That is not to say there will be more immediate superstars in this bunch than there were in the first five, but it is quite possible more rookies will make worthwhile contributions this year than any other class in recent memory.

Rookies typically represent the greatest unknown each year for an obvious reason: they are the only players we will select this summer that we have never seen play at this level. With that said, I can see at least nine players from this class emerging as every-week starting options based on talent, need, fit or some combination of the three. All the other players we will discuss this week and next will likely need some help to join them, but I think it is notable that I felt compelled to essentially go 26-deep this year.

As per usual, I think it helps to ask at least four simple questions when evaluating rookies – each of which I will try to address in the write-ups below:

1) Is he in a position to succeed?
2) What are his most obvious obstacles?
3) Is he an offensive building block, complementary piece or role player?
4) How is the "fit" and does his style mesh with what the team is trying to accomplish or is the offense going to cater to his talents?

Over the next two weeks, I will evaluate the top rookies from this class – covering the back half of my top 20 in this piece and the top half in the next one – and attempt to detail their situations in an effort to answer whether or not they are worthy of your consideration in fantasy. At the very least, I hope to provide each of you with my early assessments on each player before I really buckle down on player evaluations in July and August using what I hope will be a new-and-improved Preseason Matchup Analysis.

Note: The rankings below are for the 2015 season only and are ranked in order of likelihood of fantasy impact. (For example, quarterbacks like Marcus Mariota and Jameis Winston may accrue more fantasy points given the nature of their position, but the chances of them impacting a fantasy team are slimmer than say, a potential fantasy WR3 in a three-WR league, because the receiver may end becoming an every-week fantasy starter.) The QB2/RB3/WR4 designations are what I expect that rookie to be in PPR formats this season.

Players who just missed the cut:

Dorial Green-Beckham, WR Tennessee – Perhaps the greatest of wild-cards when it comes to projecting this class, DGB probably warrants a top 15 selection based on talent alone. But as size/speed/athleticism freaks at receiver go, is he more Stephen Hill or Calvin Johnson as a football player? Green-Beckham may end up cracking the top 20 if he simply establishes himself as the top red-zone weapon for the Titans (a feat which is entirely possible). Unfortunately, his measurables are about the only thing the top-rated player in the 2012 recruiting class has going for him at the moment. Even if we assume he has no more off-field issues (a big if), DGB is a very raw receiver that will have a rookie quarterback throwing him the ball. Kendall Wright and Delanie Walker also figure to take turns being Mariota's No. 1 read on most passing plays in 2015, meaning the most fantasy owners can hope for here is that Green-Beckham experiences a Martavis Bryant-like surge in the second half of the season. The problem: Mariota isn't Ben Roethlisberger and OC Jason Michael isn't Todd Haley.

Phillip Dorsett, WR Indianapolis – I really wanted to find a spot for Dorsett on this list and it would come as no surprise to me if he finished in the top10-12. For that to happen, however, the speedster will probably need either T.Y. Hilton to get hurt or the Colts to abandon the two-tight formations they have favored under OC Pep Hamilton. I do feel as though Indianapolis drafted Dorsett with the intention of using him to replace Hilton (whose contract is up after this year) in 2016 in an effort to remain competitive while ponying up the $20 M-plus per year it will take to keep Andrew Luck around as the Colts get around to addressing his second contract next offseason.

Maxx Williams, TE Baltimore – Assuming Dennis Pitta is unable to play again anytime soon, there may not have been a better match in terms of talent and immediate need in the draft than the Ravens trading up to snatch Williams in the second round (right ahead of the rival Pittsburgh Steelers, no less), although Melvin Gordon (San Diego) and Breshad Perriman (Baltimore) each have strong cases as well. So why does Williams not deserve more consideration in redraft formats? Rookie tight ends do not have a great history when it comes to producing in Year 1 and Williams isn't the one-in-a-decade talent like Rob Gronkowski to buck that trend. For example, Eric Ebron and Austin Seferian-Jenkins each brought more talent to the table than Williams and struggled last year. The University of Minnesota alum profiles similarly to Jason Witten, however, so he should enjoy a solid NFL career.

Cameron Artis-Payne, RB Carolina – For the third straight year, the Panthers burned a sixth-round pick on a running back. For the first time over that span, one of those players has a chance to stick and make a contribution as a rookie. Artis-Payne is not a special talent by any stretch, but he makes this list because of his opportunity; there is no reason why he shouldn't be No. 2 on the depth chart right away. And with DeAngelo Williams now in Pittsburgh, that spot is prime fantasy real estate behind injury-prone Jonathan Stewart, who has missed 20 games over the last three seasons.

Justin Hardy, WR Atlanta – The odds are against the all-time NCAA receptions leader ever making a significant fantasy impact as long as Julio Jones and Roddy White are around. With that said, Matt Ryan was able to make Harry Douglas a starting option in fantasy in 2013 (with Jones missing most of the season) and somewhat viable with 51 catches in 2014. The bar won't be set that high for Hardy as a rookie, in part because new OC Kyle Shanahan tends to funnel his passing game through his "X" receiver (Jones, in this case). The most likely scenario this year involves Hardy working mostly out of the slot and splitting snaps with Devin Hester depending on down and distance. The East Carolina standout should be able to carve himself out a fine career as a chain-moving possession receiver out of the slot and should ultimately end up being a better player in Atlanta than Douglas was.

Josh Robinson, RB Indianapolis – Much like Dorsett, Robinson may not be a factor until 2016, especially given Frank Gore's recent track record for durability. With that said, Robinson is probably the closest thing to Gore this draft offered in terms of running style and may give the Colts about the same production Gore will considering the ex-49er is 32 years old and has 2,442 regular-season carries on his odometer. Even if Gore has another healthy season in him, Robinson could push Dan "Boom" Herron for No. 2 duties, which is a noteworthy role considering what Herron and Ahmad Bradshaw did in a similar spot last year.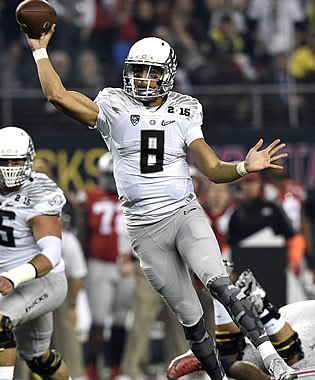 Mariota's mobility gives him a fantasy advantage.
20. Marcus Mariota, QB Tennessee (Draft Profile)
2015 Projected Role: Eventual building block; Week 1 starter.
Why he will live up to this ranking and perhaps exceed it: With all due respect to the multiple "spread quarterbacks" that have infiltrated the league in recent years, Mariota might be the best prospect. The first trait that really sticks out is his ability as a runner, which may be second only to a healthy Robert Griffin III among the aforementioned signal-callers. Whether or not HC Ken Whisenhunt actually follows through on his promise to incorporate elements of what made Mariota so successful at Oregon into his offense in Tennessee, the No. 2 overall pick's ability to extend plays and run for first downs on third-and-long figures to be a big part of his game early in his career. The Titans do not lack for reliable weapons – Wright (94 receptions in 2013) and Walker (back-to-back 60-catch seasons) have produced with less than stellar quarterback thus far – and possess two very difficult size-speed matchups in the red zone with Justin Hunter and Green-Beckham. The team also seems to like what it has in the ex-Falcon Douglas.
Why he won't: The Titans were woefully inadequate when it came to their blocking responsibilities last year. Of course, their plight wasn't helped all that much by the struggles of the defense, which was among the worst in the league. All this is to say is that if pro-ready Zach Mettenberger struggled with this offense, there shouldn't be a great deal of optimism that Mariota will be much different in Year 1 considering the amount of obstacles he already has in his path (learning the playbook, perfecting his footwork, staying calm in a less-than-clean pocket, etc.). It is also fair to wonder how much Whisenhunt and Michael will meet Mariota "in the middle" and cater the offense to the unique talents of their new quarterback. Counting on Hunter and/or Green-Beckham is a bit of a scary proposition as well; a new quarterback needs dependable targets and neither Hunter nor Green-Beckham can been mistaken for being reliable at this point of their careers.
2015 Fantasy Assessment: QB2. By now, most veteran owners understand quarterbacks that can make big plays with their legs or their arms are desirable in fantasy. So while great athletic talent is never a bad thing for a quarterback to have, it can be safely said that quality is the best thing Mariota has going for him at the moment. Whisenhunt's playbook is reportedly one of the more difficult ones in the league to digest and Tennessee didn't show much of an ability to run the ball last year, so it may be far-fetched to believe the Titans can break Mariota in slowly. Thanks to his ability to run, the reigning Heisman Trophy winner will likely provide a few low-end QB1 fantasy weekly totals in 2015, but I fear predicting the rushing scores that will make his 200-yard passing days more palatable will be hard to predict.
Fearless early-June prediction (14 starts): 235-of-405 for 2,850 yards, 13 TDs and 15 INTs; 102 rushes for 605 yards and four rushing TDs

19. Jaelen Strong, WR Houston (Draft Profile)
2015 Projected Role: Role player as a rookie; third receiver behind DeAndre Hopkins and Cecil Shorts; outside receiver in three-wide packages who plays over Shorts near the goal line.
Why he will live up to this ranking and perhaps exceed it: In what was a rather deep draft class at the receiver position, Strong is/was perhaps the best at the back-shoulder fade. The fade has quickly emerged as a red-zone staple, so finding a receiver like Strong that knows how to use his body to shield off a defender so well makes it very likely he will be a frequent target near the goal line. With Hopkins attracting the most attention in the passing game and Arian Foster still getting it done on the ground (when healthy), the third-round rookie will probably face one-on-one coverage on just about every snap in 2015. HC Bill O'Brien has publicly stated Strong will remain outside in his first year in an effort to master his position, which is logical since the Arizona State alum has work to do as a route-runner and doesn't need the added pressure of learning every receiver position quite yet. It is a good bet that in Year 1, the Texans hope (and probably expect) Strong will fill the "reduced role" Andre Johnson was unwilling to accept prior to his release this offseason. Shorts will get the first crack at Johnson's old job, but as any recent fantasy owner of his can tell you, it probably won't take long for the former Jacksonville Jaguar to succumb to injury.
Why he won't: While Johnson's departure creates a huge opportunity for someone like Strong, Shorts is a dependable route-runner who will most likely fill the secondary short-to-intermediate receiver void when healthy in 2015. Shorts is also the odds-on favorite to be the Texans' top choice in the slot, meaning Strong will probably be no better than the third option on the majority of passing plays in which the team goes three-wide. The eternal optimist might say that Houston upgraded its quarterback situation this year by trading away Ryan Fitzpatrick and signing Brian Hoyer, but any improvement there can be considered minimal at best. As such, expecting consistent production out of more than one receiver in this offense is probably a reach at best.
2015 Fantasy Assessment: WR4/5. Whereas many of the running backs and receivers on the lower end of this Top-20 list will probably not know their Week 1 roles for sure for another couple of months, Strong's seems pretty clear. (Think Davante Adams in a run-based offense with a league-average quarterback.) As a plus-blocker in the run game, the rookie could force his way into a timeshare with Shorts on early downs. For that to happen, however, Strong needs to substantially improve his route-running over the summer – something that is unlikely to happen over the course of just a couple of months. The reasons I believe Strong could meet or exceed this ranking are that: 1) he should be a significant red-zone weapon immediately and 2) Shorts' injury history. Shorts has played no more than 14 games in each of his first four seasons (13 in each of the last two) and doesn't offer much in terms of being a viable threat by the goal line. Strong's rookie-year ceiling is capped by the Texans' desire to run the ball and stay balanced in an effort to hide their quarterback situation as much as possible.
Fearless early-June prediction (four starts): 39 receptions for 475 yards and four TDs

18. Javorius "Buck" Allen, RB Baltimore
2015 Projected Role: Complementary player; part-time change-of-pace (COP) and occasional passing-down back as well as handcuff for Justin Forsett.
Why he will live up to this ranking and perhaps exceed it: Few play-callers find a way to get their running backs more involved in the passing game than new OC Marc Trestman, who saw his runners combine for 191 receptions during his two-year stint as the boss in Chicago. Forsett is no Matt Forte in terms of talent or build and probably shouldn't be expected to repeat the same kind of workload he enjoyed under former OC Gary Kubiak last year. Allen doesn't figure to face much resistance from the rest of the depth chart – likely Lorenzo Taliaferro and Fitzgerald Toussaint – so he has a pretty clear path to playing time should Forsett lose a step or get injured. The Ravens are already quite pleased with Allen's readiness in the passing game, which is unusual for a rookie back, so the question becomes to what degree he will cut into Forsett's touches. Further helping Allen's cause is the situation at receiver and tight end, where Baltimore will be breaking in rookies Perriman and Williams alongside the aging Steve Smith.
Why he won't: Despite his build (6-0, 221), Allen doesn't run with a lot of power. He also doesn't outshine Forsett in any one particular area either, which will obviously make it difficult for him to wrestle significant touches away from the 29-year-old veteran. Allen is a functional runner and, while he will be helped somewhat by Trestman's decision to keep Kubiak's zone-run game intact, the rookie lacks Forsett's ability to break big runs. Outside of size, Allen doesn't offer the Ravens anything they didn't already have in Forsett.
2015 Fantasy Assessment: RB4/5. Projecting most Day 2 running backs' roles before training camp is often a crapshoot, but Allen is more difficult than most. The USC product's most notable strengths are in the passing game (catching and blocking). However, Forsett is an adept receiver out of the backfield too and graded out well as a blocker in 2014. In short, Allen could be relegated to mostly handcuff status if Forsett proves able to survive another 16-game season. The one saving grace for Allen's redraft stock is Trestman's system, which enabled Chicago Bears' running backs to amass 32 more receptions than Baltimore got from its rushers a season ago. Using the 108 catches the Bears got from Matt Forte & Co. last year as a baseline for this season, it is conceivable that Forsett would push 60-70 receptions and Allen gets the rest. Allen is little more than a league-average runner at this point, so he is unlikely to work his way into significant carries barring an injury to Forsett this season.
Fearless early-June prediction (zero starts): 92 rushes for 430 yards and three TDs; 32 receptions for 205 yards
2015 Projected Role: Complementary player; COP and third-down back as well as handcuff for Alfred Morris.
Why he will live up to this ranking and perhaps exceed it: Despite possessing the frame of a pure power back, Jones (6-2, 230) has quicker feet and better hands than one might expect from such a player. "Matt has done some things out in space that have been very, very impressive – making moves on the second level, getting to the second level. In the passing game, (he is) running some option routes on linebackers. … He has natural hands, so we've been very impressed him," HC Jay Gruden told CSN Washington in mid-May. New GM Scot McCloughan went one step further, comparing him to a power back the ex-Seahawk executive traded for while he was in Seattle – Marshawn Lynch. The departure of Roy Helu Jr. to Oakland freed up a spot for Washington to draft a running back, although the selection of a bigger back like Jones suggests the Redskins do not plan on extending Morris' contract in the final year of his rookie deal. In that case, Washington may be inclined to give Jones as many as 100-150 touches in 2015 to see what they have in him before making a final decision on Morris.
Why he won't: Morris has yet to miss a game in his three years in the league, handled at least 282 touches every season and is the unquestioned starter in Washington. Morris is more a big-play threat and Jones really doesn't bring anything more to the table than Morris already does at the moment – outside of the passing-game contributions the Redskins apparently think the rookie can provide. The winner of Silas Redd-Chris Thompson camp competition seems like a more likely threat to fill the passing-down void left behind by Helu anyway, so Jones will have to keep impressing in camp in order to lock down that role. That is, of course, unless McCloughan and Gruden have already mostly made their minds up that Jones will operate in some form of committee with Morris.
2015 Fantasy Assessment: RB4/5. Morris set a career high with 17 receptions last season (Helu had 42 catches), so there is certainly some PPR flex upside to the passing-game back in this offense, especially if he can steal roughly 30 percent of the carries. McCloughan and Gruden seem pretty convinced Jones is going to play a fairly important role early in his career and appear willing to let the rookie steal some of the early-down work from Morris if he has a good showing in training camp and the preseason. Morris should be better this year (career-low 4.1 YPC in 2014) simply because he'll have a better offensive line to run behind, but he could use a strong camp in order to maintain the firm grip he has owned on first and second down since he was a rookie. Given Washington's Day 2 investment in Jones, it seems logical he will be given every chance to be more valuable than Helu was as Morris' caddy in Gruden's first season at the helm.
Fearless early-June prediction (zero starts): 108 rushes for 475 yards and three TDs; 45 receptions for 375 yards and a TD
2015 Projected Role: Complementary player; breather back and handcuff for Andre Ellington; potential goal-line back (despite his unwillingness to run in between the tackles).
Why he will live up to this ranking and perhaps exceed it: Ellington has never been the most durable player dating back to his college days and he wore down after absorbing 247 touches in 12 games a season ago. There was virtually no real talent behind him on the depth chart either before Johnson, who is a similar scatback-type player to the incumbent despite being four inches taller and 25 pounds heavier. Sitting behind an injury-prone undersized back in an offense that can chuck it down the field when QB Carson Palmer is healthy, Johnson has enough going for him that his owners can expect him to be fantasy-relevant anytime Ellington is forced to miss action. All of this assumes the Northern Iowa product remains limited as an inside runner. If Johnson makes substantial improvements in that area, then it is entirely possible may overtake Ellington at some point late in the year.
Why he won't: HC Bruce Arians remains firmly in Ellington's corner at this point, telling ESPN a day after the draft," "I think Andre will continue his same role," Arians said. "We'll keep him healthy and let him continue to develop … the nice thing David can do is he can do everything Andre does, so you don't have to change if there was an injury." If Arians truly believes like Johnson can do everything Ellington can do and wants to keep the veteran as the starter, then the most logical approach to the Arizona backfield is to limit Ellington to around 15 touches in order "to keep him healthy" and give Johnson the rest of the workload. While Johnson is a rare breakaway threat at 225 pounds, he is not the power back his size might suggest he should be. Furthermore, Arians seemed to describe an H-back when talking about his third-round rookie in mid-May, telling the Arizona Republic, "The kid can do anything as far as a wide receiver, running back, fullback. He will find a niche quick because he can learn so much."
2015 Fantasy Assessment: RB4. Much like Allen and Baltimore above, Arizona chose not to draft a back that gave it something different from what it already had, but rather a bigger back that does many of the same things as the starter. In this scenario, it appears the Cardinals would like to put a Lamar Miller-like cap on Ellington's workload and let Johnson take the remaining touches, with the idea being that Arians does not need to change up the game plan due to injury or fatigue to one of the two backs. Based on Arians' history as an offensive coordinator or head coach (beginning in 2001 with Cleveland), there has almost always been a clear-cut pecking order at the running back position. With that said, Johnson seems like a good bet for at least 100 offensive touches even if Ellington plays every game. It is more likely that he will not last the season, however, meaning there is a very good chance Johnson can be produce at an Ellington-like RB2 level in the games the third-year pro will likely miss.
Fearless early-June prediction (four starts): 128 rushes for 585 yards and four TDs; 33 receptions for 300 yards and two TDs

15. Duke Johnson, RB Cleveland (Draft Profile)
2015 Projected Role: Complementary player; COP/passing-down back behind likely starter Isaiah Crowell; possibly replace Travis Benjamin as kickoff returner.
Why he will live up to this ranking and perhaps exceed it: Johnson offers the Browns traits that 2014 rookies Crowell and Terrance West do not: lateral explosiveness and excellent receiving skills. To that end, Cleveland GM Ray Farmer favorably compared him to Giovani Bernard and Brian Westbrook. The Browns aren't any better at receiver this year than they were in 2014 and downgraded from Jordan Cameron to Rob Housler at tight end, so a back like Johnson that can win one-on-one matchups against a linebacker and create yards after the catch is sure to become fast friends with whichever quarterback (Josh McCown or Johnny Manziel) ends up winning the starting job. Johnson also finished his three-year career at the University of Miami (Fla.) as the school's all-time leading rusher, so it is not as if he will be automatically limited to third-down work either. Although new OC John DeFilippo will be keeping Kyle Shanahan's zone-blocking scheme in place, he has no ties to Crowell or West. In other words, if Farmer's evaluation of Johnson proves to be true, DeFilippo probably isn't going to hesitate making him the lead back and let Crowell/West handle the big-back duties.
Why he won't: While Johnson (5-9, 207) is more talented than West, he doesn't hold the same advantage over Crowell (5-11, 225), who owns a pretty significant size and strength advantage over the third-round rookie. Johnson is almost certain to be involved in some kind of committee for most of the season – if not all of it – which obviously reduces the odds that he'll post Bernard- or Westbrook-like numbers. Also working against the first-team All-ACC selection is the Browns' sorry situation at quarterback and receiver. The absence of a stud receiver should provide Johnson with more targets in theory, but defenses usually are quick to adjust when only one player is capable of making big plays. The combination of McCown or Manziel to Dwayne Bowe/Brian Hartline/Andrew Hawkins isn't going to scare opponents either, meaning opponents may end up using an extra safety or cornerback to shadow Johnson for much of the time he is on the field.
2015 Fantasy Assessment: RB3/4. There is little doubt Johnson is going to contribute as a rookie, so the question becomes whether he will be the lead back at some point in 2015 or remains in a complementary role. (My bet is on the latter, barring an injury to Crowell.) Situations can often dictate how touches are spread out in a committee attack and it seems like a good bet the Browns' offense will struggle more often than not, meaning Johnson could see a lot of work in hurry-up and comeback mode. Cleveland's offensive supporting cast (outside of its potentially stellar offensive line with C Alex Mack back in the lineup) is ultimately going to hurt Johnson's potential for fantasy production more than it helps him. Combine that with the likelihood that a first-time coordinator like DeFilippo will (or has been instructed to) be conservative with his play-calling caps his upside even further.
Fearless early-June prediction (two starts): 134 rushes for 590 yards and three TDs; 42 receptions for 400 yards and two TDs

14. DeVante Parker, WR Miami (Draft Profile)
2015 Projected Role: Eventual building block that will begin as a complementary player; will fight with Kenny Stills and possibly Greg Jennings for the right to start opposite Jarvis Landry.
Why he will live up to this ranking and perhaps exceed it: Parker was generally regarded as the third-best receiver prospect in this draft. For every draft analyst that reached that conclusion, most of them (including yours truly) typically also surmised the gap between Parker, Amari Cooper and Kevin White wasn't all that great. It is telling that the University of Louisville product drew has drawn comparisons to A.J. Green (although I don't agree with them), so it is possible he can give the Dolphins the game-breaking receiver they have lacked for some time. Although Parker often does his best work down the field, he is more than capable of dominating in the short and intermediate passing game as well. Ryan Tannehill came into his own last year under first-year OC Bill Lazor and the plethora of receiving options in Miami now (Jarvis Landry, Stills, Jennings and Jordan Cameron) should ensure that Parker doesn't get too much attention from the defense as a rookie.
Why he won't: More than anything else, the quality of competition he will face on his own team for targets. Landry accumulated 84 receptions as a rookie last season and likely has a long-term hold on the slot in Miami. Cameron is two years from an 80-catch season himself, Stills was starting to emerge as something more than a deep threat in New Orleans by the end of last season and Jennings has hung around the 60-reception mark for most of his career. Throw in the receiving abilities of RBs Lamar Miller and rookie Jay Ajayi and there is reason to believe the Dolphins will be a spread-the-wealth kind of offense this year. Tannehill's ability to consistently throw the deep ball remains very much in question, which could very well put a cap on the impact of Stills and, to a lesser degree, Parker.
2015 Fantasy Assessment: WR3/4. Of the four Dolphins' wideouts mentioned, Parker is most likely to be a red-zone demon because he is the tallest (6-3), has good body control and jumping ability. It is quite likely that will have to be his niche as a rookie because it is hard to imagine that he will dominate targets on a team that has as many receiving threats as Miami does now and a quarterback that struggles to stretch the field. Much could change, however, if Cameron continues to live up to his injury-prone reputation. Until that time, Parker should be considered a likely bet to finish second on the team in catches behind Landry. Assuming Tannehill makes any substantial improvement on throwing deep over the next year, Parker should be the clear-cut top-producing receiver for the Dolphins in 2016.
Fearless early-June prediction (seven starts): 52 receptions for 660 yards and five TDs

13. Jay Ajayi, RB Miami (Draft Profile)
2015 Projected Role: Complementary player; COP back for or possible committee partner with Lamar Miller at the start of the season, with more than enough ability to pass him on the depth chart.
Why he will live up to this ranking and perhaps exceed it: Ajayi was seen by some to be a potential late first-round pick (and, by most, an early Day 2 selection at worst) before reports/fears of a bone-on-bone condition in his right knee sent his stock spiraling into the fifth round. Miami was reluctant to give Miller a full workload last season (he never topped 19 carries and only went over 20 touches once). Upon further review, Miller appeared to lose effectiveness after 15 carries and only rushed for 3.6 YPC in the fourth quarter. The first-time 1,000-yard rusher also dropped seven of his 52 targets last year while Ajayi was busy becoming the first player in FBS history with 1,800 rushing yards and 500 yards receiving in a single season. At 6-0 and 221 pounds, the Boise State product is more elusive than most backs his size and showed the ability to run inside as last season came to a close after bouncing a lot of runs earlier in his college career. Assuming the knee is only a long-term issue, it appears Ajayi will be more than just a COP back. Miller did prove himself adept at carrying the bulk of the load last year, but it was also less than a year ago the same Dolphins' staff opted to start the season with Knowshon Moreno and Miller in a committee. Ajayi is a better back now than Moreno was last summer.
Why he won't: Miller's 5.1 YPC on 216 carries a season ago is a pretty indication that he is an explosive back, so it is unlikely he will dip below 10-12 carries per game regardless of how Ajayi performs in his rookie year. Despite his feature back-like build, Ajayi didn't consistently run with the power one might expect out of a back that size, which makes hard to believe he will emerge as the top option at the goal line. There is also the small issue of ball security (seven of his 12 career fumbles came in 2014) and the improvement he needs to make as a pass-blocker. Last but not least, Ajayi will need to beat out Damien Williams for backup duties, which is no small task either.
2015 Fantasy Assessment: RB3/4. Make no mistake about it; Ajayi is not a typical fifth-round running back and a more-than-viable threat to Miller's playing time right away. If he is able to further develop the inside running skills he was beginning to flash more consistently at the end of his college career, Ajayi has a realistic chance at overtaking Miller before his contract expires at the end of the year. Regardless of which running back ends up starting and/or leading the team in carries, however, it sees more likely than not Miami will use Miller and Ajayi in a near split backfield – hoping to keep Miller around the 15-carry mark while also limiting the amount of wear-and-tear Ajayi puts on his knee in 2015. As such, it should come as no surprise if both players end up being flex options most weeks.
Fearless early-June prediction (five starts): 142 rushes for 615 yards and five TDs; 28 receptions for 215 yards and a TD

12. Jameis Winston, QB Tampa Bay (Draft Profile)
2015 Projected Role: Eventual building block; Week 1 starter.
Why he will live up to this ranking and perhaps exceed it: Unlike Mike Glennon (and McCown) before him, Winston is going to have the advantage of working with veteran pass-catchers and running backs. He should be afforded better protection after the Bucs used a pair of second-rounders on players they hope will be their left tackle (Donovan Smith) and right guard (Ali Marpet) of the future. Also unlike his predecessors, the No. 1 overall pick should have virtually unlimited job security in 2015 and stability at offensive coordinator. New OC Dirk Koetter is one of the better play-callers in the game and wants to run an up-tempo offense in the same fashion as the one he oversaw in Atlanta the previous three seasons. As for his new teammates, Mike Evans had a Rookie of the Year-worthy 2014 season despite all the offensive chaos and Vincent Jackson turned in his third consecutive season with at least 70 catches and 1,000 yards. Koetter has also found a way to keep the tight end involved throughout his pro coaching career, meaning Winston will likely get plenty of opportunity to target Austin Seferian-Jenkins on a regular basis.
Why he won't: Although rookie quarterbacks have bucked the trend more in recent years than ever before, even the best ones tend to struggle as much as they succeed (at best) in Year 1. (Here is a list of the 52 quarterbacks in league history with at least 300 attempts in their rookie season, sorted by passer rating.) While he shows good movement skills in the pocket, Winston is average at best when he decides to tuck it and run. The Tampa Bay offensive line figures to remain a work in progress despite the additions of Smith and Marpet, so it is fair to say Winston may feel the pass rush a lot more than he ever did at Florida State. Winston also forced too many throws in his final season on campus, which is not a problem that can be explained away because of a "sophomore slump". Certainly, throwing to a bunch of undersized power forwards will help him avoid some mistakes, but the former college baseball closer struggled as much with spotting defenders underneath last year as he did with forcing throws downfield. Of course, there is also his off-field history – something the Bucs hope is more immaturity than foreshadowing.
2015 Fantasy Assessment: QB2. Winston has often been his own worst enemy, sometimes on the field but especially off the gridiron. However, if we can assume for a minute that the worst of his off-field transgressions are behind him, then we can begin imagining what one of the more pro-ready quarterbacks to come out in recent memory can do with freakishly-sized receivers. Winston, who has repeatedly earned praise during the draft process and again in rookie minicamps for his ability to pick up schemes and knowledge of the playbook, is set up for success with Koetter calling the shots and a trio of 6-5 pass-catchers to haul in his throws. On the negative side, there is also the small matter of HC Lovie Smith going conservative too early in games that could artificially cap the rookie's numbers. In the end, however, I suspect Tampa Bay's defense will only be marginally better in 2015 than it was last year, so we may not have to concern ourselves with Lovie-ball for another year or so.
Fearless early-June prediction (16 starts): 311-of-512 for 3,900 yards, 22 TDs and 17 INTs; 47 rushes for 185 yards and one rushing TD
2015 Projected Role: Complementary player; goal-line back and likely big-back complement to Bishop Sankey at first, with the potential to make Shonn Greene expendable and possibly overtake Sankey.
Why he will live up to this ranking and perhaps exceed it: Of the backs we've discussed to this point, Cobb (5-11, 230) probably has the easiest path to a starting job (or a split workload at the very least). The fifth-round pick out of the University of Minnesota is built like the three-down back that GM Ruston Webster and HC Ken Whisenhunt think he can be, generates yards after contact and has impressed the Titans' brass with his ability to pass-block at the Senior Bowl even though his game tape suggested he needs some help in that area. Sankey underwhelmed in his rookie season and there is plenty of speculation that Tennessee has already come to the conclusion he is not lead-back material. Furthermore, Tennessee used a fourth-round selection (that's right, one round before Cobb) to take Alabama's Jalston Fowler, who was the consensus top fullback in the draft. Cobb also has a nose for the end zone, which will probably be his niche right away while the Titans decide what they have in Sankey.
Why he won't: Sankey didn't help himself much as a rookie, but the much bigger problem last year was the Titans' inability to stop anybody on defense (forcing them to abandon the running game) and an offensive line that generally underperformed the few times it wasn't ravaged by injury. Inserting Cobb into the lineup isn't going to change that, especially considering his reluctance to be a one-cut runner and fondness for going east-west. Despite impressive change-of-direction skills for a man his size, Cobb is not a breakaway threat and tries to bounce too many runs. The Golden Gophers' all-time single-season rushing leader does not do a great job at locating creases consistently and, what's worse, scouts have opened questioned his work ethic.
2015 Fantasy Assessment: RB3/4. Some have debated the selection of Cobb was Tennessee's public realization that it views Sankey as a complementary back, but I find it hard to believe that decision is even close to being made. On one hand, the Titans likely did not draft Mariota No. 2 overall with the idea that he operate a run-heavy, two-back offensive system and Whisenhunt seemingly prefers to rotate three backs like he did in San Diego in 2013. On the other hand, the selection of Fowler suggests the Titans want the ability to play smash-mouth football. At least for 2015, the Titans' backfield screams "RBBC". On a team that may only be marginally better this year than it was in 2014, I'm not sure the winner of a camp competition – if there even is one – between Sankey and Cobb will be anything more than flex-worthy anyway.
Fearless early-June prediction (six starts): 142 rushes for 580 yards and six TDs; 22 receptions for 160 yards

---
Doug Orth has written for FF Today since 2006 and been featured in USA Today's Fantasy Football Preview magazine since 2010. He hosted USA Today's hour-long, pre-kickoff fantasy football internet chat every Sunday in 2012-13 and appears as a guest analyst on a number of national sports radio shows, including Sirius XM's "Fantasy Drive". Doug is also a member of the Fantasy Sports Writers Association.