Editor's note:

Predict the top ten picks of the NFL Draft for a chance to win FFToday prizes. Our annual NFL Draft Contest is free to join. The top 20 finishers will reap the rewards. Enter Now.

As we begin the countdown to the NFL Draft starting on April 30, I will spend anywhere from 4-8 hours to break down the strengths and weaknesses of at least the top 15 offensive skill-position prospects available in this draft.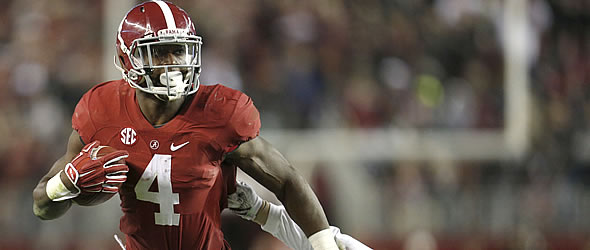 Day 2: Yeldon has a great chance to be the best back taken outside of the first round in this draft.




Vitals


College: Alabama
Height/Weight: 6'1"/226
Hands: 9"



Important NFL Combine Numbers


40-Yard Dash: 4.61
Vertical Jump: 36"
Broad Jump: 9'9"
20-Yard Shuttle: 4.22
3-Cone: 7.19



Background

(College Stats)
A 2011 USA Today High School All-American, Yeldon immediately delivered on that potential by becoming the first freshman in school history to run for over 1,000 yards – joining Eddie Lacy as the first Crimson Tide teammates to reach that mark in the same season – while also tying Mark Ingram's freshman program record with 12 rushing touchdowns. Despite missing a late-season game against Chattanooga in order to rest an ankle injury, Yeldon enjoyed his finest statistical season in 2013, running for 1,235 yards and 14 touchdowns en route to first-team All-SEC honors. Alabama changed its offensive identity in 2014 under new OC Lane Kiffin, who focused most of his efforts on making Amari Cooper one of the most productive receivers in conference history. Some of the reason for that change of philosophy could have been due to the fact that Yeldon dealt with ankle or hamstring injuries for the majority of the season. He missed one game against another FCS opponent in Western Carolina to rest those ailments, but didn't appear to be 100 percent in either one of the final Crimson Tide's final two games.

NFL Player Comp(s): Le'Veon Bell

Best Scheme Fit: One-cut zone scheme. Vision, patience, decisiveness and explosion through the hole are among the characteristics many good backs that work out of zone-running schemes share and all are qualities Yeldon has. As he continues to add lower-body strength, there's a good chance he could be equally effective in a power-based scheme as well.

Strengths
Patient, efficient and decisive runner that uses short, choppy steps to avoid dancing in the hole before utilizing impressive burst to attack the second level.

Extremely light on his feet and impressive COD (change of direction) skills for a 220-pound back.

Has the lateral agility to make a penetrating defender miss regularly in the backfield and can string together multiple moves in open space.

Possesses an innate feel for when the hole or cutback lane is about to develop and does a good job of setting up the second-level defender while still in the hole.

Excellent at converting at the goal line (82.3 percent conversion rate from the 2-yard line or closer over the last two years; the average across FBS schools in those situations was 59.3 in 2014).

More accomplished as a receiver than his 46 career receptions suggest; played the majority of third downs for the Crimson Tide.

Weaknesses
Runs too upright – a common problem for backs 6-0 or taller – which exposes him to bigger hits and often leads to ball-security issues for most backs.

Fumbling was a problem throughout his career (10 in 576 carries); managed to improve in his final season (0.9 fumble percentage in 2014; 1.3 in first two years).

Runs with less power than one would expect for a man his size and doesn't break many tackles; doesn't typically move the pile in short-yardage situations.

A work in progress in pass pro, but has flashed excellence in his ability to stone a blitzer cold more than most other high-profile backs in this draft.

Can be a bit too patient at times waiting for a hole to develop when a 2-3 yard play is all the play is going to produce.

Bottom Line
The Bell comparison may seem to be high praise, but I think it is pretty close (outside of the fact that Bell is much more proven as a receiver at the same point of his career – which is no fault of Yeldon's). It is easy to forget after an injury-riddled final season in Tuscaloosa that it was Yeldon – not Eddie Lacy – who was considered to be the crown jewel of the Crimson Tide's annually loaded backfield during their BCS National Championship run following the 2012 season. The problem for him is that since his freshman season, I believe he has added weight to run with more power and, instead, it has taken away his ability to break long runs consistently. Buying into Yeldon as a top-three running back prospect requires answering a couple of questions that cannot easily be answered: 1) How much was his drop in production in 2014 due to nagging ankle and hamstring injuries? and 2) Does he want to put on more muscle in the pros in an effort to add more power to his game or drop weight in order to become more of a big-play back (again)? Ideally, I'd like to see Yeldon play lighter (perhaps he has started the process already; at least one person reported he timed the likely Day 2 pick in the 4.4 range at his pro day). The absence of those runs that flip the field is about the only area of his game that I think might hold him back from becoming a feature back. There are plenty of folks that believe Yeldon may be nothing more than a rotational back and, while that is a possibility, bigger backs with his elusiveness are relatively rare. While I don't think he will take over the league like Bell did in 2014 anytime soon, I do believe Yeldon has a great chance to be the best back taken outside of the first round in this draft and potentially its second-best back overall behind Todd Gurley.
---
Doug Orth has written for FF Today since 2006 and appeared in USA Today's Fantasy Football Preview magazine in 2010 and 2011. He is also the host of USA Today's hour-long, pre-kickoff fantasy football internet chat every Sunday. Doug regularly appears as a fantasy football analyst on Sirius XM's "Fantasy Drive" and for 106.7 The Fan (WJFK – Washington, D.C). He is also a member of the Fantasy Sports Writers Association. E-mail Doug or follow him on Twitter.