Editor's note:

Predict the top ten picks of the NFL Draft for a chance to win FFToday prizes. Enter our NFL Draft Contest now.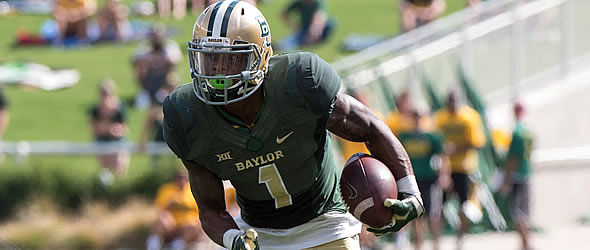 Receiver Watch: Corey Coleman may have the biggest ceiling of any receiver taken in the first round.




Vitals


College: Baylor
Height/Weight: 5' 10"/194
Hands: 9"



Important NFL Combine Numbers


40-Yard Dash: 4.37 (Pro Day)
Vertical Jump: 40 1/2"
Broad Jump: 10' 9"
20-Yard Shuttle: DNP
3-Cone: DNP



Background

(College Stats)
A standout sprinter and jumper in track as well as a four-star football recruit, Coleman redshirted in 2012 and missed the first three games of his redshirt freshman campaign due to a hamstring injury. He would eventually settle for a final line of 35-527-2 that season as Antwan Goodley established himself as the top option for quarterback Bryce Petty. Goodley and Coleman each were sidelined with injuries for the first three games of the following season, but when the duo returned for the start of Big 12 play in 2014, it was Coleman's time to shine. Beginning with that contest, Coleman scored at least one receiving touchdown in 17 of the next 18 games - and a total of 31 over that span - while also emerging as the Bears' big-play threat. His final numbers as a sophomore - 64 catches, 1,119 yards and 11 scores - made him a first-team All-Big 12 squad selection and an honorable mention All-American in at least one publication.

Coleman became the first player in school history to post two 1,000-yard receiving seasons and basically made a mockery of defenses during his final season on campus in 2015, lighting up opponents for a FBS-best 20 touchdowns through the team's first eight games before going scoreless over the next four (after the Bears were riddled with injuries at quarterback) and sitting out the Bears' win at the Russell Athletic Bowl due to hernia surgery. Despite his unspectacular ending, Coleman did all right for himself on the awards circuit at the end of 2015, becoming a unanimous All-American and capturing the Biletnikoff Award.

NFL Player Comp(s): Percy Harvin

Best Scheme Fit: Vertical passing game or spread offense. Perhaps he could be used as a gadget player/deep threat/return man right away as he sharpens his route-running chops before transitioning into a high-end second receiver. Could become a dynamic option in the slot if/when he becomes a solid route-runner.

Strengths
Explosive athlete who hits top speed in the blink of an eye; eats up defensive back's cushion quickly.

Lightning-quick first step and creates almost immediate separation.

Extremely elusive in the backfield and on quick-hitters and has a nose for the end zone; slips the first tackle consistently on the rare occasion he is contacted at the line of scrimmage or the backfield.

Tracks ball well over his shoulder and displays very good body control in the air; shows no fear and is the rare sub-6' receiver that can win more than his fair share of 50-50 throws.

Targeted nearly 40 percent of the time in up-tempo offense and was often defense's top priority (especially near the goal line), yet defenses struggled to stop him.

Although he did very little of it after his freshman year, he has return experience and could easily be one of the more dynamic return men in the NFL.
Weaknesses
Ran a limited route tree in college - primarily utilized on 9-routes, hitches, slants and tunnel screens - and will probably require much development time in this area.

Too many focus drops, especially over the middle of the defense; career drop percentage of 6.6.

Often makes the difficult catch look easy, but will sometimes make the routine catch look difficult.

Runs a bit too high, making him a more likely target for press coverage (and injury) in the NFL.

Willing to block for teammate after the catch but rarely did so in the run game - almost to the point where it appeared he was instructed to stay out of the way.
Bottom Line
Baylor sometimes utilized Coleman in a Harvin or Tavon-Austin-like fashion, sometimes using him out of the backfield or a fly sweep - especially last season (22 carries). Before you jump to the conclusion he is merely a gadget player, let me stop those thoughts immediately; he should become more than that. Even in a conference that has become known for high-flying passing attacks and shootouts (and thus, mediocre defenses), Coleman toyed with Big 12 teams in 2015, or at least until the point Baylor was forced to go to their third-string quarterback at the tail end of the season and rely more heavily on the run game. Coleman's 20-touchdown catch campaign is made all the remarkable by the fact he didn't score in any of the Bears' final five games.
Evaluators will have to decide on whether Coleman's ability to stretch a defense and his ability to make defenders miss outweighs the learning curve he faces to learn a NFL route tree and the occasional drop. While no one likes to see a receiver drop the ball on any play, we can't always reach the conclusion that he has "bad hands". (Perhaps the combination of Baylor's up-tempo offense and receiving 39 percent of the targets in the passing game can wear a guy out?) Big-play ability is hard to find and Coleman has it. There's a reason four teams were willing to give Harvin a shot despite his injury history and reputation as a locker-room cancer; Coleman is the same kind of player without those notable "flaws" (even though he has a tendency to run his mouth a bit much after scoring). The ceiling here is higher than any other receiver in the first round, so the combination of a creative play-caller and capable quarterback could have this guy in the Pro Bowl in no more than 3-4 years, while a club looking for him to be a No. 1 option within the first year or two could be disappointed. If Coleman is willing to embrace his Napoleon complex each and every week like Steve Smith has, he could enjoy that kind of career. If all he does is improve slightly over the course of his NFL career, he should a fine second receiver that will have no problem stretching the field and making defenses pay for showing too much respect to the top option.
---
Doug Orth has written for FF Today since 2006 and been featured in USA Today's Fantasy Football Preview magazine since 2010. He hosted USA Today's hour-long, pre-kickoff fantasy football internet chat every Sunday in 2012-13 and appears as a guest analyst on a number of national sports radio shows, including Sirius XM's "Fantasy Drive". Doug is also a member of the Fantasy Sports Writers Association.