Editor's note:

Predict the top ten picks of the NFL Draft for a chance to win FFToday prizes. Enter our NFL Draft Contest now.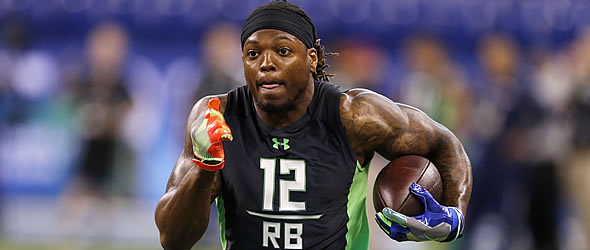 Physical Freak: The right scheme fit will be the most important variable for Henry in the NFL.




Vitals


College: Alabama
Height/Weight: 6' 3"/247
Hands: 8 3/4"



Important NFL Combine Numbers


40-Yard Dash: 4.54
Vertical Jump: 37"
Broad Jump: 10' 10"
20-Yard Shuttle: 4.38
3-Cone: 7.20



Background

(College Stats)
Henry's high-school exploits are the stuff of legend: his high-school team (Yulee) struggled to get other schools in or around its class to schedule games against it because those schools were hesitant to go against Henry. Thus, Yulee played against a number of Florida high-school powerhouses during Henry's high-school career. (Give this article a read for some perspective.) It didn't make a difference; he set the Florida high-school single-game rushing record with a 510-yard performance and ran for at least 2,465 yards in each of his four seasons. He set another state mark with 4,261 rushing yards in his senior year and finished his career with 12,124, which is the national record for career rushing yards.

Henry played a bit role behind T.J. Yeldon and the most versatile Kenyan Drake as a freshman in 2013, finishing with a meager 382 yards (but on an impressive 10.6 yards per carry). The former five-star recruit was able to forge much more of an equal partnership in the Crimson Tide backfield during his sophomore season, however, taking advantage of a late-season injury to Yeldon while edging him for the team lead in rushing, but his emergence was overshadowed somewhat by stud receiver Amari Cooper, who ended the 2014 season with an SEC-record 124 catches. Yeldon and Cooper each declared for the draft following Alabama's loss to Ohio State in the College Football Playoff semifinals, setting the stage for Henry to become the focal point for the Crimson Tide in 2015. The results: a school-record 395 carries for a conference- and school-record 2,219 yards and a conference- and school-record 28 touchdowns. In addition to claiming just about every single-season honor a college running back can collect - including the 2015 Heisman Trophy - Henry joined Herschel Walker and Bo Jackson as the only backs in SEC history to have four 200-yard rushing games in a season. He also finished his collegiate career with at least one touchdown in 20 straight contests, yet another conference record.

NFL Player Comp(s): Brandon Jacobs

Best Scheme Fit: One-cut zone-blocking scheme that allows for a healthy dose of counters and inside-the-tackle runs.

Strengths
One-cut downhill runner with a highly impressive blend of size and power; finishes runs and is a nightmare to tackle once he squares his shoulders and gets into the open field (averaged 102.8 yards per game after contact in 2015).

An absolute specimen of a man and proven workhorse (395 carries and 406 touches overall in 2015) that will be a proficient goal-line/short-yardage/four-minute back from Day 1;showed impressive stamina by following up a school-record 46-carry effort with 44 carries the following week in the SEC Championship.

Rare speed for a back of his size; can destroy pursuit angles in the open field and is a breakaway threat once he is able to build up steam.

Possesses more lateral agility that he is given credit for; does a good job of adjusting the tempo of his runs and has the ability to subtly change direction in the open field without losing much speed.

Patient in setting up blocks and combines aggressive (angry) running style with quick decision-making; doesn't second-guess where the hole is.

Despite a slight increase in fumbles in his final season (four fumbles, three lost), he values the ball - career fumble percentage of 0.8.
Weaknesses
Can make a move to escape unblocked defender, but is far less effective if he doesn't get a chance to turn his shoulders parallel to the line of scrimmage (like most big backs).

Was not used extensively in the passing game (11 catches in 2015 and 17 over his three-year career), generally only on screens.

Narrow base allows him to get tripped up occasionally on arm tackles in the hole.

Willing and able to go toe-to-toe with a defensive lineman against interior pressure, but a bit slow to recognize the free defender against outside pressure (seems to struggle more with smaller defenders).

Unusual size (6-3) makes it difficult for him to get lower than his defenders and gives opponents a large strike zone, potentially making it difficult for him to stay healthy consistently in the NFL.
Bottom Line
While the jury is still out when it comes to how well Alabama running backs transition to the pros, it is a safe assumption that Henry is cut from a slightly different cloth than the Crimson Tide rushers that have joined the NFL lately (Mark Ingram, Eddie Lacy, T.J. Yeldon, Trent Richardson, etc.) Taken one step further, Henry isn't cut from the same cloth of any college back to enter the NFL in at least 10 years, if not 20 or more. For some perspective, consider the 2015 Heisman Trophy winner, who is the fourth-heaviest running back prospect during the documented history of the NFL Combine (1999-2016) ran a faster 40 time than last year's draft darling Ameer Abdullah (4.54 vs. 4.6) and matched the former Nebraska standout with a 10' 10" effort on the broad jump - one of the events use to judge lower-body explosion - despite weighing 42 more pounds. Much like his fellow recent (and aforementioned) Alabama alums, Henry has benefited from running regularly through huge alleys for a defensive-minded head coach that loves to pound the ball.
Henry strikes me as a running back that would have thrived in the league until about 5-10 years ago, but there aren't a lot of teams in the league anymore that have the devotion to line play and commitment to the running game that will be necessary for him to flourish. For those reasons alone, the gap between his ceiling and floor is as wide as it is for any prospect at his position in the draft. Line play around the league is as bad as I can ever remember and the NFL's emphasis on throwing the ball makes him something of a dinosaur; it is up to a team that I just described (the Dallas Cowboys and possibly Carolina Panthers immediately come to mind) to make owning a big back fashionable again. Henry isn't the type of back that will make a bad run-blocking line look average, but I do think he is the kind of runner that can take a good or great run-blocking line and take that running game to the next level. He will create his own yards, but he needs his front five to keep him clean in the backfield as much as any back in the draft. In short, fit will be the most important variable for Henry as he takes the next step in his football career.
---
Doug Orth has written for FF Today since 2006 and been featured in USA Today's Fantasy Football Preview magazine since 2010. He hosted USA Today's hour-long, pre-kickoff fantasy football internet chat every Sunday in 2012-13 and appears as a guest analyst on a number of national sports radio shows, including Sirius XM's "Fantasy Drive". Doug is also a member of the Fantasy Sports Writers Association.