Editor's note:

Predict the top ten picks of the NFL Draft for a chance to win FFToday prizes. Enter our NFL Draft Contest now.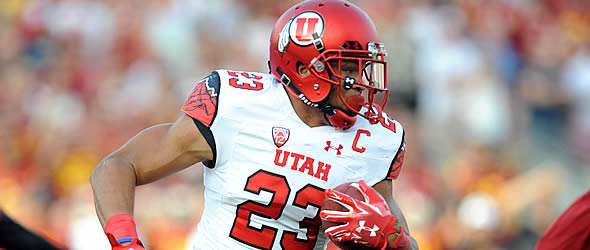 There is a place for Booker in this league but it will almost certainly be as a complementary back.




Vitals


College: Utah
Height/Weight: 5' 11"/219
Hands: 8 5/8"



Important NFL Combine Numbers


40-Yard Dash: 4.56 (Workout)
Vertical Jump: N/A
Broad Jump: N/A
20-Yard Shuttle: N/A
3-Cone: N/A



Background

(College Stats)
Booker initially committed to Washington State before discovering his SAT scores weren't high enough to qualify, so the Cougars rescinded their offer, which led to an offer from Fresno State shortly thereafter. He retook the SAT and fared well enough to qualify, but the paperwork was filed too late for him to receive clearance from the NCAA. As a result, he had to go the JUCO route if he wanted to play football in 2011 and so he did, staying in his home state of California to play at American River College. Although he wasn't a true workhorse in either of his two seasons with the Beavers, Booker accumulated 936 yards from scrimmage and 13 touchdowns on 110 touches as a freshman and 1,530 yards and 17 offensive scores on 203 touches as a sophomore. He also served as American River's primary kick returner in both years, dominating in that area as well.

After sitting out of football in 2013, Booker transferred to Utah in 2014 and entered the season splitting time with Bubba Poole - an arrangement that lasted three games. The Sacramento native wrestled the starting job away from Poole after erupting for 178 rushing yards against Washington State, starting a string of five straight games with at least 102 yards rushing and 26 carries. Even though the better defenses at the tail end of the Utes' 2014 schedule were able to slow him down, Booker still enjoyed a stellar first season at the FBS level (292 carries, 1,512 yards and 10 TDs; 43 catches, 306 yards and two TDs). The two-time All-Pac 12 selection (first-team in 2014, second-team in 2015) was well on his way to improving those marks as a senior, garnering at least 20 touches and going over 100 total yards in every game, until he suffered a torn meniscus in a Nov. 14 double-overtime loss at Arizona, which kept him out for the remainder of the season.

NFL Player Comp(s): Bilal Powell

Best Scheme Fit: As a complementary, third-down/breather back in an offense creative enough to consistently put him out into space.

Strengths
Patient cutback runner who doesn't mind hitting it up hard in between the tackles; displays the lateral agility to slide (not jump stop) from gap to gap while keeping his feet moving in order to explode through the hole.

Crafty enough to dodge unexpected pressure in the offensive backfield and shows good instincts avoiding defenders in the defensive backfield; does not lose much speed when changing directions.

Natural receiver out of the backfield who plucks the ball away from his body; makes a quick transition to runner after the catch (was not asked to run many routes in college, however).

Dangerous in open space and can provide a chunk play when he has room, although he cannot be considered a true "home run" threat.

Proved capable of being a workhorse; topped 25 carries in six of his team's 10 games in 2015 and exceeded 30 rushing attempts five times.
Weaknesses
Doesn't run with a great deal of power (especially for a 220-pound back) and needs to improve lower-body strength; goes down too easily on arm tackles and gets tripped up in the hole far too often (ran with far more power in 2015, however).

Will be a 24-year-old rookie and is coming off a season-ending knee injury that prevented him from running at the NFL Combine as well as his pro day.

Logged 640 touches in two years at the FBS level (and 953 total including his two JUCO years) despite sharing carries for the first three games of the 2014 season and missing the final three games of 2015.

Seems to understand who/where to block, but doesn't appear to have much passion to do it.

Career fumble percentage (1.4 percent) is a red flag; does not help that he carries the ball almost exclusively in his left hand.
Bottom Line
Booker has drawn comparisons to Arian Foster and Jeremy Langford, but I believe those to be well off-base. In his heyday, Foster was an all-purpose glider that found his perfect fit in a zone-blocking system, but could have ultimately thrived in just about any offense because he possessed the power to break tackles and the long speed to be considered a "home run" threat. Langford also plays much faster than Booker and also seems more adept at breaking tackles. Foster and Langford each came from colleges (Tennessee and Michigan State, respectively) that asked them to do more of the things NFL backs are asked to do (and do them well), whereas Booker doesn't really have one particular area - perhaps outside of his receiving ability - in which he truly stands out.
I reviewed five of Booker's games (2014 Washington State, 2014 Oregon State, 2014 UCLA, 2015 Michigan and 2015 California) over the last two years and was thoroughly unimpressed with four of them. Some 220-pound backs can be considered "bangers" that make their living in between the tackles; Booker tries to do this but doesn't possess enough power to make it work all that often. Making matter worse, he's isnít exactly a speed demon either, so he's more of what I call a "sustainer". As a result, it would be a mistake to believe (even with the impressive workload he was able to handle for the better part of two FBS seasons) that he will be an every-down, every-situation back in the NFL. At this point, he is a big back physically with a little back's game. The comparison to Powell seems like an insult at first because the longtime New York Jet has been consistently been referred to many as a JAG (just another guy) by many media types. However, Powell proved in 2015 he has a very nice niche in the NFL as an explosive passing-down back in an offense that consistently schemes him into space, and that is exactly the kind of path that I feel would be best for Booker. Since he has more of a little man's game, I would suggest he drop a bit of weight in order to enhance his speed and quickness. At the end of the day, there is a place for him in this league (just like Powell), but it will almost certainly be as a complementary back.

---
Doug Orth has written for FF Today since 2006 and been featured in USA Today's Fantasy Football Preview magazine since 2010. He hosted USA Today's hour-long, pre-kickoff fantasy football internet chat every Sunday in 2012-13 and appears as a guest analyst on a number of national sports radio shows, including Sirius XM's "Fantasy Drive". Doug is also a member of the Fantasy Sports Writers Association.