Editor's note:

Predict the top ten picks of the NFL Draft for a chance to win FFToday prizes. Enter our NFL Draft Contest now.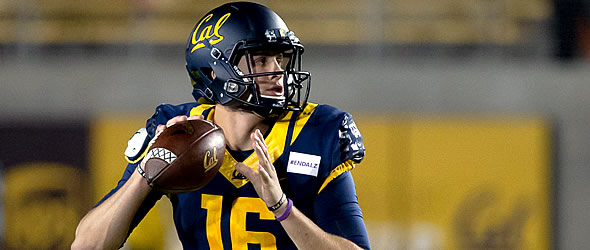 Jared Goff will be a respectable pro signal-caller that will settle in as a clear starter in the league.




Vitals


College: California
Height/Weight: 6'4"/215
Hands: 9"



Important NFL Combine Numbers


40-Yard Dash: 4.82
Vertical Jump: 27"
Broad Jump: DNP
20-Yard Shuttle: 4.47
3-Cone: 7.17



Background

(College Stats)
The son of a former Major League Baseball player, Goff became the first true freshman quarterback in Cal history to start a season opener in 2013, setting a number of school passing records during a 1-11 season. Things improved ever so slightly during his sophomore campaign, as he guided the Golden Bears to a 4-1 start and threw for 985 yards and 12 touchdowns toward the end of that run before the better teams in the Pac-12 slowed Sonny Dykes' Bear Raid offense down significantly. Despite attempting 22 fewer passes as a sophomore, Goff threw for 465 more yards and nearly doubled his passing touchdown output from his first year (18 to 35) while throwing only seven interceptions.

Goff put the Cal program on his back once again in 2015, setting conference records with 4,719 passing yards and 43 touchdowns in his final go-round while leading the Bears to their first winning season since 2011. This effort earned him first-team All-Pac 12 honors - the first Cal quarterback to do so since Aaron Rodgers in 2004 - and sent the school to its first bowl victory since 2008 following a 55-36 win over Air Force in the Armed Forces Bowl. Goff, who won MVP honors in that contest after throwing for 467 yards and six scores, completed at least 60 percent of his passes in each of his three seasons in Berkeley. He leaves the program holding 26 school records, including passing yards (12,220), passing yards per game (329.7), TD passes (96), completions (977), passing attempts (1,569), total offense (12,086) and total plays (1,739).

NFL Player Comp(s): Andy Dalton

Best Scheme Fit: West Coast. Quick decision-making skills as well as accuracy on short and intermediate passes make him a natural fit in a quick-hitting, timing-based offense. While he has sufficient arm strength and understands how to throw a deep ball, he failed to connect on many throughout his college career.

Strengths
Displays good - not great - arm strength, but throws with anticipation and is highly accurate on short and intermediate throws from inside the pocket; excels at fade and back-shoulder passes.

Quick decision-maker who shows a good knack for understanding what the defense is attempting to do him post-snap; can manipulate coverage with his eyes.

Unloads the ball quickly (sometimes by design and sometimes out of necessity) and consistently throws receivers open.

Willing to stand in and take the big hit in order to make the throw; shows good field awareness and knows when to slide, thereby not exposing himself to unnecessary hits.

Consistently puts the right amount of touch on throws (such as seam passes down the middle of the field) and understands how to throw the deep ball.

Seems unaffected by mistakes committed by teammates (receivers consistently dropped well-thrown passes and linemen consistently missed blocks on obvious passing downs).
Weaknesses
Virtually no experience in a pro-style attack; spent entire college career in a spread offense; will need time to polish lower-body mechanics and footwork.

Shows the ability to work under duress and moves functionally in the pocket, but intermediate-to-deep accuracy tends to suffer when he is on the move.

Possesses a somewhat slight build and is only a slightly above-average athlete; can move the chains but will not strike fear into a defense as a runner.

Rarely connected on the deep ball, although he appeared to improve at this towards the end of the season.

Incurred more than 80 sacks and lost 11 fumbles in three seasons.
Bottom Line
Goff is being hyped by many as perhaps the most finished product this draft has to offer at the quarterback position, but I'm not sure how anyone can tell. What is that supposed to mean? In just about every contest he played in during the 2015 season against a respectable defense, the two-time Pac-12 Offensive Player of the Week winner spent seemingly at least half of the game on the run. In other words, he was already a tough evaluation in that he is a "spread quarterback" and making the chore doubly difficult was how often he was required to create something outside the framework of the actual play-call. As a result, figuring out when Goff had "happy feet" and heard footsteps versus how often he was resetting his feet quickly in order to unload is one of the biggest challenges for scouts. Much like trying to evaluate a receiver that suffers from poor quarterback play, it is very hard to get a good feel about a talented quarterback that is so often let down by his offensive line and/or wide receivers.
While Goff is occasionally guilty of holding onto the ball too long and should be held accountable for his share of the 84 sacks he absorbed in college, there are few top quarterback prospects in recent memory that have been asked to unload the ball consistently as quickly as he had to - whether it was by design or necessity. In my opinion, Goff will require more time to adjust to the NFL than Carson Wentz - assuming he doesn't land in a spread-type offense like the one Chip Kelly figures to bring with him to San Francisco. Goff's football intelligence, work ethic and feel for the game will ultimately probably be the reasons he succeeds as a pro and why he should still be considered a first-round talent, but my biggest fear is that a couple more of years of poor pass protection will turn his occasional "happy feet" into a more permanent problem (the David Carr syndrome, if you will). I don't have an issue with those that suggest Goff is the second-best prospect at his position in this draft, but I think he is clearly below Wentz at the moment. Like Wentz, I think Goff will be a respectable pro signal-caller that will settle in as a clear starter in the league, but not one who consistently give his team a substantial edge at the position every week.



---
Doug Orth has written for FF Today since 2006 and been featured in USA Today's Fantasy Football Preview magazine since 2010. He hosted USA Today's hour-long, pre-kickoff fantasy football internet chat every Sunday in 2012-13 and appears as a guest analyst on a number of national sports radio shows, including Sirius XM's "Fantasy Drive". Doug is also a member of the Fantasy Sports Writers Association.