Editor's note:

Predict the top ten picks of the NFL Draft for a chance to win FFToday prizes. Enter our NFL Draft Contest now.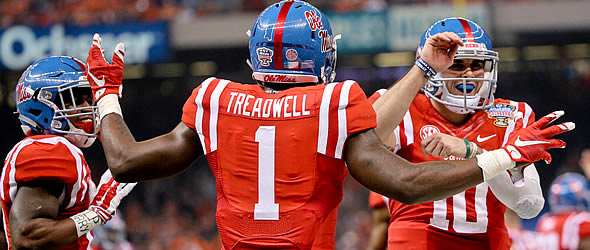 With the skills to be a lead NFL receiver, Laquon Treadwell should go in the back half of the first round.




Vitals


College: Ole Miss
Height/Weight: 6'2"/221
Hands: 9 1/2"



Important NFL Combine Numbers


40-Yard Dash: 4.63 (Pro Day)
Vertical Jump: 33"
Broad Jump: 9' 9"
20-Yard Shuttle: DNP
3-Cone: DNP



Background

(College Stats)
Rated as a five-star recruit and the nation's top receiver by multiple services, Treadwell - along with fellow draft classmate DT Robert Nkemdiche - headlined an impressive 2013 class of freshmen that put Ole Miss back on the map for the first time since Eli Manning was wrapping up his college career in Oxford. The Illinois native lived up to his billing as a rookie, earning SEC Freshman of the Year honors after finishing with 72 catches for 608 yards and five touchdowns. Treadwell was well on his way to besting those last two marks as a sophomore and was in the middle of enjoying the best game of his career (to that point) when he was bent back awkwardly just outside the end zone following a run-and-catch near the end of the third quarter of an early November game against Auburn in 2014. He was eventually diagnosed with a fractured fibula and dislocated ankle and missed the final four games of the season.

The gruesome injury turned out to be a minor obstacle for Treadwell, who went from describing how his foot felt like it was "on fire" in the early days of his rehab to taking a wide receiver "master class" from NFL Hal-of-Fame WR James Lofton roughly seven months after the injury. The Rebels' all-time leading pass-catcher polished off his three-year college stay with a stellar junior campaign, leading the SEC in receiving yards (1,153) and touchdown catches (11) while finishing third in the conference with 82 catches.

NFL Player Comp(s): A poor man's DeAndre Hopkins

Best Scheme Fit: West Coast. While his speed and suddenness limitations shouldn't keep him from being productive in just about any offense, they would likely prohibit him from maximizing his potential. An offense that allows him to use his size and physicality on short and intermediate routes consistently - much like Keenan Allen - might just be the thing for him to live up to his first-round grade.

Strengths
Shows rare instinctual field presence and understands the concept of leaving space between himself and the sideline on downfield throws.

Hands-catcher with exceptional hand-eye coordination and long arms who tracks the ball well in the air and on over-the-shoulder passes; also excels on high-point throws.

Unafraid to work the middle of the field and fights for extra yards; possesses a potent stiff arm while combining physicality and impressive vision to generate yards after the catch.

Dominant blocker in the run game, routinely comes off his block at the right time in order to peel back and eliminate another defender pursuing the ball carrier.

Comfortable in the slot as well as on the outside.

Ball security: fumbled only once on 202 receptions over his college career (on the painful injury mentioned earlier).
Weaknesses
Plays faster than his timed speed, but he does not boast breakaway speed and his ability to win deep is almost entirely dependent on size and high-point ability.

Solid hands overall but did suffer a few more focus drops on occasion (more in 2015 than in previous years).

Lacks suddenness, causing him to struggle to gain separation and making most of his catches on short and intermediate throws contested ones.

Needs to rely less on physicality and more on crispness on his routes; possesses the mental aptitude to learn a NFL route tree quickly but may start slow initially after running a limited route tree in college.

Worst games in 2015 came against LSU (struggled in press coverage against future NFL CB Tre'Davious White) and Florida (featuring 2016 first-round CB Vernon Hargreaves III).
Bottom Line
If the eyes are the windows into the soul of a man, then a receiver's willingness to block might be the best indicator as to the level of desire he has to be great. The fact Treadwell's blocking prowess is mentioned first isn't meant as a knock on his ability to do what receivers are supposed to do - catch the ball - but rather just how important blocking is to him and how much it jumps out on tape. After initially comparing Treadwell to Jordan Matthews and Allen, I settled on Hopkins due to how ridiculously close the two are/were physically and athletically coming out for the draft: Hopkins was 6-1 and 214 pounds with 4.57 speed, a 36-inch vertical and a broad jump just shy of 10 feet - all very close to what Treadwell churned out at the NFL Combine and/or his pro day - and was credited for outstanding ball skills while at Clemson. The biggest differences I see between the two is that Hopkins was quicker and more slippery off the line of scrimmage while Treadwell relies more on size before the catch and physicality after it. There's a reason I included "poor man's" in front of Hopkins' name earlier: "Nuk" was able to consistently create separation and more explosive - two areas in which Treadwell will not be able to improve all that much.
And this is where I'll circle back to Allen, who has emerged as a star receiver despite not possessing elite measurables. I don't question whether or not Treadwell can become a lead receiver in the NFL, but unlike Hopkins, I don't believe he's the type of wideout that will produce with a league-average starter at quarterback. In other words, he will probably require an above-average passer in order to become an above-average receiver. That conclusion doesn't mean he isn't worth a first-day pick, but it does suggest he should go in the back half of the first round as opposed to the front half.

---
Doug Orth has written for FF Today since 2006 and been featured in USA Today's Fantasy Football Preview magazine since 2010. He hosted USA Today's hour-long, pre-kickoff fantasy football internet chat every Sunday in 2012-13 and appears as a guest analyst on a number of national sports radio shows, including Sirius XM's "Fantasy Drive". Doug is also a member of the Fantasy Sports Writers Association.