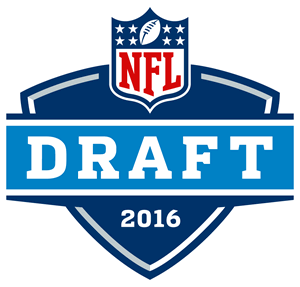 2.04 - TE Hunter Henry, Chargers
Apparently, San Diego can't help itself. Less than two months after losing Ladarius Green in free agency, the Chargers land the draft's top prospect at tight end, presumably to be the heir apparent to the ageless Antonio Gates. While he lacks the speed and eye-popping talent of Green, Henry makes more sense as the long-term answer in San Diego as a well-rounded tight end who profiles as a bit of a cross between Jason Witten and Dennis Pitta. As a result of being a better blocker than Green, he should see the field on a more regular basis early in his career. Redraft owners should view him as a mid-range TE2 with low-end TE1 upside by midseason (assuming Gates begins to slow down or gets hurt). With such a dearth of quality tight ends available, owners in dynasty leagues should view him as a quality option near the end of first rounds in rookie drafts.
2.09 - WR Sterling Shepard, Giants
In my draft profiles, I stated Shepard's best fit would be in a quick-hitting passing game, and it is hard to find an offense that gets the ball out of the quarterback's hands quicker than New York under new head coach Ben McAdoo. After years of inconsistency from Rueben Randle, New York gets a feisty competitor in the Oklahoma product. Given the uncertainty surrounding Victor Cruz, Shepard gives the Giants someone who is well-equipped to be the long-term answer in the slot, meaning Cruz's return to 100 percent will be more of a bonus than a necessity. Shepard draws comparisons to Kendall Wright, Randall Cobb and Tyler Lockett - all warranted - and should be instant fantasy contributor in all leagues in large part because he can win in one-on-one coverage and will benefit from all the attention Odell Beckham Jr. attracts. Shepard should be considered as a low-end WR3 in redraft leagues, and right behind Corey Coleman and Josh Doctson in the pecking order at receiver in rookie drafts.
2.14 - RB Derrick Henry, Titans
Earlier this offseason, Tennessee stated it wanted to field an "exotic smashmouth" offense. Mission accomplished with the selections of first-round OT Jack Conklin and Henry. The 2015 Heisman Trophy winner is an absolute freak of nature that has already proven he can carry a heavy load, although he will not be asked to do that right away for the Titans, who acquired DeMarco Murray earlier this spring. Henry brings even more legitimacy to the kind of ball-control offense Tennessee wants to use. With Henry doing a lot of his damage out of the shotgun last season, any fears about the big back needing a fullback should be lessened as well (a big plus considering the Titans probably would like to use Marcus Mariota away from the center more often). The downside is that Alabama didn't use him much in the passing game and, while he isn't necessarily deficient in that area, it is unlikely he'll see many third-down snaps. Murray's presence takes a lot of the shine off of Henry's luster from a redraft standpoint, probably reducing him to a low-end flex option/RB3 barring an injury to the ex-Cowboy. His lack of contributions in the passing game will hurt his dynasty outlook somewhat, but it is negated by the fact he should be a true bell cow runner no later than 2018.
2.16 - WR Michael Thomas, Saints
An explosive athlete with exceptional hands (five drops on 157 targets over the last two seasons), Thomas has the size and skill (and the quarterbacking) to develop into one of the two or three best receivers to come out of this draft. That's a bold statement to be sure, but his floor is arguably as low as his ceiling is high. Thomas has a lot of work to do as a route-runner but figures to emerge as a favorite red-zone target of Drew Brees for an offense that has undersized Brandin Cooks and Willie Snead as its current starters at receiver. Most likely, he'll battle it out with Brandon Coleman for the Marques Colston role, and he should be expected to win it given this investment. Thomas figures to be a WR5 in redraft leagues in 2016 barring an injury ahead of him to start out. He does stand a solid chance of becoming an equal partner with Snead at some point down the road, however, making him a reasonable late-first or early-second round pick in rookie drafts.

2.20 - QB Christian Hackenberg, Jets
Was it the change in coach and scheme, a poor college offensive line or a complete loss of confidence in the same abilities that allowed him to be the top quarterback prospect in the country a few years ago? For the Jets' sake, they are hoping it wasn't the scheme change - from Bill O'Brien's pro-style offense to James Franklin's spread (not unlike the one New York OC Chan Gailey runs - that caused Hackenberg to go from a potential No. 1 overall pick in the NFL Draft following the 2013 season to a mid-second round selection in this draft. Hackenberg has top-of-the-draft talent with the ability to make incredible throws, but his 28:21 TD-to-INT ratio during his two years in Franklin's offense is a frightening number for any quarterback prospect. The good news is that Gailey has a very good track record of developing quarterback with far less talent than Hackenberg. His redraft value is uncertain as of now until the contract stalemate with Ryan Fitzpatrick can get resolved, but his landing spot is such that dynasty owners can feel good about spinning a mid-to-late second-round pick on him in rookie drafts.
2.24 - WR Tyler Boyd, Bengals
Cincinnati took a little bit of flak for taking a defensive back (William Jackson III) in Round 1, but the Bengals trusted their board and reaped the rewards one round later by grabbing the receiver that broke many of Larry Fitzgerald's records at Pittsburgh. Boyd isn't particularly flashy, but much like Josh Doctson and Laquan Treadwell, he gets the job done in a silky-smooth manner. Better yet, he figures to be every bit as good if not better than the two receivers Cincinnati lost in free agency - Marvin Jones and Mohamed Sanu. With the Bengals, he figures to begin 2016 as the clear No. 2 receiver and should never see safety help on his side of the field for as long as A.J. Green and Tyler Eifert are healthy. Boyd is sure handed (10 drops in 374 targets for his career) and plays bigger than his 6-1, 197-round frame would indicate. Boyd should be considered in the same WR4 range Jones would have been had he stayed in the Queen City for redraft purposes, and he should be considered as mid-to-late first-round option in rookie drafts.
2.28 - K Roberto Aguayo, Bucs
Casual observers will likely blast this selection but seeing how the league was affected by the extra point getting moved back last year, landing a kicker that is considered nearly automatic from inside 50 yards AND has a big leg needs to be considered something more than a luxury pick. (In no way am I defending a second-round pick on a kicker, but the truth of the matter is that he wasn't going to last very long into the third round.) In a Tampa Bay offense that figures to continue its improvement in 2016, Aguayo should be considered as one of the top 12 kickers in fantasy. For those owners in dynasty leagues that believe in keeping kickers on their offseason roster, he's easily worth a fourth-round pick in rookie drafts. FWIW, Aguayo went 69-of-78 on field goals and 198-of-198 on extra points at Florida State.

---
Doug Orth has written for FF Today since 2006 and been featured in USA Today's Fantasy Football Preview magazine since 2010. He hosted USA Today's hour-long, pre-kickoff fantasy football internet chat every Sunday in 2012-13 and appears as a guest analyst on a number of national sports radio shows, including Sirius XM's "Fantasy Drive". Doug is also a member of the Fantasy Sports Writers Association.