Editor's note:

Predict the top ten picks of the NFL Draft for a chance to win FFToday prizes. Enter our NFL Draft Contest now.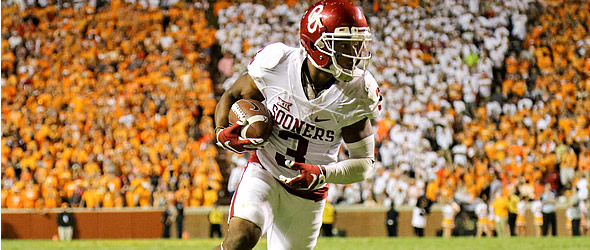 Shepard lacks the flash but that doesn't mean he can't be a productive wideout if used correctly.




Vitals


College: Oklahoma
Height/Weight: 5' 10"/194
Hands: 9 3/4"



Important NFL Combine Numbers


40-Yard Dash: 4.48
Vertical Jump: 41"
Broad Jump: 10' 3" (Pro Day)
20-Yard Shuttle: 4.35
3-Cone: 7.00



Background

(College Stats)
The son of the late former Oklahoma receiver (Derrick Shepard; 1983-86), Sterling was, in some ways, raised by the Sooners. (This link tells the tale of his family's ability to survive, while this one provides some insight on how coach Bob Stoops took him in following the father's passing.) A four-star recruit out of high school, Shepard was immediately productive in 2012 despite sharing the field at times with future pros Kenny Stills, Justin Brown, Jalen Saunders and Damien Williams, finishing with 621 receiving yards (third-best total by an Oklahoma freshman) and 45 catches (fourth). Shepard became a regular starter the following season and, while he didn't experience a significant spike in production in 2013, he started to establish himself much more as a big-play threat as a junior, turning 51 receptions into 970 yards in a little over half a season for a team that received very shaky play at quarterback and relied heavily on impressive then-freshman Samaje Perine, who would go on to break the FBS record for most rushing yards in a single game, to carry the offense. Despite being hampered by a groin injury that basically rendered him ineffective offensively for the second half of the season, he was named a first-team all-conference performer and finished as a semifinalist for the Biletnikoff Award.

Shepard avoided injury in 2015, serving as the unquestioned go-to guy for transfer quarterback Baker Mayfield in the Sooners' version of the Air Raid offense. The Oklahoma City native saved his best for last, sparking the Sooners' run to the College Football Playoff with a five-game scoring streak during which he tallied 47 catches for 652 yards and six touchdowns, finishing with at least eight receptions in four of those contests and topping 87 yards each time. The Sooners' season came to an end against national runner-up Clemson in the CFP semifinals, although Shepard's seven-catch, 87-yard contribution left him with a gaudy 86-1,288-11 line for his senior campaign. That was enough to earn him All-Big 12 as well as honorable mention All-American honors.

NFL Player Comp(s): Kendall Wright

Best Scheme Fit: As a permanent fixture in the slot in a quick-hitting passing game. His willingness and ability as a blocker should keep him on the field on early downs, while his ability to move the chains should make him a favorite of the quarterback in short order.

Strengths
Intelligent and silky smooth route-runner that lives over the middle of the field.

Highly dependable (253 career catches versus eight drops) and is nearly impossible to cover on the "whip route" - made famous by Wes Welker during his time with the Patriots.

Displays ability to pluck the ball on the run and adjusts well to off-target throws; transitions quickly after the catch and shows above-average vision and change-of-direction skills in the open field.

High-points the ball very well for a smaller receiver, "climbs the ladder" with his 40-plus inch vertical jump to steal above the outstretched hands of a bigger defender; a hands-catcher who understands there is a time and a place to body-catch.

Finds the window easily in zone coverage and seems to possess an innate feel for when his quarterback is in trouble, negotiating the sideline beautifully as he works his way back to him.

A willing, capable and sometimes devastating blocker that sticks on his defender and will peel back to blow up a linebacker down the field.
Weaknesses
Despite sub-4.5 track speed, does not show the ability to kick it into another gear on deep routes, although he still possesses the craftiness to make plays downfield.

Lack of size may limit his ability to contribute as an outside receiver (did not face much physical coverage in college); worked mostly out of the slot in 2015 and was rarely pressed.

Not as explosive out of breaks - nor as sudden or twitchy - as most highly-ranked receivers his size.

Lacks ideal lower-body strength and will not break a lot of tackles.

Occasionally gets too cute and will sometimes take too many steps to get off the line of scrimmage.
Bottom Line
Sometimes, it becomes fairly obvious when a player is either the son of a coach or former player. Such is the case with Shepard, who is as much a thinking man's receiver as he is a skilled route-runner that just knows how to get open and be where he is supposed to be. A strong argument can be made that Shepard is similar to Tyler Lockett in terms of play style, although the latter is more explosive while the former is a more polished receiver. The 2015 Biletnikoff Award semifinalist is a longshot to go in the first round and lacks the flash of some of his fellow receiver classmates, but that doesn't mean he can't end up as one of the two or three most productive wideouts in this class if he is used correctly.
First and foremost, I believe Shepard's ceiling is as a second receiver in the NFL - one that consistently breaks a defense's heart on third down and also brings immediate value as a punt returner. He will almost certainly add enough strength over the first year or two of his pro career in order to enhance his ability to break tackles on a more regular basis, which might be all he needs to go from above-average to great after the catch. Shepard is an easy projection in that he already does many of the things now that he'll need to do as a pro. Further helping his case is that those same skills are ones most college receivers have to learn at the next level. With that said, he still possesses plenty of upside with very little downside. Those kind of players tend to be among the coaching staff's favorite players and carve out long and productive careers in the NFL, which is exactly what I expect to happen for Shepard.

---
Doug Orth has written for FF Today since 2006 and been featured in USA Today's Fantasy Football Preview magazine since 2010. He hosted USA Today's hour-long, pre-kickoff fantasy football internet chat every Sunday in 2012-13 and appears as a guest analyst on a number of national sports radio shows, including Sirius XM's "Fantasy Drive". Doug is also a member of the Fantasy Sports Writers Association.