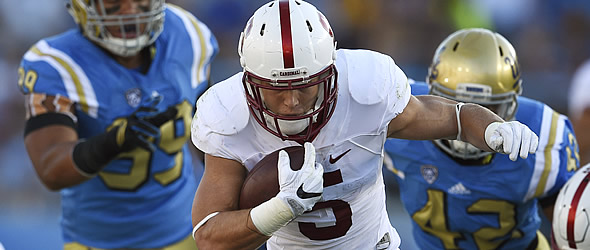 Size and workload willbe the most common knocks associated with McCaffrey, but they shouldn't be.




Vitals



College: Stanford
Height/Weight: 5'11"/202
Hands: 9"



Important NFL Combine Numbers



40-Yard Dash: 4.48
Vertical Jump: 37.5"
Broad Jump: 10' 1"
20-Yard Shuttle: 4.22
3-Cone: 6.57



Background

(College Stats)

The son of longtime NFL receiver Ed McCaffrey, Christian comes from a ridiculously deep athletic family. (3:51) The two-time Colorado Gatorade High School Player of the Year (2012, 2013) flashed as a rookie (551 offensive yards on 59 touches) but still took a backseat to players such as Remound Wright and Barry Sanders Jr. in the backfield as a freshman before taking over in 2015. McCaffrey had a season for the ages as a sophomore, setting a NCAA record with 3,864 all-purpose yards - including 2,019 yards rushing, 645 receiving and 1,070 via kickoff returns. Capping off a year in which he finished second to Derrick Henry in the Heisman Trophy balloting, he became the first player to amass 100 yards rushing and 100 yards receiving in a Rose Bowl game during a rout of Iowa. It was a performance that enabled him to become the only FBS to lead his team in rushing and receiving yards and earn the Paul Hornung Award as the nation's most versatile player. With future draft picks Kevin Hogan and Austin Hooper leaving for the NFL prior to the start of the 2016 campaign, McCaffrey became even more the focal point of defensive game plans in 2016. Despite the added attention, McCaffrey's yards per carry (6.0 to 6.3) and offensive touchdown totals (13 to 16) actually increased from 2015, even though he missed a regular-season game due to an undisclosed injury and opted not to play in the 2017 Sun Bowl in order to "begin his draft preparation immediately" (as he stated on Twitter). Incredibly, he still amassed 6,191 all-purpose yards in his final two seasons - the most in a two-year span by any player in the history of college football history.

High-end NFL Player Comp(s): Brian Westbrook
Low-end NFL Player Comp(s): Danny Woodhead

Best Scheme Fit: Any system that gives him multiple opportunities every game to work 1-on-1 against a linebacker in coverage. While he's an above-average inside runner, he can be used all over the field in the passing game and excels at outside zone runs.

Note: All times listed in parentheses in strengths/weaknesses section reflect the start time on video - via Draft Breakdown - that displays that skill/trait.

Strengths

Weaknesses
Lacks prototypical size for the position and may be viewed as only a "movable chess piece" in some offensive systems.


Doesn't often take a big blow but tends to run a bit upright at the end of second-level runs - usually after making a move - which leads to a bigger hit than he should receive. (1:02, 1:31, 4:41, 5:05, 8:12)


Not a dancer but can almost be too patient waiting for crease to develop (2:30, 6:04, 6:55) sometimes stopping his feet in the process. (3:16, 4:41)


Doesn't always protect the ball with two hands (or keep the ball high-and-tight with one) as often as he should in traffic. (0:01, 3:22)


Bottom Line

While there is a lot of truth to the idea about any prospect reaching his full potential if he lands in the right situation, it really applies to McCaffrey. In a conservative offense that views him as little more than a third-down specialist and/or committee back, he profiles a bigger and more dynamic version of Woodhead. In an offense that values creativity and will ruthlessly target matchups week after week, McCaffrey could easily be this generation's Westbrook or even Marshall Faulk as a highly intelligent player capable of routinely finishing with 60 to 80 catches and 200 to 225 carries per season. The 2015 Heisman Trophy runner-up doesn't exactly possess ideal size at 202 pounds, but we've seen numerous examples of running backs playing at a Pro Bowl level at that weight or lighter. Like Faulk, McCaffrey should be to handle a feature-back type of workload because he sees the field so well, which obviously allows him to avoid a lot of punishing blows, and he should see a ton of work in the passing game, which should put linebackers and safeties into more of a reactive state (as opposed to proactive).
Size and career workload (745 combined touches over three seasons) will probably be the most common knocks associated with McCaffrey, but they really shouldn't be. The single-season NCAA record-holder in all-purpose yards is a great space player who happens to be a very good inside runner, not an inside pounder who relies on physicality to create space. In other words, his touches over the last two years aren't equivalent to the ones a player like LSU's Leonard Fournette absorbed during his college days. Successful running backs come in all shapes and sizes; it's up to their teams to craft their scheme in order to highlight what they do best (assuming the system isn't already in place). Whereas most prospects have at least one obvious flaw, McCaffrey has no glaring weakness and only parts in his game he needs to refine through more reps and NFL-level coaching. My earlier comparisons to Faulk and Westbrook earlier has to do with play style and football intelligence more than his level or statistical upside - Faulk did spend a good deal of his career in a Mike Martz offense - but the right play-caller will be able to use McCaffrey in a similar way.

---
Doug Orth has written for FF Today since 2006 and been featured in USA Today's Fantasy Football Preview magazine since 2010. He hosted USA Today's hour-long, pre-kickoff fantasy football internet chat every Sunday in 2012-13 and appears as a guest analyst on a number of national sports radio shows, including Sirius XM's "Fantasy Drive". Doug is also a member of the Fantasy Sports Writers Association.