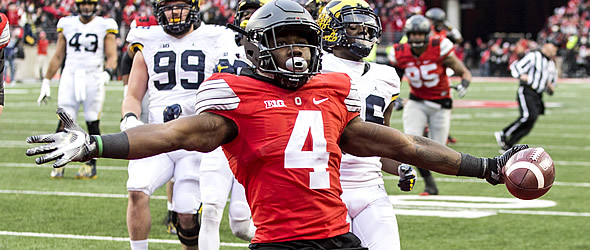 Swiss army knife: Whether its at running or wide receiver Curtis Samuel needs to master a position.




Vitals



College: Ohio State
Height/Weight: 5'11"/196
Hands: 9 1/2"



Important NFL Combine Numbers



40-Yard Dash: 4.31
Vertical Jump: 37"
Broad Jump: 9"11"
20-Yard Shuttle: 4.33
3-Cone: 7.09



Background

(College Stats)

Samuel made his way to Columbus after being recognized as a four-star recruit and a top-10 receiver in his class. The Brooklyn native backed up Ezekiel Elliott during the Buckeyes' run to the national title in 2014, finishing as the team's third leading rusher with 383 yards and six touchdowns despite only 58 attempts. He flashed when given the opportunity that year, however, rushing for 100 yards and two scores in his third game and adding two more rushing touchdowns in a Big 10 Championship rout of Wisconsin. The decision was made to move Samuel to H-back in an effort to get him away from only backing up Elliott the following season, but the opportunities to feed him the ball were still lacking due to the presence of skill-position players such as Elliott, Michael Thomas, Jalin Marshall and Braxton Miller. Each of the aforementioned four players fled for the NFL at the end of the 2015 campaign, leaving Samuel in prime position to break out as a junior. Unsurprisingly, his patience paid off in 2016, as he was the only player in FBS to gain more than 700 yards rushing and 700 yards receiving. He finished third in the Big Ten in all-purpose yards with 1,655 despite touching the ball only 177 times - nearly half as many as the two players above him on the list. His gaudy totals made him a clear choice for first-team all-conference honors, while he was also named a first-team All-American by the Associated Press and The Sporting News.

High-end NFL Player Comp(s): Tyreek Hill
Low-end NFL Player Comp(s): Percy Harvin

Best Scheme Fit: Samuel will only be limited by the imagination of his play-caller. He is one part deep threat, one part slot receiver, one part change-of-pace back and one part dynamic returner. His elusiveness and speed make him a fit in any system, so long as the offensive coordinator doesn't mind spending a few more hours in the office drawing up new plays for him.

Note: All times listed in parentheses in strengths/weaknesses section reflect the start time on video - via Draft Breakdown - that displays that skill/trait.

Strengths
As versatile and complete of an all-purpose weapon as there was in college football in 2016; lined up at running back, Wildcat quarterback, in the slot and outside; also returned punts (2014) and kicks (2015-16) throughout career.


Has the explosion and body control to uncover quickly in the slot (likely his best position at this point of time); transitions from catch to run almost immediately. (0:17, 2:11)


Can stop and restart in a heartbeat (1:00, 5:41, 5:48) and pulls away easily from defenders once he hits his stride (0:58, 2:31, 5:48); seems to have an innate sense for avoiding contact in the open field. (0:03, 1:29)


Shows flashes of being a good route-runner (0:40, 0:58, 2:50, 3:22, 3:41), occasionally setting up vertical routes with head fakes early and/or exaggerated jab at the top of his route.


As a runner, has a good feel for when a crease is about to open and shows the burst to get through it in a hurry on the rare occasion he was asked to run inside. (0:38, 1:25, 3:08, 6:23)


Weaknesses
Multi-purpose role in college didn't allow him to master his craft in any one particular area; offensive system didn't do him many favors either in terms of expanding his route tree or making him a more complete receiver.


Carried the ball more (172 attempts) than he caught it (107 receptions) in his college career; was the scheme the only reason for that? Also, a large percentage of his touches were "manufactured" and not "pro plays". Can he carve out a regular NFL role like that?


While his college quarterback's accuracy was inconsistent at best, he failed to catch too many balls that hit his hands (2:01, 2:46, 4:44) and let the ball get into his body too often. (3:12, 6:57)


Can be guilty of trying to do too much (1:20, 5:41) and almost defaults to bouncing rushing attempts to the outside, although many of said runs were designed east-west (space) runs.


Was not asked to block much and didn't do much more than stalk his defender when he did.
Bottom Line

The terms "offensive weapon" and "moveable chess piece" have become vogue in recent years - almost to the point of being overused - but they are spot-on descriptions for what Samuel is. Offensive coordinators who don't want/like to think outside the box will likely typecast him as a change-of-pace back or situational deep threat and not both. That would be a mistake, and Hill's rookie year in 2016 is a perfect example of what Samuel could be - a player who sees the ball maybe 10 times per game but instills so much fear into the defense that he opens up the field for everyone else. There really should be no limit to the number of different plays he could be featured on either (reverses, speed sweeps, go routes, tunnel/bubble screens, tosses, Wildcat packages, shovel passes, etc. really should be the tip of the iceberg for him).
Here's the problem at the moment with Samuel: he's not stout enough - as a runner or a blocker - to be used as a regular change-of-pace back or developed enough as a route-runner to be considered a surefire starting receiver as a rookie. He's more than capable of evolving in both areas, but until that day arrives, teams may initially have to live with him being a specialty offensive player and returner in much the same way Hill was early on for the Kansas City Chiefs in 2016. And that's OK, because the league is always going to have a place for a player as unique, versatile and explosive as Samuel. (Consider him a faster but overall less refined version of Christian McCaffrey.)
The mere fact Samuel doesn't have a defined position is probably enough to drop him into the second round of the NFL Draft and it's not hard to understand why. As a player who is very much a work in progress as a running back and receiver and made his living on specialty plays in a non-pro style offense, he presents a lot of risk to teams as someone who may be asked to play all three receiver positions in addition to moonlighting as a change-of-pace back and hasn't come close to mastering any of them. With that said, Samuel creates big plays and that is a commodity that will never go out of style in the NFL. His current unwillingness to trust his hands completely make keep him from become a true No. 1 receiver, but the amount of time defensive coordinators will spend preparing for him may force opponents to treat him like he is one. Most teams only dream about lining up a second receiver who can earn that kind of respect from defenses.

---
Doug Orth has written for FF Today since 2006 and been featured in USA Today's Fantasy Football Preview magazine since 2010. He hosted USA Today's hour-long, pre-kickoff fantasy football internet chat every Sunday in 2012-13 and appears as a guest analyst on a number of national sports radio shows, including Sirius XM's "Fantasy Drive". Doug is also a member of the Fantasy Sports Writers Association.