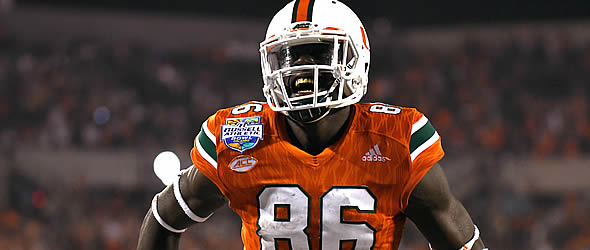 David Njoku resembles the new breed of tight end in the NFL: Big, fast, explosive and athletic.




Vitals



College: Miami (Fla.)
Height/Weight: 6'4"/246
Hands: 10"



Important NFL Combine Numbers



40-Yard Dash: 4.64
Vertical Jump: 37.5"
Broad Jump: 11'1"
20-Yard Shuttle: 4.34
3-Cone: 6.97



Background

(College Stats)

If it seems as if Njoku is a relatively new name on the scene, it's because it is. Roughly a year and a half ago, the previous coaching staff at Miami led by then-HC Al Golden strongly considered moving a high-school receiver and player known more for his exploits as a high-jumper to outside linebacker. (With a personal best of 7'1", Njoku was a national champion high-jumper in 2014.) It wasn't long after that the decision was made to make him a tight end, so he added 30 pounds during his redshirt season in 2014 in order to withstand the rigors at his new position. He finished fourth on the squad in receiving with 362 yards on 21 catches, good for a team-high 17.2 yards per reception. Mark Richt took over for the fired Golden at the end of the year and his staff made Njoku a much bigger part of the offense in his redshirt sophomore season in 2016. Beginning with an Oct. 29 loss at Notre Dame, he found the end zone with much more frequency, scoring seven times over his last six college games after doing so twice over his first 20. Njoku more than doubled his catch production from a season earlier (43), nearly did the same in yards (698) and finished with eight TDs - matching the most by a Miami tight end since Kellen Winslow Jr. in 2002.

High-end NFL Player Comp(s): Jimmy Graham
Low-end NFL Player Comp(s): Eric Ebron

Best Scheme Fit: Universal. Although his ideal fit would be one that capitalizes on his ability to play outside, in the slot or in-line, his improvement from 2015 to 2016 suggests he'll be a very capable run blocker in the near future. Initially, his new team would do well to use him as a field-stretcher.

Note: All times listed in parentheses in strengths/weaknesses section reflect the start time on video - via Draft Breakdown - that displays that skill/trait.

Strengths

Weaknesses
Chiseled upper half but needs to add strength to his lower body in order to truly be a dominant every-down force.

Got open in college largely due to sheer athleticism edge he had over the linebackers and safeties asked to follow him; learning when/how to adjust his tempo during his route will be key in his ability to get open consistently in the NFL.

Suffers the occasional focus drop (6:26) and needs to work on consistently getting his hands in the right position pre-catch; eight drops in two seasons for a career drop rate of 10.4 percent.
Bottom Line

Especially in this day and age of spread offenses in college football, a number of tight ends either get lost in the shuffle or disappoint from a statistical perspective (at least in the sense of what they end up doing in the NFL). Njoku's 64 catches in two seasons with the Hurricanes aren't going to attract a lot of attention, but his 2016 yards per catch (16.2) and scoring pace (one TD every 5.4 catches) do him a bit more justice. To get some kind of sense for how unique of a weapon Njoku is, Miami didn't think twice about putting him in the slot and using him on tunnel and bubble screens. (Think about the last time a 246-pound tight end with so little experience was used that way.)
It's hard not to fall in love with Njoku as a prospect, especially when one considers he has only played the position for two years. What makes him as good as any prospect we have discussed to this point is that he won't turn 21 years old until July and already executes so many of the tasks he will be needed to perform in the NFL at a high level. Njoku played all over the formation in college and is more than just a "wiling" blocker - traits which speak to how intelligent and team-oriented he is. Yes, he needs to be more fundamentally sound as a run blocker. Yes, his hand placement as a receiver needs to be more consistent. But let's be real for a second: those are pretty small complaints for a 20-year-old player who is still pretty new to his position.
The comparison to Graham is apt in terms of playing style, athleticism and background - Graham was a basketball player at Miami before giving football a "try". Njoku is already a better blocker now than Graham was coming out of Miami and every bit the athlete, meaning it wouldn't surprise me if he ends up having a better career than Graham, assuming he receives quality NFL coaching and lands a creative offensive system. Alabama's O.J. Howard will almost certainly be drafted higher - maybe even by 10 or 15 picks - in large part because he has been doing his job longer, surer hands (drop rate of less than four percent) and performed well on the biggest stage already, but I'd argue Njoku has a higher ceiling. At the very least, it's a good bet five or eight years down the road, the first question asked will be how many Pro Bowls or All-Pro nods each player has received. Either way, Njoku is easily worth a top-15 draft pick.

---
Doug Orth has written for FF Today since 2006 and been featured in USA Today's Fantasy Football Preview magazine since 2010. He hosted USA Today's hour-long, pre-kickoff fantasy football internet chat every Sunday in 2012-13 and appears as a guest analyst on a number of national sports radio shows, including Sirius XM's "Fantasy Drive". Doug is also a member of the Fantasy Sports Writers Association.