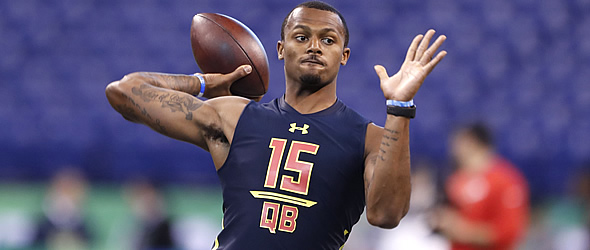 Deshaun Watson is a good fit for just a handful of teams, but is capable of being a star in the NFL.




Vitals



College: Clemson
Height/Weight: 6'2"/221
Hands: 9 3/4"



Important NFL Combine Numbers



40-Yard Dash: 4.66
Vertical Jump: 32.5"
Broad Jump: 9'11"
20-Yard Shuttle: 4.31
3-Cone: 6.95



Background

(College Stats)

Watson made five starts as a freshman, throwing for 435 yards and a school-record six touchdowns in his first collegiate start against North Carolina. He broke his hand three weeks later before suffering what was diagnosed as a LCL strain early in his first game back. He missed the following game before returning for the regular-season finale and accounting for four touchdowns against South Carolina. It was later revealed he had played that game with a torn ACL, which caused him to miss the team's bowl game a month later. As a sophomore, the 2013 Georgia Gatorade Player of the Year finished third in the Heisman Trophy voting after becoming the first player in FBS history with at least 4,000 passing yards and 1,000 rushing yards in a season. Watson saved his best for last after leading Clemson to an undefeated regular season and College Football Playoff semifinal win over Oklahoma, setting a national championship game record with 478 yards of total offense in a thrilling loss versus Alabama, including a passing total of 405 yards. He was unable to top his gaudy 2015 totals in his junior year but finished second in the Heisman voting in 2016. While he was statistically worse in his final season, Watson starred on the big stage yet again, totaling 463 total yards in a national championship rematch against the Crimson Tide. This time, his standout performance in the title game proved to be just enough, as his third and final TD pass with one second left capped a brilliant comeback and ended the Tigers' 35-year national championship drought.

High-end NFL Player Comp(s): Donovan McNabb
Low-end NFL Player Comp(s): Tyrod Taylor

Best Scheme Fit: An offense willing to utilize his mobility, like the ones made famous by Mike Shanahan and Gary Kubiak over the years.

Note: All times listed in parentheses in strengths/weaknesses section reflect the start time on video - via Draft Breakdown - that displays that skill/trait.

Strengths
Exudes the confidence borne out of 38 career games (35 starts), always appears to remain on an even keel.


Sacked only 32 times over final two seasons (1,181 drop-backs).


Superb and elusive athlete who rushed for 1,934 yards and 26 touchdowns over the course of his three-year career; while he may not boast game-breaking ability as a runner, he is certainly more than capable of busting loose for a 20- or 30-yard gain.


Timing and anticipation passer who seems to have a particularly good feel for corner, fade and most go routes. (3:10, 5:13, 5:54, 6:21, 6:57, 12:50, 13:20)


More than adequate arm strength; fits tight throws in between corner/safety in Cover 2 (6:22, 10:21) and does some of his best work on seam throws. (0:41, 4:40)


Capable thrower on the move (4:21, 4:24), appears more comfortable in this respect than he does as a pocket quarterback at this stage of his career.


Consistently performed well against the highest level of competition and is highly regarded for his toughness and leadership.
Weaknesses
College offense limited and simplified his reads, did not allow him to grow much as a passer; despite vast game experience, he will need to time to learn to make full-field progressions on a regular basis, improve under-center footwork and correct other fundamental flaws.


Lacks ideal size, which figures to limit the number of designed runs he will see at the next level and contributed somewhat to a high number of batted/tipped balls. (In 2016, he had the most passes batted at the line of scrimmage of all quarterbacks invited to the combine).


While aggressiveness (the scheme as well as his own) was part of the reason he threw so many interceptions in his last two years (30), he does not always appear to see the field well (0:43, 3:13, 7:24, 10:12) and has a tendency to predetermine his target (0:33, 0:43, 3:13, 8:06, 10:12); overly reliant on pre-snap reads.


Pocket instincts have yet to fully develop in part due to his impatience to let the play run its course; tends to "see the rush" and looks for a running lane too quickly. (0:24, 8:46, 11:25)


More of a touch-and-pace thrower than a drive thrower, guides a few too many of his passes, resulting in too many underthrows. (3:19, 5:00, 7:27)


Bottom Line

While there are plenty of complexities when it comes to scouting and evaluating quarterback talent, there is sometimes an assumption along the lines of "once a spread quarterback, always a spread quarterback". It's not specifically the spread offense that causes college quarterbacks to enter the NFL unprepared to play at the pro level, but rather the emphasis on simplified reads (such as cutting the field in half) and "check-with-mes" that stunt their growth. In short, it's hard for quarterbacks to prove they are pro-ready when their college coaches don't trust them enough to decipher defenses at that level. The point to be made here is because quarterback is such an intangible-based position, it sometimes helps to evaluate them as a manager first (intelligence, leadership, toughness, etc.) before making a decision on their ability to play the position athletically at the next level. Once upon a time, LaVell Edwards' aerial attack at BYU was thought to be a poor breeding ground for aspiring NFL signal-callers, yet it helped spawn long pro careers from players such as Steve Young, Jim McMahon, Ty Detmer and Marc Wilson. McNabb was an option quarterback at Syracuse. The point: a talented player can generally learn how to be an NFL quarterback if they land on a team with coaches who are good teachers, are given the time to hone their craft and intelligent enough to absorb and retain that information. While Watson has no control over the first two, there's plenty of evidence he's got the third one covered.

Alabama HC Nick Saban called Watson "the best player in college football since Cam Newton," last summer and Watson was easily up to the challenge the two times he faced the Crimson Tide, who usually boast the most NFL-like defense any college quarterback will ever face. Still, like North Carolina's Mitchell Trubisky, Watson would be well-served to go to a team with a "quarterback whisperer" who has enough job security to give his new pupil the time he needs to learn the nuances of becoming a pro quarterback. Also like Trubisky, it's not hard to see the talent or why both are considered fringe first-rounders, although I don't think either player belongs in the top 32 based on their tape. The major difference is that despite Watson's obvious edge in experience (35 starts to Trubisky's 13), Trubisky is further along as a passer.
As noted above, it's as important to bet on the person when drafting a quarterback as it is to bet on the player. Watson will likely succeed in the NFL because he wants it bad enough, but sustained excellence for a quarterback at the pro level almost always comes back to his ability to dictate terms from the pocket. At least in his early years, Watson will probably need a strong running game and a play-caller able to get him out of the pocket consistently. Landing in a place like Buffalo (OC Rick Dennison is from the Shanahan/Kubiak coaching tree), Seattle (OC Darrell Bevell does similar things for Russell Wilson) or San Francisco (new HC Kyle Shanahan obviously learned a thing or two from his dad) might do the trick. Watson is going to need to find the right fit just to be an average NFL quarterback, but there within lies the rub: he's not a good fit for more than a handful of teams at the moment. He will either be a star in the league if he can find a scheme that caters to his skills (and can coach him up) or settle in as a long-term backup if he doesn't.

---
Doug Orth has written for FF Today since 2006 and been featured in USA Today's Fantasy Football Preview magazine since 2010. He hosted USA Today's hour-long, pre-kickoff fantasy football internet chat every Sunday in 2012-13 and appears as a guest analyst on a number of national sports radio shows, including Sirius XM's "Fantasy Drive". Doug is also a member of the Fantasy Sports Writers Association.