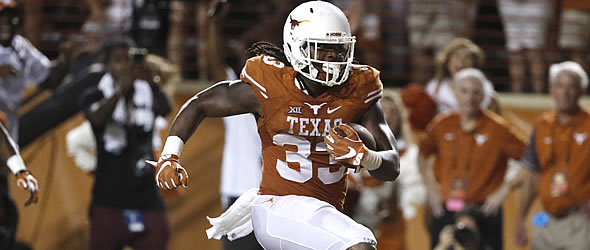 D'Onta Foreman's blocking ability or lack thereof may keep him limited to early downs in the NFL.




Vitals



College: Texas
Height/Weight: 6'/233
Hands: 10 1/8"



Important NFL Combine Numbers



40-Yard Dash: 4.45 (Pro Day)
Vertical Jump: 33" (Pro Day)
Broad Jump: N/A
20-Yard Shuttle: N/A
3-Cone: N/A



Background

(College Stats)

Not even the most prized recruit in his own family (wide receiver Armanti, his twin brother, was), D'Onta and his brother chose to remain in state and attend Texas after the former was ranked no better than the 67th-best running back prospect by a number of high-profile recruiting services. He provided modest contributions as a freshman behind Malcolm Brown and Johnathan Gray as a freshman in 2014, playing in seven games and logging only 15 carries for 73 yards. He managed to lead the Longhorns in rushing the following year with 681 yards on only 95 carries across 10 games (missed the last two with a wrist injury). Prior to the injury, Foreman began to show off his knack for explosive runs, gouging Oklahoma for an 81-yard burst before ripping off a 93-yard score less than a month later during a 157-yard, two-score performance against Kansas. Simply put, he put the offense on his back in 2016, averaging an FBS-best 184.4 yards per game - the 10th-highest mark in NCAA history for a single season. Despite missing an early game against UTEP with a hamstring injury, he piled up 2,023 rushing yards - the 23rd-best mark in Division I history. Foreman also tallied 15 career 100-yard rushing games, including a school-record 13 straight to end his college career. For his efforts, he won the 2016 Doak Walker Award and became the first Longhorn since Ricky Williams (1998) to be named a consensus first-team All-American.

High-end NFL Player Comp(s): LeGarrette Blount
Low-end NFL Player Comp(s): Cedric Benson

Best Scheme Fit: Offenses willing and/or wanting to employ power-based blocking schemes and/or inside zone runs. While he possesses the size and stamina to be a featured back, he will need to be in a committee - at least early in his career - based on his shortcomings in the passing game.

Note: All times listed in parentheses in strengths/weaknesses section reflect the start time on video - via Draft Breakdown - that displays that skill/trait.

Strengths
Proved capable of handling a massive workload every week, handling at least 21 carries in all but one game and topping out with 51 against Kansas; recorded at least 31 attempts in each of his last five games.


Better feet and more lateral agility/athleticism than most expect from a bigger back. (1:30, 2:47, 4:42, 9:26, 10:27)


Tree trunks for legs make him nearly impossible to bring down below the waist; grinding and physical runner (0:13, 1:45, 2:36, 3:41, 4:34) who bulldozes and/or takes linebackers and defensive backs for a ride on a regular basis. (0:13, 0:43, 1:51, 2:36, 3:06)


Gives blockers time to get into position and aware enough of his surroundings not to run into their backs (9:50); able to bounce in and out of seams and patient enough to wait for the hole to develop (0:26, 2:09, 6:22, 9:26)


Has the vision to recognize the backside cutback lane (0:28, 7:26, 7:29), the balance to keep his feet in the hole (2:36, 4:34, 5:03) and enough explosion to pay it off.


Weaknesses
Ball security (0:52, 3:06, 4:05, 11:06) is a concern, especially for a player with such big hands, because he doesn't make much of an attempt to keep it high and tight; fumble percentages in 2017 (1.8) and over his career (1.7) are both marginal at best.


Doesn't back down from contact but will occasionally play with more finesse than most coaches want from a bigger back.


Not slow by any means, but he doesn't play close to his timed speed.


Relies too much on size to play through contact and needs to have his feet moving at all times, not just after taking a hit.


Although he appeared to have soft hands on the few opportunities he received in 2016, he contributed virtually nothing to the passing game over three college seasons (13 career catches).


Bottom Line

Foreman appeared to drop a fair amount of weight during the season. In the first game, he looked every bit of the 250 pounds his school bio says he was. By the end of the first month, it was obvious he was working more in the 230-pound range, and the big plays started to come with more regularity. If the latter version of Foreman is the one NFL teams are getting, then some team will probably be getting itself a steal, certainly as long as it remembers he is ideally suited to be an early-down pounder. Why is that? Either Texas had no interest in allowing its supposed best offensive player to work in the passing game or it already knew he had no business doing so. Furthermore, Foreman is probably the worst blocker I have seen among running backs in some time; he actually looks lost or as if he could care less when it comes to pass protection.
Before officially evaluating Foreman, I wondered how a big back with such light feet could be considered a potential late-Day 2 pick instead of a top-50 selection. For all the reasons I mentioned in the previous paragraph, it didn't take long to figure it out. Foreman appears destined to be a two-down back who may make his living as a goal-line/short-yardage hammer as well as in the four-minute drill, although that last area may be a stretch considering his fumbling woes. As a player with limited experience in the passing game and an indifferent attitude toward blocking, he has no business playing more than half of his team's offensive snaps. He doesn't enter the league with the "behavioral" baggage Blount did, so he does have that working in his favor.
Foreman reported after the season he played with a broken hand during the season, which would certainly begin to explain the fumbling issues. Also note I said nothing about him having bad hands, but rather he wasn't given much of a chance to show them off. The unwillingness and inability to block are huge negatives, however, enough so teams would be wise to wait until at least the third round to select him. He's nowhere close to being a foundation or every-down back and his "bust factor" at the next level is relatively high. Like many players, his "weaknesses" can be overcome, but he's going to need some time to develop if he hopes to enjoy Blount's staying power in the NFL.

---
Doug Orth has written for FF Today since 2006 and been featured in USA Today's Fantasy Football Preview magazine since 2010. He hosted USA Today's hour-long, pre-kickoff fantasy football internet chat every Sunday in 2012-13 and appears as a guest analyst on a number of national sports radio shows, including Sirius XM's "Fantasy Drive". Doug is also a member of the Fantasy Sports Writers Association.