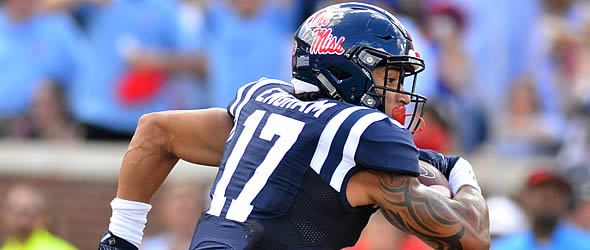 Evan Engram's speed makes him a second-round prospect with monster upside in the right offense.




Vitals



College: Ole Miss
Height/Weight: 6'3"/234
Hands: 10"



Important NFL Combine Numbers



40-Yard Dash: 4.42
Vertical Jump: 36"
Broad Jump: 10'5"
20-Yard Shuttle: 4.23
3-Cone: 6.92



Background

(College Stats)

A three-star recruit, Engram joined Ole Miss after being considered just outside the top 20 high school tight ends in his class. It didn't take long for him to prove he was a bit better than that, however, as he joined Laremy Tunsil as the only two true freshmen in school history to be named to an All-SEC team in 2013. Engram managed to do this despite missing the final five regular-season games due to a high-ankle sprain. He paced all SEC tight ends with a then-school record (for a tight end) 662 receiving yards and was second with 38 catches as a sophomore in 2014 while ranking first in the country among tight ends with 17.4 yards per catch, allowing him to land on multiple All-American teams. Engram matched his catch and touchdown (two) total from the previous year in 2015, but his YPC dropped more than five yards while Laquon Treadwell became the focal point of the Ole Miss passing game. Engram stepped up as a senior in 2016 following Treadwell's departure and secured multiple All-America honors while also winning the Ozzie Newsome Award as nation's best tight end. He set a number of single-season school marks for a tight end, tallying 65 catches, 926 receiving yards and tying another for TD catches (eight). Engram finished his career as the program's all-time leader in receptions (162), receiving yards (2,320) and touchdowns (15) for a tight end.

High-end NFL Player Comp(s): Jordan Reed
Low-end NFL Player Comp(s): Dustin Keller

Best Scheme Fit: Engram is more oversized wide receiver at this point than undersized tight end, so any offense that allows him to work in space or in the slot opposite a linebacker should be to his benefit.

Note: All times listed in parentheses in strengths/weaknesses section reflect the start time on video - via Draft Breakdown - that displays that skill/trait.

Strengths
Explosive athlete whose receiver-like speed makes him the ultimate seam-stretcher (0:20, 1:32, 3:50, 8:15) and big-play threat (0:03, 0:20, 1:47, 3:50); flashes occasional power after the catch. (1:39, 2:13, 7:59)


Very fluid and extremely smooth out of his cuts, especially nimble for a 230-pounder. (0:01, 0:29, 1:07, 1:25, 3:41, 4:43)


Thrives on post routes (0:20, 0:36, 3:50); flashes the ability to make the acrobatic catch (1:46, 1:54) and locates/tracks the deep ball well. (2:41, 4:34)


Able to win 50/50 balls (1:32, 1:41, 4:34) and adjusts well to throws outside of his strike zone. (0:36, 0:39, 0:56, 1:46, 1:54)


Shows the ability to sell the fake on a double-move (0:54, 1:41, 1:46) and is quick to create separation on almost any non-linear route. (1:47, 6:41)


Two-time captain; performed well against quality competition in 2016 (18 combined catches for 259 yards and two touchdowns against Florida State and Alabama).
Weaknesses
Lets too many passes into his body and drops too many balls that hit his hands (0:57, 2:52, 2:59, 9:28); allows the ball will beat him up at times.


Although he received plenty of reps as an H-back, he doesn't possess the size/strength to anchor or use sound technique as a blocker (0:01, 0:33, 1:04, 2:03)


Despite his occasional willingness to run through a defender, the first tackler brings him down too often for a player of his size.


Seems to lack the understanding of the importance of positioning (boxing out) (3:51, 4:30) or the urgency in working back to his quarterback. (0:59, 4:30, 5:16, 7:32, 8:35)


Bottom Line

Engram is a matchup nightmare, pure and simple. He possesses wide receiver feet and speed housed inside the body of a smaller tight end, but it comes at a cost. He blocks like he is a receiver and adding too much muscle to his frame is probably going to take away from the part of his game which makes him special: speed. Thus, the odds of him ever becoming a passable in-line NFL tight end are very slim, meaning he will have to be a "move" tight end who spends most of his time in the slot. Even in today's more wide-open NFL, it is still not easy to build a passing game around a two-down "move" tight end, especially when he may be a liability as a blocker. The same could once be said about Reed as well, so there is hope for Engram.
Scheme fit is going to be incredibly important to Engram at the next level. Maybe five teams in the NFL have a linebacker capable of consistently bottling him up and perhaps a third of the teams have a safety who can do the same. An offensive coordinator creative and capable enough to get Engram matched up on a linebacker on a regular basis will probably enable him to approach the statistical heights Reed has reached in recent years. Conversely, a conservative play-caller hoping to use him as an H-back (thus asking him to block a bit more often) is probably going to be disappointed. At this point, I wouldn't be terribly surprised if his NFL team eventually tried turning him into a receiver. Assuming that doesn't happen, his new offensive coordinator would be wise to consider him a plus-sized slot at the start of his NFL career and hope he can develop as a blocker down the road. While his big-play ability in the passing game is definitely first-round caliber, teams have to balance that against the possibility Engram's presence on the field on running plays may hurt the offense as a whole. For that reason, he needs to be considered a second-round prospect, albeit one with monster upside in the right offense.

---
Doug Orth has written for FF Today since 2006 and been featured in USA Today's Fantasy Football Preview magazine since 2010. He hosted USA Today's hour-long, pre-kickoff fantasy football internet chat every Sunday in 2012-13 and appears as a guest analyst on a number of national sports radio shows, including Sirius XM's "Fantasy Drive". Doug is also a member of the Fantasy Sports Writers Association.