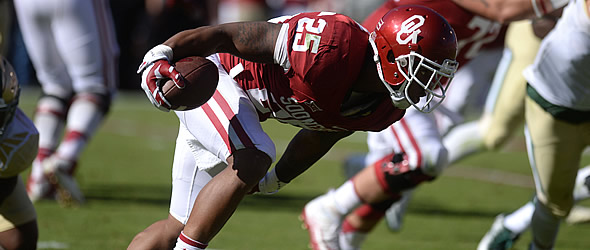 Perhaps the draft's most controversial player. Mixon's off-field issues are mixed with enormous talent.




Vitals



College: Oklahoma
Height/Weight: 6'1"/225
Hands: N/A



Important NFL Combine Numbers



40-Yard Dash: 4.47 (Pro Day)
Vertical Jump: 35" (Pro Day)
Broad Jump: 9'10" (Pro Day)
20-Yard Shuttle: 4.25 (Pro Day)
3-Cone: 6.96 (Pro Day)



Background

(College Stats)

Mixon was ranked as the top running back recruit in the country in 2014 - one spot ahead of Dalvin Cook - but his college career nearly ended before it even got started. In a story that has been well-chronicled, the California native and some of his teammates reportedly started harassing a female student at a café near the university. Mixon and the female student eventually started arguing and after taking a slap from the student for a comment/comments he made about her friend, Mixon punched her in the face; the punch was powerful enough to fracture four bones. The incident, which took place on July 25, 2014, resulted in Mixon receiving a one-year suspension from the football team as well as a few other legal punishments/commitments.

On the field, Mixon began to make a name for himself after being reinstated in 2015, totaling 1,109 total yards and 11 touchdowns on 141 offensive touches, immediately showing off his big-play ability in his first game when he broke loose for a 76-yard TD reception - the longest catch ever by an Oklahoma freshman running back. He finished his freshman year as the team's second-leading rusher (753) behind Samaje Perine (1,349). Mixon essentially split carries with Perine in 2016, but that didn't stop him from overshadowing his teammate, as the former outgained the latter on the ground by 214 yards despite nine fewer carries and finished second on the team in receptions (37). Among the many notable achievements during his sophomore campaign, Mixon became one of only two FBS players since 1996 with three receiving TDs and two rushing scores in one game AND the first player in Oklahoma history to log 200 yards rushing and 100 yards receiving in the same game when he shredded Texas Tech in a contest Perine missed due to injury. Two weeks later, Mixon earned himself a one-game suspension after an incident with an officer in which he received a parking citation, tore it up and threw the pieces of the citation in the officer's face before getting in his vehicle and eventually trying to intimidate the officer with the vehicle. Mixon returned the following week and played the final four games of the season without any further issues, and he ended the season trailing only Christian McCaffrey for the FBS lead in all-purpose yards per game (195.6).

High-end NFL Player Comp(s): David Johnson
Low-end NFL Player Comp(s): DeShaun Foster

Best Scheme Fit: An offense willing to be creative, play matchups and/or believes in one-back sets. Mixon may evolve into a runner who is willing to follow his fullback into the hole, but there is no evidence of that yet simply because Oklahoma didn't give him that chance. He has the patience to be successful in a one-cut zone-running system, but he might be risky in a power-based scheme.

Note: All times listed in parentheses in strengths/weaknesses section reflect the start time on video - via Draft Breakdown - that displays that skill/trait.

Strengths

Weaknesses
Aforementioned off-field history.


Average vision (5:27), which can cause him to miss backside cuts, particularly on stretch plays. (0:52, 2:05)


Occasionally dances in the backfield when the play calls for him to run straight ahead. (4:18)


Inconsistent inside runner who doesn't always pick up yards after contact most would expect a back his size to do. (1:10, 1:59. 5:24)


Fumbled on 2.2 percent on offensive touches in 2016, career fumble percentage (1.6) still about twice as high as evaluators like.


Ran almost exclusively out of the shotgun in college.
Bottom Line

Let's address the elephant in the room right away: Mixon made a very bad decision as an 18-year-old which will almost assuredly follow him for at least the early part of his NFL career, if not beyond. To his credit, he worked his way back to earn the trust of the Oklahoma coaching staff after serving the one-year suspension for the incident and became a team leader in his final two seasons by most accounts. By no means does it erase what he did, but it speaks to the possibility he may have learned a lesson and just how hot the spotlight can be.
Regarding his on-field exploits, keep in mind Mixon is only a 20-year-old back coming out of a pure spread offense who has missed an entire season of football. In other words, there is a very good chance he has not fully developed into the runner he will eventually become. Considering he had only 365 offensive touches in his two seasons as a Sooner, it is quite possible that will prove to be the case. There is also something else to consider: think about how good a player has to be in order for a coaching staff to give more work to a back like Mixon this season than his teammate (Perine) who broke the FBS single-game rushing record as a freshman two years earlier and finished his career running for over 1,000 yards in each of his three seasons.
At this point, Mixon is undoubtedly an all-purpose threat and a big play waiting to happen. Whereas the Sooners failed him in terms of showing whether or not he could be a truly disciplined runner, they did a fine job of accentuating just how dynamic he is in the passing game. Given his overall body of work - or lack thereof - and the aforementioned character issues, he should be considered no better than the No. 4 overall back in this class - even if he rivals Leonard Fournette and Cook in terms of talent. Fournette, Cook and McCaffrey each assumed workhorse roles at their respective programs, while Mixon did not (granted Perine had something to do with that). With his off-field history thrown into the mix, it's little wonder why he will likely not be a first-round selection. He does possess special upside, however, and the Johnson comparison above isn't as much of a stretch as some might believe, especially for a 225-pound young man who has the feet and hips of a player roughly 15-20 pounds lighter (like Johnson).

---
Doug Orth has written for FF Today since 2006 and been featured in USA Today's Fantasy Football Preview magazine since 2010. He hosted USA Today's hour-long, pre-kickoff fantasy football internet chat every Sunday in 2012-13 and appears as a guest analyst on a number of national sports radio shows, including Sirius XM's "Fantasy Drive". Doug is also a member of the Fantasy Sports Writers Association.