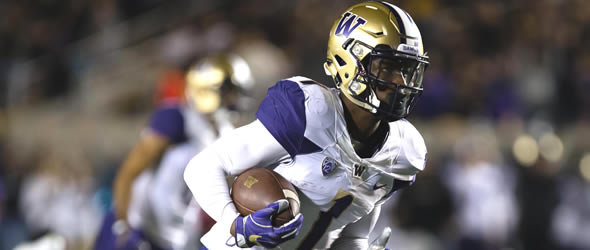 With speed being John Ross' game, he will probably be most effective if he is opposite a stud wideout.




Vitals



College: Washington
Height/Weight: 5'11"/188
Hands: 8 3/4"



Important NFL Combine Numbers



40-Yard Dash: 4.22 (NFL Combine record)
Vertical Jump: 37"
Broad Jump: 11'1"
20-Yard Shuttle: DNP
3-Cone: DNP



Background

(College Stats)

Ross bonded with then-Washington HC Steve Sarkisian by playing a dominos iPhone game every night during his high school years before eventually committing to the Huskies in 2013 as a four-star athlete. The Long Beach, Calif. native made his most memorable impact as a freshman on special teams, scoring on a 100-yard kickoff return in Washington's win over BYU in the Fight Hunger Bowl - only the second 100-yard kick return in school history. Ross scored two more times as a kick returner as a sophomore and Washington started to exploit his big-play potential on a more regular basis, as his seven total touchdowns in 2014 came from an average distance of 75 yards. He still wasn't a big part of the offense, however, and so the former Snoop Dogg All-Star eventually made his way back to cornerback (where he played sparingly as a freshman) and started the last four games of the season after star CB Marcus Peters was dismissed from the team in November of 2014. Ross began training full-time as a receiver in 2015, only to tear his ACL in a non-contact drill that spring. Everything finally came together for the speedster in 2016, as his three-TD debut against Rutgers proved to be a sign of things to come. Ross broke the school record with his fourth career kickoff return for a score in that contest and went on to finish the season with 81 catches (third-most in Washington history) for 1,150 yards (fourth-most) and 17 touchdown receptions (second-most). As a result, he was named to the All-Pac 12 first team and multiple All-American teams.

High-end NFL Player Comp(s): DeSean Jackson (the two have already trained together)
Low-end NFL Player Comp(s): Ted Ginn Jr.

Best Scheme Fit: One open to getting him into space as often as possible. Would likely thrive the most in a Bruce Arians' offense, which relies heavily on the vertical passing game.

Note: All times listed in parentheses in strengths/weaknesses section reflect the start time on video - via Draft Breakdown - that displays that skill/trait.

Strengths

Weaknesses
Tore his MCL in 2014, missed all of 2015 with a torn left ACL and needed surgery to repair a torn labrum in his shoulder following the NFL Combine for an injury he played through in 2016.


Showed the ability to beat press but lacks the strength to keep his feet against physical coverage (1:06, 1:06) or box out NFL corners - both shortcomings came into play against Alabama).


Lack of size makes it unlikely he will win many contested-ball situations (1:43) and greatly decreases his chances of being anything more than a pest as a blocker in the NFL, although he is certainly willing in that regard. (3:32, 3:54, 6:49)


Unlikely to break tackles after the catch due to lack of lower-body strength.


Bottom Line

College receivers often must change their game in order to succeed in the NFL; Ross shouldn't really have to change his much at all. Certainly, defenses may go heavy on bump-and-run coverage during the preseason in hopes they can take advantage of his slight frame, but make no mistake about it: defensive coordinators and cornerbacks alike will likely soon find out they have little choice but to rely heavily on "off' coverage and bring a safety over the top. The result should be plenty of 10- to 12-yard out routes and quick screens until cornerbacks start to creep up a bit. From that perspective, Ross should have an immediate impact on his team: defenses will learn quickly they are going to need to give their corners help with him. The problem with receivers of slight build and their prospects for ever becoming a No. 1 receiver for their team is their inability and/or unwillingness to run a complete route tree, be it due to their concern over durability or a coach's fear of putting him in a position in which he is more likely than not to get hurt.
Much like Jackson (something we should really get a chance to see this year in Tampa Bay), Ross will probably be most effective if he is opposite a stud wideout, forcing the defense to pick its poison in terms of how it wants to get beat through the air. That is not to say he can't or won't be some team's top option at some point, but he's going to need to add muscle without sacrificing speed and find an offensive coordinator willing and able to consistently scheme him into space (tunnel screens, reverses, etc.) when he is not running a go route. In other words, he needs to be treated as more of an offensive weapon than as just a slot receiver or clearout receiver. Some offensive coordinators are willing to do that, while others simply don't believe a No. 1 receiver should ever need to be "schemed open". In the right offense, Ross boasts T.Y. Hilton or Brandin Cooks' upside. In others, he could be highly inconsistent. In all likelihood, however, if Ross doesn't succeed in the NFL, it will be most likely because his body was unable to hold up. Durability (or the lack thereof) is really the only reason he should be considered the draft's third-best receiver, because he has no peer in this draft class when it comes to big-play ability (24 touchdowns on only 134 offensive touches over three college seasons.

---
Doug Orth has written for FF Today since 2006 and been featured in USA Today's Fantasy Football Preview magazine since 2010. He hosted USA Today's hour-long, pre-kickoff fantasy football internet chat every Sunday in 2012-13 and appears as a guest analyst on a number of national sports radio shows, including Sirius XM's "Fantasy Drive". Doug is also a member of the Fantasy Sports Writers Association.