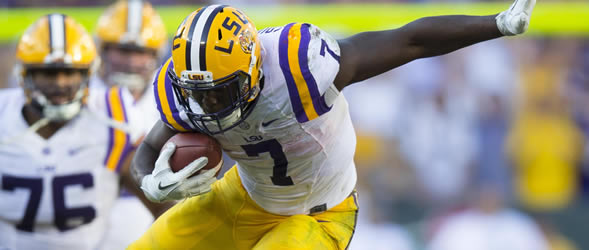 In the right system, Fournette should have no problem being a top-10 back almost immediately.




Vitals



College: LSU
Height/Weight: 6'0"/240
Hands: 9 1/4"



Important NFL Combine Numbers



40-Yard Dash: 4.51
Vertical Jump: 28.5"
Broad Jump: DNP (will update after pro day)
20-Yard Shuttle: DNP (will update after pro day)
3-Cone: DNP (will update after pro day)



Background

(College Stats)

Fournette was the USA Today National High School Offensive Player of the Year in 2013 and No. 1 overall recruit of the 2014 class. The New Orleans native led the SEC in all-purpose yards as a true freshman (137.4 per game, including 1,034 rushing yards and 625 on kickoff returns) despite sharing time in the LSU backfield initially with Terrence Magee and Kenny Hilliard. Fournette went on to set school records with 1,953 rushing yards and 22 rushing touchdowns as a sophomore while leading Division I with 162.8 rushing yards per game, allowing him to earn consensus First-Team All-America and All-SEC honors in 2015. An early-season injury in 2016 proved to be about the only thing that slowed him down during his three years in Baton Rouge, as he spent the bulk of the year dealing with a high-ankle sprain, missing a total of six games as a result during his junior campaign. Fournette finished his junior campaign with 843 yards rushing and eight scores.

High-end NFL Player Comp(s): Earl Campbell
Low-end NFL Player Comp(s): Ricky Williams

Best Scheme Fit: Zone-blocking run system. Fournette thrived on one-cut downhill runs in college, repeatedly showing the ability to plant his foot and cut quickly when he feels/sees a crease. His power, balance, vision and willingness to embrace contact should allow him to thrive behind a man-blocking line as well.

Note: All times listed in parentheses in strengths/weaknesses section reflect the start time on video - via Draft Breakdown - that displays that skill/trait.

Strengths
Built to last, more than capable of handling heavy workload year after year and delivers in short-yardage/goal-line situations.

One of the most violent college runners in recent memory; typically requires multiple defenders to bring him down with superior lower-body strength and by consistently churning his legs after contact. (1:55, 1:55, 2:40, 3:20)

Combines plus-power with exceptional balance (1:42), making yards after contact a given once he passes the line of scrimmage.

Accelerates from zero to 60 in a heartbeat, defeating pursuit angles with long strides and uncommon breakaway speed for a bigger back. (0:50, 2:51, 3:13, 4:10)

Considering his physical style, he delivers a lot more punishment than he receives (shows a remarkable ability to be the hammer and not the nail).

Routinely utilizes a spin move and/or stiff arm (4:09) on the second/third level of the defense to complement hard-charging approach.

Better receiver than generally given credit for (6:55) and shows the ability to catch the ball away from his body.
Weaknesses
Lacks the hip flexibility and footwork (3:08) to consistently sidestep penetration or break big runs if forced to change direction (i.e. needs a runway to get going); unlikely to make a poor offensive line look good, but he will make an average/good line look great.

Willingness to seek out contact (1:49) could lead to durability concerns throughout pro career or, at the very least, force him to alter his style as career progresses.

Often enters seek-and-destroy approach in the open field, becoming a one-track-mind kind of runner; has room to improve in regards to when to intimidate/evade tacklers. (10:50)

Limited experience overall in the passing game (41 career receptions); charged with eight drops during career per Pro Football Focus.

Graded out well as a pass-blocker (97 percent efficiency in all three seasons) but stayed in to pass block only 132 times - both per PFF; willing blocker who shows potential in this area but needs technique and recognition work. (0:59)

To what degree did his 2016 ankle injury hinder him? (Game tape in 2015 revealed an ability to string multiple moves together while 2016 film did not.)
Bottom Line

Per PFF, Fournette had the second-most yards gained after contact (behind only Derrick Henry) and led the country with 85 missed tackles forced in 2015. He may not be quite the finished product Ezekiel Elliott was last spring and will be more limited in terms of scheme adaptability, but he is more powerful and the upside is arguably every bit as high - in the right system. The 2016 campaign was a sad final act for such a prodigious talent, but talent evaluators would be foolish to drop him on their draft boards, as it became apparent the high-ankle sprain he suffered early in the season never healed to the point where he could consistently showcase the same level of power, burst and explosion that made him such a heralded prospect following the 2015 season. The offensive line play also declined from 2015 levels.
Fournette is a bit of a throwback in that he is a true 300-plus carry workhorse capable of putting an offense on his back. To that end, former NFL scout Chris Landry wrote in late February that Fournette faced eight in the box on 67 percent of his runs (average college back is 31 percent, per Landry) and nine in the box 22 percent of the time. In today's pass-first NFL, defenses can't and won't be able to commit those kind of resources to stopping him on a regular basis, so it goes without saying Fournette could find the transition to the NFL easier than most. Like his NFL comp above, LSU's fourth all-time leading rusher is a bit of a bull in a china shop who rarely gets caught from behind, possessing an incredible knack for sensing daylight and the rare explosion for a big back to do something about it. Regardless of who he is compared to - Jim Brown, Bo Jackson and Larry Johnson are among a few of the more popular - Fournette can become one of the better running backs in recent memory so long as his new employer is willing to commit to lining him up seven yards in the backfield, puts him in front of a capable offensive line and feeds him at least 20 times per game. In other words, he needs to find a team that doesn't feature a lot of gun-runs or an offensive line/scheme that inhibits his ability to pick up steam in any way. If that happens, he should have no problem being a top-10 back almost immediately.


---
Doug Orth has written for FF Today since 2006 and been featured in USA Today's Fantasy Football Preview magazine since 2010. He hosted USA Today's hour-long, pre-kickoff fantasy football internet chat every Sunday in 2012-13 and appears as a guest analyst on a number of national sports radio shows, including Sirius XM's "Fantasy Drive". Doug is also a member of the Fantasy Sports Writers Association.