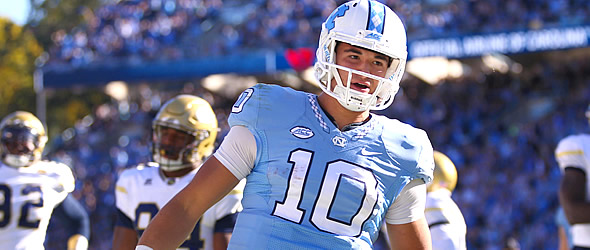 Lack of experience will cause teams to shy away and could limit Trubisky's playing time in 2017.




Vitals



College: North Carolina
Height/Weight: 6'2"/222
Hands: 9 1/2"



Important NFL Combine Numbers



40-Yard Dash: 4.67
Vertical Jump: 27.5"
Broad Jump: 9'8"
20-Yard Shuttle: 4.25
3-Cone: 6.87



Background

(College Stats)

Named Mr. Football in the state of Ohio, Trubisky spurned interest from Ohio State and Alabama to join North Carolina. He participated in 10 games as a freshman in 2014 and nine as a sophomore in 2015, playing sporadically behind incumbent dual-threat quarterback Marquise Williams, attempting a total of 125 passes over that span. Following Williams' graduation at the end of the 2015 campaign, Trubisky won the job easily in the spring and did not throw an interception until the sixth game of the 2016 season. "Mr. Biscuit" rewrote a good chunk of the school's record book in his only year as a starter, setting its single-season marks for passing yards (3,748), passing touchdowns (30) and total offense (4,056). Those numbers were only good enough to land him on the third-team All-ACC team, mostly because he had the misfortune of playing in the same league as Louisville's Lamar Jackson - the Heisman Trophy winner - and Clemson's Deshaun Watson - a Heisman finalist. Despite the relative lack of playing time in his UNC career, Trubisky leaves the program fifth all-time in passing touchdowns (41) and passing yards (4,762) as well as seventh in total offense (5,201).

High-end NFL Player Comp(s): Andy Dalton
Low-end NFL Player Comp(s): Bryce Petty (Trubisky reads defenses and works through progressions much better than Petty did at Baylor, while Petty throws a better deep ball)

Best Scheme Fit: Because no team in the NFL features a true spread, he is probably best-suited for a West Coast-type offense to begin his career. He's going to require time to learn the terminology and footwork associated with any pro offense, but he can make all the throws required in a West Coast offense.

Note: All times listed in parentheses in strengths/weaknesses section reflect the start time on video - via Draft Breakdown - that displays that skill/trait.

Strengths
Rare college spread quarterback able to work through a progression and do so quickly or look off a safety (2:48, 6:01, 7:59); able to "throw his guy open". (0:46, 4:17, 5:24, 5:43, 6:14, 8:19)


Very good arm strength, able to throw from a less-than-ideal platform (3:42, 3:56) over the corner and underneath the safety into "Cover 2 hole", capable of delivering a flat-footed throw to a late-breaking receiver 20-plus yards downfield. (2:51, 3:27, 5:35, 8:19)


Typically accurate when he gets to set his feet and willing to "look down the gun barrel" in order to deliver a pass under pressure. (1:38, 4:30, 4:46, 6:32)


Attempts to give a pass play as much time as he can before running; while it looks as though he is slow-playing a scramble at times - presumably to buy time to throw - he flashes above-average athleticism as a ball-carrier when he commits to running. (0:10, 0:25, 0:46, 1:06, 3:09, 4:04, 8:43)


Impressive resiliency for an inexperienced signal-caller, leading near comebacks in the final two games of the season against North Carolina State and Stanford.
Weaknesses
One season of starting experience; his 13 career starts are the fewest for any high-level quarterback prospect in recent memory.


Nearly 98 percent of his drop backs came from pistol/shotgun, meaning it could take him a while to perfect his footwork under center; also benefited from an offense loaded with run-pass option that opened up throwing windows.


Like most college quarterbacks (especially from spread systems), he can struggle when defense changes its pre-snap look. (2:30, 5:16)


Inconsistent deep ball - often due to lazy footwork, locking his front leg or an inability to complete his follow-through (0:50, 0:51, 1:12, 9:25); too many downfield passes float in the air too long and/or thrown too short. (2:59, 4:42)


Despite low interception total, too many "what-were-you-thinking?" throws. (4:46, 8:32, 10:33, 11:20)


Bottom Line

How does a third-team all-conference signal-caller - one who couldn't overtake a player in Williams who didn't make a NFL roster last year after going undrafted - become arguably the next draft's best quarterback prospect? Only Tar Heels HC Larry Fedora and his staff know why Trubisky was a part-time player for as long as he was, but Williams was a two-time All-ACC second-team quarterback and more of a dual-threat option than Trubisky - the latter of which is a big plus in an up-tempo spread attack like North Carolina's.
Even with the high number of quick-hitting pass plays the Tar Heels run (tunnel or running back screens, flares, etc.), the offensive line struggled to keep defenders away from the quarterback in 2016. Trubisky almost always looked great throwing the ball to slippery slot receiver Ryan Switzer (who should make some NFL team really happy as a slot and punt returner) and above-average when Austin Proehl was his target, but he looked ordinary most of the time with just about every other wideout. There are two ways I feel we can interpret that: 1) Switzer and Proehl are capable of playing in the NFL or 2) Trubisky may not possess the ability to make his receivers look better than they are. And there within lies the problem with the junior declaring for the draft after 13 college starts: he very easily may just not have had enough time to show he is franchise-quarterback material. He also played so poorly in the rain against Virginia Tech that it makes you wonder how if he is just not capable of playing well in less-than-ideal conditions or if he is the type of player who can't shake off a bad start to a game.
Too many of Trubisky's college passes were "gimme throws" for even average college quarterbacks and there weren't enough NFL throws on his resume to sell me on the possibility he is the next big thing. One personnel person said earlier this offseason one of Trubisky's workouts reminded him of Aaron Rodgers. I can safely say the same cannot be said about his game tape. Like most have said about the other quarterbacks in this draft class, Trubisky is simply not ready to take control of a pro offense at the moment, and I'd say the same thing if a team he was drafted by committed to a shotgun-heavy, spread pro offense. On one hand, you want to buy into the kid because he actually fared very well in his first and only year as a starter (i.e. sparkling TD-to-INT ratio) and improved as the season came to a close, suggesting he has considerable upside. On the other hand, there isn't much precedent for a player with 13 career starts in a college spread attack carving himself out a long NFL career as a perennial Pro Bowler. At the end of the day, Trubisky should not be a first-round pick and certainly shouldn't be counted to take over an offense full-time at any point in 2017.

---
Doug Orth has written for FF Today since 2006 and been featured in USA Today's Fantasy Football Preview magazine since 2010. He hosted USA Today's hour-long, pre-kickoff fantasy football internet chat every Sunday in 2012-13 and appears as a guest analyst on a number of national sports radio shows, including Sirius XM's "Fantasy Drive". Doug is also a member of the Fantasy Sports Writers Association.