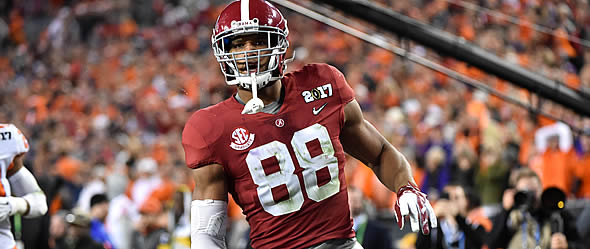 O.J. Howard's development into a solid blocker should allow him to become a three-down starter.




Vitals



College: Alabama
Height/Weight: 6'6/251
Hands: 10"



Important NFL Combine Numbers



40-Yard Dash: 4.51
Vertical Jump: 30"
Broad Jump: 10'1"
20-Yard Shuttle: 4.16
3-Cone: 6.85



Background

(College Stats)

Howard was the top high school recruit in the country in the class of 2013 and, as an Alabama native, there was little chance coach Nick Saban was going to let him get out of the state. Howard showed considerable big-play ability a number of times during his freshman and sophomore season but totaled only 31 catches for 529 yards and two touchdowns in those years as the Crimson Tide focused their offense on the likes of T.J. Yeldon, Amari Cooper and Derrick Henry. The former five-star prospect exceeded his to-date career marks in a semi-breakout campaign in 2015, although he remained fairly anonymous to most observers until exploding for five receptions, 208 yards and two scores (his only two TDs of the season) in Alabama's national championship victory over Clemson. The performance put him on the map as a senior and, while Howard made the second-team All-SEC squad and was named a third-team All-American by the Associated Press, his 2016 season followed much the same script as 2015 - underutilized until the national title rematch against Clemson. In one of the more bizarre footnotes for any highly touted draft prospect, Howard averaged 157 receiving yards and 1.5 TDs in two games against the Tigers versus 29.4 yards and 0.08 scores in his other 48 outings.

High-end NFL Player Comp(s): Greg Olsen
Low-end NFL Player Comp(s): Jared Cook

Best Scheme Fit: Universal. Howard's development into a solid blocker should allow him to become a Day 1 three-down starter in any offensive system. He possesses the speed and size to force defenses to respect him down the seam as well as the intelligence and spatial awareness to uncover against zone coverages on shorter throws.

Note: All times listed in parentheses in strengths/weaknesses section reflect the start time on video - via Draft Breakdown - that displays that skill/trait.

Strengths
Nearly ideal dimensions for a tight end; size, speed, arm length and hand size are all exceptional for his position.


Creates impressive separation from linebackers/safeties with a sharp break at the end of his stem (7:25, 7:25); receiver-like speed (0:30, 2:01, 4:03) enables him to threaten the seam (1:03, 1:07) and turn a big play into a touchdown. (7:25)


Plucks the ball easily with his hands (1:57, 3:38, 4:25) with a large catch radius (0:51, 1:04); finds the soft spot in zone coverage. (1:19, 2:35).


Returned for 2016 season in order to improve as a capable blocker and showed noticeable improvement in that area. (0:34, 0:40, 0:50, 0:55, 2:40, 5:51)


Weaknesses
Needs to add more muscle throughout body (especially lower half); despite noticeable improvement in that regard from 2015 to 2016, he still appears to be a "rocked-up" receiver.


Despite making noticeable strides as a blocker, he could use some polish in technique (inconsistent hand placement, for example) (0:25, 5:05, 5:40, 7:10); ideally, he would stay with his blocks a little longer and be more physical with them. (0:33, 8:32)


Bottom Line

While novice fans may be turned off by his measly seven touchdown grabs on 114 career receptions, his non-national title game numbers hardly do him justice. His box-score "shortcomings" fall much more on the shoulders of Saban and former OC Lane Kiffin than they do Howard, who rarely ever appeared to be the featured receiver despite routinely getting open. Howard is just the most recent of many examples throughout the years of a coach and/or play-caller who isn't always able to mold his scheme around the skills of his most talented playmaker(s). To Kiffin's credit, Howard moved all over the formation on a regular basis, suggesting Howard is a smart player who understands route concepts and why each player does what he is supposed to do. Howard's sizable improvement as a blocker from 2015 to 2016 underscores he has a passion for the game (which has been questioned) and is interested in becoming a complete tight end as opposed to just a one-trick pony.
We won't know for sure until 2-3 years down the road whether or not Howard's huge national championship games were a product of Alabama realizing it needed him in those spots, Howard being a "gamer" or Kiffin making him more of a priority to take advantage of a weakness in Clemson's defense. (For what it is worth, we should be happy Howard actually showed up his upside when he did. Olsen scored only six times on 87 career catches in three years at Miami (Fla.), while Cook totaled 73 receptions and seven scores in three seasons at South Carolina. In short, college football teams have a long history, especially recently, of not taking advantage of potential stud tight ends.) Tight ends rarely ever thrive in the NFL in their rookie year, and I suspect defenders will try to be as physical as possible with Howard for as long as they can considering his relatively thin frame. The step up in physicality is an adjustment every young tight end has to make and I doubt it will be any different for Howard. The main difference between Howard and 99 percent of the other players at his position is that he has receiver-like speed at 6-6 and 251 pounds with good hands. Assuming he wants to be among the best in the game enough (the strides he made in his game over the last two years alone tells me he does), he's got all the physical tools to get there. It says here his career will mirror Olsen's much more than Cook's when all is said and done.

---
Doug Orth has written for FF Today since 2006 and been featured in USA Today's Fantasy Football Preview magazine since 2010. He hosted USA Today's hour-long, pre-kickoff fantasy football internet chat every Sunday in 2012-13 and appears as a guest analyst on a number of national sports radio shows, including Sirius XM's "Fantasy Drive". Doug is also a member of the Fantasy Sports Writers Association.