Last week, we took a look at the play-calling "tendencies" in the AFC. Why do I emphasize "tendencies"? Simple. In the words of the great philosopher (and former heavyweight boxing champ) Mike Tyson, "Everybody has a plan until they get punched in the mouth."

In short, anywhere from a third to roughly a half of most football games change as the game changes. When a team falls more than one score behind, they will inevitably throw the ball more than they probably expected to during the practice week. When a team consistently plays with a lead, they will run the ball more often. This is not groundbreaking information. Nevertheless, there is plenty to be learned from studying play-caller tendencies and, more specifically, how much they rely on certain players to carry the offense. While the situation a team finds itself in during the course of the game will generally affect volume, coaches don't typically go away from their best players whether they are down by 10 or ahead by 14. And even though play-callers don't deliver the ball to the intended target on every play, they do draw up the plays designed to get the ball to their playmakers. That alone make studying their tendencies a good idea.

This two-part series is my latest attempt to provide each of you - as well as myself - a better grasp of the way players are able to reach the statistical heights they do (or don't), focusing primarily on the recent history of the men who will call the shots. Given the injury rate of players and turnover rate of coaches, be advised this will be far from a perfect exercise. With that said, I think you will find some of the information below to be fascinating and perhaps even helpful.

This week, we take a look at the NFC:

Most of the setup below should be fairly self-explanatory, but I'll break it down anyway. The RB1/WR1/TE1 designations are based on carry share (the percentage of a team's carries by a player) and target share (the percentage of a team's targets by a player). I limited the play-callers' histories to four seasons in order to conserve space and keep the information somewhat relevant. The bolded numbers right below the headings of "carry share" and "target share" are the team totals in those respective columns to give you some sense of the actual workload. Last but not least, the coaches listed below the team name are the men responsible for calling plays this year.

ARI | ATL | CAR | CHI | DAL | DET | GB | LAR | MIN | NO | NYG | PHI | SF | SEA | TB | WAS



Arizona
HC Bruce Arians/OC Harold Goodwin
Arians (ARI) 2016
Arians (ARI) 2014
Arians (ARI) 2013
Pos
Player
Carry
Share
Target
Share
Player
Carry
Share
Target
Share
Player
Carry
Share
Target
Share
398
636
452
549
397
561
RB1
David Johnson
73.6%
18.9%
Chris Johnson
43.4%
2.4%
Andre Ellington
50.6%
11.4%
RB2
Andre Ellington
8.5%
3.0%
David Johnson
27.7%
10.4%
Stepfan Taylor
15.9%
2.7%
WR1
Larry Fitzgerald
0.5%
23.6%
Larry Fitzgerald
0.0%
26.4%
Larry Fitzgerald
0.0%
18.4%
WR2
John Brown
0.3%
11.5%
John Brown
0.7%
18.4%
John Brown
0.8%
18.2%
WR3
Michael Floyd
0.0%
11.0%
Michael Floyd
0.0%
16.2%
Michael Floyd
0.3%
17.6%
TE1
Jermaine Gresham
0.0%
9.6%
Jermaine Gresham
0.0%
5.8%
John Carlson
0.0%
9.8%

Arians likes himself a workhorse running back. Perhaps the only reason he isn't 4-for-4 at giving one runner 50 percent of the carry share during his time in the desert is because Chris Johnson suffered a leg injury late in 2015, allowing David Johnson to become a fantasy beast. But before Johnson & Johnson, even the smallish Ellington and an aging Rashard Mendenhall were seeing significant pieces of the pie in the running game. While the 30-touch-per-game plateau both Arians and David Johnson want to hit in 2017 seems highly unlikely to happen, there's nothing in Arians' recent history to suggest he won't match or exceed his carry (73.6 percent) and/or target (18.9) share from a season ago. After all, Chris Johnson, Kerwynn Williams (and/or Ellington) are the next-best options.

Last season's 23.6-percent target share for Fitzgerald was the lowest of his three full seasons under Arians. So while it will be popular to start downgrading him for his age (turns 34 in late August), he's probably going to be one of the few players owners should ride until the wheels fall off simply because he has the size (6-3, 225) and intelligence to beat NFL defensive backs even as he slows down physically. Brown saw 18.2 and 18.4 percent of the looks in his first two seasons, so that seems like a reasonable baseline for him in 2017 now that he is healthy again. Given the current personnel, it'd be a small surprise if he doesn't exceed 20 percent. Arians' top running backs have enjoyed at least a 10-percent target share in each of his four seasons at the helm. While David Johnson probably won't see 18.9 percent of the team's targets again in 2017, it is unlikely he'll far too off of that number in Year 3. Tight ends have rarely played any kind of meaningful role in the passing game under Arians in Arizona, so don't expect Gresham to repeat his 9.6-percent share unless injuries start to mount at receiver.

Atlanta
OC Steve Sarkisian

First-time NFL play-caller; he hasn't coached in the NFL since 2004, when he served as the Oakland Raiders' quarterbacks coach. He served as an offensive coordinator under Pete Carroll that USC, briefly for Nick Sabin at Alabama and for himself at Washington and USC.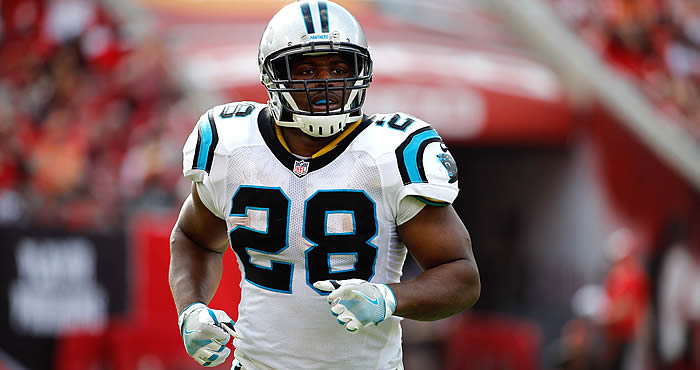 Offensive changes are coming to Carolina but does that mean Jonathan Stewart's carry share will hit the skids?
Shula 2016
Shula 2015
Shula 2014
Pos
Player
Carry
Share
Target
Share
Player
Carry
Share
Target
Share
Player
Carry
Share
Target
Share
453
553
525
495
473
540
QB1
Cam Newton
19.9%
0.0%
Cam Newton
25.1%
0.0%
Cam Newton
21.8%
0.0%
RB1
Jonathan Stewart
48.1%
3.8%
Jonathan Stewart
46.1%
4.2%
Jonathan Stewart
37.0%
5.7%
RB2
Fozzy Whittaker
12.6%
6.0%
Mike Tolbert
11.8%
4.6%
DeAngelo Williams
13.1%
1.1%
WR1
Kelvin Benjamin
0.0%
21.3%
Ted Ginn
0.8%
19.6%
Kelvin Benjamin
0.0%
26.9%
WR2
Ted Ginn
3.1%
17.2%
Devin Funchess
0.0%
12.7%
Jerricho Cotchery
0.0%
14.4%
WR3
Devin Funchess
0.0%
10.5%
Two tied
-
10.9%
Jason Avant
0.2%
7.4%
TE1
Greg Olsen
0.0%
23.3%
Greg Olsen
0.0%
25.1%
Greg Olsen
0.0%
22.8%
Given how public the Panthers have been about changing their offense, we can probably take most of the information above with a grain of salt. With that said, it is interesting to see Stewart came reasonably close to embracing half of the team's carries (46.1 percent in 2015, 48.1 in 2016) over the last two years. Newton topped out at 25.1 percent in his MVP season two years ago, although his 19.9-percent mark last season figures to be his ceiling going forward. (Carolina would probably like to bring that number down closer to 15 percent.) As many would expect, Panthers' running backs have been virtually invisible in passing game; the 12.9-percent target share they enjoyed in 2015 was the highest of the three seasons above. If Carolina has its way in 2017, that mark could double, thanks largely to the addition of Christian McCaffrey.
Benjamin has seen a healthy piece of the passing-game pie in his two healthy seasons, going for a 26.9-percent target share as a rookie in 2014 and 21.3 last season despite not feeling completely comfortable with his knee post-ACL surgery. Olsen has seen a massive target share for a tight end over all three seasons, attracting at least 22.8 percent of the looks. Both players' target shares figure to come down a bit in the new offense, but more passing-game volume may make that a moot point. Curtis Samuel is expected to take over the Ginn role in the offense (and maybe even put his own little spin on it). Current and potential owners of the rookie have to like how involved Ginn was last season and certainly when Benjamin was hurt the year before. The wild-card here, however, is Funchess. The third-year pro was supposed to be another red zone monster in the Benjamin mode who could corral all of Newton's high throws. Last season, he took a step back from a 12.7-percent target share to 10.5. HC Ron Rivera talked him up in early June, however, admitting the team could have utilized Funchess better in 2016.

Chicago
Dowell Loggains
Loggains (CHI) 2016
Loggains (TEN) 2013
Pos
Player
Carry
Share
Target
Share
Player
Carry
Share
Target
Share
379
550
462
527
RB1
Jordan Howard
66.5%
9.1%
Chris Johnson
60.4%
9.9%
RB2
Jeremy Langford
16.4%
4.9%
Shonn Greene
16.7%
1.5%
WR1
Cameron Meredith
0.3%
17.6%
Kendall Wright
0.0%
26.4%
WR2
Alshon Jeffery
0.0%
17.1%
Nate Washington
0.0%
19.9%
WR3
Eddie Royal
0.0%
7.8%
Justin Hunter
0.0%
8.0%
TE1
Zach Miller
0.0%
11.6%
Delanie Walker
0.0%
16.3%

Although 2016 wasn't exactly by choice - Langford was the Week 1 starter - Loggains' running backs have enjoyed heavy carry shares in his two full seasons as an NFL play-caller. It's also quite coincidental Howard's target share last year (9.1) was within one percent of Johnson's despite the fact the former led all backs in drops (eight) on only 50 targets and the latter has been generally been considered a fairly decent receiver for the majority of his long pro career. As for Langford, it wouldn't be all that surprising if rookie Tarik Cohen steals at least half of his carry share (16.4) while stealing a fair amount of Howard's target share (9.1).

Jeffery's four-game PED ban last season throws off the target shares a bit above, but it is safe to say his percentage would have been roughly 20 for the season had the suspension never happened. It's also safe to say Meredith's 17.6-percent mark would have been more like 15, but Loggains' brief history suggests there isn't much love in the passing game for any player beyond the starting receivers and tight end, so Meredith and Kevin White could each finish right around 20 percent if they can manage to stay healthy all season long. Loggains was in charge of the Titans' offense during Wright's 94-catch season in 2013, and his 26.4-percent share for that season stands out as a reason for optimism for both Meredith and White. At the moment, Markus Wheaton appears to be in clear command of WR3 duties. He spent 70.8 percent of his snaps in the slot in 2015 before Eli Rogers nudged him out last year, so maybe he breaks out in the "Wright role". Walker was in his first season with Tennessee in 2013, and it is worth noting the veteran tight end hasn't seen a target share below 21 percent since Loggains' exit. Based on Miller's first half last season - he was lost for the season in Week 10 - Loggains isn't afraid to lean on his tight end if necessary, but Miller's spot on the roster is reportedly in jeopardy. Adam Shaheen (a.k.a. Baby Gronk) may be capable of handling a 15-percent target share down the road, but it would be a stretch to expect it to happen as a rookie coming out of Division II Ashland.

Dallas
OC Scott Linehan
Linehan 2016
Linehan 2015
Linehan 2014
Pos
Player
Carry
Share
Target
Share
Player
Carry
Share
Target
Share
Player
Carry
Share
Target
Share
498
479
407
519
508
471
RB1
Ezekiel Elliott
64.7%
8.1%
Darren McFadden
58.7%
10.2%
DeMarco Murray
77.2%
13.6%
RB2
Alfred Morris
13.9%
1.3%
Joseph Randle
18.7%
1.9%
Joseph Randle
10.0%
1.1%
WR1
Cole Beasley
0.2%
20.5%
Terrance Williams
0.0%
17.9%
Dez Bryant
0.0%
28.9%
WR2
Dez Bryant
0.0%
20.0%
Cole Beasley
0.0%
14.5%
Terrance Williams
0.0%
14.0%
WR3
Terrance Williams
0.0%
12.7%
Dez Bryant
0.0%
13.9%
Cole Beasley
0.0%
10.4%
TE1
Jason Witten
0.0%
19.8%
Jason Witten
0.0%
20.0%
Jason Witten
0.0%
19.1%
Linehan has been a friend of fantasy owners for a while (we'll give him credit for 2014 since it was pretty well understood then-OC Bill Callahan was not exactly in charge of the offense), routinely giving his top running back a heavy workload when it was obvious there was a significant gap between No. 1 and No. 2. (Steven Jackson, Mikel Leshoure, Reggie Bush and Murray have all had career years under him.) So it should come as no surprise that in each of his three years in Dallas, Linehan has given one back at least 58.7 percent of the carry share, and that percentage would be considerably higher if McFadden had started more than 10 games two seasons ago. It is also worth mentioning 2015 is the only year of the three the Cowboys didn't accumulate at least 498 rush attempts or run more than they passed.
Bryant's health has let him down a bit over the last two seasons, as his target share has fallen into the 17.9-20 percent range after consecutive years of at least 27.4. However, injuries aren't entirely to blame for 2016, when Linehan appeared to emphasize a more quarterback-friendly, high-percentage passing game featuring Beasley. To what degree the switch was made for philosophical reasons versus trying to make then-rookie Dak Prescott comfortable may never be known, but Beasley's target share has almost doubled over the last two seasons. Conversely, Witten's has stayed almost exactly the same, landing somewhere between 19.1 and 20 during Linehan's tenure, although he becomes virtually invisible the closer the Cowboys get to the goal line (as noted in my Red Zone Report). Williams peaked at 17.9 percent in 2016, but his inconsistent hands and role as a deep threat in a more conservative offense make him a poor candidate to break through. Linehan's running backs in Dallas have fallen under a 20-percent target share in each of the last three seasons, suggesting there may not be an incredibly high ceiling for Elliott in terms of posting huge numbers as a receiver, that is, unless he absorbs most of Dunbar's share and McFadden doesn't see his share increase much from last year.
Cooter (DET) 2016
Cooter (DET) 2015
Pos
Player
Carry
Share
Target
Share
Player
Carry
Share
Target
Share
350
581
352
622
RB1
Theo Riddick
26.3%
11.5%
Ameer Abdullah
40.6%
6.1%
RB2
Dwayne Washington
25.7%
2.6%
Joique Bell
25.6%
4.3%
RB3
Zach Zenner
25.1%
4.0%
Theo Riddick
12.2%
15.9%
WR1
Golden Tate
2.9%
23.2%
Calvin Johnson
0.0%
24.0%
WR2
Marvin Jones
0.3%
17.7%
Golden Tate
1.7%
20.6%
WR3
Anquan Boldin
0.0%
16.4%
Lance Moore
0.0%
6.9%
TE1
Eric Ebron
0.3%
14.6%
Eric Ebron
0.0%
11.3%
Injuries in the backfield make it nearly impossible to use 2016 as a decent gauge for Cooter, while he took over his current post during the middle of the 2015 season, reducing the relevance of that information as well. One thing that is clear though: Riddick should be penciled in for at least a 15-percent target share. Despite missing six games last season, he still managed to attract 11.5 percent of the looks. He accomplished that despite the presence of Tate, Jones and Boldin all getting at least 16 percent of the pie. Perhaps it is notable Abdullah enjoyed a 40.6-percent carry share in 2015, since that was essentially the pace he was on after two games in 2016. Given the fact Zenner did a nice job at the end of the season, perhaps Abdullah and Zenner each steal about five percent of Riddick's rushing workload to get him back down to the 12.2 percent he was at in 2015, while obviously boosting their shares to roughly 45 and 30 percent, respectively.
Despite a slow start, Tate (23.2) nearly matched Megatron's target share (24) from 2015, although it should be pointed out Tate was already heavily involved in the offense two seasons ago (20.6). Having finished with 128 and 135 targets over the last two years, it would seem we should have a pretty good grasp on what his share will be for the foreseeable future. In Weeks 1-4, Jones saw a Megatron-like 23.5 percent of the looks from Matthew Stafford. From Week 5 on, that number drop to 15.6. HC Jim Caldwell praised his offseason work this spring, and it wouldn't be overly shocking if Detroit tried to jump back on that train again this September to see if Jones can actually be the lead receiver this team wants him to be for a full season. The most likely outcome, however, is that his target share finds the middle ground between the 15.6 and 23.5. Boldin accounted for a stunning 16.4 percent of the targets in 2016, and it seems unreasonable to believe rookie Kenny Golladay will simply pick all of those up. Ebron believes the addition of blocking TE Darren Fells will free him up to do what he does best and his optimism isn't unwarranted. His numbers have improved every year except for in the touchdown department. One would have to think with Golladay as the only other comparably sized receiver/tight end on the team (with Boldin gone), Ebron will start seeing more of those targets as well. He could push a 20-percent target share in 2017 if he stays healthy.
McCarthy (GB) 2016
McCarthy (GB) 2015
McCarthy (GB) 2014
Pos
Player
Carry
Share
Target
Share
Player
Carry
Share
Target
Share
Player
Carry
Share
Target
Share
374
614
435
565
435
531
RB1
Ty Montgomery
20.6%
9.1%
Eddie Lacy
43.0%
5.0%
Eddie Lacy
56.6%
10.4%
RB2
Eddie Lacy
19.0%
1.1%
James Starks
34.0%
9.4%
James Starks
19.5%
5.5%
WR1
Jordy Nelson
0.0%
24.8%
Randall Cobb
3.0%
22.8%
Jordy Nelson
0.0%
28.4%
WR2
Davante Adams
0.0%
19.7%
James Jones
0.0%
17.5%
Randall Cobb
2.5%
23.9%
WR3
Randall Cobb
2.7%
13.7%
Davante Adams
0.0%
16.6%
Davante Adams
0.0%
12.4%
TE1
Jared Cook
0.0%
8.3%
Richard Rodgers
0.2%
15.0%
Andrew Quarless
0.0%
8.7%
McCarthy's history suggests he wants a power-running game. Lacy's struggles with his weight over the last two seasons suggests McCarthy is backing away from that and more willing to put the fortunes of the team in Aaron Rodgers' hands. The selection of Jamaal Williams suggests the first narrative is still in play. In other words, the Packers' offense - as explosive as it is - appears to be in a transition phase. The question is whether or not that change is the change that occurred last year or a change back to what McCarthy appears to believe in as a play-caller. McCarthy's history suggests he wants to utilize Williams in the Lacy or Ryan Grant role, while Montgomery operates as a rich man's Starks or Brandon Jackson. With that said, owners often do not give play-callers near enough credit - just because a coach has a philosophy does not necessarily mean he is married to 100 percent of the time. Montgomery deserves a ton of credit for what he did last year and may excel in more of a featured back role. After all, he is actually the biggest back (220 pounds) of the three runners almost guaranteed to make the team and will have had a full offseason to train at a position he was new to last year. Perhaps the only real takeaway from the chart above is McCarthy likes to run more than he is given credit for and someone on the offensive staff doesn't trust Montgomery to carry a heavy lead (or at least didn't in 2016).
Talk about consistency: Nelson has seen 151 and 152 targets in his last two full seasons (he missed 2015 with an ACL tear). He seems like a lock for another 25-percent target share. Rodgers refused to give up on Adams after a disappointing 2015 and it paid off handsomely. However, his 19.7-percent share seems the most likely to regress, if only because Cobb is healthy again and Martellus Bennett should enjoy more favorable matchups in just about every game. Cobb's share fell off almost 10 percent from 2015, although he did finish strong in the playoffs, casting even more doubt as to whether or not his disappointing regular season was caused more by injury or the emergence of Adams. The biggest mystery may be what Bennett's arrival does to the trio. "The Black Unicorn" is the most complete tight end with which Rodgers has played. While Richard Rodgers' 15-percent target share from 2015 is likely unattainable, Bennett's $7 million/year annual average value on his contract says he will be plenty involved. The team's addition of Lance Kendricks has been understated and probably will hurt Cobb the most. The coaching staff wants to use more two-tight sets. As such, it should surprise no one if Adams and Bennett both finish right around 15 percent if everyone stays healthy in the passing game.

Los Angeles Rams
HC Sean McVay
McVay (WAS) 2016
McVay (WAS) 2015
Pos
Player
Carry
Share
Target
Share
Player
Carry
Share
Target
Share
379
592
429
555
RB1
Robert Kelley
44.3%
3.0%
Alfred Morris
47.1%
2.3%
RB2
Matt Jones
26.1%
1.4%
Matt Jones
33.6%
4.5%
RB3
Chris Thompson
17.9%
10.5%
Chris Thompson
8.2%
8.6%
WR1
Pierre Garcon
0.0%
19.3%
Pierre Garcon
0.0%
20.0%
WR2
DeSean Jackson
0.0%
16.9%
Jamison Crowder
0.5%
14.1%
WR3
Jamison Crowder
0.5%
16.7%
DeSean Jackson
0.0%
8.8%
TE1
Jordan Reed
0.0%
15.0%
Jordan Reed
0.0%
20.5%
TE2
Vernon Davis
0.00%
10.0%
The data suggests McVay doesn't necessarily subscribe to feature backs, but owners should not confuse Morris, Jones or Kelley with Todd Gurley. It's much more likely the new 31-year-old head coach will lean on Gurley the same way he did with Morris in 2014 (66.1-percent carry share), while Lance Dunbar plays the Thompson role. Given the fact the Rams don't have one receiver or tight end who is an upgrade (yet) over the skill-position talent McVay just left in Washington, it's a good thing he is open (and maybe even willing) to flex Gurley out on occasion and get him more consistently involved in the passing game.
Garcon was an amazingly consistent target of Kirk Cousins in all three of his seasons McVay was the offensive coordinator (the two above being the years McVay called the plays), seeing no fewer than 105 and no more than 114 looks. Unsurprisingly, the target share fell no lower than 19.3 percent and went no higher than 20. This is obviously good news for Robert Woods, although Jared Goff didn't exactly look like a younger version of Cousins as a rookie in 2016. Jackson played in only 10 games in 2015 or else there's a pretty good chance he would have been in the 17-percent range all three seasons, which is good considering how often he runs low-percentage, high-upside routes. Tavon Austin isn't Jackson by any means, but he did create more separation (3.2 yards on average per target versus Jackson's 2.9, per Next Gen Stats). Austin (54.7) even had a similar catch rate to Jackson (56). Efficiency may never be a strength of Austin's, but his versatility and speed make him a good bet to thrive under McVay. Crowder never quite got the target share of the two vets ahead of him, but a 16.7-percent mark in 2016 is pretty good for a supposed third receiver. Given Cooper Kupp's skill-set, look for a similar target share as a rookie. Gerald Everett was handpicked by McVay to be his new Reed, but no one is expecting that process to happen in Year 1. Reed has yet to play a full season, yet he owned a 20.5 share in 2015 (in only 14 games) and probably would have finished pretty close to that in 2016 were it not for his shoulder injury on Thanksgiving Day.
2016 Total
Shurmur (MIN) - Final nine games
Pos
Player
Carry
Share
Target
Share
Player
Carry
Share
Target
Share
380
585
164
352
RB1
Jerick McKinnon
41.8%
9.1%
Jerick McKinnon
51.2%
11.1%
RB2
Matt Asiata
31.8%
6.5%
Matt Asiata
36.0%
5.1%
WR1
Stefon Diggs
0.8%
19.1%
Stefon Diggs
0.6%
17.0%
WR2
Adam Thielen
0.5%
15.7%
Adam Thielen
1.2%
16.5%
WR3
Cordarrelle Patterson
1.8%
12.0%
Cordarrelle Patterson
1.8%
13.1%
TE1
Kyle Rudolph
0.0%
22.6%
Kyle Rudolph
0.0%
22.2%
Because Shurmur wasn't the actual play-caller in Philadelphia - that was Chip Kelly's job from 2013-15 - or in charge of an offense for an entire season recently, I'm going to take the unusual step of evaluating the nine games he did call plays last year, because the offense was noticeably different than the one Norv Turner coached to a 5-2 record.
Obviously, when a team only attempts 164 runs over a nine-game period (18.2 per game), percentages aren't going to tell the whole story. Nevertheless, it was surprising to learn McKinnon handled 51.2 percent of the carries over that time, although he was definitely hurt by Asiata holding a 24-15 edge in red zone carries under Shurmur's watch. It would be a shock if the Dalvin Cook-Latavius Murray workload split came anywhere close to 51.2 to 36 percent. A good sign for Cook is the McKinnon's 11.1-percent target share, which we have already seen is a pretty good benchmark for running backs to hit.
Diggs missed two games after Shurmur took over, likely the only thing that kept him from reaching a 20-percent target share. Provided the extreme short-passing attack doesn't change much (if at all) in 2017, it seems very likely the 39 attempt-per-game pace Sam Bradford was on under Shurmur (which works out to just under 626 attempts for a season) would lead to roughly 125 targets for Diggs this season (for a full season). Thielen's 16.5-percent target share (again, under Shurmur only) was remarkably close to the 16.3-percent share Mike Wallace had under Turner the season before. Thielen's share is probably the most in question if Treadwell puts his disappointing, injury-plagued rookie season behind him, but a more likely scenario sees Treadwell absorbing Patterson's 13.1-percent share and leaving Thielen's alone. Rudolph's 22.2-percent share (under Shurmur, it was 22.6 for the season) could take a slight hit after the club added rookie Bucky Hodges to stretch the field and hopes Michael Floyd and/or Treadwell can give the team something in the red zone. With that said, it would be surprising to see Rudolph's share drop much below 20 percent.
Payton 2016
Payton 2015
Payton 2014
Pos
Player
Carry
Share
Target
Share
Player
Carry
Share
Target
Share
Player
Carry
Share
Target
Share
404
664
412
647
406
649
RB1
Mark Ingram
50.7%
8.7%
Mark Ingram
40.3%
9.3%
Mark Ingram
55.7%
5.5%
RB2
Tim Hightower
32.9%
3.9%
Tim Hightower
23.3%
2.0%
Khiry Robinson
18.7%
1.7%
RB3
Travaris Cadet
1.0%
8.1%
Khiry Robinson
13.6%
3.1%
Pierre Thomas
11.1%
8.5%
WR1
Michael Thomas
0.0%
18.2%
Brandin Cooks
1.9%
19.9%
Marques Colston
0.0%
15.4%
WR2
Brandin Cooks
1.5%
17.6%
Willie Snead
0.0%
15.6%
Kenny Stills
0.2%
12.8%
WR3
Willie Snead
0.0%
15.7%
Marques Colston
0.0%
10.4%
Brandin Cooks
1.7%
10.6%
TE1
Coby Fleener
0.2%
12.2%
Ben Watson
0.0%
17.0%
Jimmy Graham
0.0%
19.3%
Despite all the hand-wringing about Ingram's job security in 2017 and how much Payton supposedly dislikes him, he has enjoyed at least 50 percent of the carries for the team in two of the last three years. One would think that might fall back into the 40-45 percent range with Adrian Peterson in town, but the notion one of the three (Ingram, Peterson or rookie Alvin Kamara) will get removed from the rotation (or one will get featured over the other) doesn't fit into the profile of what Payton has done at any point during his first decade on the job. The running back position has been targeted at least 24.1 percent of the time in each of the three years above and at least 22 percent in each of the last 10 seasons. There is really no reason to believe Ingram's roughly nine-percent involvement in the passing game will cease, while Kamara should be good for at least 10 if he is going to, in fact, be the new satellite back in this offense. This should Peterson with roughly a five-percent share, give or take a percent or two.
As frustrating as it can be for owners, Drew Brees has been remarkably consistent in spreading the wealth since arriving with Payton in 2006. For those Michael Thomas owners who expect a substantial rise in targets with Cooks in Foxboro, pay attention. What follows is the target share for the top receiver in this offense since Brees and Payton's arrival: 20, 23, 19, 20, 20, 17, 20, 18, 16, 20 and 19. Go ahead and make the argument Thomas is better than Colston. Just know you are betting against a lot of history if you believe Thomas is going to join the fantasy elite in 2017. Snead is set to see his target share go up with the departure of Cooks, but it is worth noting he has been ultra-consistent in his two years in the Big Easy as well, posting a 15.6-percent target share on 101 targets as a rookie and 15.7-percent share on 104 targets in 2016. The consensus seems to be Ted Ginn will come nowhere close to matching Cooks' involvement in the offense (19.9 percent in 2015, 17.6 in 2016). That is fair, but those missing targets are going to go somewhere and we've already established they probably aren't all going to Thomas. A 15-percent share seems reasonable for Ginn, especially since he will be the clear WR3 behind Thomas and Snead. The tight end position was targeted in the 27-28 percent range in Graham's final two seasons, 21.6 percent during Watson's unexpected huge 2015 campaign and a measly 16.6 percent last season. With no notable upgrades in the offseason, it's hard to see much of an increase in 2017, unless Fleener shows consistency for the first time in his career.
McAdoo 2016
McAdoo 2015
McAdoo 2014
Pos
Player
Carry
Share
Target
Share
Player
Carry
Share
Target
Share
Player
Carry
Share
Target
Share
398
597
403
614
449
599
RB1
Rashad Jennings
45.5%
7.0%
Rashad Jennings
48.4%
6.5%
Andre Williams
48.3%
6.2%
RB2
Paul Perkins
28.1%
4.0%
Andre Williams
21.8%
0.5%
Rashad Jennings
37.2%
6.8%
RB3
Shane Vereen
8.3%
3.2%
Shane Vereen
15.1%
13.2%
WR1
Odell Beckham
0.3%
28.3%
Odell Beckham
0.2%
25.7%
Odell Beckham
1.6%
21.7%
WR2
Sterling Shepard
0.8%
17.6%
Rueben Randle
0.0%
14.7%
Rueben Randle
0.0%
21.2%
WR3
Victor Cruz
0.0%
12.1%
Dwayne Harris
0.5%
9.3%
Preston Parker
0.0%
9.3%
TE1
Will Tye
0.0%
11.7%
Will Tye
0.0%
10.1%
Larry Donnell
0.0%
15.4%
McAdoo has been the Giants' play-caller for three seasons. Over that time, he has yet to have a back carry the ball more than 217 times, although injuries and personnel have certainly contributed to that low number. It seems unlikely Perkins will be the one to change that trend, if only because New York hasn't given him much help in that regard up front. In short, a potential 50-percent carry share - which is possible - for Perkins this season still may not result in 200 attempts, and there isn't anything in McAdoo's history with the Giants to suggest he will give one back that much work. A realistic goal for Perkins may be a slight increase in Jennings' shares from last season, which would probably result in about 230 touches. Vereen saw a massive 13.2 percent of the team's targets in 2015 when he last played a full season, and it is a fair assumption that is probably what the coaching staff is shooting for with him if he play 16 games again (far from a given).
Beckham is an amazing talent to begin with, so he doesn't exactly need a massive target share to produce. With that said, his 28.3-percent mark last season pretty much overshadowed what was probably his worst season from an efficiency standpoint and helped Manning avoid even more questions about his declining play. A 25-percent target share should be his floor. Going back to 2014, Randle saw 21.2 percent of the looks in New York, which also seems a bit high (but doable) for Brandon Marshall, who is considerably more advanced as a receiver than Randle ever was. Cruz's 12.1-percent share seems like a high ceiling for Shepard this year, especially considering the two previous WR3s in this offense finished under 10 percent. Donnell's 15.4-percent share in 2014 - not to mention Tye's marks over the last two seasons - is a clear sign the tight end is important to McAdoo, as neither player will ever be considered a transcendent talent. Engram could be one day, but as the likely No. 3 option in this passing game (at best), he may have to settle for no more than about 80 targets.
Pederson 2016
Pos
Player
Carry
Share
Target
Share
437
604
RB1
Ryan Mathews
35.5%
2.3%
RB2
Darren Sproles
21.5%
11.8%
RB3
Wendell Smallwood
17.6%
2.2%
WR1
Jordan Matthews
0.0%
19.4%
WR2
Dorial Green-Beckham
0.0%
12.3%
WR3
Nelson Agholor
1.1%
11.4%
TE1
Zach Ertz
0.0%
17.5%
TE2
Trey Burton
0.00%
9.9%
As stated in previous summaries, one year of data doesn't tell us a whole lot and is only slightly more useful than if he was a rookie play-caller. Making matters worse is the fact Mathews couldn't stay healthy (again) last year, so there is really no way we can definitively say Pederson is a true "committee-backfield guy" or not. The Eagles' selection of Donnel Pumphrey, however, suggests he is, since we can say with some certainty the rookie lacks the size to ever be a foundation back. At any rate, Philadelphia's plan for 2017 probably involves Mathews' 35.5-percent carry share to be LeGarrette Blount's floor, while it is reasonable to assume Pumphrey will absorb most of Smallwood's usage as a rookie last season. Pumphrey excels in the passing game as well and drafted to replace Sproles someday, so don't be at all surprised if the latter's target share shrinks into the 7-8 percent neighborhood.
Despite 607 pass attempts (604 targets), last year's data doesn't help us much when it comes to receivers or tight ends either after the team acquired Alshon Jeffery and Torrey Smith in free agency. The natural inclination is that Matthews' targets and target shares (as well as Ertz's) must drop to support a new No. 1 receiver and that is a reasonable assumption. Before making that leap, however, young quarterbacks tend to rely most on what is familiar. Yes, Jeffery should be a beast in the red zone and Smith should stretch the field in a way no Eagle could last year. Yet, everything about Pederson screams a conservative, spread-the-wealth offense. To accommodate a likely 18-percent target share for Jeffery, it is very possible Matthews and Ertz must each lose a five-percent share in the offense, and that seems a bit drastic. Smith will probably absorb Green-Beckham's looks, and all of this assumes the Eagles pass as much this year as they did last year, which Pederson has strongly hinted he doesn't want.
San Francisco
HC Kyle Shanahan
Shanahan (ATL) 2016
Shanahan (ATL) 2015
Shanahan (CLE) 2014
Pos
Player
Carry
Share
Target
Share
Player
Carry
Share
Target
Share
Player
Carry
Share
Target
Share
421
530
420
617
477
499
RB1
Devonta Freeman
53.9%
12.3%
Devonta Freeman
63.1%
15.7%
Terrance West
35.8%
2.6%
RB2
Tevin Coleman
28.0%
7.5%
Tevin Coleman
20.7%
1.8%
Isaiah Crowell
31.0%
2.8%
RB3
Ben Tate
22.2%
2.4%
WR1
Julio Jones
0.0%
24.3%
Julio Jones
0.0%
32.9%
Andrew Hawkins
0.6%
22.4%
WR2
Mohamed Sanu
0.2%
15.3%
Roddy White
0.0%
11.3%
Miles Austin
0.0%
14.6%
WR3
Taylor Gabriel
1.0%
9.4%
Leonard Hankerson
0.0%
7.5%
Taylor Gabriel
0.8%
14.4%
TE1
Jacob Tamme
0.0%
5.8%
Jacob Tamme
0.0%
13.1%
Jordan Cameron
0.0%
9.6%
The above three-year look at Shanahan makes him look like a play-caller who prefers running-back-by-committee, although I'm not sure that is entirely the case for the coordinator who helped pave the way for career years from Steve Slaton and Alfred Morris. Carlos Hyde appears to be in the best spot to fill the Freeman role in this offense given the lack of proven options behind him on the depth chart. The biggest issues with that rationale are Hyde's lack of durability and the fact he has yet to prove he can thrive in a non-shotgun based scheme, making him a high risk to be a fantasy bust. Freeman's 53.9-percent carry share last season figures to be the absolute ceiling for Hyde this season, while Coleman's 28-percent share figures to be the absolute floor for either Tim Hightower or rookie Joe Williams (most likely the latter). A better percentage breakdown may actually be the 2014 Browns, who went 35.8-31-22.2 with their top three backs.
There's a narrative that Kyle Shanahan's No. 1 receivers get "fed". There's a certain amount of truth to it, but there's also plenty of evidence to believe circumstance played as much of a role as Shanahan's play-calling in turning his best wideout into a fantasy god. We may have another one of those circumstances in 2017, as Pierre Garcon is the only proven receiver on the roster. In each of the last four seasons, Shanahan's "No. 1" has seen at least a 22.4-percent target share (Hawkins' share in 2014 was the lowest). Garcon is the only realistic candidate for that kind of market share and since most teams attempt at least 500 passes every season, he would seem like a strong candidate for at least 112 targets. The reason we should probably expect more is because the running backs don't figure to take a big piece of the pie, which is why it is possible he could push 150. Hyde hasn't actually proven to be a great receiver, Williams didn't catch the ball well in college and 31-year-old Hightower isn't going to do much with the opportunities he is given. Marquise Goodwin and/or Aldrick Robinson may very well be the next Taylor Gabriel, leaving a player like Jeremy Kerley or maybe even Trent Taylor to fill the complementary receiver role that tends to see about 13-15 percent of the looks in a Shanahan offense. Tamme is the only Shanahan tight end from the three years above to finish above a 10-percent target share, although that will probably have to change given the lack of quality options at receiver. As a result, "offensive weapon" Kyle Juszczyk and rookie TE George Kittle could each go over 10 percent.
Bevell 2016
Bevell 2015
Bevell 2014
Pos
Player
Carry
Share
Target
Share
Player
Carry
Share
Target
Share
Player
Carry
Share
Target
Share
401
548
500
472
525
432
QB1
Russell Wilson
18.0%
0.4%
Russell Wilson
20.6%
0.0%
Russell Wilson
22.5%
0.2%
RB1
Christine Michael
29.2%
4.7%
Thomas Rawls
29.4%
2.3%
Marshawn Lynch
53.3%
11.1%
RB2
Thomas Rawls
27.2%
3.1%
Marshawn Lynch
22.2%
4.4%
Robert Turbin
14.1%
4.6%
WR1
Doug Baldwin
0.7%
22.8%
Doug Baldwin
0.0%
21.8%
Doug Baldwin
0.2%
22.7%
WR2
Jermaine Kearse
0.0%
16.2%
Tyler Lockett
1.0%
14.6%
Paul Richardson
0.0%
10.2%
WR3
Tyler Lockett
1.5%
12.0%
Jermaine Kearse
0.0%
14.4%
TE1
Jimmy Graham
0.2%
17.3%
Jimmy Graham
0.0%
15.7%
Luke Willson
0.0%
9.3%
Even though injuries caused a fairly equitable split among three players (including Wilson) over the last two years, those seasons are probably a decent representation of what Bevell wants in 2017 between Eddie Lacy, Rawls and Prosise. It's probably also fair to assume the Seahawks want Wilson in the 15-percent carry share range as opposed to the 20-plus range he finished in 2014 and 2015. More than anything, Seattle wants to get back to the 500-plus carries it enjoyed over those two seasons. The Seahawks' likely preference would be for Lacy to handle 30-35 percent of the workload (150-175 carries) and the others to settle in around 20.
One thing that has remained remarkably consistent over the three-year run above is Baldwin's involvement, as his target share has been no less than 21.8 percent and no higher than 22.8. Graham's 17.3-percent share in 2016 was much higher than anyone likely expected less than one year after a torn patellar tendon ended his initial campaign in Seattle after 11 games and caused him to barely practice last season. That market share should be his floor this year if he can stay healthy and practice on a regular basis. Perhaps if Lockett and/or Richardson could ever stay upright long enough, one of the two could push Kearse to the sidelines and steal his surprisingly high 16.2-percent target share. While Kearse is an acceptable backup-receiver type in the NFL, we haven't seen the best this offense has to offer thanks to Lockett and Richardson getting hurt throughout their careers.
Koetter (TB) 2016
Koetter (TB) 2015
Koetter (ATL) 2014
Pos
Player
Carry
Share
Target
Share
Player
Carry
Share
Target
Share
Player
Carry
Share
Target
Share
453
571
456
525
372
624
RB1
Doug Martin
31.8%
2.8%
Doug Martin
63.2%
8.4%
Steven Jackson
51.1%
4.3%
RB2
Jacquizz Rodgers
28.5%
2.8%
Charles Sims
23.5%
13.3%
Devonta Freeman
17.5%
5.9%
RB3
Jacquizz Rodgers
15.6%
6.4%
WR1
Mike Evans
0.0%
30.3%
Mike Evans
0.0%
28.2%
Julio Jones
0.3%
26.1%
WR2
Adam Humphries
1.1%
14.5%
Vincent Jackson
0.0%
11.8%
Roddy White
0.0%
20.0%
WR3
Russell Shepard
0.2%
7.0%
Adam Humphries
0.0%
7.6%
Harry Douglas
0.0%
11.9%
TE1
Cameron Brate
0.0%
14.2%
Austin Seferian-Jenkins
0.0%
7.4%
Levine Toilolo
0.0%
8.7%
At least from a running-game perspective, the 2015 season is the model Koetter would like to follow. Martin disappointed in a big way in 2016, but he was amazingly on the exact same pace (18 carries/game) that he was the year before, the major difference - and it was a big one - was his yards per carry (4.9 to 2.9). Perhaps no player has generated more positive hype this spring and summer than Martin, and two seasons worth of data suggests owners should expect right around 288 carries in 2017. Putting aside the fact he must serve a three-game suspension to open the season, Martin is still a solid bet to finish with over 50 percent of the carry share when all is said and done.
While it is important to acknowledge the talent he has had to work with at receiver recently, Koetter has definitely established a pattern of force-feeding his top receiver over the last three years, as Jones' 26.1-percent target share in 2014 is the lowest from his No. 1 wideout over that span. Evans' 30.3-percent share (on 173 targets) last year helps to explain his top-three finishes in standard and PPR scoring, but he's due for at least a five percent drop in that area given the additions of DeSean Jackson and O.J. Howard. After setting a 206-target pace over the first half of last season, Evans dropped to a 140-target pace over the second half of the season when Koetter decided to lean a little bit more heavily on the running game. The latter pace is certainly more realistic in 2017 given the team's new weapons. The closest comp above to Jackson's new role is probably White, although the latter's 20-percent share in 2015 is probably a bit too high, even for an offense as vertical as Koetter's. Humphries seems unlikely to matching his 14.5-percent share, while Brate's 14.2-percent share will almost certainly fall too with Howard in town. With that said, cutting Humphries' share in half and shaving about two percent off Brate's piece of the pie should give Howard close to the 10-percent share he will likely have.
Gruden (WAS) 2014
Gruden (CIN) 2013
Gruden (CIN) 2012
Pos
Player
Carry
Share
Target
Share
Player
Carry
Share
Target
Share
Player
Carry
Share
Target
Share
401
541
481
578
430
530
RB1
Alfred Morris
66.1%
4.8%
BenJarvus Green-Ellis
45.7%
1.4%
BenJarvus Green-Ellis
64.7%
5.7%
RB2
Roy Helu
10.0%
8.7%
Giovani Bernard
35.3%
12.3%
Cedric Peerman
8.4%
1.7%
RB3
WR1
Pierre Garcon
0.0%
19.4%
A.J. Green
0.0%
30.8%
A.J. Green
0.9%
30.9%
WR2
DeSean Jackson
1.0%
17.6%
Marvin Jones
1.7%
13.8%
Andrew Hawkins
1.4%
15.1%
WR3
Andre Roberts
0.5%
13.5%
Mohamed Sanu
0.8%
13.3%
Marvin Jones
0.7%
6.0%
TE1
Jordan Reed
0.0%
12.0%
Jermaine Gresham
0.0%
11.8%
Jermaine Gresham
0.0%
17.7%
TE2
Tyler Eifert
0.0%
10.4%
New Rams HC Sean McVay called plays for the Redskins for the last two years, so we must go back to 2012-14 in order to get play-calling data from Gruden. The numbers that stick out the most in the backfield are 64.7 and 66.1 percent, as in the carry shares for his top running back in 2012 and 2014. While Green-Ellis and Bernard may have just well split the backfield touches almost right down the middle in 2013, it stood to reason since BJGE was an average power back at best and Bernard was a quicker and smaller back with good hands. Gruden probably had a significant say in Matt Jones getting his share of touches in 2015 and 2016, but otherwise, the fourth-year boss hasn't really encountered a running back competition per se since entering the league in 2011. All this is to suggest Gruden will be bucking his own history somewhat if he splits carries between Rob Kelley and rookie Samaje Perine for more than a few games. How this workload is decided is kind of big deal since Gruden's teams have run the ball at least 400 times in all four years he has called his own games. Thompson's shares from last year (17.9-percent carry share, 10.5 target share) seem reasonable moving forward, as he is the team's clear passing-down/end-of-half option.
Green was head-and-shoulders above any of his counterparts with the Bengals in 2012 and 2013, but it is interesting to see Gruden's first offense in Washington had four players between 12- and 19.4-percent target shares. While there is no way Reed is only going to get a 12-percent cut of the pie in 2017 (unless he is sidelined for multiple games), it is interesting nonetheless Washington found a way to get Roberts in the same general target area as Garcon and Jackson. It is also notable - with the exception of Green - how much target-share balance there was in his last two offenses and how few targets there were for the "bit players" after the top three receivers, top tight end and pass-catching running back. Terrelle Pryor is a freakish talent who gives Gruden something resembling what he had Green - albeit far less polished - but it certainly seems as if Reed and Jamison Crowder are the apples of his eye at the moment. Still, Gruden's history suggests whomever leads this offense in target share will not do so by very much and that as many as five players will flirt with at least 60 targets.

---
Doug Orth has written for FF Today since 2006 and been featured in USA Today's Fantasy Football Preview magazine since 2010. He hosted USA Today's hour-long, pre-kickoff fantasy football internet chat every Sunday in 2012-13 and appears as a guest analyst on a number of national sports radio shows, including Sirius XM's "Fantasy Drive". Doug is also a member of the Fantasy Sports Writers Association.